Introduction to reSTARt
Jasmine Star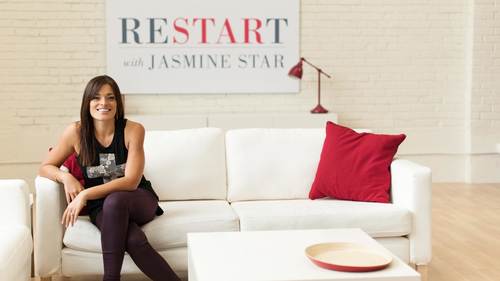 Introduction to reSTARt
Jasmine Star
Lesson Info
1. Introduction to reSTARt
Meet Jasmine Star and reSTARt's three highlighted photographers: Nikki, Ryan, and Marissa. What will you accomplish through this course? What common struggles do photography entrepreneurs face and how will reSTARt arm you with the necessary tools and strategies?
Lesson Info
Introduction to reSTARt
So what sighted actually saw pictures of people hanging out yesterday getting the party started like an official twenty four hours in advance. I like the way you all roll. I am so happy to be here. Thank you guys for being here, you guys, I mean, thank you. This is a true honor to be here. I'm actually just so blown away that you're here think joining us a restart. I want to take a moment to welcome those of y'all who are online watching us. If this is your first creative life, I heavily encourage you to join the chat room participate via twitter, can it just talked about the hashtag so restart live and you all in the audience are totally eligible for the prizes will be giving away so spill free to tweet pictures, but don't treat those ugly behind the scenes where everyone's like okay, we will definitely unfriend you and polly after that to those I'd love. If you guys were already I know a lot of you already connecting on facebook that says that's amazing you guys are both of you guys ...
involved and the special thing about that facebook group it is like salt of the earth people people are in there giving great feedback, positive criticism, tips and tricks what camera should I use? How do I deal with a difficult client that is where the industry is going. I absolutely love there's like almost twenty five hundred dollars in there and that just makes me feel so good cause you guys are caring more about each other then you are just your business as itself and to the studio audience. Thank you. I know that there was some fashion questions in that group. What should I wear it all the good today? Okay, I am proof of these outfits guys look phenomenal. I am very honored and thankful for you guys to be joining us here personally, ensuring this experience. Lastly, I'm lucky to be surrounded by some of the most talented and hardworking people who desire to make online education a reality to creative live. Thank you. Thank you for giving us this platform. Thank you for bringing us together and thank you for the opportunity for us to grow. I'm so excited to be in seattle and I'm so excited for what's in store more than anything, I'm excited because restart is about change, lots and lots of change now I think I'm going to go out on a ledge here and say that most of us want results, but we might be resistant to see the amount of change that we need to bring about those results and change while changes the grit that makes results manifest themselves, the bigger the change the bigger room result here, it restored. We are going to deconstruct components of your business, and then we are going to reconstruct and rebuild those components throughout the makeover process. You will have an intention. You will know why you're doing what you are doing, but before I get there, I want to bring everybody up to speed with my participation with creative live. In the past, during my first creative life, I had the distinct honor of shooting a live wedding. Yes, this is with a real bride, a real groom and one hundred fifty of their really guests. I want to give a special shout out and welcome and thank you till laura march makes pocock. She was our bride making class for this girl. I just can't believe it lori's here, because I think that her being here being first a bride on creative life. She also has a talking business here in seattle. But I think that she firmly believes and is an ardent supporter of what creative life is doing. For the community for the democratization of education I was so nervous and I got democratization out in one try thank you for being here. It really does mean a lot. Thank you. It was the first creative live that was produced. It was in event of that magnitude was the first time that we had done it and it was wild and it was unpredictable and filled with some of my favorite moments. For five days we went to the minutia of how to shoot a wedding. They step format, the wedding was broadcasted live and the internet watched as I shot in time in real time in spite of the craziness that ensued and there was a lot of craziness, let me tell you, billy and laura were married, they had a blast and the wedding was featured and published in seattle met bridegroom magazine. During my second creative life course, we tackled how to build a photography business with very little money, and without formal training they broke down the ends announce of how to get started and how to build a business from the ground up, we focused on how to create a customer evangelist and how to use organic marketing teo promote our services. Lastly, we focused on building a unique web presence that doesn't just reflect us as who we are as photographers, but reflects who we are as people during my third creative life think current third creative life, I discussed how to photograph a wedding editorially how to submit photos for publication, how to attract a high end bride and effective marketing techniques to attract the type of client that we desire to shoot. We created a styled shoot from start to finish and we formulated an action plan for photographers to go home and recreate a shoot on the roam so they can have a perspective feature of their own. Editors joined the conversation and they instructed photographers how they prefer to see our work submitted and featured and they challenged us to create wedding trends instead of instead of merely reproducing what's already been done. Those were all wonderful experiences and for those of you who have been on those wild and crazy ride thank you, but restart restart has little to do with me and has everything to do with you your dreams, your desires and what we can do to bring them to life. You will analyze your approach and you will address your weaknesses and on that note let's talk about weaknesses. How many of us have handed over our business card with trembling fingers because we in our minds deng this is not how I want to present my business or worse when somebody asks you for your website, you're immediately think or even say it's a work in progress okay, we've all been there. I mean, if you haven't got bless you, you probably won't learn so much from restart, but I've been there with business cards and I've been there with the website or if you've ever experienced I referred to as the sliding scale of pricing. So what did you say your budget was funny? That's what I charge we've all been at low points in our businesses, places we don't want to publicly admit of being for fear of exposing the underbelly of our inadequacies. During my third year business, I realized if I was going to survive, I need to make big changes to my business and I needed to make a business plan, which is to say, actually make a business land because I never had one for a long time. I worried in solitude, and I thought that I was the only person struggling, but I've slowly realized that I'm not alone. I have no idea how much money I made last year, mostly because everything that I had made goes back into my business. I want someone just to show me where my weaknesses are and where my strengths are. We just need the direction I'm struggling for that that transformation, just that branding I hate the business side. I felt like I didn't know where to go or how to begin how to restart, basically, and I literally cringe when people tell us that they found us on our website and my biggest weakness right now is getting them to refer me to new clients, and I know that I have so much to offer, but I feel like I'm failing miserably. The only problem my business is running me, not the other way around. I just really need to know, what can I do to take my business to the next level and planning on moving one of the problems with doing that? As I won't have very many contacts? I'm more passionate about this than anything I've ever been in my entire life, but something's not working, I'm working, I'm working my butt off, I'm working all day every day, and uh, somehow and if you've ever been in either of those situations, you're not alone either, because what I see are businesses starting because people are passionate about photography, we do everything we need to get our business going. But soon enough, the weak links reveal themselves, and these weak links prevent it from growing. The minute you decide to build your business, you might hastily get a nice camera and quickly get business cards, and then you'll throw together a website. And these things allow you to book they allow you to get clients they allow you to get busy and that's great because what we all want is to get busy get busy oh, but there's a little bit there can come a little and then you realize that something is wrong now it looks different for everyone but I have seen portrait photographers shoot a ton of free sessions and all of a sudden when they decide to charge one hundred or one hundred and fifty dollars all of the inquiry's just stop now on the other hand I've seen photographers jump out of the gate book a lot of weddings there first and second year and they're feeling great all of a sudden when something slows down they have time to look back and reflect that they have been booking the wrong type of client for the business that they want or perhaps you booked four weddings last year and you think the referral should be coming in you think the word of mouth should be growing and yet you have one wedding booked for the beginning of this year sometimes you can get to a point in our business and we realized that something needs to change this brings us to where we are today the purpose of restart is to use the upcoming three months okay I'm gonna take a time out quick what I see is a little bit of so are we in agreement? Are we just like I have no idea what girls talking about? I have it together. Okay, good. Because I want you to know that this is not a lecture like I brought you guys in to bring a creative force of energy because I think that we're going to grow faster together the more that we push each other. So instead of being like s cancer glances like you guys can work with me. I say amen. You think I agree? My daddy was a pastor, so if I like something that's, right? That's, right. Okay, I will get back on track because I want you guys to talk back to me because I am mohr nervous standing up here that I have ever been. I walked out, I told one of the producers I was like, I am more nervous now than I was at my wedding day. Okay, so I'm just gonna be real with y'all, okay? I know j d I love you. Okay, here we go. The purpose of research issues the upcoming three months to rebuild your business and address the parts that are keeping you from not growing. But the thing to keep in mind that the progress the process is made easier, and it has done more successfully when we connect with others in the process statistics show that when we write something down and we find somebody to keep us accountable, we have an eighty percent higher success rate of achieving them. In light of this fact, I want to remind you that restart is not about one person. It is about a group of people dedicated to making a change. If you would like to connect with other like minded people, feel free to join the restart facebook group. It was started by none other than restarts own photographers nicky ryan and melissa, but now I'm jumping ahead of myself. I will formally introduce them in a minute, but I would love for you all to introduce yourselves via twitter hashtag restart lives are on the facebook group. I'm going to be checking in on a weekly, weekly biweekly as much as I can basis because I want to see where you are in the makeover process, I'm going to keep you accountable. But furthermore, hey, I hope that you keep you find somebody to keep you accountable on it much more frequent basis. Daly if you're okay with it and I think that facebook is a great way to get connected, but I think it's a better way to stay connected because twitter and the chapmans are awesome for right now, but this isn't a three day course. This is a three month course. This is not about getting excited about. I'm going to make changes to my business and then a week later like I forgot everything so you can't there's no excuses for you today, this is well again, I'll be personally checking up on you guys and seeing the progress of your makeovers, but enough of me talking because I am just like I don't talk so you I don't talk and I missed it. I don't talk fast, you listen slow. What I want to do is introduce our lovely photographers today we will be using their businesses as we navigate the process of restarting yours. I'd love for you to personally reach out to them if you like their super accessible, very nice, but I'm very honored to introduce our first photographer, nicky closer. My name is niki closer, and I'm from seattle, washington. I've been shooting for about a year and I shoot weddings and portrait it's I've been in love with photography for a long time because I did quite a bit of traveling so I would take tons of photographs during my trips once I started shooting with my husband's dslr that's when I knew I needed to make it my career right now I have a part time job as a school social worker I went from full time to part time the school year having a balance between home life school life and work life it can be tough I love photography so much that often my downtime is including photography if I didn't have school part and I would be able to really balance the home life and photography life I've been a social worker for eleven years I've been taking care of other people my whole life and this is something that I want and need because it makes me happy I have to make this happen by june in order to be able to quit my job and to be a full time photographer so far for two thousand thirteen I just booked a wedding on friday so that brings the total to five I did have for so basically I need twenty more weddings at, you know a pretty good package price in order for me to survive financially this year wait give me so I really side it's happening here nikki is from seattle so she's very familiar with the area and I think it's an honor that she put herself out I think it's an honor that one thing I want to take a quick second to say that some of you sitting in the studio audience actually submitted videos to be a part of the restart process of your restart photographer and I want to personally say thank you that process of choosing photographers was the most grueling thing I hope I never have to do it again it was so difficult but I will say that it takes a lot to put your business out on the line so I want to thank those photographers we'll get into that more in a minute but I just wanna start by saying what are you nervous like how is this process like what are you kind of anticipating? Yeah, of course I'm nervous I mean, I know you're well I'm anticipating you're going kind of dissect our business and you know, look at the things that were maybe not doing so well so that others can learn from that so that's a little nerve wracking, you know, harry and uh there's a lot of people out there watching but it's okay and I feel really grateful to be sitting here right now and I'm sure we're gonna learn so much about how to make are the business and not be so daunting and so scary and just to be more comfortable and confident is what I'm hoping yeah, no pressure, okay before are totally before we bring out the next time I want teo bring everybody up to speed on what's on the line for you, like, how? Why is this important for you to make this happen in the designated time? You know, there's a lot on the line because I had a pretty solid career is a social worker for over eleven years, and I have this sort of guess you could say catalogue of memories of, like, little faces and families that I've worked with and helped over the years and that's a really great feeling and it's a great feeling to have fulltime healthcare and a reliable salary and a great staff and retirement fund, you know, that's all in the line, and I was happy doing that for a long time, but when I was consistently feeling unhappy, I knew I had to make a change, you know, no one's going to make that change for me, I need to make that change and so sure, there's a lot on the line, but I have so much to gain and that's what I'm focusing on is what I'm gonna get. I'm not gonna lose good lovett perspective, and I think it's perfect if we should all keep in the forefront of her mind because we can always look at what we look at the glass half thank you forgot that word. I'm not a proponent of looking at the glass half empty or half full. I simply look at the glass as half way filled. So what are we going to do with what we're given? Where is nicky currently right now? Where is melissa? And where is ryan? And where are you? Stop looking at the things that you don't have or the things that you want and simply work with what you have to change your business from the inside out. And on that note, we are going to bring out our next level. Photographer ryan greenlee. My name is ryan greenlee, and I'm from sacramento point. I started buying. Really? Doesn't eleven, and I a wedding portrait events. I have two part time jobs. Photography is more full time. I also work in a restaurant part time. I have a hard time balancing my part time job with my photography schedule. What needs to happen for photography to be my full time job? I have to take a really big step and quit the restaurant. I think I struggle most in turn around times I think I struggled and finding what my target client wants I don't wanna wait tables with my life so I need to jump first I feel like I'm on the after school special wait they're prepped now so when well if it comes out you all know what to do okay thank you right right it's in sacramento california he like he had seen in the video I was just kind of struck with the fact that he is right now hustling you gotta do what you gotta do he's passionate about photography but he's also passionate about getting a's bill's right so working at a restaurant on dh I'm gonna ask you the same question nikki are you nervous? Is there anything that makes you trepidatious as you begin this process especially publicly um just being just I don't know just putting myself out there of course I'm nervous being vulnerable being vulnerable I'm stuttering thank you yeah I'm just putting myself out there and just making big changes kind of wrecking of course but I'm happy that you're here now I know how you think that other photographers who are watching how can they relate to you well let him like like nikki she has a part time job I have a part time job I mean it's nice that I work at a restaurant where any time I can go pick up a shift make some extra cash if like photo business is slow, so but I don't want to do that first in my life, so that's kind of on the line like uncertainty is a big thing good, I'm happy you're here, I'm happy really happy you're here to thank you on that note we're going to bring out melissa kilner. Melissa kilner is a lovely photographer from gig harbor washington my name's, melissa kilner and from gig harbor washington I've been should you for about three years I've been running my business for about a year and a half I've been shooting pretty much everything, but I want to shoot weddings in couples I got into photography because I've been obsessed from the beginning. I've always loved photography and then when I got married, that was like the best like that was the most important thing to me and it's, one of the amazing tar like my favorite thing didn't husband like, we're really boring people, we watch seahawks games a lot, which is really fun, we like to read buck something like to play and my kids love music, so they're constantly dancing and twirling and we go to soccer practice the dance class to all the things that you know do I have no balance between my home life on my work life? It is like non existent I'm definitely one of people that like when I when I want something, I'm super driven like I would literally get up and sit on my computer at six a m and like work through the whole day for two thousand thirteen I only have one wedding, but so by the end of the year I would like to be booking fifteen of seventeen more weddings. Yeah, you can't cry, you know I will start crying I just cry when I people cry I here's the thing I want to point out, I think that we become very emotionally attached to what we do because it's not a job for us and it's, not a career it's a division of our soul. So when I when I think what I think happens is when melissa sees her children in the balance that she has to strike as a mother and as an entrepreneur it's a fine line that she has to walk, and that was one of the things that I come very appealing about. Melissa, I wanted specifically asked melissa to join us because I believe that melissa represents a lot of the photographers in the world they want to be with their children. They want to create a balance with having a home life, and sometimes you struggle with that so restart for melissa will be on the business aspect that will also be on a personal front as well so melissa are you nervous about starting restart I mean yes like I don't know something stupid so I mean I'm sorry about that I really excited and I have a lot of hopes there's not like a lot of fear they're just um I'm more like the only fear is like don't be mean I really just don't mean take a look I like kor keep it really melissa will be real and we'll all be real with each other and on that note melissa did say yeah she doesn't want internet to be mean to her now you know it's something that I kind of worried about bringing on young photographers teo be openly x opposed we're going to be showing a lot of their business we're going to turn in their businesses inside out so what I wanted to initially do is teo fall on top of them and wrap my arms around you like it's okay it's okay don't worry don't worry about the mean stuff but here this is the process it is the real world when you get a job it is not on the resume for people to always be nice to you some people will like what you do and other people won't and some people might be vocal about it and other people won't it's fine I think at the end of the day if you put your head down and you work towards your goal people will find you people will appreciate your work and that's the most gratifying thing that we can have as photographers, it shouldn't matter if other photographers like your work guess what? They're not going to hire you to shoot their wedding that's fine, right? We want brides, and I think that if we transition are focused on to that. So I want to start by saying, I'm going to push you three, and I'm going to push the studio audience and I'm going to push those people online now. I specifically chose the three of you because I believe in your ability to succeed and I said this to you in private, but I want to say it to you publicly so people can keep me accountable to it. I think it's going to get uncomfortable showing personal aspects, showing business aspect of your life, everything that I say, even when it's tough is going to be said in love because I really want your businesses to change from where they are if you want to leave social work, if you want to leave waiting tables and if you want to grow as an entrepreneur and the mother, you're going to make big changes in your life right now.
Class Materials
2 Week Message on Feb 6.pdf
2 Week Message on Jan 23.pdf
Ratings and Reviews
Jasmine Star is a "star". I was so inspired by her and her marketing. She has got her brand defined perfectly. She is a brilliant woman. The way she thinks about building a brand and never deviating from her vision is amazing. She is also very humble and her stories about growing up were so heartfelt. She is a true story of rags to riches. I came away with a ton of respect for her and a wealth of information. If you are exhausted trying to be a photographer for everyone, and not going in a strong direction-buy this now! The transformation in the three photographers that participated, from their improvement in shooting to their amazing new websites, will inspire you so much. Do you want to transform your business? They grew in three months the amount it will take you three years to do on your own.
THANK YOU Jasmine for this precious lessons, you teach us! only i re-start watching my course today and i already feel some new inspiration to take my business to next level, you talk a lot and that good energy always helps to put this motivation on. Still do a good work! CS
Student Work