Retouching Dark Skin and Q&A
Lindsay Adler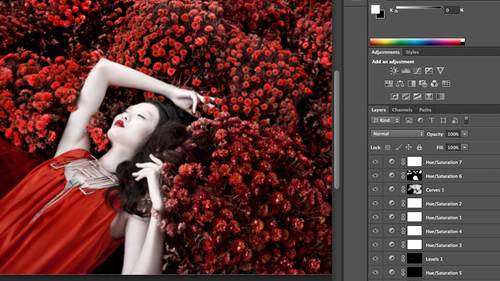 Retouching Dark Skin and Q&A
Lindsay Adler
Lesson Info
23. Retouching Dark Skin and Q&A
Lesson Info
Retouching Dark Skin and Q&A
I'm going to touch on um retouching african american skin and I wouldn't tell you there's really no difference is the biggest difference for me is if I increase contrast, sometimes I will get red in the shadows and the reds become more noticeable and so typically looks at increase contrast in the photo I would change that levels layer to luminosity and then it doesn't affect the color some kind of avoiding that problem right up front, but I'm going to bring up a photo of a recent client to retouch and she had great skin anyway um she looked great, but one of the things I don't know why this happens, so I thought it would mention it to you guys um ah lot of times my blacks look blue if you have the problem um anybody know why? Okay, my blacks always looked loo like I get it because you can't have a true black because black wood is no color, no light, so maybe it's blacks are really dark blue on dso I've often moved removed that imposed, so I'm going to take a look and what I'm worried a...
bout in this photo is to make sure the contrast is all right and then I'm not losing any highlights and so when I click here on the top right button in my camera raw it's showing me which highlights and losing and I'm not losing the highlights in her face, so I'm ok, I still have that skin texture the only highlights that I'm losing are just in the jewellery and that's totally fine so that looks good that click over here and try to see what I'm losing and blacks I still actually have all that detail in the black, so I'm okay. Um, four white balance for a picture like this I I'm shooting a client. I do have a colored checker on and see what you can do is it will have a neutral has actually several neutral and I'll bring it up can you can talk about your mask in a second let me bring this up um okay, so he has the color checker in his mouth or around his neck or whatever's going on there, um and there's a variety of different solutions for this, but when you zoom in, it actually provides you not just neutral grades, but varieties of neutral graze because some of them will give you a warmer picture, so it depends on your personal taste. There's a true neutral gray like eighteen percent gray that zeroes everything out, but then there's one that's a little warmer or a little cooler, and what you'll do is opening it up and develop module, which is where I am now. Even develop module I have my navigator set on the right hand side and this isn't light room you can do the same thing um and photoshopped with levels it just won't work as well because right here you're accessing all of your raw data so I can click on my eye dropper and if you can see the navigation right shall we go and see it as I mouse over the different whites and grays it's giving me a preview of when I click on that as a neutral point how it will convert my image what it will look like so I know what the true neutral gray looks like versus something a little bit warmer and I can select a black point wait point so maybe I say okay that's how I like the photo and when I click on it you know it'll make a change let me just think a little more dramatic so you isn't see it maybe here okay so if you're looking there's actually a tent to that grace so now it's and I feel like the little peachy but maybe it makes a pretty peachy color skin uh in light room what you khun dio is you can take one picture of this color checker or whatever using for white balance it might even be a lens cloth you take the one picture when you set the white balance. I can select all of my photos and with one click make them have that correct white balance so I can click on the first one and let's click on all of all the photos of the mass when I write click uh, the one way that's one way to do it, but you can also click down here with stink settings in the bottom right kind of the more readily available option when you click sink settings it saying okay, so any of these things that are checked apply this change also to all the other photos that we selected, and so in this instance, I could turn everything off if I wanted to. If I had made a bunch of other changes, I didn't some okay, but I want to make sure my white balance is changed, so I hadn't synchronize it goes ahead and see it clicking through and changing the white balance for weddings. I throw in a great card when, uh, the bride is getting ready, doing her makeup because it's always been like a really nasty gingy bathroom like they always just do it in the bathroom of the church or or whatever. Um, throwing the great card to make sure that's correctly white balance or in a room where there's light above and then also there's going to be window light, so have the mixed color temperatures all throw one in so I could make sure that it's easier for me to get the true skin tone what I'm having that mixed light in the scene this is a kind of another topic but if I could get rid of mixed light I do it turned off one of the lights I mean even if they needed to see for the photos we just say hey, we turn this off for a little bit gonna make my job a lot easier okay, so that was the white balance s o for something like this in the original shoot I did have a color checker and then everything stayed the same so I didn't really need thio make any changes if you didn't have a color checker I would grab you can also grab white point here if you wanted I could base it off of a black point but it needs to be not salad black if there's no detail it can't actually color balance off of that or you can do it by eye if you know that your monitors calibrated and there's a bunch of different color monkey and spider pro and if you and then you can judge it by eye because maybe you have a particular taste I generally like my photos cooler and less saturated and that's part of my style and it depends all right? So we'll say that's good and went open up and so for a photograph like this and duplicate the background and I'd come in and look at problem areas and anti rid of so for example, this is a portrait this girl is on love and hip hop atlanta so this is a portrait do I get rid of that or not? And I asked her and she said I could get rid of it so I can spot hell that out no problem um other things always for women I get rid of wrinkles on the hands and problem areas in the neck, and so we're doing a basic retouch and I'll just show you real quick a couple tips, um for other things I do for african american skin tones okay? And so I just need to get close because I'm going to run a portrait drawn her neck so it doesn't need to be perfect. I already know that I'm going to uh if I'm looking at the shot it's not going to be blown up for a billboard and her head's smaller and it's the portrait sure will probably be just fine if I want to shape her cheeks a little bit more, I can give her more of that extended highlight by taking clone on leyton and I can kind of lighting up this highlight even further and I could also do one on darkened and I could darken up underneath to plot that jaw line just a little bit more and I'm going to bridge down just for teaching purposes is going to be easier than having a million files um when a duplicate and let's run our portraiture so filter image gnomic portraiture I'm gonna come in to her neck and that's the main area that I'm worried about smoothing out right now. And so even though the neck doesn't probably have enough skin detail it's her neck it's on her face and you don't you don't really care what you care about is if this gets over smooth so right now how we talked about using portraiture the first day I smoothed based on the area of skin so I'm going to smooth differently for her arm that I would for her face then I would for her neck so hit okay? And if you look you know, going before and after for the neck it looks much better. Um if I hit command are, uh, option and then click on the mask gives me a black mass so hides everything that I could just paint it back and selectively painting back in on her neck. And then I could also paint on her face for certain areas that I thought that it didn't overdo it all right? Um her eyes are relatively even in this shot, but if I ever get a shot where the catch lights look uneven so maybe one doesn't exist what that tends to convey to your mind if there's a smaller catch late or you don't see it is that they're I when I was droopy or that their eyes are uneven and we perceive symmetry is beautiful so I will always fix that how will fix it let's say and I mean these were relatively even but what I would do is I would select the catch late option j move the catch late over and blended in if there is no catch late at all and blended in if there is no catch elated all you can draw it in yourself it's much easier if it's not a huge photo to be believable if it smal I drunk actually tell the time like just with a uh uh hard edge brush and you can actually have your brush be the shape of uh polygon or you can shape it like a soft box I mean you can shape however you need teo so when I came back you know, maybe maybe the eyes look more even with even catch lights um I know that I would fill in the hair to be more even here and I would clean up the hairline show you a couple things I'm thinking of I'm over here in a bit because I'm obsessed so they dio um I know that I would liquefy in just a little bit but the reason I wanted to put this example up there with so that I could show you kind of a color skin tone effect that I do if you look at my portfolio of most of the african american skin tones I have aren't necessarily this like kind of warm thiss warmer tone their usual kind of slate and cool so how I do that is I opened up my vibrance tool and I do one of two things I either try vibrance dragged all the way to the left or further to the left and saturation to the right or I switch it depends on the person so when I do this see, even before and after you see how your screen looks I'm gonna put a darker layer real quick over everything because your screens looking a little later than mine just to make sure you can see everything okay, so for the vibrance uh it will make kind of a cooler more slate tone and so I will do that or I'll go ahead into reds in de saturate red's a little bit and it starts to be kind of more of ah cool slate tone I think no, not the internet if you go to my website under a portrait um if you look any of the portrait of african american skin it's usually kind of more of that that slate look to it so let me show you what I would do for this image. I probably do something like that for the kind of the slate color I would paint the effect off of her shirt. Bring back the color there, okay? I would bring back the color in her hat and in zooming into her face. I'll try to find a way, it's, maybe open up this eye a little bit. I think they look a little bit close, a tiny bit sleepy, but not too bad. And her skin doesn't need more, much more retouching, then that what I see that I would change would probably be just a little bit of the smile line. But in general that's, pretty much the only difference between different ethnicity and race skin tones is just sometimes I make it looked kind of ah, cool tone. Um, using vibrance it's of any questions on that, any problems you've run into, saying, just in general, that suzu ass is calibrating your camera and monitor something that's important to your work style for okay, well, I have one camera that's well calibrated and taking care of. And one that's not because they have the one that I don't use this often and it's a nice backup cameras, I keep it like we'll maintain and then have nowhere course, which I'm a little more abusive to when I'm shooting an editorial, it doesn't matter to me when it's creative work, when it's fun, if I'm shooting something that was more of a catalogue or meant to exactly show, if what clothes looked like, then it does make a difference right, and some to show you the difference in her scan real quick, something like that, and I can't back off into this as well. So it looks nice ng kind of creamy and smooth, right? So a question question is, you know what? I have one ok, x, y z z three sixty brazil asked any tips on making skin looked more like a painting like sort of pinup style I just use what I'll do is offend trying exaggerate, I use portraiture, and then I go in and I paint every highlight, like every single highlight on the body, I go over it with a white brush on soft light, every single shadow on the scan, I go over with a black or darker brush on softly, and so you're painting it cause your accident, accenting the highlights and then also the shadows, and so they start to look for is a plasticky, but beyond perfect, those highlights are too perfect. The other thing is for the highlight area, and I do this for beauty all the time. Let's say that there's the clavicles and you can kind of see skin texture, I'll go over that's the highlight, and I think I have an example here probably see if she has any clavicles and hang out okay, so for example, like this with this highlight is I would clone over unlighted and to get rid of any skin texture, and then I would also go to the shadow and clone over unde argon so that they're just highlights and shadows and not textured skin. It makes it really, really, really smooth and beautiful. And so here's, where the young this image started, as and then here's where ended up so kind of fixing the fixing, the headpiece, smoothing up the skin, bringing out highlights in the clavicles and changing the shape of the body a little bit. You know, when you're working with the model, you don't have a ton of skin work to do, but it is kind of perfecting everything. So a question from of several folks earlier today, if you could just talk again about why you use, um camera raw burst his light room and just that workflow senate again, eso I sell them, I pretty much always start in labor and so important keep my images and I don't shoot jpeg images ever like I never shoot jay pig images, so I bring him into light room when I'm in develop module, I'm actually working in adobe camera like that's what it is it the same engine? It's just you have more options, more control and it's not actually applied. It's, you just kind of viewing a preview in this example, I'm showing you that the late room changes. The reason I've opened up some things and dobie camera is if you don't have light room, you can still do all those changes if you shot the image raw. So I don't think I ever open up justin plane camera raw, always in light room. Well, this just got more general question from a detail says, do you do selective focus and photo shop and your photos or only in camera? Me personally, I don't do selective focus with plug ins. However, the plug and focal point is one that you can purchase that helps you faked up the field, so that is another one if you want to give it a try, I just I just don't, um, a ten to shoe on location really wide apertures narrowed the field in studio I all in focus.
Ratings and Reviews
Fantastic Photoshop course. I knew Lindsay was great at Photography, Lighting, Posing and Public Speaking, but I am really blown away by her mad (great) skills at Photoshop. Lindsay really is a fantastic teacher. She turns what might be a more or less dry topic into a fun and entertaining topic. Thank you Lindsay and thank you CreativeLIve. You have a real superstar with Lindsay Adler.
This is a great workshop for photographers wanting to learn and hone in on their retouching skills. As a photoshop user and photographer of 10 yrs I have been able to take away some further techniques to help better my skills and more or less tailor them. I would suggest you have some adv beginner knowledge of photoshop because I don't think some of the techniques you will be able to keep up with unless you buy it. There are two things that I wish she did better in her teaching and that is to teach new users to label all their layers and what they are as you are working. As you can see Lindsay ends up with 20 layers and unless your the one doing the editing you will have know idea what is what when you have to go back to it. So its best to teach this in the beginning so people get into the habit of organization early. Also I wish she used a Wacom. It really does cut your editing time in half and you have more solid movements in precisely selecting areas of a photo. From a photographer to other photographers. Use a wacom. You can start with a basic baboo for $89 and when the apple wireless mouse cost $69. Time is money, and a wacom truely save time! I used to use a mouse and my trackpad and once I switched I was like OMG what was I thinking before! So I wish she just emphasized that point more. Overall I think it was $99 well spent.
Not only is Lindsay very knowledgeable and a very good teacher but I REALLY TRULY appreciate her no-BS, straight-forward style.. No time wasted on long tangents talking about herself (or what have you), on cute remarks or on off-the-mark humor. She has showed us many great techniques, has presented to us various creative/different ideas AND she has also really been able to explain "how she thinks of a solution", how there is a bit of trial and error, "even" at her level.. All in a all, a truly excellent course and worth every penny!! Thank you Lindsay and thank you to the CreativeLive team for a great course!!
Student Work