Dodging & Burning a Landscape Photo
Jared Platt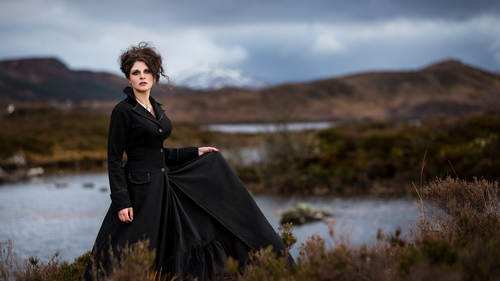 Dodging & Burning a Landscape Photo
Jared Platt
Lesson Info
3. Dodging & Burning a Landscape Photo
Lesson Info
Dodging & Burning a Landscape Photo
Okay, so we're gonna go back in the light room, and we're gonna talk about some other things. Now, let's talk about a landscape shot. First off. So here, uh, I did all of this inside of light room. Um, but there may be some additional things that I want to do inside of photo shop. Um and so we're gonna go into we're gonna go into this photograph, and we're gonna talk about some of the things that we do in a landscape situation to augment a photograph. So I'm gonna take this photograph, and instead of bringing in as a, um, smart object, I like what I've got done with it. So I'm gonna write, actually. Well, yeah, Let's just go in. Let's edit this in photo shop, and it's just going to be a pixel file. Now. It's no longer a smart object. It's no longer raw because I like the way it looks. And so if you're in Photoshopped already and you're working on an image, there's a lot of things that you can do burning and dodging to create, um, a field. So we think of sculpting inside of Photoshopped...
as moving pixels around and like re sizing and changing the shape of things. But also remember that there is the concept of of shadow and light helps change the three dimensionality of things. And so when you're inside a photo shop, that light room has a a good ability to burn and dodge. But photo shop is even better at it. And so if I really want to get intricate inside of my burning and dodging, oftentimes going to photo shop to do that and I wanted to show you some of my tricks and my rules for burning and dodging. So the first rule is that I always use a preset to set. Things are a action to set things up because you don't want to spend time doing the same thing over and over. But what I do is I have a burn layer that I literally click on that, and it creates a burn layer. But the way you create a burn layer is, you go into the so you're going into your layer panel here and you're clicking on the little menu, and once you're in the menu, you're gonna create a new layer, and that new layer you can call that your burn layer, and then you're going to go to the mode and you're gonna call that a soft light layer. All right, so it's just a a type of layer. It's called soft light, and you're gonna fill it with neutral or 50% gray. So you click on that. And what's gonna happen is it's creating a layer that's gray. That's a soft light layer. Anything that's black painted on it is going to be a burn, and anything that's light or white printed on it is going to be a dodge. So if if you paying, if you use the painter tool here and paint black, it will literally burn stuff. It'll get darker. Black makes it darker. White makes it lighter, but there's problem with white. If you go in and you can use the burn dodge tool on this burn dodge layer, and it just simply burns. It adds more darkness to it or dodges. It takes that light away. How many of you have been in a dark room? Just a couple. So in the dark room you would burn. You would like have a paper with a hole in it and then you would go like this and you would burn and the light would go through the whole. And so anything that got extra light would get darker and a dodge had a little. You'd get a little like wire with a little piece of like cardboard, white cardboard or something like that on it, and it was just a circle. And then to dodge, you would put it over someone's face and go like this so that the wire didn't cast a shadow and you would move that circle around a little bit. And then because the light wasn't hitting the paper, the paper would stay white, and so it would be lighter. The problem with that, and you'll notice that they've kept the mentality of that. See, the the actual icon, for it is a little hand with a hole in it. That's your burn, because you'd go like this and you'd burn things. And then the dodges a little stick with a circle on it because you would dodge things out so they've kept that mentality throughout. But the problem with dodging are burning is great because it makes things rich, right as you dark and things that makes things rich. One of the problems with dodging or burning, though, is that as things get darker, they also get more saturated. So keep that in mind as you burn things, the colors get more saturated, so you might have to also go in and remove some of that saturation in order to keep it looking normal. But dodging has a completely different problem. When I dodge something and I brightened everything up, it brightens the black areas as well. So the black comes up and becomes dark gray and the dark grey comes up and becomes light gray and the light grey becomes white and everything gets brighter. That's a problem. And so I have two different type methods for dura burning versus dodging. So when I wanted burn, I use the burn tool right here and I go in on my burn layer and I would go in and burn things. So I'm going to go into the mountains here, and you can see that there's already a kind of the others dark. And then there's light. And then there's dark. And then there's light. So there's already a cadence to the mountains. We can see it happening. So what I'm gonna do is I'm gonna go in with my burn tool. I'm gonna make sure I'm about 30% and I'm burning. I can choose what I want to burn. Highlights mid tones, shadows. I'm just gonna keep it at mid tones for now. And I'm just going to go in and burn areas that are already naturally dark. Now, don't worry, Aiken. I can be a little heavy handed on this because in the end, I can always back it off, which is what I love about a burned dodge layer is that I'll go in and work on burning and dodging. And then as soon as I'm done with it, I will go back and and back it off because it's it's trying to creep up to it. You never actually get there. But if you go past it, you can see who I went too far, and then you can just back it off a little bit and I'll show you how to do that in seconds. So see, I'm just burning areas that are actually already dark. I'm just kind of darkening him up and giving myself mawr of a shape to the mountains. So I'm just kind of going into these areas here, and I'm just being really loose about it, and that's going to create more volume. And you can do this on a wedding dress, too. See how that works. Doesn't matter if I'm burning a mountain or a wedding dress. It's all the same principle. Burn the shadows, dodged the highlights, and the dress will go like that. And it'll be really beautiful, cause it'll just flow. Same with the mountain. So I'm just going to go in here and I'm just burning in those little areas on the mountain. Gonna do a little bit of burning right here on this mountain, but not too much. There is some right there that needs to be done there. Okay, so I finished burning. I'm gonna burn a little bit of this side of this barn here and a little bit here on the side of this house. Maybe the roof just a bit in that tree line back there. Good. Okay. So now if I go back out, see how its way over the top, you can see those burns happening. So now what I'm gonna do is I'm just gonna go to the burn dodge layer and grab the opacity, which is right above at the top of my layers panel. I'm gonna grab the opacity. I'm gonna go to zero. See, it's gone. And now I'm gonna just inch it in until there, So 56% I like it. So now, show you before after, So you can see there's before after you see that. And now the same thing can happen here in the clouds. Just come up and just start burning in the natural shadows in the clouds. Here, there, a little bit down there. I go right under there. See, I'm changing the size of my brush. Get that right there. Get that shadow right there. Get these shadows right over here. So I'm just looking for shadows, natural shadows that I can get to kind of darken up and fall back into their place. Be careful, cause you don't want to to get to sharp. Otherwise, that it won't look very natural because you there. Okay, so now you can see piers before there's after. See that? So now those clouds look much more brooding and foreboding and like they look like they're undulating up in the sky and I can do the same thing here. I'm just following those natural areas, those shadows inside of my grassy area. Okay, so now I've got all of that done. Now I'm gonna go to the dodging, so I'm not going to make a burn dodge layer to dodge, because burn dodge layers are just gonna indiscriminately pull everything up. So instead, Oh, you have a question about burning? Yeah, I'm just curious. Might you create a new layer and work initially on the horizon in the mountains, and then do the cloud separately or not? Yes. Yes. If you were trying to be very intricate and you weren't sure of how much each thing would want, I would burn. The grass is one thing. The mountains is another thing, and each successive layer than you could change the opacity on each one of them differently. And you could you could control that. Absolutely. Um Okay, so the next layer I'm gonna make is what's called a I call it a smart dodge layer. And all it is if I click on that, it's just an action that simply makes a curve. So see this? It it made a curve. See what that curve looks like? So the mid tones and some other some of the highlights go up, but the whites stay right where they are, and the black stays right where it is. And this shadows stay right where they are. So what happens is if I dodge if I If I brush across this thing, it's on Lee going to brighten things that are naturally bright. So and then what it does is that action is simply creating that. And then it's making a layer mask and it's filling it with black so that it's not on here. You can't see this effect anywhere. So now if I click on that black mask and I paint white on it, then it will show whatever the effect is is going to show now because white makes things show up on a layer mask. So I'm just gonna take a brush and I'm gonna make sure that I'm at, like, 30% normal brush. And now I'm gonna go into the highlights of things like, say, the highlights of this grass, and I'm just going to go in and just kind of paint across the tips of the grass, but it's not going to affect the shadows because the shadows air staying right back down where they were. So don't have to be super terribly accurate. And I'm just going through and just just kissing the top of all this grass here so that now, look, here's the before. Here's after. Do you see how that's just livening up the tips of the grass? And then I could do the same thing. Just create another smart dodge layer. And it helps if you make these into actions so that they just happen, right? So I'm gonna make another smart dodge layer, and now I'll go up into the clouds and I'm just going to go and kind of play with the lighter areas of the clouds. Like right here, right there. Just gonna kind of Brighton those up. So my goal is toe always enhance what naturally already exists. So I'm just looking to kind of help nature along to tell its story, all right? And I am not a photojournalist, so I have no problem doing any of this. Um, when I tell a story, I'm telling it in the same way that a documentary filmmaker tells it. He's telling a story. It doesn't It's not necessarily dead on accurate. Okay, there we go. So now let's turn that one on and off and you can see See how that kind of pops those clouds a little bit more, and then I could do the same thing. Come in here and just get that like that snow. Those snow caps will be nice, and this is where it really comes in handy to have this smart dodge because the the darker areas around our not so critical because I can spill over him a little bit and they won't necessarily brighten up all that much because the shadows air still kept down. You still want to keep it fairly, you know the right size. But I can just kind of play with those snow capped mountains and get them to kind of being a little bit more because we always want our snow capped mountains. The beam I they're So now if I go back out and I do the before after you can see how that snow just starts to pop, so keep in mind is you're working on your photos that burning and dodging is actually a very useful, um, way to work on your images. Okay, you can do this in light room as well, just with the brush tool. But it's also a really good place to do it in photo shop because so accurate and you can get in. It's quick. It's very fast. So all right, Any questions on that or anything? Up to this point? Just a quick clarification from Cosme Abu Post this question. Why don't you burn the same way that you dodged, but just use a different curve? Does that make sense? That is a good question. The answer is because the burn is very simple to Dio and it works. And so I just haven't changed it, but you could do it with a curve, though absolutely would work. I just have never done it with a curve because it works perfectly as a dodge layer. So that's it. That's the long and short answer of it.
Ratings and Reviews
I am an intermediate level user of Photoshop, and I found this course to be quite helpful. In each and every video in the course I found one priceless bit of information, and often more. The video about Puppet Warp was a short introduction, which was perfect for me because I had never even known it was a feature in Photoshop. I disagree with Sam as I personally do not view Liquify, Puppet Warp, and Photoshop Actions for Burn and Dodge as beginner topics. I found this course to be outstanding for Ps users up to advanced beginner or intermediate levels. Very good value, great instructor.
This is only if you have very little knowledge about "Photoshop, if not is a Waste of money, nothing new and boring.
Student Work