Liquify In Photoshop
Jared Platt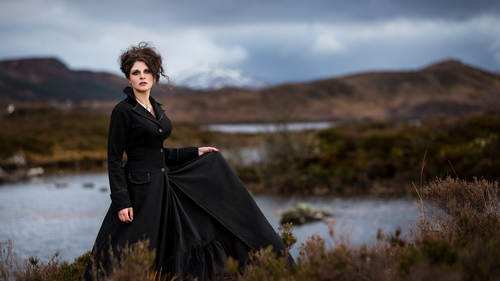 Liquify In Photoshop
Jared Platt
Lesson Info
4. Liquify In Photoshop
Lesson Info
Liquify In Photoshop
Now, let's get into a little bit more interesting stuff. Um, one of the things that we have available to us is the ability to more things or push them around a little bit. Right? And so one of the things that I do a lot inside a photo shop because I can't do it in light room is in this case, you can see See how her eyes are. Hopes to see how one eyes bigger and the other eyes smaller. So I need to fix that. So I want her to have the same either a squinty eye or on open I I wanna fix. So I'm gonna work on that to make it less obvious difference between the eyes. So what I'm gonna do is I'm gonna go in and hit, right? Click this and I'm gonna edit in, and I'm gonna edit. This is a smart object and photo shop. We're gonna go to photo shop because light room, we can't. Oh, hold on. Hold on. Hold the phone. I we're gonna cancel out of there because I forgot to do something that's really important. So if you zoom in, do you see that grain do not shift grain around in your photograph. So I lo...
ve grain, but it needs to be added after the fact, not before that makes sense. So add your green later. Don't add it at the beginning. So if you add it right now and then you go into photo shop and you start tweaking stuff and moving stuff around, you're gonna do stuff to the grain. So what I'm gonna dio is I'm gonna go to my develop module. I'm just gonna go down to the effects and I'm gonna turn off the grain layer. So now it's just smooth. It's not. It's not grainy because I don't want to do any retouching in photo shop to grain. You have a question? I'm just curious when you say green is this Added Green. Who are we talking noise that it's talking? Added Green had a green. So when I I add grain all the time, I shoot in 100. I s so and then I add grain like it's 1600. I s O. So I actually prefer the grain of the light room ads than I to the grain that your camera might have. But I do love grain. But that's cause I grew up with film. And so I'm old school that way, just like it. Although I'm not old school enough to actually go back and shoot on film, I think that's crazy. So those of you out there who is shooting on film, just spending a lot of money, a lot of money. So I really prefer shooting digitally and then adding grain because I can make something looked like it was shot on any film that you are shooting on. So might as well shoot digitally and then add grain later. Um, OK, so I'm going to see Okay, so now that we've done that, now I can right click this and I can edit this inside of photo shop, someone edit this, and we're gonna work on this image just on the eyes. So hang on one second while we get there, it's coming in. If you look at this photograph, I want you to make sure that you understand that this So if we if we look here, that is a smart object, it is wrong. But while it's raw, and while it's a smart object, I can actually go up to the filter area, and I can do liquefy while it's wrong, which is amazing, like that's pretty cool. And this is only available in CC light room CC. So if you're not unlike from C. C, you can't do this. But that's another reason to get online room Sisi, as opposed to whatever light from three you're on or whatever are Photoshopped three or Okay, so we're inside here and see how it's it's circles her face. It shows like her chin line there, and it shows her mouth and her nose and her eyes like, as I hover over things so I can go in and now control these things based on those settings so I can grab her. I So I like the squinty nous of this I So I just want to make this I look more like that. I So I'm gonna take this I and I'm just gonna grab it, and I'm in a school in it down, and I'm in a school in shit up, right? I just have the ability to change the size of the I. Okay, so now let's just preview it. It's that or that. See that? So I just fixed the I and it's still a raw photograph. And so now I'm just gonna hit, okay? And now I have a better I. And then all I need to do is file close. It's gonna ask me if I want to save it. Yes, I want to save it once I'm done with the I mean, how long did that take? No time at all. Right. So you got someone that had, like, one I whatever. Just fix it, then come back now. I still have a raw image. So I'm here. I've got a D and G. That's the original Raw. This PSD has a raw inside. It is just referencing this one right here, so still raw, but it's been fixed. So now I simply go back to this photograph here, the original and I can turn the effect back on, right? And then if I want the same grain over, highlight that other one, So I'm shift clicking over to it, and then I'm just gonna go like this. I'm gonna synchronize and I'm gonna check none. And I'm just gonna say, synchronize over my grain. Where's my green? Right there. Boom. So now the same grain that's on the original photograph is also on my fixed one. See that? So I've got the eyes, squinty, and I've got grain. So there we go. I think I did it too much. I'm looking at it now, and it's a little too squinty, don't you think? All right, so then if that's the case, all I do is command E at it, the original. It's gonna open up, then I'm just going to double click on that. Liquefy. So this is that the effect that I did on a double click it It's gonna open back up. I'm gonna go back to that. I Let's just go back in and say, you know, I probably shouldn't have gone so crazy with it, So I'm just gonna, uh what things that look good. That's better Hit. Okay, close it, save it. But the grain is on top in light room, and this goes back and kind of neatly fits right back under the grain. So now and you can do this with, even if it's not a smart object or whatever everything that you make. If you make light room your hub when you send it off to Photoshopped do your work and it comes back. It will just neatly fit under whatever you've done inside a light room. So you can do all sorts of stuff. Like I can go back to light room and I can turn this the black and white. And now, if I go back to photo shop, I'll edit the color. And when it comes back, it sneaks under the black and white filter and all the edits I made in photo shop for now under that black and white change. And then if you share everything from light room, then everything gets all the changes. So light room is the last place you look at something before it goes out. That makes sense. Okay. Any question it looks like your question. Quick question. Uh, you edited the original. Um, could you just explain briefly when you might edit a copy or use one of the other? Okay, so if I hit command E on a photo shop document, if I hit command E on a regular raw image, it will just open it in photo shop. And it doesn't become something else until you save it or close it. Right? So it doesn't become a Photoshopped document until you actually close the document and then it saves it as something. But if I go to a photo shop or a PSD or tiff or whatever, if I hit Command E, it gives me three options. The first option down at the bottom is edit the original, and that's usually what I'll use. But there's another option, which is edit a copy. And what it does is it says, Okay, I'm gonna copy the original photo shopped document doesn't have the black and white on it, just whatever's underneath the light room layers, and I'm gonna copy it, and then we'll open that one. So if you want to make a secondary version of it and you're like, I'm not sure I want to try it again, you can make a copy. If you add a copy with the light room adjustments, then what it does. Is it Sam A. Copy this, but first, I'm going to apply all the changes you made above it in photo shop, like the black and white and the grain. I'm gonna sandwich it onto a copy and then you've got a flat copy. So the problem is is that if you edit the original, then you have all the layers. But if you edit a copy with light from adjustments, it's a flat document over here.
Ratings and Reviews
I am an intermediate level user of Photoshop, and I found this course to be quite helpful. In each and every video in the course I found one priceless bit of information, and often more. The video about Puppet Warp was a short introduction, which was perfect for me because I had never even known it was a feature in Photoshop. I disagree with Sam as I personally do not view Liquify, Puppet Warp, and Photoshop Actions for Burn and Dodge as beginner topics. I found this course to be outstanding for Ps users up to advanced beginner or intermediate levels. Very good value, great instructor.
This is only if you have very little knowledge about "Photoshop, if not is a Waste of money, nothing new and boring.
Student Work