Sculpting Products In Photoshop
Jared Platt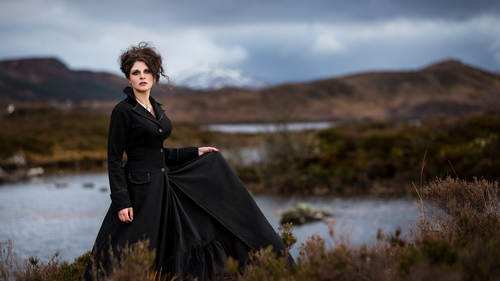 Sculpting Products In Photoshop
Jared Platt
Lesson Info
5. Sculpting Products In Photoshop
Lesson Info
Sculpting Products In Photoshop
So now we're going to go in and look at Oh, here's here's A really Does anybody shoot? You shoot product, Anybody else shoot products or things, buildings, stuff like that. Okay. All right. So when travelling or win photographing objects that need to have a little skewing or whatever. So I have a client where I shoot these amazing, like, old trunks that were literally owned by, like, Mr Vanderbilt, you know, and they're like going across the ocean. So people used to travel with this, and I could, like, get into that trunk. Right. So now I travel with this really light suitcase, but this add up like servants carrying it around and all that kind of stuff, right? And so these trunks air really, really expensive. And so they they basically collector's items and people buy and sell. It's kind of like this hobby for very rich people. And so I I end up photographing these, but when I'm photographing him, sometimes I'm just a little bit at the wrong angle, and they don't kind quite square up, ...
and they look a little bit weird. And so what I'm gonna do is I'm gonna show you how to edit those, um, inside of photo shop. So I'm gonna open this up inside a photo shop, and we're going to go in and kind of skew it, but with different tools, because we could use the, um, the guided, uh, the guided transformation tool inside of light room. And it would do a pretty decent job, but it's not quite a specific is what we're gonna do, because if you just use the guided tool inside of light room, all you can do is four basic access is, and it always makes them perpendicular and parallel to specific areas. And that's not gonna work when you're working with angles. And so what we're gonna do is we're going to go into the, um, perspective warp tool, which is in your edit menu. So inside of perspective, war. Now, I'm gonna go into my document here, and I'm gonna look for panels or sides, and this works also with a building like a street corner. Anything like that, you can change almost where you're standing. It's pretty cool. So we click on an area here and I draw a square to there. So that's a panel that I'm gonna grab this edge and pull it up to here, and I'm gonna grab this edge and see how I'm like showing it where one of those sides is. Then I'm gonna go to this side and do the same thing. So I'm drawing a see how it finds that edge. So you just draw close enough to it, and it goes, Oh, you're This is another connection to this. So then I'm gonna grab this panel here, this pin here and drag it right. Well, that's weird. It's hiccupping. So drank this one over here. Drag this one right there. Okay, so now we have that one. So then what we're gonna do is we're gonna create more panels for the rest of the things. So, for instance, actually, this needs to come up to here because truly that's the actual edge of that. Do you see what I'm saying? Good. So that's that's actually truly the edge of that. And then we're going to do another panel. Oops. I didn't mean to do that. We're gonna draw another panel right here, see how it locks on to there. And then I'm gonna go like this and it locks on to that one. So now I just need to grab this one and drag it to here. Okay, so now we have another panel up here, some in a drag that, like this drag this one up here, like this. Drag this one up here like this. And so now we have that panel. So now we're getting a little complicated here, but we'll do what we do to more. So I'm just gonna go like this, and I got to get because this is a different panel, right? Cause now it's facing to the right and sign. Just gonna go like this and like that. And then we're gonna do one more of these right there, and that one goes here, and this one goes right there. Should have locked onto it. But I'm not sure how to zoom in and see it. Looks like it. Yeah, it did. Okay, See that? So now I have officially told this thing what that looks like. Those are all the panels. And so now, once I'm done with the layout, See, I'm in layout mode right now. So now I just have to hit warp mode. So I click on warp And now if I start moving any of these pins, they will move the other ones in relationship to it. So watch what happens. So if I'm like this is looks weird, it looks like it's kind of going up this way a little bit too much. So I just simply grab a pin and I drag it down and you can see See how it's almost shutting the thing right? So then I can grab like this one and say, Okay, if this came down, see how that other sides are? It's almost like shifting me around the So I just grabbed these until it looks correct. See that? And it just changes the perspective of the entire thing in order to match the perspective that would exist if I was standing in a position that would have given me that specific look. See that? So now I'm gonna hit enter, see the difference between this and that I screwed up the top because I was moving around. But otherwise this bottom area looks pretty good. Like I'm looking down into it as opposed to down here looking at it, and then once you're done with that, then you can go into, you know, cropping it and start like turning it. Crop it down like that so that it's on white. They're so now your trunks ready and you put it out toe. So the website first to get someone to sell it for a crazy amount of money. Yes, I've seen in photo shop before that you can have a perspective guide. I'm sure it was in photo shopping. Not illustrator. Is that correct? A perspective guide? You Oh, OK, you're you might you're probably talking about in the filter of Vanishing Point. Yes, yes, I think that seat. OK, so the vanishing point is to tell light to tell Photoshopped what the vanishing point is so that when you're working on, like, stamp tool, you can stamp along an edge and it will follow that vanishing point. Can you use that? Um, while still using it. So I can't give you an example. That might be easier if you had a building, for instance, and you an image of a building. And you like the perspective of the building. But you wanted to place an image in front of the building on that same perspective. Can you have the vanishing point. God no, there to sister doing it. You know, there's two separate tools, so you no. But what you might be able to do is create a secondary layer with lines that show you that, like draw lines to. That's what I would do is I would create a secondary layer and actually use the line tool and just draw the vanishing point lines. Then bring your secondary. You know, if you're gonna put this trunk on a street somewhere, you know, whatever you could place that and this would be a great So I shot this at a particular angle. But if I wanted to do what you were saying and go into a courtyard and placed this trunk in the courtyard somehow then I might be off on perspective. So then I would use this tool to get that perspective right so that it was in keeping with that. But it would be a good idea to have that vanishing line. So I would just use, maybe put the vanishing point lines on a clear layer above the layer you're working on so that they're always there and there underneath, like your thing is underneath it, then it would work. Really? Well, that's what I would do it. Okay, um, so we clear on that? So that's a really useful tool when you're dealing with buildings or streets that you want to kind of turn around the corner just a little bit or you want to flatten out one side of it because the rest of the perspective stays true. So in this case, the only thing that got screwy is that lit. It almost looks like it's I broke the lid if I sent this to me like you broke my lid. So, um, anyway, but usually if you if you're careful about it and you watch what your perspective is doing, you won't run into that. I just got overzealous and broke his lid.
Ratings and Reviews
I am an intermediate level user of Photoshop, and I found this course to be quite helpful. In each and every video in the course I found one priceless bit of information, and often more. The video about Puppet Warp was a short introduction, which was perfect for me because I had never even known it was a feature in Photoshop. I disagree with Sam as I personally do not view Liquify, Puppet Warp, and Photoshop Actions for Burn and Dodge as beginner topics. I found this course to be outstanding for Ps users up to advanced beginner or intermediate levels. Very good value, great instructor.
This is only if you have very little knowledge about "Photoshop, if not is a Waste of money, nothing new and boring.
Student Work