Two Lights & Ring Light
Blair Phillips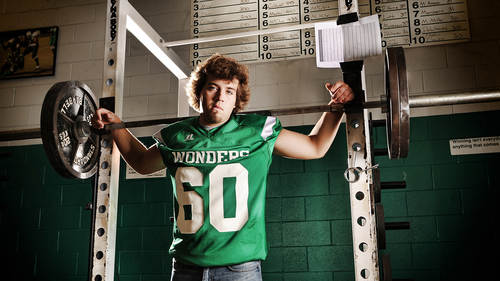 Two Lights & Ring Light
Blair Phillips
Lesson Info
10. Two Lights & Ring Light
Lesson Info
Two Lights & Ring Light
I'm gonna still let you sit there cause I can still borrow her for a little bit. Now we take, we say one like now what if we wanted to really vamp this thing up and we wanted to add two lights in here we would leave. This is our main, And then we're gonna walk over here and use this one, and I'm gonna drop it down just a little bit. So bear with me. Just one second. I'm gonna drop this down, drop it way down about her level here. And then Now, this is we're gonna talk about some separation lighting, and I'm gonna add a reflector. This because here, we're gonna open up and start to create a ratio. Meaning I won't just like an ingredient baking a cake. You want to parts of this one part of this? That's what we're gonna do. I want one part from our main light. 23 parts from this kicker light over here. So I want this to be a certain setting. I want that to be three times stronger than what this is because I want the lightness on this side to be a lot brighter than the latest on this side.
So that's where we're gonna add. And we're gonna create images kind of like this, where you can see the left hand side of this image. See her hair, how it's brighter on the left hand side. Then it is on the right hand side that's creating a ratio. And again, she's sitting here to reiterate. This is three times as powerful as this one. I want this one brighter than this one. Here again, you can kind of see it. See how her physical on the left hand side of this image. If we're looking at it, see how her right arm has illumination on it? Same thing in this image here. There's some separation in there. The guitar is lit. Everything is looking good. There was some separation lighting. That's one of the biggest things that I see people not doing enough of as even an amateur photographer or even photographers that I see all over. They'll have to lights facing their subject just like this, equally apart from each other. I don't have him on the same power output it makes no sens. It's like two headlights with two headlights. Everything's gonna be equal. But if you condemn one headlight down, then it's gonna look a little bit different. Do this. Go over to a window at some point, hold your hand up and just rotated a little bit and watch the light change. That's what we're looking for. We don't want to. Like you shined a flashlight straight on your hand. Move her hand around a little bit and watch the light change. That's what we're trying to produce here with separation mining. Now, when we moved to one of my favorite types of lighting, my wife says all the time. Blair, if you don't start doing more that three light stuff, I'm gonna divorce you. She doesn't say it like that, but this here, this is a three light set up and then a three lights set up is much like you see here where we have back over her shoulder. Here is one light with agreed. That's a strip box with a grid and then unfortunately, walked back over here. Hang tight, guys. Wait on it. Wait for me to bring this one up. So here we have to separation lights. So instead of just one now, obviously, we have to. What that's gonna allow is gonna allow a little bit of a light that's gonna rim off her arm That's going to separate her from the background. We're gonna have our main light here is gonna add just a proper amount of lighting back to her face. So with two separation lives, we're creating a strong ratio, really strong ratio. That's what we're looking for. And this is what I use a lot of times, if I'm shooting with a model or someone that's doing, like, pageant type stuff, that's what I use for that. I'll use that. It's good model Whiting. And if you look here, you can see again where they're stronger light coming from the sides than there is coming from the front. Can you not see that OK up there So they're stronger light coming from this side. Then there is the front. Now, with this next one, I may not shoot it, but I can show you some things that will make a lot of sense with the ring. Like I shoot my ring light at 800. I s o Paul tight. I'm gonna give you some secrets about the ring light that Everybody needs to know if you're gonna if you're gonna use one. Number one, you can't put this thing in their face like this right here. Okay, Look right here. You can't just put it in her face and then turn it on. It's gonna blind them. They're going to say no. When the world is that when I'm using a ring like this is how I get people introduced to the ring light. I'm gonna tear up my camera. I will turn this ring light on. And if they're standing right here, I'll turn it on and I'm talking to him and I'll just come a slowly, you know, ease it around and I'll keep walking. Run this way, and I'm slowly introducing it to them. Slowly, slowly, slowly, slowly. Because if you look right into that really hurt your eyes, doesn't it? It does. It hurts your eyes. This kind of kind of weird that way. But the one that I use is dimmable dimmable, which I love. It's the only one that I know of. That has a dimmer switch. Really, really, really cool. When I'm shooting this, I shoot 800. I s so this is basically shooting natural light. This is basically what we're shooting were shooting as natural light the keys to this and I'll turn around and use myself as an example here, where you can really messed up with a ring light and turn these off to or take these off its placement of the ring light. Guys, if you get your subject like way to close, the ring is way too big. You have to back your subject up just enough so that that little ring goes around the Irish, the little black people of their I. If it's too far back, it's too big of his too far forward. It looks goofy. So you white positioning is very, very key here and also the height of it. You don't want the height of it to cut through there. I It's gotta be a just the right position, so they completely circles the I so light position is very, very, very key here. I see a lot of people using it, but don't have it like off camera this way, and it just doesn't circle the I will pull the keynote back up in a few minutes and I'll show you some examples of what I'm talking about, where it needs to be. That's kind of a pretty tough light to look right into, isn't it? Yeah, but now do I sell images from every single session using this? Yes. Do I sell wall Portrait? It's using the ring light. Um, not not very likely. But this all this always goes into an album because there again, it's that six lighting source that you can use or the fears of the fourth. So I love love, love using the ring light. And again we'll pull back up the keynote here in just a few minutes and we'll get you some images from there. And I'll explain a little bit further of why I use the ring light and how I use the ring light. But again, anybody know what ring light was first invented for? I think it was dental photography. And now here we are, using it for portrait. But again, my general settings, whenever I'm using this is 800. I s O and I always shoot in the Kelvin white balance, which on those seems crazy people. So why don't you just use the custom white balance I like to control it through my I trust my camera where it is, where it's that I go to Kelvin and I will dial up the color temperature or dial the color temperature down, depending upon whatever Look that I won't. If I wanted to be really cold and looked like ice, then I make the color temperature really cold if I want to really warm really warm, obviously. So I use a Calvin White balance again 800 s. So I generally shoot most of these images at around 2.8 to 3.5 because it's all about the eyes. That's what I'm using for the eyes. But this is one of those things I couldn't imagine doing a section and not coming over. Another tip that I love to give you on. This is if you're using this, get a hair dryer, just a regular hairdryer. Turn it on cool so that it's not blowing hot air. Ask your client if they have contacts, because it could draw their eyes out really, really bad. And take that, take that hair dryer, and as you're photographing, you would be on that side. Obviously, take that hair dryer grand. Set your camera the way you the way you need it. Hold it with one hand and take your hair dryer and just kind of blow it in. Blood out. Blow it in, blow it out and it's gonna get their hair to going all crazy and blowing everywhere. And that's another thing you don't have to have an assistant for. You don't have to have a high dollar fan. You just buy cheap con air. Little Little Handheld Deal there again. Settings. 1 1/60 of a second. That's generally where I am at 5.6 Kelvin White Balance and again, that was my ring like dot com. And if you got this is the code, I don't I wish he would have chosen this code here already catching flak for this, but it's Ah, Blair hair. 10. If you If you want that discount, I don't know, I don't get it. What's with the hair jokes? Of course, I make enough of those myself as well. So moving forward. Look at some of these images that you can get. See how I was talking about. You have to have it just right on the eyes. or you can really goof it up and we'll move forward here. This is what I was talking about with the hairdryer. Just that little bit of softness of blowing the hair away from her head makes a tremendous difference. Just that quick little little flip of the hair dryer. And you're there. I've been out of hair dryers before, and I've taken a piece of cardboard and I'll have someone I'll do like this right? And say All right, on three and they'll Pfanner back and forth, back and forth, back and forth and I'm getting what I need. So we're almost there and you think you're finished. Back up and try something again. Now I want to talk about window light. Window light was one of those things that I didn't have in my studio. I didn't have window light. But let me tell you this. If you're gonna try to create natural light, don't do what idea, especially if you rent the building. Don't don't hire people toe, tear half of the wall out and put window light. And don't do that. That's not a good idea without permission. Three. Old man that I was buying this building from. I was renting it at the time, and he rode by and saw what was going on. And he literally just about had a stroke. So don't do that window light. Every one of us has a window somewhere, but be careful with when they like. I'll tell you why in a minute this is my window like that. I used right here. I went to high Kia and I bought four of these little like translucent window panels hung a curtain rod, got four of them on their their back to back. And that is a gigantic soft logs. It's awesome. So even in your home, if you're working out of your home, put a white sheet up in front of a window. You'd be amazed at this softness of light that you can get from there. You'd be amazed. These images here, like that, is 100% natural light. It's just light coming in from a window. Same thing here, light coming in from a window. This next light for this next image rather, is the use of my reflector from underneath and what I did here, I'll go to it. Here is I brought this light if she is my subject, I brought this this reflector and from underneath her you can see it on on the subject size there in the picture. I brought it from underneath. It was coming in from the window, So instead of bringing from overhead, bring it from underneath. So playing around with bringing from underneath, bringing from over top from the side wherever. Make sure using a reflector and make sure you're trying to use of natural light in there somewhere. If you don't have a reflector, a piece of white foam core piece of white posterboard mean that will work wonders. Take someone outside, throw it on the throat on the ground and have him stand in front of it. Be amazed how much light comes back under their eyes from doing that concrete. Same thing. Walk outside and look at where light is coming from. It's coming from somewhere, bouncing, all post something. There's a building. There's there's something that light is coming from, so don't walk outside and always think Well, this is a place to shoot. Walk outside and walk in a circle and shoot the same image about 456 times and look back through it and see which image looks the best. Look at your light and see where the best light is When I talked earlier about some continuous lighting, This is basically a form of continuous lighting. The difference is and in continuous lighting. If you're just starting out and you're like, I'm really scared of the studio lighting stuff with continuous lighting, what you see is absolutely what you get, right? So with continuous lighting, my preference is the Westcott, the TV six spider lives, which, like I said, they're replacing that. I think with this with the sky logs, that is just crazy. Awesome. And lay these images here. This is 100%. This is 100% lighting. That is constant. You see what you get matter? Finally, pull this over for a second. I want to show you guys this thing and this is awesome. I just got one of these, actually, probably about three weeks ago, and I used to sing it wedding receptions. I use it at birthday parties. I use it it where I used it. In a matter of fact, that my own daughter's birthday party toe light up a area where some things were that we want to showcase. I brought my Westcott studio like to light that up. Let's put it up on my show. You what we got here? Ending tight. See what I was talking about? About cords. How? Aggravating the order. If you just get rid of all the cords and put him up somewhere, you don't have to worry about it. This is another form of constant lighting. We put this on our subject here. She's gonna get aggravated. I'll turn it way down way, way down here, and I can move it around. I've got constant light on her. So as she turns her face, look at the speculator highlights in her eyes right there. I mean, that that looks like itself. A magazine right there. And then I pull this guy in, Look straight ahead there. See how this side of her nose is kind of dark. Pool this guy in, get rid of a little bit of that shadow and I'm using. Now I'm using constant light with reflector. And this thing is super super bright. I mean, you can man, you can light up a whole you can light up the whole room with one of these things, so for interiors and all kinds of things. But I love you, my seniors to be able to photograph them and be able to pull in all the ambient lighting in the background. Then I'll use a constant light like this, and I'm loving, loving, loving the sky looks that they've got. Now let's move forward a lot of people a lot of people have trouble with posing. There is just no way around that there's a lot of trouble with posing. But before we move any further, this segment and you know it didn't work out quite like we had hoped. But I've got a backup plan that I share with you just a little while. Um, let's go to the Internet and see if there are any questions about some of this gear, and I appreciate everybody online being really patient with us and understanding that there are a few technical difficulties that happen every once in a while. But let me just go on record and knock on wood. If this is the worst that can happen today, we're in good shape, so let's see, no matter what life throws at you, you know how to make role with always for sure. There is a ton of questions coming in. So I think this is wonderful that we have the opportunity to shout them out. P down this wondering about using a strobe marine light. They noticed that you have a continuous one. Is that for a particular reason? The stroke bring light is one of those things that David Lesch a pale. He made it very popular. I mean, he's probably the best in the world at it, and I love his work. It's a lot more powerful than this would be. So this is what you're gonna have to crank your eye esos up at, You know, 467 800 whereas a flash or strobe, you're gonna be able to shoot and pretty much just about any environment whatsoever So that the advantage to a strobe as you could take it outside and photograph, Um, whereas with this, this is gonna do you not a lot of good when you're outdoors, because the sunlight is way more bright than this would be. So that is the advantage of using it outdoors. Where is this you would only be able to use indoors. And then when you are using the ring light, do you ever actually retouch the catch light in the eye? Right. You know, if you get it in, if you get in the wrong spot, you can always just grab it and kind of move it a little bit. So normally way leave it in there because that's that's what we won't you know, it gives almost that cat I look and most people, when they see their like let s Oh, cool, that's awesome. So we leave it there for that purpose, you know, because we could achieve the same look with a different life source. But we're shooting because we won't that circle around the people. That's that's what we're shooting for. So we 100% leave it in there. A good question, and then do you ever use a beauty dish beauty dish? I've got a duty dish, but I just for me, there was a little bit harsh for what I was looking for. I didn't really use it Now that's not to say that in the future I won't back up and say, Hey, you know what I want to start using something else. So I'll add that I'm a phase that and then instead of six light sources now I'll have seven. So, you know, the beauty dishing out We didn't really get along that well in the very beginning, but I think 90% of that was due to user error. I didn't really I didn't really know exactly what I was doing with the thing, But I went out practice where they understood what a beauty dish waas and when it does and made sure I was, I was photographing the right subjects with the beauty dish because the beauty dish, you know, you need to have a beauty if you know what I mean. If you're shooting it with, her, beauty dish will be perfect with me. You want to leave that beauty dish in the studio because you're going to create a mess.
Ratings and Reviews
As an experienced photographer myself, this class was both helpful and inspirational…we're never too experienced to learn from someone. Blair is really a lot of fun to watch and listen to. He has a way of making things fun with his high energy and dry sense of humor. To be completely honest in my review of this class, the lighting and posing sections, while VERY good, have been done over and over again by lots of photographers and didn't offer much in the way of new ideas. The real value was in the customer service and marketing techniques presented here. Blair's use of video as a marketing and communication tool with his clients is very unique and sparked TONS of ideas I would like to implement in my studio. His simple pricing structure and the way he presents it to his clients is also unique and has helped me rethink some of my own methods. "That being said" (Blair should appreciate that phrase) this class is totally worth the price and will continue to be a good reference for me. Some photographers are excellent at their craft but are dry teachers; others are great teachers but their "real-life" work doesn't live up to their classroom presentations. Blair is the real deal and makes this class very exciting.
Blair is great. This class is packed full of great info and is a genuine good hearted person.. Really like his approach with high school seniors. I recommend it.
This has been my favorite class on Creative Live. I loved how Blair explained exactly how he landed dance and sports contracts. This class was packed full of ideas for marketing and selling products. There was just so much great information. Thanks, Blair!
Student Work