Shooting for Mobile Photography
Posing Your Subject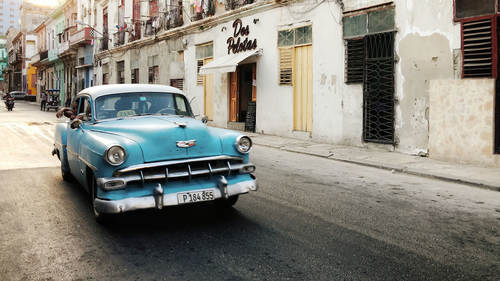 Shooting for Mobile Photography
Posing Your Subject
Lesson Info
Posing Your Subject
In this lesson, we're gonna talk about posing. I have two models, today. And they're gonna be doing some pretty standard posing, seated and standed. Then, I'm also gonna do some more advanced, more interesting poses because they're two dancers from the San Francisco Ballet. So regardless of what the poses are, it's important to think about not just where, in a scene, you place your subjects but what the subjects are doing with their faces, and also with their hands and their feet. I think that when you're posing people, always pay attention to what they're doing with their hands because that little gesture can really make or break an image. We have Ben and Madison, from the San Francisco Ballet, joining us, today. What I wanna do today is just capture a couple environmental portraits of you, just as normal people, non-dancing poses, to start with. I'd like to see what it looks like if you'd have a seat on the ground, in kind of a casual, relaxed position and not identical poses. But so...
mething that feels good and relaxing. And I know that it's really bright, so would it help if I had you look at each other, instead of me? Yeah. Go ahead and look at each other, then. And I'm gonna just take a few photos of this. Oh, your hair, you know what? Let's switch sides so that she can look at you. I kind of liked; Madison, you're great. Ben, you're also great, but I need you to shift a position ever so slightly. I don't really like your left hand up on your leg, like that. Can you just do one hand, but in a comfortable way? (chuckles) Do I need hands on top? Try to do one; do your right hand. Can you let it hang, instead of putting it on your other knee? Like in front of your, yeah, like that. Actually, pull your knees, both closer, and then, go ahead and both arms up, but kind of lower them, ever so slightly, yeah. I kind of like that because. Put them back up, and I can show you. It's like, it feels like a very strong, horizontal line, which I don't necessarily want. So go ahead and lower them, again. It gives it, like a little bit more of a relaxed look. So I'm gonna take a few photos, here. Go ahead and keep looking at each other. That's great. I'm gonna do a few vertical, just for some variety. Okay, go ahead and stand up for me. We're good, there. And let's see, casual, looking at each other. Ben, that's a great pose, there. I kind of like what you did with your hands. And Madison, go ahead and take one step closer to me. And then, I like your foot out a little bit. Then, can you? I'm tryin' to decide what to do. It's kind of like we have good poses, and then, we have to decide, sort of, how to finish it, right? Like where to put your hands, where to have you look, and that really kind of seals the pose. So in terms of your hands, I like that, actually. That's great on your hip. And then, go ahead and look at each other, again. Let's see; we're still working with really bright light. So that's good. I'm gonna take a few like that. And again. Okay, so I feel like because we have you amazing dancers here, that I don't wanna just do boring standing, sitting poses. I would love to do some really interesting dance positions. Are you game for that? (in unison) Yeah! Great! Before we get fully set up, what I wanna do is, I wanna make sure that I can fit everything that I want to into my frame. So I'm looking through my camera, now, to see what fits in the frame. I kind of love that I have this beautiful big wall. I'm gonna step back as far as I can. And I'm gonna see what all fits into the frame. And I would love it if I could get that point on the top of the roof into my frame. And because I can't with the iPhone camera as is, what I'm gonna do is add on a wide-angle lens. I have this wide-angle lens from Moment. And I have one of their cases on my phone, already. So what I'm gonna do is go ahead and screw that on. And what you'll see then, through the frame, is that I can now capture the entire rooftop. I can get that point, and I get the ground. That's pretty great. So I'm ready whenever you guys are. I know that you've prepared a few poses, already, which is great. (indistinct chatter) That's beautiful. And what I'm gonna do is, are you guys good? Yep. I'm gonna shift my body around 'cause what I'm seeing is this lovely shadow as well. And I kinda wanna get the shadow into the frame as well. That's beautiful. And I don't want her foot to break the roofline, so I'm gonna shift my body as I need to, to make sure I capture that. And thankfully, this is a pretty static. You guys can come down, whatever. Do whatever you need to do, so that you're comfortable and safe. What is important for me, as a photographer, in this scene is to not just capture the poses, but then also make sure that I capture those in-between moments as they're moving. Because I think that sometimes, dance positions or any positions, in general, are so fleeting that I might wanna use burst mode on the iPhone camera. So is there another pose that you could get into for me? It doesn't have to be as much of a lift. It could be more ground-based or even a jump, if you'd like, or whatever feels comfortable. That's beautiful. Beautiful, I love it. That's great, and I think that the beautiful thing about working with dancers, already, is that you kind of, already have to think about how your hands move and that added little gesture at the end that I think a lot of, sort of non-dancers don't really think about, oftentimes. So go ahead and strike that same pose for me, if you don't mind. And if you were to relax your hands, what would that look like? Not so good, right? So go ahead and get that little flourish of the hands, for me. That's wonderful, great. Beautiful, I love it. Beautiful, okay, thank you. Okay, to wrap up, we just finished with our two models against this wall. They posed for me, seated and standing. And because they're dancers, I had them do some of their more advanced poses for me. And what was important for me, when I placed them in the scene at first, was, I had to decide where I wanted them to look. And because the sun is so bright today, and kind of lighting up their faces so harshly, I had them look at each other, so they wouldn't be squinting and looking at the camera. And then also, once they got into the more advanced poses, I really paid attention to how they were placing their hands. I didn't have to give them a lotta direction 'cause they're dancers, and they're kind of used to that, anyway. When you're doing your posing, definitely always pay attention to how you finish up your pose by placing the hands of your subjects.
Class Description
Smartphones are becoming the camera of choice for many people as their technology gets more sophisticated. Join Pei Ketron, well-known photographer, educator, speaker and iPhone expert as she guides you through how to maximize your photos using your iPhone. Pei will show you how to:
Create your best image using your phone
The best way to post on social media to establish your credibility and gain followers
No matter what camera you use, the most important thing is to preserve memories with the best possible images. Pei will help you achieve that goal when shooting with your phone.
Reviews
I enjoyed this class and found it helpful. I'm primarily a DSLR shooter, but want to up my game for those times that I want to use my mobile phone either to shoot silently or to take advantage of photographic moments on those occasions that I'm not carrying my DSLR. Pei uses an iPhone, throughout, however, many of her recommendations apply to newer top level Android phones, such as the Samsung Note 9, as well. Pei demonstrates Portrait mode in the iPhone for a shallow depth of field vs. the native iPhone for wider shots. And, for wide angle photography, she uses a "Moment" cellphone case with a "Moment" wide angle lens attached. I've just added both accessories to my "gotta have" list. In addition, she teaches some basics on lighting, posing, composition, rule of thirds, and depth of field. Pei effectively demonstrates the use of burst mode to capture fleeting moments and exposure compensation to counter harsh light, as well. Professional photographers will already be familiar with the photography concepts taught. However, mobile phone photographers and beginning photographers who want to capture beautiful pics anywhere and anytime may find this course beneficial. It's short, about 40 minutes, total, and so priced a bit high, in my opinion. However, CreativeLive.com has GREAT sales--especially on weekends. Watch for it on sale and it's a worthwhile purchase. For future mobile photography classes, I'd ask for a more in-depth presentation of iPhone camera settings and features. And, as an Android phone user, I'd love to see a top Android phone or two used and explained, as well. Thank you Pei and thank you CreativeLive.com. I enjoyed this class. I watched it twice and picked up useful tips, both times! Daniel Williams, Santa Fe, NM danielw58@gmail.com
Nice lesson. I picked up some good tips