Noah Guthrie Shoot
Jeremy Cowart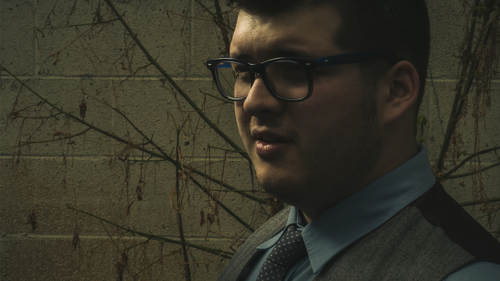 Noah Guthrie Shoot
Jeremy Cowart
Lesson Info
1. Noah Guthrie Shoot
Lesson Info
Noah Guthrie Shoot
So today we are in Franklin, Tennessee, shooting an artist named Noah. Nothing today has been planned. Really. This is a simple She would go one light, One assistant, very, very simple would just be walking around Franklin. Um, listening to lawnmowers Thing is just and it's always changing way. Always run before we call business manager brought me to this location. So I didn't plan or no ever going just like the shoot like this. I like the idea of surprise and just having toe improvise and not really know what's next. Back to some place you can. We're just doing what we call a running gun TCI, which is where you just grab a small crew and go and shoot around the city. I like doing this because I know a lot of you who are watching shoot this way as well. You grab your model and a couple friends and you should go shoot around town. That's exactly what we're doing today on hopes that you finally something you like full power from behind. All the same thing is really just keep mixing it up...
. I still like your profile. A lot you seen? Never heard we'd spare screams Got the singer songwriter. So something you have to keep in mind is I'm not going very bright and sunny and lifestyle that she will be very much a kind of darker, more brooding type of shoot. And we have bright natural sunlight. So I have to kind of work against set to get the looks that I want. Hopefully we'll can accomplish what I'm trying to get something that'll matches. So today we're shooting with all Fujifilm cameras. Both the X 100 s and the expert one. I just started with the X 100 s, but the that wide angle 35 millimeters a little too, too wide. It kind of distorts. So I'm switching to the X Pro one to get more compression with my 60 millimeter. So it'll be a little more compressed and focused and it would look better both these cameras to the same resolution 16 megapixels so I can switch back and forth pretty back to soothe. First thing I did was I had my light source constantly moving around my subjects. Eso is no was walking. Andres was walking around him with light and that way it gives me completely unpredictable results. Every frame is different, blighting seeing him from the side from the top on the left side from behind it just as a lot of fun. It's not something people typically do, but it's something I started doing recently. Gonna get a lot of squinting. Yeah, all right. Singing. Never heard a week spare back to some place that you can no back to some place that you can way just shot another set up where I did three different things that are very untraditional. They break the rules. They're not things you're technically supposed to do. But I tend to be attracted to those types of tricks because I just like variety. I like predictability. So the first thing I did was my light source constantly moving around my subject. I've also been focusing on the wall a good bit instead of No, I just, you know, at a little blur things that have focused. It adds a cool factor, and I've also been thinking my life at 2 50 of a second. If you sink 200 you'll get the nice light as it should look to fifties. It starts to give a black kind of shadowing effect on the sides of my friends. Most people don't want they don't like that. I kind of like it. And so with those three things that they're throwing in a little bit of very anti traditional techniques, I mean normally got standing in front of a wall is quite boring. But with those three things that we're doing, it makes it a little bit more interesting and fun to play with, especially in light room. Once I'm doing posts on everything, these will give me a lot more fun options to work with. We're shooting a crispy cream putting out that way, Didn't know the name, we just walked in, found it. I don't want to see doing it or hot now, just like away. It's in a really interesting kind of blame him. But if I'm using macro and just getting its face and we're getting some fun life, you would never know room like this back to some place that you can when your hardest break on the earth shaking, I will in my hand in hopes that you finally take, but I'm never you. Never. You look straight out a little more come around towards me a little bit. Never heard of a week back to some place that you can no back to some place kind of Could she go public couch a back to some place that you can call home next? We are driving to mysterious couch that we just saw from the roof, and I usually eight count shots. I try to stay with them, say alone, couches the new train tracks. But this is a special account, and it's got an overhang so we won't be getting ring on back to some place that you can when your hardest break and on the earth shaking. What you doing? Good bowlers back in the back way Theirselves up that stuff. Blow facing possible camera. Never heard a week spare back to some place that you can no back to some place that you can back to some place that you can know Hey, hey, Spend the night back to some place that you can All right, thank you. Get that back to some place that you can No, some place. No. So it's a wrap with Noah. It's been a fun day. We had no idea what we're going to be shooting. I had no idea where I be going under stuff. I love to shoot quick. I'm very 80 b. I like to keep moving. I like shooting. So even though it's been a shore shoot, get tons of options for Noah, both Polaroids and the Fuji Film Digital cameras. So I feel great. No, it's got a lot to work with, and I hope you guys enjoyed it. And that's a wrap for the day. And, hey, guys, what's next lunch? All right.
Ratings and Reviews
Everyone wants to be a fly on the wall, observing someone of this caliber and this course gives you that very opportunity. Jeremy is humble and delivers his class without the pretentiousness in some instructors out there, an every-man sort of character that is highly relatable. Aside from the technical side covered here, there is a quiet undertone of confidence building that comes organically with the way he presents himself and the work. Thank you for taking us along and teaching masterfully.
Student Work