Singer Stylist™ Sewing Machine Model 7258 - Fast Start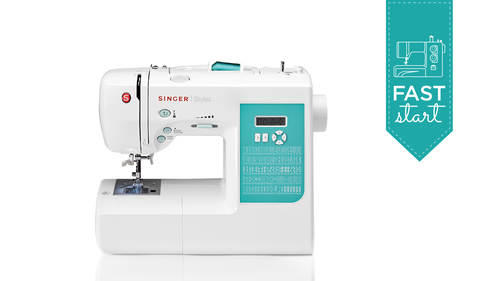 Singer Stylist™ Sewing Machine Model 7258 - Fast Start
Class Description
Explore the capabilities of the SINGER® STYLIST™ electronic sewing machine.
Every sewing machine has its own distinct and helpful features. Learn how to get the most out of your model from Singer expert Becky Hanson. 
In this Fast Start you'll learn how to take full advantage of the SINGER STYLIST's accessories and features. You'll learn how to quickly and easily program your settings and master the range of your machine's functionality.
Don't be intimidated by your machine! Learn how to get the most out of your machine's features and tackle those sewing projects the easy way.
Reviews
This is an outstanding course taught by a fantastic teacher, Becky Hanson. I just bought this machine and can now use it thanks to her. I would love more sewing classes taught by her. Very Excellent.
I am a beginner, and this was an awesome course! I learned so much about my machine and some great sewing basics. I will definitely be referring to these videos as I continue to learn how to sew. She was very thorough and demonstrated everything nicely without going off course too much. Absolutely wonderful, I highly recommend!
I am a newbie at sewing. This is my very first machine and I needed to learn everything from how to use the machine, threading etc this course taught me all I needed to know specifically for THIS machine and that was really what I needed. It's nice to see all what the machine can do...... even though I can't do them right now.....but hopefully in the near future :)
Explore More Free Classes
THE
CREATOR

PASS
Enjoy the free classes? Get 2000+ more Classes and watch it anytime, anywhere.
Get The Pass