Dodge and Burn: Features
Kristina Sherk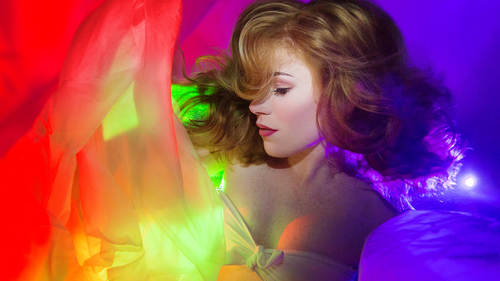 Dodge and Burn: Features
Kristina Sherk
Lesson Info
7. Dodge and Burn: Features
Lesson Info
Dodge and Burn: Features
Another thing that we can do is basically dodge and burn the features, like I was talking about earlier when we were talking about the concept of dodge and burn. When we talk, you can create the illusion of depth on the features as well, not just the skin. So let's work on her lips and see if we can do that. Now one, there's a couple differences, when I am dodging and burning features instead of dodging and burning, instead of dodging and burning skin. And so what I do is I duplicate the layer and I do it on it's own layer. So I'm going to fill this dodge and burn copy with 50% gray. Shift + Delete, 50% gray. And then I will hit my D key, which is going to bring back my colors for default. So whenever I'm dodging and burning features, I like to work with white and black. 10% opacity, 10% flow. It's probably going to end up being a little bit high, but, we'll start - you gotta start somewhere, right? So again, just trying to create the illusion of more depth. So just adding a shadow to ...
the bottom of the lips, and maybe adding a little bit more highlight. If you guys have ever seen make up artists, like, you know, line the lips with a little bit of a darker color, and then fill them with a little bit of a brighter color, that's going to be the same kind of thing. Right? They're just creating the illusion of 3D. And again, I know it's really tough to see as I'm working on it because it's, because you can't see each specific brush stroke that I do, but, we will show you the before and after in just a moment. We'll just line the bottom here. Okay, what were we able to do. Do they look more 3D to you guys? Yes Yeah? Cool. Alright. So that's the concept behind it that I want you guys to think about. Start kind of pinging around in your brain is the concept of creating the illusion of 3D, but it's not actually 3D, because we're just working on a photograph. If we zoom out again, I can show you the before and the after of all of our - let's put all of our dodging and burning in it's own group. And we'll go on and off. It's very nuanced, it's very, very small. You can't really see too much of a difference, but as you keep building on it, you know, step away for five minutes, come back, dodge and burn a little bit more. Step away, come back, dodge and burn a little bit more, you're really going to start to see that come through. And I did want to just show my original dodge and burn, which took me a lot longer. So you guys can really see the before and after there as well.
Class Materials
Skin Retouching Class Notes
Ratings and Reviews
Quick and to the point! I did learn a few things from the course. Thank you. My only issue is that the model's face was already for the most part blemish free and nearly perfect. It would be good to see these techniques done on " not so perfect" skin. Kristina even said that the model's skin was nearly perfect. So why not use an image where we can truly see the skin retouching process at work?
This class gets down to the nitty-gritty of smoothing skin and creating a 3D illusion. I really liked the way Kristina showed how to combine tools to save time and the frequency separator method she uses. The class notes (to download) are detailed so I didn't need to take notes - love that! Note to Kristina: Love the shark fin!
A good class and information is easy to understand. But in the general world, some us do not have models & clients with perfect skin. Wish this was demonstrated on a person with a few more problem areas, so we can really see the improvement on the person.
Student Work