Samples Of Social Media Graphics In Action
Erica Gamet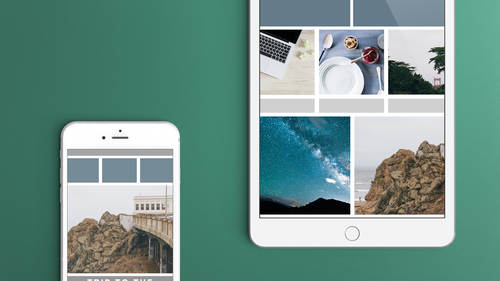 Samples Of Social Media Graphics In Action
Erica Gamet
Lesson Info
2. Samples Of Social Media Graphics In Action
Lesson Info
Samples Of Social Media Graphics In Action
Say we're just gonna jump in and look at some samples, just some different ideas. And just to kinda start giving you an idea of what your graphics should contain. So, and we're gonna talk in a later segment, we're gonna talk about typography and images and things like that. This is just to sorta, kinda whet your whistle as it will and get an idea of what can be done out there with the different tools. And you can make them simple. And you can make them quite complex as we'll see. So this one that's up here is just again, this is square so this is probably an Instagram image that's here. In the background, I have a collage. And we're gonna talk about is the first software that we're gonna jump into in the second, in a later session. And we're going to look at how to make a collage because sometimes you want several images. And we'll see that most of the tools that we use allow one image as your background. So hopefully as those grow and become more mainstream, they'll allow you to put s...
everal images together. So right now, what I do is I use two separate software for that. If I want a collage, I use some collage software. Then I take that and I put that into my the software that I use to create that. And we're actually gonna use Adobe Spark Post and that's what mostly we're gonna be focusing on for the creating of the graphics. So anyway, that's just a nice collage. I've got three or four different photos in there. And I put some text in there. So maybe this is just a header. This is you know, maybe it's a housing development or something like that in the deserts in Arizona or somewhere. Actually, some of these are Arizona, some of these are El Paso where I live. So, you'd say, okay I wanna put that up there and say, you know, I just want to put it out there and show you the dessert can be beautiful. Look there's actually color in the desert. That's what I was trying to say with this picture, right? It's like, I mean, some of the color is brown. I get it. But we also have green. And we have yellow and so I just put that in there and say okay, maybe that's what I'm trying to sell is you know, come live in the desert. Explore desert living. Sometimes you see these a lot. These are the inspirational quotes that are here. We're gonna work with some of these as well in the next lesson. We're gonna take some quotes. I've got some quotes like dog and cat quotes and some inspirational quotes as well. And so we'll just take those and make those into there. So again, it's just this is about the message that's there, the text message and not about the image itself. And if you notice this is a tall one. So this one could be anything. This could be a Facebook post. Facebook you kinda have a lot of options about the size that you can use for that. And it might just be something you put on you website as well. And I'm not sure what size I chose for that. It's a tall one so it might have been, it might have been Pinterest but I doubt it. Again another Instagram one. I love to do this. This is something that a friend just said to me in an email one day. Be great! You do the world no justice by playing small. I thought, that's a quote. So I made this to send it back to her. Just a little gift. I'm like there you go. Now you can put that on your website. (laughs) You know. And again, it's just something that I might put out there if I were just trying to have a campaign where everyday or every week, I just put out something positive into the world and put that quote out there. Again, it's not always about selling. It goes back to that social. And to just, going out there and just creating those relationships that you have with your clients or friends. And I'm gonna pretty much assume clients is what we're looking at here, social media. Like I said, I make these for fun, for friends and put those up there and all. But I could easily use that for business along the way. This is a blog post header. And this was created in Adobe Spark Post. And like I said, that's what we're gonna focus on in the next lesson is Adobe Spark Post and for me, this was for a friend who had a ton of blog posts. I think about a hundred, 120 blog posts that she's written over the last couple years. And she had no graphics with them at all. And that's just something that people have really been focusing on in probably the last year. I mean it use to be fine. You'd just have a blog post. You had your blog listing the headers. People don't want that anymore. People need to see images. So you need to grab them. Again, that's getting up above the noise saying hey, why don't you read my blog post instead of this boring blog post. I've got a nice WordPress site and now I've got all these images that I wanna use to grab them. So using Adobe Spark Post, I was able to crank out about a 120 blog posts for her in about an hour on my phone while I was just sitting in line somewhere. (laughs) So it was pretty cool because she's like hey could you get this pretty quickly for me? She's a friend, so of course, I'm like yeah, I can do that. I'm like have you seen Adobe Spark Post? You gotta check this out and they had just made some updates to it. And I said, I just need the list. So she texted me over her list of all her blog post names and then I just brought each one in, and the photos are all within the app. So I didn't need to worry about that at all. So I just said, okay SnapChat marketing strategy. She does social media marketing. That's how she, she teaches people how to use social media. And so that's what her blog posts are all about. So I did this and just created these for her really quickly. Sent her back a whole bunch and send her an email with a zip file full of these images. And she was just blown away. And the best part is I had fun doing it. I just had fun. I was like okay, marketing strategies. Well, I know it's cliche but I'm gonna use a chessboard right? So I just went in there and looked for a picture of chess. Boom, drop that in behind. And I didn't have to think about how I laid this out or what the colors were or whatever. Again, it's the end of the day, I was in line at the DMV. Really I just didn't even wanna deal with anything. And this wasn't a paid job, mind you. It was just a hey I help a friend out who's always helping me out. And so, and I had a new toy to play with. (laughs) So I wanted to play with it. And so for me, I was able to just do it and just not even think about it. And the tools that they've been adding makes it even more fun. It's just like, I don't even need to think about it. I just scroll through until I find what looks pretty. That's how I do it. And so, hopefully you'll be as inspired once we look at the tools. I'm building up this tool so I hope you guys like this tool. But, seriously, I love it. And it's funny because I am an Adobe instructor and I teach on a lot of different Adobe products and know a lot of Adobe instructors and they don't know about it. It's like my secret weapon. I should probably stop telling people. I can charge a lot more for it if I don't. (audience laughing) But I just love it. I know this is something I did for my workbooks that I put on sale. The great thing was, I looked for, I just wanted books in the background. I realized later, it's all about photo art, the big picture. I don't know what else is back there. I can't read what this one says. But it was all design stuff which made me laugh because it was just because otherwise, I was gonna take a picture of my workbooks which are black and white text PDFs. That's boring. That's not gonna sell anything. I wanted to show a picture of books. But, for me, it wasn't about the books. That's why they're in the background. That's why I put a white, opaque frame in the background here so that they're not the focus. The focus is 50% off. You'll get 50% off my workbooks and then here's my code. But, the picture, the books added to that as well. And so it wasn't just again, in your face. It was a little more interesting. And it was just a little blog post that I did. And actually, I made another one that was for Instagram. And again, when we look at the tools, you're able to say, okay that's a blog post. Good save that out. Also I'd like one for Instagram. So I don't let Instagram do the cropping. I can do the cropping myself. And then it rearranges the type as well. It's just not a matter of chopping off the edges to make it fit Instagram which is what Instagram will do with it. I was able to reset the type a little bit with just a little click and it did it for me. This is again an Instagram one so every time I do a blog post, I've got my blog post header. But I also make a separate Instagram graphic for it as well. So again, it's already based in the right shape. It's already in square form. Instead of letting Instagram do that for me. So again, I just, I was talking about actually it was for my blog post for a video I made on my YouTube channel and it was just using this feature in Apple Keynote, put that on there. I thought, I don't know the Rubik's cube is always the unsolvable thing and this particular feature is the unsolvable thing for me sometimes but it really trips people up. I know I can't solve a Rubik's cube so I kinda just, again, I just put in Rubik's cube. It came up. Like the images that come up just surprising. I'm like everything. There was one I was looking for the other day and it, I looked up puppies and it kept putting pictures of monkeys. And I'm just like I don't know what's going on with that algorithm there. I don't know. And then babies. I was like okay. Maybe it was just under cute things. I don't know. I was looking for puppies specifically. Here's one that I made for my friend, How to Wow Your Audience, right? So that's a crazy picture, isn't it? I love it though. Would I have ever thought of that though if I'm just like sitting down. And plus, the other thing, for blog posts, specially me as a designer. And this is probably, it's the whole time. Like you've written a blog post. Let's say you're a crafter and you've made all the stuff that you need to make. And then you've gone and photographed it all. You're putting it all in your blog or your Etsy shop or whatever. So you've already made the crafts. You've already shot the images that are here. Then you've written the blog post about it. And I don't know about you, but I hate writing blog posts. I write for a living. I just don't like writing blog posts and it's not just 'cause I don't get paid for my blog posts. It's that it just, it's a different thing. It's that engagement and that you're expected to write all the time. I can't. My blog posts are basically, hey here's my YouTube video and I just copy and paste my information from YouTube about the video and plop it in my blog post and that's it. But at the end of the day, I don't wanna think about this. I would not have thought about this if this were making blog post. How to wow your audience. But I'm able to, I just put in I think audience or performance I think I put into the search engine. This guy came up right? He kinda screams, almost quite literally, how to wow your audience, right? So again, it's not something I would've thought of if I had to sit and design it at the end of the day after doing all the other 27 jobs. And if you are a small DIY-er, you know you've also got the boring stuff, invoicing and calling clients and all that stuff that you have to do. And paying taxes. This I just made for a friend and I just thought, I have to show it. I'm showing a lot of puppies. I love cats. So... (laughs) My friend's cat had a little operation. He's old and so I'd put that on there because he is also on Instagram and Twitter as well. So I decided (audience laughing) to put out there and tag him to that. So IZ Brave, you know he had a little operation so, I just put that for a friend. This again a blog post header for my video, Create InDesign Text Styles Automatically. And again, I try to use something that's a little different. If I just do textiles, if I do screenshots of InDesign, that's gonna get really boring, really quick because it all looks the same especially at this size on a blog post or on Twitter because I take my blog post, luckily the ones I do for the blog post are all 16:9 or wide screen ratios. And so for me, I take that and that also fits perfectly on Twitter so in most Twitter apps, it looks really good and the image runs in line so when you see the tweet, you also see the picture that's here and it links out. I actually like it better than the one if I post on YouTube and tell it send to Twitter. I don't like that one as much. Although that creates that nice direct link right to the website. So, there's kind of pluses and minuses. But I like that because my YouTube videos all look the same and they're branded and all the thumbnails all look the same. I kinda like on the blog post to just be a little bit different. Although, I've had people tell me lately, they like seeing my face on the ones. So they know every time they see it. They know it's a video. So I may actually be changing up that strategy a little bit. These are just more fun. So again, just try and play with something there. See, puppies. Happiness is a warm puppy. We're gonna look at this in a second. We're gonna actually see what happens when this becomes a Facebook thing. So I created this in Adobe Spark Post. And was able to make the, this is not a Facebook post. This is the Facebook banner. So we're gonna look at sizes in just a few minutes. We're gonna see that not only is there one size, I say oh Instagram is square. Yeah Instagram is square and so is the profile. But then most profile pictures are square but then the banners are just any number of craziness. And the other thing is that we're trying to create one image a lot of times for mobile, or for web and web has to be responsive so there's like a maximum and a minimum and all that and it's crazy. And sometimes it wants one image to fulfill all those purposes. So something like this I made in Spark Post and then I plopped it in for my Facebook banner and realized it was hidden behind the profile picture that's there. And so I had to go back and do it again. And so there are definitely some shortcomings in a lot of the apps like even though it says this is the Facebook banner size which is great. It doesn't tell me all the things that I need to keep in mind like all the little buttons that show up on top of that. And we'll look at that in just a second as well. This is something here, I've got the craft images. Those might look familiar. (laughs) So I've got some craft images that are here. And so I just, if I were making crafts and I wanted to have one image like I said, most of the apps allow one image or one background image to be used and so in this case, I wanted to make a collage of all my images. And then use that as the background size so hopefully that makes sense as well. So, I make that one app a collage app and then I save that out as an image and that becomes my image in my social media background. Now I could just use this. It's Instagram so it's a square. I couldn't just use this. I could plop some text on it as well in the collage making app but I didn't. Sometimes you just want again, announce. This is more about the text and less about the image. This is we're gonna do a Facebook live thing tomorrow. We wanna put that on all our social media. So I'm gonna make a square graphic probably for that. I might make some wide ones for Facebook or whatever but it's just everything says, again the call to action on that, it's not about the image, it's just about the text. Something that we want people to do. And this not only gives people a chance to give you that social feedback right here. It also allows you to kind of advertise other social interactions you're going to have with them. And again, I know it's a big thing, and it doesn't all fall on the graphics but the graphics need to be always kind of sticking out there and catching people's attention if that makes sense. I don't know what spool knitting is but it as there. This is actually just a sample that's sitting in Adobe Spark Post so I did nothing to this. I just said, let's use this sample. So I took a sample that they had. Normally you take a sample you have and change it up. I just left it. It's great for a thumbnail for YouTube. So a lot of times what I'll do, I'll find one that I like. I've done this for a couple clients that want the same thumbnail. So on YouTube, you have a thumbnail. So when you have a video, you have that thumbnail and that thumbnail needs to be eye catching 'cause YouTube is so crowded. So many people on YouTube. And you need to have that. I know the big trend right now is to get as salacious a headline as you can. Well when you're trying to sell InDesign training, there's no way to even spin that and make it sound sexy right. It's like, it's InDesign training. If that's not what you're not looking for, go somewhere else because that's what I have. And for me, I found that having my same graphics look like the same, my words are always in a with white text in an orange background. And that's just kind of my branding that's there and my face. And to me, I think it's boring. Because it's like I'm basically standing in front of the camera for two minutes and the rest of it is me showing my tutorials. And I don't wanna show that as the screen shot, that's boring. So it's basically me and a bunch of stupid poses each time. So it's just that's my thumbnail. But it becomes that brand and everybody knows when they see the face come up in the YouTube app or when they go to YouTube, they're gonna know I have a new video. And so people have to told me they like that. I think it's weird but that's what people like. (laughs) And so again, that's me listening to my audience and them saying, I like that. I know when you have a new video up. So let's say you're going to do a bunch of different crafts. You're gonna do knitting and sewing and things like that. Well, you might take a sample that's there. You might change it up. But in this case, I just kept it. But I could do this, every time I have a class, it's going to be a picture of something that has to do with the class obviously. But then, it's just going to be in this type. So we're gonna say, okay so every time I see this come up. I don't know if you're like that like with your Twitter handles, I always, I can scroll through Twitter like when I'm traveling, I've got 400 tweets. I mean I looked last night, I had 420 tweets and I thought, I do not have time to read all this. So I'm just looking at the avatar, the little icon that's there. So I kinda look at who I want to really make sure I see their tweets that's there. So again, that branding, that sort of using the same type of images all the time, or maybe we've got different images but we've always got this text here. When I see that go through, whether it's on my YouTube notifications or whatever, I'm gonna say, oh they've got a new video up. And it's again, gonna link to that. It's gonna create that social two-way communication that connection, that relationship that you have with your clients. Here's another one, how to sew a button. I don't know how to sew a button. It's a good thing that's not my video. It's kinda boring, I know, but that one would be a great YouTube thumbnail because it's got bright colors and it very clearly says what it is. And that's the other thing is that remember your thumbnail can be this small. I don't know what the pixel count is but when I look at my thumbnails on my YouTube app, it's really hard to see. So you think oh this is a great picture. You've got all this stuff going on. When it's this big, nobody cares. They wanna see what's it's called. A lot of the YouTubers that I follow, they sometime just use the ugly, it almost looks like Mac Paint or something like that, the handwritten stuff but they've used it all the time and I know when I see that, that that's there's. It might be ugly but I know it's theirs and I know when they've got a new video. So again, it's about that consistency. This is, I believe, a Facebook header just one that I just made up. So I just made an old banner that's in there and just again, used Adobe Spark Post to create that. It's just an image and I think as a Facebook header, you don't have like you're not building that brand. It's basically there. And I tend not to go to people's individual Facebook accounts. Do you guys tend to go to it or just wait 'til it shows up in your feed? Yeah, so I don't spend a lot of time. I mean I have a header. It's just me standing at a board teaching something. But I don't assume most people go to that. I assume that they're gonna see the feed in their. So for me, I focus more on the individual posts that are there. 20 Cocktail Recipes. Again, this one just was a built in one. I just changed the type that was there. More the blog post headers again. And for me it's nice like I said the photos that are built in, Creating A Successful Social Media Strategy was her blog post header that she wanted. I just put in social media icons and there are just millions of them in the background so I had a nice one where it showed Twitter and Facebook at least and just kind of cropped it so that it showed the right portion of that. And there's our warm puppy again. So let's look at the Facebook header that I used with that. So I've got the individuals Facebook header. So, again like I said, I created it in Spark Post and I didn't have the work Happiness up high enough because it doesn't show you this here. So you need to be able to have that there. And so while it's a template for size, it doesn't show you all the other stuff. And part of that is probably because Facebook changes every two months, (laughs) as does YouTube. If you notice, that happens with a lot of the social media platforms. You think, okay I've got this all set up. I'm using this template and then they change it on you. And again, it's gonna look different here. Than it does on mobile. This is a desktop version. It's gonna look different on mobile. It may cut if off. You might not find that one piece that makes everything happy. And so you can maybe not put so much text on there which would eliminate a lot of that. But again, even your graphics, you're like I'll keep it in the upper right. You don't know that Facebook tomorrow's gonna change it so that that's where the profile picture now sits is right on top of that puppy's face right? So, anyway I just want to show you that there. And then that's the business of the same thing. And it's slightly different. The size you would think, oh they just shrunk it down. Well, no, they shrunk it this way but not so much here. So I actually cheated with this one. And I stretched it. So it's actually a little bit stretched tall. It wasn't very different which was good. I could've cropped it differently but because I have my type all the way to the edge, I didn't really have that option. But again, i wanted one image that if I decided to change it, I only had to change one image and have the same image sitting for both. And a lot of the platforms will automatically crop it for you and give you no choice whatsoever. Facebook will automatically fill to the width when you do your cover image and then you can move it up and down. But you can't move it side to side. So you basically have to have that set in stone when you put it there. So for me, I'm always trying to put it to the exact size if I can. But again, it's that one size fits all does not really work anymore with that.
Ratings and Reviews
I learned about some great free apps that make it easy to create images for social media. You can make some great images with text really quickly after taking this class. I actually made a little animated image during class and posted it Instagram. I also learned about some good places to go for free images. Erica's very personable and fun, which made it an enjoyable class. The apps are easy to use and you can start making images right away. There isn't a steep learning curve.
WOW this course is jam-packed with information on so many apps - not just Adobe Spark Post. I love how easy Erica makes everything plus she's very funny and has an approachable style. Thanks CL for another great class!
I really liked how informative and helpful the class was, even do Ive worked with some of the programs used in class I feel like There was so many new things I learned. Thanks to Erica and the whole crew for such an awesome experience
Student Work