File Formats in Photoshop
Ben Willmore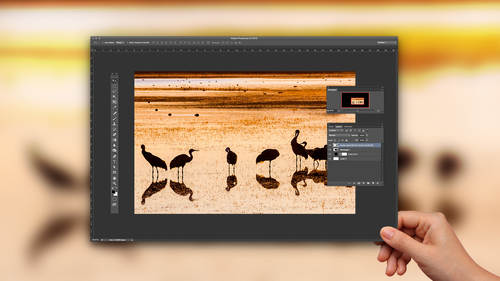 File Formats in Photoshop
Ben Willmore
Lesson Info
9. File Formats in Photoshop
Lesson Info
File Formats in Photoshop
Let's talk a bit about file formats. Photographers I find gravitate towards the J peg file format. J Peg is a good delivery file format, meaning that if you're all done with your image and you want to send it somebody else and you don't expect them to make big changes to it, they just want the image. J pegs fine, but Jay Peak is not a good working file format me. If the next thing you want to do is open it next week and do some more work and then save and close it and do that again because every time you save a J peg image, it will degrade the quality of your picture. And it does that because J Pegs primary concern is creating a small file in the way it creates. A small file is it simplifies your image, and if this little quality setting turns way down, you'll be able to see it. Do you see how simplifying this image? It's that adding this weird artifacts around it because J. Peg stands for joint photographic experts group people used to saving photographs designed Jay Peak in It sucks ...
for graphics, So if what you have is your signature. You have your logo, you have some text and it's not a photograph. Stay away from J. Pack. J. Peg will put this stuff on it. I call it popcorn that looks like popcorn around the edges. And sure, if you have this set to a higher setting other than you know up here, it'll be less pronounced. But it will still be there. And it's almost universal, You know, of Photographers website and the upper left is their logo, and it's got popcorn on it. And that's goes photographers. No, nothing other than JPEG file formats. It's what used for delivering all your photos, and you're not used to work with graphics. Well, um, stay away from J peg for graphics. If it's going on a website use gift. That's GF were ping, which is PNG. Both of those will do better with graphics. If you're going to a print like printing, press or other high quality thing, then I would instead use tiff for graphics
Ratings and Reviews
I loved this class - Ben is a really good teacher and the class is full of great easy to follow advice.
First off, the title cracked me up. The course was very good, easy to follow and Ben's a great instructor.
Excellent! Much better than I thought it would be. Invaluable.
Student Work