Take The Leap, Start a Business
Payal Kadakia, Chase Jarvis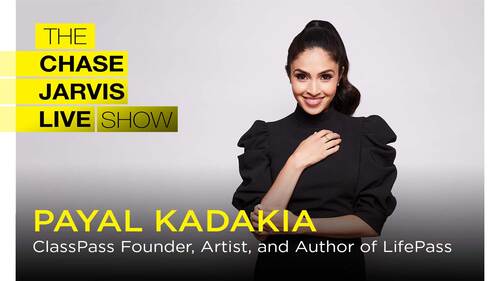 Take The Leap, Start a Business
Payal Kadakia, Chase Jarvis
Lessons
Class Description
There's a common misconception that artists have a monopoly on creativity...But the very act of making waves - no matter the career - is a creative one. The Chase Jarvis Live Show is an exploration of creativity, self-discovery, entrepreneurship, hard-earned lessons, and so much more. Chase sits down with the world's top creators, entrepreneurs, and thought leaders and unpacks actionable, valuable insights to help you live your dreams in career, hobby, and life.
ABOUT THIS EPISODE:
The first day Payal Kadakia moved into her apartment before starting her job at Bain & Company, she attended a Bollywood dance class that happened to be just three blocks away.
Payal, who has an Indian-American background, studied operations research and economics at Massachusetts Institute of Technology, but she was always determined to keep dance in her life—both during her college years and her professional career. She was three years old when she fell in love with dance because it offered her a place to center herself, be creative, and be herself.
The corporate world provided Payal with a safety net, but one day she decided it was time to build a business around her lifelong passion.
The result, ClassPass—a membership program offering access to an extensive network of wellness and fitness experiences—became a global sensation. The platform became the first unicorn of the decade, and Mindbody, one of the leading wellness technology platforms, acquired it in late 2021. Prior to the acquisition, ClassPass members had completed more than 100 million hours of training at 30,000 partner studios in over 30 countries.
In today's episode, we talk about her first book, LifePass: Drop Your Limits, Rise to Your Potential. The book is designed to share the hard-earned lessons with other creators and entrepreneurs aspiring to marry business and passion.
Most importantly, the judgment and influence of others affect us much less when we have a purpose and love the process of pursuing our dreams. What brings us joy will have a positive, fruitful, and useful impact on other areas of our lives.
Payal is a highly successful entrepreneur who was named to Fast Company's list of the 100 Most Creative People and Fortune's 40 Under 40. But we can all see ourselves in her. We all have aspirations, but fear prevents us from taking a leap of faith and plunging into the unknown.
Why we fear change
To be fair, neuroscience research suggests that fear of change is a very natural discomfort in our lives because it brings uncertainty.
Scientists have found that uncertainty registers in our brain like an error. Just as a machine can't function properly when it receives error messages from its system, we must correct that error before we can feel comfortable and in control again. That's why many of us try to avoid change and thus uncertainty as much as possible.
As the human performance expert, Tim Ferriss says, "People will choose unhappiness over uncertainty."
Experts say that we also fear change because we fear losing what's associated with change. Our aversion to loss can sometimes cause logic to fly out the window and leave us vulnerable to poor or impulsive decision-making.
For example, research shows that gamblers who are having a losing day at a racetrack are most likely to bet on a horse with 20-to-1 odds in the last race of the day.
The Great Resignation
One positive development we're seeing post-pandemic is that more and more people are finding the courage to embrace change, as part of a trend many are calling "The Great Resignation".
Last year, an average of 3.95 million U.S. workers quit their jobs each month. That means 2021 holds the highest average ever, surpassing 2019's average of 3.5 million.
A recent survey shows that about 50% of Americans would move to a completely new industry if they could retrain, and that 25% of workers plan to look for a new job. Compensation, work-life balance, and lack of development opportunities are the main barriers.
Change can be scary, but the rewards far outweigh the challenges.
Like many of us, Payal had her doubts. She wasn't ready to "jump off a cliff." So, she decided to take a "half-step" before becoming a full-time entrepreneur.
After leaving Bain, she took a 9-to-5 job at a company that offered her "predictable hours" and didn't require her to travel, which allowed her to take dancing more seriously and build the foundations of her business.
"Founders who think in a creative mindset are the ones who are able to build these new blueprints for the world." – Payal Kadakia
Being realistic and responsible
Payal's parents taught her great values, such as being realistic and responsible with her life while pursuing her dreams, so she didn't put all her eggs in one basket until she was sure she'd earned enough money to take a break.
"I had earned myself three years to do what I wanted to do, and it was nice to know how much time I had." Understanding her runway was key to strategic decision-making. In addition, having a financial plan and calculating risks also helped in her entrepreneurial endeavor.
Another interesting thing she told me was that she took her parents with her on her journey from the beginning, instead of "hiding" her passion for dancing.
"I almost overshared the journey with them to the point where my mom was the one who told me to quit my job and build a company," Payal said.
In her opinion, it's never too late to reach for the stars. "I always felt pretty lucky that I found something [I loved] when I was really young, but I think people can find it at any point in their life."
Is entrepreneurship an art or a science?
Payal, who is also the founder and artistic director of The Sa Dance Company—a platform for expressing the Indian-American identity through movement—believes that a rich, fulfilling life comes from having something you deeply care about. She defines a calling as something you love to do that can have a positive impact on other people's lives.
Entrepreneurship may look like a science to many people, but I believe it's actually an art. And Payal couldn't agree more.
According to her, it was her creative side, rather than her business side, that helped her connect the dots and found ClassPass.
"Founders who think in a creative mindset are the ones who are able to build these new blueprints for the world," Payal said.
Don't forget that you can pre-order her book, LifePass: Drop Your Limits, Rise to Your Potential, which offers "a unique method of goal setting from the founder of ClassPass that will help you hone in on your feelings, screen out unnecessary distractions, and live a successful and fulfilling life based on your deepest desires."
Here are some highlights from today's episode:
[02:40] How ClassPass was born
[06:45] The importance of a creative mindset
[07:23] Is entrepreneurship an art or a science?
[11:30] A leap of faith
[14:00] Dealing realistically and responsibly with your life while pursuing your dreams
[20:00] Having a financial plan and calculating the risks
[21:40] Your greatest life is on the other side of your greatest fear
[24:00] What is a calling?
[28:30] Dealing with failure
[42:00] The more you execute, the more you believe in yourself
[54:45] What problem in the world are you solving?
[55:00] False signals of success
Ratings and Reviews
Student Work