The Ableton Operator
Snares and Hardware Techniques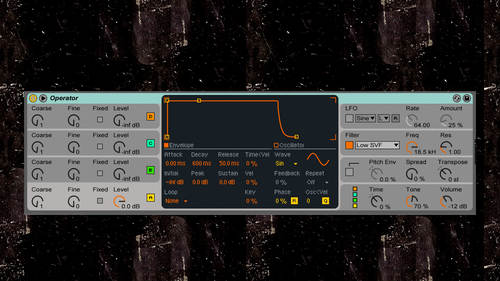 The Ableton Operator
Snares and Hardware Techniques
Lesson Info
Snares and Hardware Techniques
Welcome back. Once again, we're about to embark on the final lesson for level three. This is the drum synthesis level for this particular level. Now we're gonna be focusing on snares and hi hats. Things that have metallic edginess, maybe some hardware, some symbols, um, all being synthesized again with the able to an operator. So let's revisit a little groove were playing around with this time. I'm just gonna focus on the kick and snare business. So that's kind of just some basic drum sounds. Nothing too crazy. The group is pretty simple. You apply it to just about anything. But in this case, if I head over to our snare drum, the snare drum synthesis is actually pretty simple. Um, as expected, the traditional things for drum synthesis the elements that you would expect are fixed mode tuning trigger mode with snare drum. The fundamental pitch of a snare drum, like the main black body of the drum, is usually somewhere between 2 40 maybe 3 50 usually more like depending what you're doing ...
again. Like more like a NATO weight style, Snares could be brighter. 909 little darker seven or seven way darker um this snare drum I've got rocking down here in the to 60 zone. And what we're doing with the wave forms here is that I have a sine wave for the fundamental pitch and that's really acting as the membrane, the part. And then we've got noise in this case, looping noise we talked about in the previous video the recording of White Noise because it allows us to keep it in fixed mode and pitch it nice and down and make it nice and dark. And, um, in this case, uh, almost full FM modulation. The way I like to see the FM modulation depth from the white noise generator is essentially we're letting the pitching nous of the snare drum creep through or were not at all. It's kind of like once you fully randomize the pure pitch of this, it becomes just white noise. Um, white noise has a unique attribute in the FM context in that when you fully modulate something with white noise ah, that target or carrier becomes white noise. Unlike if you fully modulate something with sine wave or any sort of other simple single cycle waveform, it doesn't just become that way if it becomes something totally different. Uh, and that's because white noise is random, So let's listen to this a little more. In fact, I'm just gonna go ahead, launch a clip that has a more for four feel well, solo the kick drum because they're sneered. Treatment. This is more just a straight white nice near. But as I back this awful, here's the pitch so you can hear that's where a body is that. Let's take the spectrum again. Spectral analysis I find to be extremely useful synthesis of all different kinds of sounds can see where that fundamental pitches bringing This is the log arrhythmic spectral view we talked about before, but each of these 100 Hertz, so about ish, but you can see represented by a fixed amount oscillator more. I pulled this down, the higher that peak becomes in relative in relation to all the other kind of crusty overtones in the mix. And once I get all the way up, it goes completely away. So I like to just kind of pull it back a little, just like that kind of pop up a tiny bit and then beyond that, I make sure to go to my envelope in trigger moment for the carrier. Pull the sustained level all the way down, as I do with any drum you're having with stick. And I pulled the UK time in type two where I like it when I go to that white noise carrier and usually what I do to get to let the time a part of the snare numbering a little more as I copy the envelope from ASA later a Was that nice? So now I have my own decay time, the noise modulation. So anything about this is you could have the membrane body being in the beginning for later on in time. I kind of liked that approach. So what I do with this instrument now is I, as you would expect, make sure Teoh, the final treatment for the envelope is ideal. With time and volume of the modulator notice velocity here to the volume of the carrier is barely existence at all. So let's go ahead and just punch in a bunch of snares here. We're gonna make a little snare field. You can really hear all that velocity is modulating volume only a tiny bit, whereas the time on the modulation depth distressed was this. You can hear our low velocity hiss. It's more like a drum. It's a little drastic, but sometimes I need to overdrive parameters really here. What they're doing clear with backing off sounds time parameter of the carrier usually drive pretty hard. So when you hit the snare quietly, it's like harder rings longer. That seems to be kind of accurate to the way snares really sound quick. Let's get that pitch envelope on here and see if we can't get this action to sound a little bit more like a real time. I don't really want to pitch enveloped the white noise because those snares that are on the bottom of the snare drum the metal could change the material there that rings. That doesn't get that doesn't pitch about just whereas the membrane is just stretching, like we talked about earlier. And are Tom's uh, going to go ahead and give it a little down? Was a stick or let's try positive. All right, turn out the modulation, white noise and only modulating bench of the carrier. It adds a lot of a lot of intrigue. A little mix is a little bit more interesting. Sound there. Try increasing. Take a little more faster. E back off my losses here. Nice home. Okay, So another thing I could do that's really fun with Senator Graham as I can, of course, give a little filtration a little bit of saturation, kind of like we did with our kicked around, but we might treated a little differently. I'm gonna go ahead to say, keep the high, low pass filter all the way open, so it's giving us no coloration until we turn on the shaper. Let's try the soft shaper. It's here to the mix. Now that's pretty fun. So just an idea. Um, OK, so let's move on to the high at quick moving around, kind of higher up in the hardware set of our drum machine and see what's going on with the high at setting. Now. This I had I kind of intentionally built these to kind of just be jumping off points and being simple. Let's see what we can to in fact, we've got a decent one here. Maybe we'll do this that will put an open high hat also in the mix and experiment. Listen, cool fun drum rack settings as well. So digging on in here to our hat. Let's go ahead and rename this beheading command are and stay close hat with each of these, I'm gonna go ahead and, um, take a look at the operators for so starting with this usually what I'd like to do is start with sine wave. That's just ringing really bright and not unlike the snare. I'm gonna mix it up with some white noise. So here's our son. We've that's wave at 4.2 K Then watching a spectrum, you'll see a single big old peak way up there until you start mixing in the noise higher I get up, the more that people just disappears. I usually like to just have it raining this tiny bit just to give a little bit of metallic edge into in this room by one. And they could try triangle wave. Sometimes that works well for high hats, but generally that's the technique. And remember, this is white noise, so I can't tune it, but I do have it in trigger mode, and I'm gonna be pretty quick to reach for those velocity to time functions. They go a long way. I got it on my carrier. Nothing on the modulator in this case. So the modulation depth from the white noise of static We don't get a different Tambor Based on how hard we hit, we're just gonna get a different ringing time. In fact, if I make this even stronger and head over to this clip, take a look at how the velocity dynamics affect the time, right. So you get a nice little bounce of the stick down there, right? Love this so that that time to velocity parameters is so clutch in all different types of drums. But the high hat is no no exceptions. You can almost get away with not even having an open, closed high hat as two different sounds. And you simply just need to have nice velocity programming. And you can use those vertical sliders as a way to open and close the high at love that trick. So, um, as I mentioned before, I think that in the end of each of these levels, you guys should consider building Ah, you know, building ah, set of tools that you can save in your user library that are gonna be great to great jump off points for future synthesis opportunities. But don't lean too heavily on those presets. Build things from the ground up every time. It's gonna be a lot faster. We've gone over all of these parameters and we're gonna build a new one from scratch here to be our open and closed high hat. Um I mean, I opened. I had Pardon me. So one thought that I had that I think would be cool and fun to try with the hi hats This So we have this opening and closing Kind of with velocity was thinking if I used the LFO not to pitch but instead is who may be a time global time. I'm gonna take it out of re trigger mode because this is a percussive sound. We just wanted to be free running, but I wanted to be synchronized, and I must say every quarter note, try it out. More than final thing I've done with this high adheres. I put it in a high pass mode to scoop out some of that body just so it sounds a little more ringing. A little more presents a little in the airy department and a little less kind of chunky. Let's try and scoop around on that filter and see what happens now uses a justice. The taste. There's no correct particular seven. What I'm gonna guys tell you. You, however you're feeling it fits into the context of the tune you're working up usually like it's somewhere around one K. In this case, my years brought me all the way up to three. I'll tell you right now that high hats love reverb, uh, High Hats Club is anything that's really bright and metallic way on the upper register. Tiny but a river builds a long way cause you sure as hell here a river. But any time you hear high hats in real life going to go ahead and build up a little rack here for us could move on. Here's a little reverb and put the dry wet mix way back low, cut in the mix to get rid of any extra base, turn the spinoff diffuse some base to maybe make this kind of dark during the course off. Even now, the decay time is gonna be a critical parameter, so that's kind of a fun parameter too. So let's go ahead and hit group on these two together. Manji, open this up and we'll say Iraq. Maybe I'll grab a few crucial parameters. I'm gonna go with global time. Don't worry about putting every macro on Earth on the things a little bit. Will do LFO amount for dynamics time dynamics time. I'm, uh Did you make these both yellow? And then, um eso once we get this lfo um, the mix. We've got a nice modulation depth there. Another Mac er I might go ahead and put on is my filter tone will say it will call that tone. We could also maybe put a spread on there, too. With each of these, I'm gonna go ahead just to make the spread really alive. I'm gonna put this into voice mode. Let's check this thing out. And this past two parameters were really well in tandem. Usually not a terrible idea to constrain those macro is a little bit too. This is the last step. Will doing this Iraq pull this all the way down just for now, I'm gonna change its color, and then we go mapping mode. I'm gonna turn this up enough Just to where I'm watching this parameter down here. See, how isn't adjusting this and finding the sweet spot all the way down? That's what dark as I want it. So that's not a terrible idea. In fact, since it's a river, but make it blue color of space and, uh, can sing Didn't seem the right blue there. Cool. So now we've got ourselves a nice little set of controls that are gonna be happy in our user library. So remember, now this is our instrument rack we can click on World. Good to go. So let's dig into our open Hi hats. Now, a technique that I like to employ a lot is I just hold option. And I dragged to another pad and I'm gonna hit command are and call this, uh, Opie hat. No, for this guy, uh, I probably need to do is increase my global time. I'll maybe even change my macros here. I'm gonna go to global time here. And, Sarah, you're gonna get longer higher up. Maybe I'll even turn up my tone, maybe make my filter frequency higher. I'm just customizing these ranges. That's gonna go ahead and leave me with the brighter sounding high hat. No. All right, so I'll even pull the clothes. I had to be darker. Nice. So now the little drum rack trick that I wanted to mention is throwing this into a choke group. Let's show the chain list for the drama rack, and once we do that, you'll notice you get a separate set of buttons down here. I'm gonna go ahead and show the Iot section, which allows me to access this choke drop down. So with both of these and just choose an arbitrary number, I'll go with 16 now. These are both on the same choke group. So what that means is that they can Onley play. They interrupt each other basically. So a fun thing to do is to hold shift, select the notes. You want to have the open way. You hear that I could get it out. Is it kind of this open, closed vibe where it's open, truncating open, nice for Syncopations and adding a little bit of kind of jazzy feel that I had Kit Cool. Yeah, those were some fun techniques for a last little sound. I think Grandma do is I'll make a little splash. And as I promise, I'm gonna build this one from the ground up for a tiny better review Something I had over here and take my operator. I'll make it over here. Me like Crash Splash, Splash. This is gonna be not unlike the open I had as well, but it's not gonna be in the same choucroute because it's a different drama together. And this is gonna just give me a chance to review all the techniques. We've covered this fire in the drum level. Step one fix mode, step to trigger mode. Set my fixed mode up high. In fact, what I'm gonna do right now splashed in this red of the top, I'm gonna go to this trigger mode. Pulled this town solo. This. So what's the next step? However here. And add some white noise was gonna go straight up. White noise accident. Notice how it's gating out when the note releases. We need to trigger more of this thing. No, I'm just gonna right click and copy. No, I know they're identical. Now I have this cool ability to pitch and mix in that fundamental pitch going Turns up one K Empire Nixon. That noise really hot, Isn't it? Shorter? She live here no more? No is a little slower decay You go. So now the rial polish for the splash filter Sort of the sign. Maybe put it even in four pole mode. Bring it down suddenly And since presidents nice mix in some noise a little more que it goes a little bit of ring and right on the very tales I will make this longer It's time Increase it Now What I'm gonna do is going to take this filter and I'm gonna reverse it. So we get a nice attack with a body and then it rings Bright envelope in reverse, Really tight on the decay, Like a click on the front end. It's almost like stick it and you're still check it out now with I don't know. Now I'm gonna tune that filter. Probably the modulate from the from the velocity Last enough time with frequent. So with this, I will make sure this is in mono. Remember, I have all these other additional controls I can play around with for modulation as well as no auxiliary envelope I haven't really targeted yet for anything. I do feel like this splashes kind of pretty simple and works kind of. That's the way it is. So I won't push too much further, but you get the right idea. So that's Ah little bit on how to synthesise sneers and I ads. And hopefully it fits into your big equation for what kind of techniques your going to employ for creating different types of sounds in the drum kit. So to recap, we went through all the fundamental principles of making drums like fixed mode for your frequency of your oscillators trigger mode to remove sustained time. And then we talked about global controls, modulation from velocity being huge, because drums are so dynamic and such a new, big, important part of drum of performances in general. And we also talked about filtration as a way to polish things up and get those frequencies were creating new land right in the particular pocket we're looking for. So, um, beyond that, we dug into some details about how to do kicks. Tom sneers, high hats, all that stuff, and I also got pretty creative with making some macros and saving stuff in your library. So what I recommend you guys dio is, um, head on over to your browser. What do you use your library, presets, instruments, instrument rack and maybe even make a couple folders for specific types of sounds. Let's even go New folder. Call this drums operator, and we could drag our hat rack etcetera right into that folder until we have a nice combination of our own Favorite operator. Sounds ready to go. You might even like I mentioned before, especially if you're a push user. Throw this right in your places. Directories. You could easily navigate and whip up your own kits. That being said definitely saved. The kid will call this FM drum kit 101 through this into our drum rack folders. Well, no, we have our own custom drum kits to, so it's a lot of fun working with this environment I do create. I do encourage you to make your own stuff from scratch as many times as you can. But sometimes one that muse strikes and you're playing like with your controller with your friends, and you don't want to get too nerdy with synthesis. It's nice to have that preset directory to reach Foreign Slam stuff onto the canvas, see what happens. So speaking of Slammin, thanks for tagging along with us. That slam academy. We dig deep into the nature of sound design and electronic music production. We are in Minneapolis, but you can totally take our classes online any time hit us up at www debts. I'm academy dot com. All right, thanks a lot.
Class Description
This in-depth class unlocks the inner workings of one of the most powerful multi-mode synthesizer tools around: the Ableton Operator. Coined as the "Swiss Army Knife" of synthesizers, the Operator is capable of handling the heaviest sound design tasks - and of keeping the process simple and effective from start to finish. Join master sound designer James Patrick as he details every single element within the Operator instrument. Though he'll start by exploring it as a basic synthesis engine, by the end of the class he'll reveal it to be an instrument capable of creating the most advanced, futuristic sounds of our time. He'll talk about combining Additive, Subractive and FM synthesis elements. He'll also cover the details of creating drums, percussion, leads, brass, pads, and evolving textures.  

Reviews
People complain about Abletons "uninspiring" synth presets, and Operators businesslike interface doesn't scream "fun". It is however, an insanely fun and powerful instrument once you get your head around it. This class is perfectly formulated to turn anyone into an FM super-ninja in no time. It starts with the basics - perfectly explained, and delves deeper at a nice pace. I've been using Operator for years but still picked up a few tips in the later lessons. Taking this class will empower you to stop worrying about having the latest, greatest third party VST. Operator is a beastly synth. I rarely use any other synth because of the sheer sonic capability, and tight integration with Live.