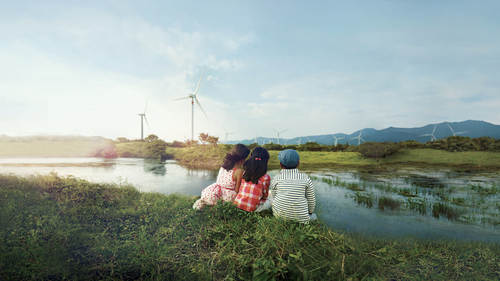 The Business of Professional Photo Retouching
Lesson Info
Sharpening Files
Sharpening. Once you res these things up, they'll probably gonna be a little bit blurry and they could be enhanced and made to look better by sharpening. And there's a bunch of Unsharp Mask filters. There are sharpening filters that come in through Photoshop. Yeah. The one I go to is a High Pass. I can run them through it. So you duplicate the layer-- Let's talk a little bit about a few of the different ways you can do sharpening. Okay. Yeah. So High Pass is the one you like, right? That's the one I... Yeah. That's your go-to guy? That is my go-to guy. And then, under filters, sharpening, Do you use that? Unsharp-- Unsharp Mask will work sometimes. So again, I'll do a number of different sharpening on different copies of the thing I'm trying to sharpen and pick and choose I'll say okay, these trees look good with this kind of sharpening, these people look good with this kind of sharpening, and this really looks good with here. And I'll know that and I'll mask in bet...
ween four different kinds of sharpening the best choice from each sharpening. So I wanna talk a little bit about this 'cause on a production level, today is production heavy, but I think it's good. I think it's really good to talk about this. So, if we're using something, you check with solar curves. Then, if you're resing up the file with a either third-party program or just Photoshop, you wanna put a layer in your WIPs that says what size you're resing it up. So that means that file, remember that bus that might hit you? Or you're taking a vacation? You wanna leave your WIPs file with the information, so at the eye of the layer that I'll put, it says at the end of the job, run Blow Up. And I'll write the numbers for the code. We're gonna show you that in a second. And then two, if it's just a straight res-up in Photoshop, I'll write what the res-up is in that file and for me, with the outdoor, any kind of outdoor builds, I'm sharpening. Remember that 44-gig file that was made from a 35-mm stock shot kind of thing? It needs some sharpening. And so, Simon and I, we have a variety of techniques. I think Unsharp Mask is pretty much-- It's old school? Is old school, and High Pass, for me, is pretty much it. It's the way to do it, and then with High Pass, there's a couple of things you can do in addition to it. Yeah, this is good. - Really crank it up. Shall I? - Yeah, you should. So to do it, you duplicate the file that you want to sharpen then it'll be a flattened, merged bit. Run down to your High Pass, which is under Filter > Other > High Pass. What it's gonna do is make everything that's kind of middle of the ground gray, everything that's white whiter, everything that's dark darker, and it does so where you control. So if you choose a very, very small number, my personal favorite is 1.5 pixels. Almost without fail, 1.5. If you just walk through these steps, 1.5. Hit go. Now take that layer that you've High Passed and turn it onto an Overlay layer, it will sharpen up everything underneath of it. So everything that was dark is now darkened more. Everything that was light is lightened more. And where those two meet, you'll get a contrast hit that'll appear to be sharper. The illusion of sharpness, yes. That's on Overlay. There's a couple other blending modes that are near Overlay that get more, I'll just call it violent. They happen more. So from Overlay, go to Soft Light, go to Hard Light. Linear Light will take that and really contrast up your image from there. Yeah. So I would say that most folks use High Pass is really popular. They use it too much. They make too high of a number. 1.5 is beautiful. I think I use 1.5 on every job that we do at the file size that we're working at. And overlap and doing Overlay on High Pass for how long? Geez, 10 years? And this one finds out, Oh, hey, put that on Linear Light mode. And I was like, geez, look at this, it's amazing. It is violent, was kind of a good word. Chances are, you're gonna put the layer mode down to 25% opacity. But Linear Light. High Pass on Linear Light is rocking. And I've only been doing that for a year now. But wait, there's more. What? If you were to take that High Pass that's on 1.5, put it on Linear Light, now put a Brightness/Contrast adjustment layer over the top of that and link it. Okay. The newer way Photoshop does brightness and contrast, it does something goofy, but if you hit Legacy mode, which is the old way it used to do it, now when you run your contrast, it's just gonna... you think of it like a Levels move, so it's gonna grab your highs and your lows and move them closer together and not bother with the grays. Your High Pass layer is mostly gray with lights and darks and you can really crank those things up. Just one-stop shop and you just move that contrast slider up it's gonna hit your High Pass layer that's already on Linear Light and you can go way too far if you want. So I'm gonna repeat what he said in a girl's voice so other people will hear it in a different way. High Pass filter on a merged layer. You run it at 1.5. You'll notice I say run a lot, it's kind of a term we use for filters. You put it on Linear Light. But then, buy two and get one, whatever your saying is, you add an adjustment layer of brightness and contrast. Now I will tell you, for me, I'm a photoshop snob, and I've always thought that brightness and contrast was a consumer adjustment layer. It's for hacks who don't know what they're doing. It's not true. It's a fabulous adjustment layer used in certain cases. So what he has done is, he'll group that adjustment layer to your High Pass and put it on Legacy mode. Please remember, this is critical. It's got to be in Legacy mode. Because in 2017, they changed the filter. But they know people like the old filter, so if you go to Brightness and Contrast adjustment layer and you put it on Legacy mode, you can affect the contrast. He deals a lot in motion picture and in motion picture, you get a lot of unit shots, like that Jamie Foxx shot he was talking about that was so crummy. He is having to pull every imaginable bit of line and sharpness out of just the most minuscule, fuzzy file. You got some tricks. Yeah, that's a really good trick. Oh, was it? Yeah. There's another old sharpening trick that's kinda come back in vogue in the past couple of months, and that one was, it's called a Custom filter. Oof. Oh, we'd have to give them the numbers on it, but... Should we get into it? No. No, don't? It's really code-y. It's really code-y. No. For those on the internet who want to check, or you guys when you go home, check out the Custom filter. It's in Other, you've probably never ever looked at it in your entire life. It is incredible code-y. There's barely any information on the internet on it, but you can use that for sharpening, and that you can find on the internet. You have to type in numbers into a box. It's code. Find your favorite geek guy and find this. It's the Custom filter. Or find it in the internet that says, how do you use Custom filter to sharpen? And pretty much, there would be a big grid. You want a 5 in the middle and at 9 o'clock, 3 o'clock, 12 o'clock, and 6 o'clock you want a -1, I believe. Yes. And that's out of memory. It's a -1 and a +1. Anyway, it's geeky. Check it out, it's good.
Class Description
Create your own retouching business from the ground up. In this class, one of Hollywood¹s hottest retouchers reveals the secrets to designing your own business. Lisa Carney walks through the steps needed to start and run a smooth business while keeping your clients engaged and happy. Whether you're looking to work with photographers, agencies or even bill for post production - you're bound to find valuable insight into the world of photo retouching.
This class covers:
Defining the type of retoucher you want to be
Solutions for the problems you'll encounter on shoots and in post production
Communication techniques for clients
Secrets for setting realistic expectations from markups through revisions
Pricing your services and handling billing issues
Emergency tips for when jobs go off the rails
Get the inside scoop from a true insider. You'll finish this class knowing how to construct a profitable photo retouching business model AND develop the tools to sustain it.