Harnessing Your Human Nature for Success with Robert Greene
Chase Jarvis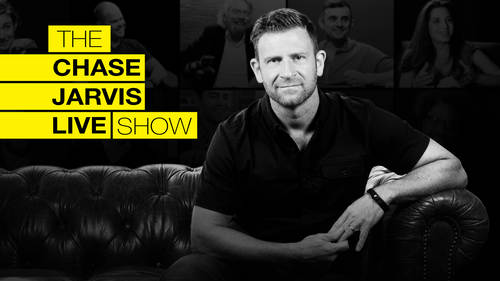 Harnessing Your Human Nature for Success with Robert Greene
Chase Jarvis
Lesson Info
124. Harnessing Your Human Nature for Success with Robert Greene
Lesson Info
Harnessing Your Human Nature for Success with Robert Greene
Hey, everybody, What's up? Welcome to another. So the Chase Jarvis live show here on Creativelive. You all know this show. This is where I sit down with amazing humans. And I do everything I can to unpack their brains with the goal of helping you live your dreams and career in hobby and in life. My guest today is a New York Times best selling author that selling and all the lists around the world an international best seller will call him. He has personally had a huge impact on my life with books like Mastery and the 48 Laws of Power. Today we're talking about his new book, The Laws of Human Nature. My guest is the inimitable Mr Robert Green. Thank you for joining us. I love you. It's been a while. You've been on the show before. Been a couple of years. We were We were talking about a re union and a congratulations and V. Thank you. Well, thank you. My pleasure. Well, um well, we were we always I have this bad habit of talking with my guests before the camera started to roll on. We wer...
e talking right before the cameras switched on about the research that you do for your books. Yeah, um, we were jesting about the work that went into researching the 50th Law book. You did, with 50 Cent comparing selling drugs on the corner of a street corner in Queens with building entrepreneurship. Uh, I'm curious. Your most recent book about human nature, right? What was the research about that book? What was what was that like? Well, it was pretty intense. I I say in the introduction that there's all this incredible material out there about who we are as human beings from all these different fields. But nobody has ever kind of combined all this knowledge into an in depth study about human behavior. So I wanted to be that person. But, you know, I got a little too ambitious for my own good. Big Buck. It's a big book. I read over 300 books for the research, but there's amazing material other. So I better books about primates about our chimpanzee ancestors and how that has that. Still, you know, we're still wired in some ways like that. Read books about early humans anthropology. I read books about neuroscience about how the human brain is wired and the influence like our relationship to our emotions and have brain functions and trying to the clash between our thinking and our emotions. A lot of books on that incredible wealth of material from psychologists not necessarily contemporary, but the golden period of psychology, the twenties, thirties and forties absolutely unbelievable stuff that will just knock you. It's just mind bending Carl Young role Fairbairn Melanie Climb I was so excited to dive into that because people aren't really reading that stuff anymore. But there was so much great information and then, you know, reading books about economic behavior and how marketers understand human psychology and exploited in some ways and then vast amounts of history. So in every good biography, you're gonna see exact living, breathing examples of human nature in action, sometimes for the good and sometimes for the bad. And so I just take it like a giant pot of stew with, like, 12 different ingredients from all these different fields, and I'm trying to combine them and find common threads and sort of be the first person to bring all this amazing material together to say. Here in this is a report about who we are as human beings in his deep away as possible, so profoundly impacted me as I referenced earlier mastery. Was it Was it a book that came at the perfect time for me on this strikes me. The laws of human nature strikes me very similarly and that we're at a time where, for example, Facebook, you know, are the phones and tablets and things that we're spending so much time with screens. Yeah, they are both having an impact on our day to day, but also their reflection of some of the things around human nature, For example. Um, I also am views, you know, with my work with creative life, deeply passionate about unlocking the creator That's in all of us. So you covered a huge amount of ground as you just listed with various areas of research. But I want to start with one thing. Um, it strikes me as you open the book you talked both about. This book isn't just about the psychology of other people and knowing when you're being manipulated or lied to or where someone's intentions might not be what they seem on the surface. But there is a bit about knowing yourself. Most definitely. So I'd like to read a passage and then have you respond to that review It okay? The passage goes like this, being able to understand more clearly that the stranger within us would help us to realize that it is not a stranger at all, but very much a part of ourselves and that we are far more mysterious and complex and interesting than we had imagined. And with that awareness, we will be able to break the negative patterns in our lives. Stop making excuses for ourselves. Game better control of what we do and what happens to us. That, to me, is I did. I was expecting the book to be about other people, so I was like, Oh, gosh, we're gonna go on a no, I'm inward journey here, I think for the people who are listening like a lot of people pay attention to the show into Creativelive in general are passionate about making impacts and changes in their own life. And so could you respond to that quote sort of with the that theme in mind? Well, the stranger within its experience that I think everybody has had. So it'll come in a moment where you're suddenly so angry that you explode in front of your boss or your wife or your husband or whomever. Your Children. Um, it'll come in a moment where you suddenly by a product that you never thought you were going to buy before or you haven't affair, which is going to ruin your marriage or something on and on and on. And afterwards you will tell people you will say, Oh, I'm sorry, I don't know what came over me. That's not really who I am. Whenever we see a politician or an actor apologize for committing some indiscretion, that's not who I am, but it is who you are, because in our day to day lives were repressing so many sides of who we are a lot of the dark stuff, a lot of the emotions that we don't want to face. We wear a mask with smiling. We're trying to please people, but we're repressing some of these deep emotions, and that part that we repress that we try and hide is like a stranger within us, and it acts out at times in these moments where we can't control ourselves in that flash of anger in buying that product that you really don't need in having that affair of whatever the countless examples I go through in the book, that is definitely a part of you. And I want to show you that shadow, dark side of yourself that you're not even aware of. And what I mean by that is you were a lot weirder than you think you are. You have this idea of yourself. There's also a reflection of how other people see you. But just take a moment and think about your dreams and think about the strange crap that goes on in your dreams. All the weird behavior, violence, the aggression, the sexual stuff, the things you don't act out in your real life, that those dreams reflect something that's going on in your unconscious. It's a part of you. You are a much more interesting person, and you give credit for because you're trying toe act, trying to fit into the group and b what other people want you to be. And, you know, we all want the power to change ourselves right? That's why self help books do so well But you can't begin to change yourself in any meaningful way until you confront who you really are. I want you in this book. I'm holding up a mirror to you. I'm holding up a mirror to your self absorption to your narcissism. I say we're all Narcisse is to your aggressive tendencies to the envy that you feel all of that stuff You can't. You know, if you go out in public and you don't look in the mirror, your hair Well, you're gonna look really weird, right? You can't begin to, like, improve your looks until you look in the mirror. You can't begin to change yourself into you Look into that mirror of who you really are, All that other stuff that you don't want to confront. And I'm like, giving you a big punch in the face like a Mike Tyson in mind of Here's This is who you are. You do have these tendencies in writing the book. I have a chapter on narcissism and I had this weird feeling as I'm writing. I'm going Robert, you know what? You are a narcissist, you know, Let's let's deal with it. It was kind of a shock to me. And since then it's been clear and clear that I am a narcissist in many ways. And this is what the book supposedly will have the same kind of function as it did to me. You know, I had to confront the fact that I feel envy. You know, we're talking about Ryan Holiday, good friend of both of ours. Yeah, and he was my apprentice for many years. And how sometimes I'm always reading Ryan Holiday's names in the news everywhere is getting He got a bigger advanced than my book. Got it. You know, my former apprentice. I feel pangs of envy. I have to confront that. You know, I have to understand that I'm a human being and I have flaws and weaknesses. So that's sort of the point of this book. In many ways, that's 1/2 of it. Yeah, I was. Well, if you could just you could just flip one. You at home listening can flip through the table of contents in this book and realize that you're in for a ride. You have a whole chapter on like you are a narcissist. I think something is That's the title in effect. Um, and yet you approach these things not with kid gloves, but with a gentleness. Like Or maybe it's not gentle. It's more factual. Just like this is a matter of fact, Lee. Hey, if you're if we're gonna change ourselves and we have you no self awareness is a really powerful tool. Then you're gonna have to. I'm gonna have to peel back some layers. It feels a bit like therapy. With that you can do without leaving your home. Well, it is. It is gentle in the sense that I want to make you be much more tolerant of people around you. Yeah, and not so judgmental. I want you to approach even the people that you don't like that repel you with the degree of empathy and even love that you want to understand them. People are so quick to judge, and I want you to step back. And instead of trying to judge and categorize, people understand who they are get into their soul, their psyche. But you need to do the same for yourself. You need to accept the fact that you are an animal, that you were descended from primates that you have emotions you can't control, and there's nothing bad, and it's stop even judging yourself. But except that you have these qualities. And once you accept that you are a narcissist and it's not a negative thing because practically everybody out there is self absorbed, particularly in these days. Once you come to terms with that, then you can begin to change it. But hating yourself and beating up yourself is not going to lead to any kind of meaningful change. Yeah, that I think if I'm not mistaken, the chapter immediately after the nurses, one is empathy or the section bucky just go it it helps. It helped me understand that if if you can imagine the understand the shadow sides of yourself, wouldn't you would? This doesn't help you understand the person who is your boss or the person in the car at the other side of the traffic light that you're not approving of what they're doing and how they're handling themselves. Um, what? What kind of research did you do for the empathy side of the book? Well, there are a lot of great books on the neuroscience of it. I did I delve into that a little bit in mastery in the discussion about mirror neurons and the work that I did with V. S. Ramachandran, who was one of the people I interviewed for mastery of brilliant neuroscientist and mirror neurons, air basically an incredibly amazing thing. It's how we're able to look at another person and literally put ourselves in their position. And there's a neuron that we possessed. Some primates possess that other animals don't have that allow us when somebody picks up an object in our mind, we're doing the same thing, although we're not actually picking it up, and it allows us to imitate other people and to learn how to make things. You know that originally, that's how we learn how to make tools, etcetera. Humans going back hundreds of thousands of years before the invention of language were actually a very weak species were physically weak. We survived because we were social worked in groups. And if you can imagine being in a group where there are all these predators and dangers around, but you're not, you don't have embedded language yet. You need to understand people on a nonverbal sense. You need to be able to pick up their moods and their emotions. To be able to act in the group is one we have that power. We have that telepathic power to get inside the perspective of other people, and the block of that is we're so immersed in our smartphones and a technology and social media that we're not interacting enough with. People were too self absorbed. I want you to get out of that inward look that you have. It's actually making miserable you out there because you're not really connecting to people around you as a social animal. That feeling of loneliness and being disconnected from people is really, really depressing. I want you to get out of yourself and direct that it loved that you have for yourself in attention into other people, and you have these incredible tools at your disposal for getting inside other people's minds. I was talking about it last night in the talk that I gave for L. A live talk about how I operate in the world when I'm out at Rite Aid or supermarket or whatever. I'm looking around it people, and I'm trying to say what what is it like to be them and I practice it all the time. It's kind of a writer thing. What is it like to live in their kind of house? They don't have as much money as me. They drive, you know, a different kind of car. They have this thes problems in that problems, and I really with my imagination and a lot of effort, I try and put myself in their shoes. I've been doing this for years, and I could tell you that I can get a really powerful, intuitive, visceral sense of what it must be like to be other people. You know, this is a tool that everybody has not just me. It's a muscle that you have that you can exercise if you find yourself interested enough in the lives of other people. We said earlier that you were a lot weirder and more complicated. You chase? Yes, me. Then you imagine. Well, people are People are weird. They have their own dreams and repressed desires and things. But your drama in their light trauma, childhood traumas, they're like characters in the movie. They're like something out of dull. Stay, ask your some Tarantino film, but you don't think of it that way because you only see you know what they present to you. Yeah. I want to make you fascinated by the people out there and motivated to try and move inside their worlds and use your empathy, the mirror on a such a powerful tool. For that, I have an example of my own life as a photographer. Maybe you can tell me how I could do more to strengthen this muscle and connect with others when I Well, first of all, in conversations like this, yeah, if I look at you and I don't talk after you're done talking and I know in my head three times you will keep talking. If I just make make it look like I'm I'm I'm attuned to you. And if, like, I just find that that is a signal on nonverbal signal that without fail. And I learned this from Vanessa van in words without fail that you will keep talking. Yeah. Even if you don't have anything else to say, you'll fill the space. And so there's almost a social contract as a photographer. If I want I, it's fiction to think that you don't actually impact your subject. If you're going to shoot a portrait. If I come in the music loud and my energy is very high, I will watch the energy of the other person raise. And if I come in, I talked quietly and we go sit in the corner of the studio. Yeah, I get a completely different mood out of the subject. And so I think part of the take away is whether you think you are impacting your environment or you're not. Because of these mirror neurons, we bring energy to a situation, and it impacts the impacts. The environment. Is this you talked about? Using this is a muscle is the act of strengthening the muscle just doing the exercises that you do at Rite Aid? Or how can people, like learn that this is a whiskey? I'm trying to get at self awareness. When do you become self aware enough that you that this is a thing that you possess? What do you do to to strengthen because it's gonna build empathy right? The more you could find yourself in the shoes of other Well, the problem is, you're in your day to day interactions at the office, for instance, you're not paying attention to that colleague. You tuning them out because you're more interested in your own problems in your own ideas, your own. You've got your own life to lead. And so you're sitting there in a conversation. But you're not listening to them. You just you have that internal monologue that's playing. So Step number one is to be aware that you're continually listening to a voice in your head and that voice is really, really damaging you. Yeah, its profits blocking you from experience in the world and from experiencing other people. So I'm not asking for a radical change in your life. You're not. Overnight could become this this incredible, empathic, visionary person. I want baby steps. So I want you the next day after you read my book to go into the interaction with that guy and that you know, the the what they call it in office in your little cubicle, your little cubicle megastore. And okay, now I'm gonna force myself to turn that off just for five minutes, and I'm gonna have an exercise where I'm gonna see if I conglomeration some bit of information from that person that I never gleaned before. I'm going to pay attention to his or her body language and see something about them that I never noticed before. I'm gonna actually listen to something. I'm gonna ask a question about their upbringing in their childhood. I'm gonna find one little detail that I never noticed before today. And then after that, you can go back to your internal monologue, which will naturally take over. So want you to practice this on a day to day basis with the most bagel boring people in your life. That spouse you completely ignore. Who's so familiar to you that you never pay attention to? You know, you can live with somebody for 30 40 years and you don't really know them. Suddenly, I want you to do an exercise where you actually try and find something out about her that you never realized before. And people are giving out all of this information. Sigmund Freud said that we use every day signals of our in her life through how our hands through how we hold something through how we smile. You're missing all this information. I don't wanna wake you up. You're in a dream. Yeah. It's like the matrix you giving you the red pill, You waking you up to observing all of these signs that people are omitting that you're simply not paying attention to? And from that step of now you're listening to people. Maybe you'll start getting interested in them more fascinated, you'll realize something's going on that that kind of exciting. It's like a movie, in a way. Yeah, right. And if you could spark that and you get go deeper and deeper, that muscle will start coming back to life. It's all about instead of being inter oriented, being outer oriented, and you might find it a drag or exercise. But it's actually therapy. We've ever experienced a moment in your life where you were doing sports or exercise, or you were reading a book or you were writing something or you're seeing a movie. Getting outside of yourself and being at one with what you're doing is incredibly therapeutic. That's flow state for the flow state. Yeah, and this is a flow since you're gonna have in your boring daily social interactions very powerful. What When you think about you said two things I want to go back on one. Was that this voice inside of us is damaging. Yeah, um, I'm an advocate of self care. I've talked a lot about some of the dark times that I've had on how mindset I've learned is the most important thing for me for me, and and mindset is basically directly proportional toe the voice that's in your head if you're giving yourselves loving messages and so that you oriented your comment around, this is doing damage to you. Can you talk a little bit more about that and give people? Is this this practice that you're talking about? Is that a vehicle to change that voice? Or how should we think about the voice in her head? And I just I'm very passionate about what I want to hear your here. Well, the chapter that I wrote about that that's more relevant is a chapter I had about attitude. I call it all to your circumstances by altering your attitude, something like that, yes, about self sabotage. And so that voice inside of you becomes literally who you are. It's a reflection of your attitude towards life, right? So if you have a negative kind of hostile, close restricted attitude towards life that voice is always going to be critical about you and about other people, and being critical about you and other people is narrowing the lens of your eye. I say Your attitude towards life is like an aperture of a camera, which is an apt metaphor here as well played. And that aperture is closing, dependent on how close you are to experience if you're fearful and avoiding and hostile. That thinking narrowed down to a tiny to this lowest F stop that there is right. But if you're open and expansive and accepting and tolerant and kind of open to experience, it opens to the widest aperture. And you, how you look at yourself and how that attitude is, will determine what you get in life. So imagine that I'm someone with a kind of a hostile, slightly angry attitude towards people or towards life in general, and I approached you Chase. We've never met before. Almost immediately, you get that sense. Robert is kind of a hostile critical person, and you get defensive right and I pick up your defensiveness like, Oh, damn, he's being defensive makes me even more hostile and even more defensive and even more closed, so you create your circumstances by the attitude you project towards people. If you could alter that attitude, if you could make it more expansive, you'll have a different effect on people. But I know I meditate a lot every morning, and I hear that voice inside of my head is a voice that's so damn annoying. I'm trying to turn it off, and that voice is always filling me with anxiety. You didn't answer that email. You didn't. You know, Maybe this person took your comment the wrong way. It's filling me with all kinds of, um, my ego. I get enough applause last night where people really excited by what I did. So I become aware of that voice. And then I realize, What is that? What is that voice? Where where's it coming from? It's not really me, you know. That's not who I am. I could shut that off. I could change it. I could realize that who cares if they're applause is this way or that? Why do I have to be anxious? While I'm meditating about what my mother said on the phone the other day, I could turn that off so altering that voice and altering your attitude is an immensely powerful tool in your tool kit that I'm trying to instruct you. How do you use it's I feel like that is, uh, perhaps the biggest key you said you mentioned in my life. Uh, it feels like the biggest lever rather in my life, uh, making the things that I want to have happened and feeling you by and by extension the other way. If I don't feel with greater if I'm not in control of that lever feeling like a cork and tied just bouncing around. Yeah, I would like to go one layer deeper. You talked about meditation. I'm also a big fan and being at first aware of that voice. And when that voice comes in, just bringing it back to you know, the breath of the mantra or whatever you mentioned meditation. Or there's some other things that you do to help steer this voice or be aware of it. Um, I don't want to get to tactical, but you just said you mentioned that I was curious. Well, um, is talk therapy. Another thing is like, What do you recommend? Well, therapy's great. Yeah. Um But really, it's like it's so familiar to you. It's so much what your daily experiences, you need to have some distance. So what I'm doing when I meditate? Because that's where I do most of what we're talking about here. And then it carries over to my day to day life, and I'm a huge advocate of bringing meditation into your life in some form or another. I don't know what where I came up with this metaphor, but I think it's sometimes with the computer where you can try and push an image away. I try and push in my mind myself away that voice. I try and get some distance from it as I'm meditating. And if it's very difficult because telling yourself I'm getting distance from that voice is the voice. It's always there. It's so annoyed. But if I can create that much of distance, it's an amazing feeling. I can't tell you what that is is because I'm actually observing myself in action. I'm observing that voice as it happens with a tiny little bit of distance. Okay, and with that distance now what? I'm outside of meditation and I'm talking to my wife or I'm dealing with friends on the phone. I can get that little bit of distance. I can catch myself getting anxious or my ego's intervening or all the other little things that that voice does. You know I can. I can see it happening. But I want I'm a big advocate of getting a little bit of inner distance and detachment, so you have the power to observe yourself. I don't know how else I would have done it through except through meditation. But, you know, therapy could be power. Could be a powerful voice. Another way you can do it is using a journal, just something that Ryan holiday advocates a lot. So in a day to day level, you write down at the end of the day, your thoughts and experiences. Now you think, Well, how is that gonna have? Well, two days later, you go back and you read it, and it's like you're reading about somebody else you're reading about. Your thoughts have been objectified and a piece of paper, and now you can look at it with some distance or you look at it. A month later, he's like, Well, was I really thinking that feeling that Yeah, and you can see that other self inside of you in action. So that is another powerful tool you can use. So if is what we're really talking about here? Emotional intelligence? Is that what you're advocate? And I'm just trying toe like in the most simple use the word. But now earlier? Because there's a lot of heavy psychology. There's a lot of, like, again your relationship with yourself, to your distance from it. In her voice. All these is it just Is it emotional intelligence? That's a huge part of it. Um, so some of the things that I learned from neuroscience is that we're largely governed by emotions. Emotions are one of the most ancient parts of the brain. Brain exists on a stem from the higher cognitive abilities, are actually literally higher up in our brain. And the limbic lizard part of our brain is lower down on the stem. Basil ganglia. Yeah, and emotions are extremely Ancient lizards have emotions of fear, emotion. So they go back millions of years, right? We have much more complex emotions. We have shame. We have depression. We have elation and joy, things that other animals don't experience. But the thing about emotions is that they occur on a more ancient part of the brain that's not connected to our thinking. Toe are rational part. They operate in different systems, so we don't have the capacity to understand where our emotions come from. They occur to us and later we think, Oh, I was angry for this reason, or I was attracted that woman for this reason. But it's not the truth. You don't have rational access to your emotions. They're occurring on a level that's too primitive your thinking after the fact. So I want you to challenge yourself. Sometimes you're angry. You're pissed off for some reason. Step back, gain that little inner distance and go. Why am I angry? Question yourself. Is it because of that person that sent that email? Or is it because of something that's I'm carrying along with me from my childhood, where I hate authority figures because I didn't like my father and this boss said something that really riled me, but it's really have to do with the boss's issues. I'm carrying with me to have some distance in question where your emotions come from that is true emotional intelligence, and that'll give you the ability to not always react. So you're really angry about somebody who didn't get back to you. Write an angry email. Don't send it, write it, but don't send it and look at it the next day and you go. I don't think I don't need to do that. That's kind of a little too strong kind of thing. So the ability to analyze your own emotions is so powerful and important because you're not actually doing it. You're reacting your emotions or begins sending you on a ride like you're a Disneyland in your emotions are sending on Mr Toad's Wild Ride up and down here and there and you're bumping into people in defending them. I want you to get some really accesses to where they come from, and then you can. You know you can stop that emotion from governing your life. I'm not against emotions. Emotions are a beautiful thing. It's what makes us created with makes us fall in love. And actually being rational is a desire is an emotion because you actually love the process of thinking, etcetera. Emotions are beautiful, but you need the ability to do what our brain doesn't naturally give us, which is the ability to have intelligent access as to where they come from. Let's go right into creativity because he was the perfect natural Segway there. Okay, for you know, this audience is largely creator, entrepreneur oriented, and I always like to provide a vehicle or a lens to creativity. How do you think that mastering your emotion, creating a little bit of distance and awareness of ego and self talk. And what's the fundamental role that creativity has connected to human nature? Well, it depends on your your form of creativity. But, you know, for a writer, for instance, the ability to get inside other people and understand them is absolutely essential to be able to capture and write a good character for a movie or a novel or a play. Um, you know, as a photographer, understanding the psychology of the people that you're photographing, who they are now gives you access the ability to bring out something about them that's never was captured before in a camera. So understanding people psychology because we are a social animal in any kind of creative venture is somehow interacting with people will greatly enrich. You know the soil give you many more ideas to work with. I also talk in the book about our shadow are dark side. Yeah, And I say that this dark side, something that we normally repress create has tremendous creative potential. To me, all of the great artists in life are actually more attuned to their dark side to those ugly, violent, unrestrained emotions that are inside of that stranger. And they have access to that, and they bring that into their work. You know, Robert Maplethorpe or or you know, some other artists that shocks us or offenses or a great novelist. They have access to that dark side in themselves, and they're able to bring it out into their work. So you want to not be afraid of your dark side. As an artist, you want to mine it. You want to be aware of your aggressive tendencies. You want to be aware of your narcissism. You want to be aware of all those dark emotions that you're afraid of showing to the world because there's incredible rich material. They come from your unconscious. They're the things you're repressing and your unconscious is so much freer than your conscious mind. The unconscious mind is continually making associations between things that are kind of not normally associated with. And that's really what a great artist done. And that's creativity in action, right? Associating two things that weren't I used to not be associate ID. Yeah, well, you want to be have able to have access to those kind of unconscious processes, going deeper into yourself and becoming more aware of how your unconscious operates. And some of these darker impulses will give you incredible material. I love books and movies. Etcetera was a little bit of edge, a little bit of anger to them. You know, I always operate with an edge of anger. When I write a book, I'm pissed off about people in power in Hollywood being so hypocritical. So I write the 48 laws of power. It's my way of urinating on right that's sending, putting my scent on them right? I won't have a little bit of an edge. You translating your own anger in your own pissed off emotions into your work is extremely powerful. That's what will will really communicate to people because we have to repress our anger so much in daily life that we look toe artists to express it, you know. So that's sort of one of the most important chapters in the book about the creative process. Let's let's flip that script on its head because you also talk a lot about beauty and awareness. Enjoy some of these positive emotions, yet also can come through the awareness that you have of yourself. The chapter, that little blurb that I read as we opened earlier about with these this awareness you can actually cultivate more joy, cultivate more access, right? The access to these emotions is not only negative, that's it's a product of the process of healing and integration. And so can you talk a little bit about how the human nature there are some kind and joyful aspects to it? Almost definitely a lot of it comes through self awareness. So let's take the ugliest human emotion that exists. Envy, envy. Nobody ever wants to admit that they're envious. It's really it's a sign that we feel inferior, and it's an ugly emotion, right, and it leads to kind of sabotaging passive aggressive behavior. Well, you can flip that envy around into something joyful and actually powerful and creative. Once you're aware that you have these tendencies, so you're always comparing yourself to other people into what they have been feeling envious for them. You know, Ryan Holiday got a bigger advance than I did on my book. You can change that very quickly. First of all, you can stop comparing yourself to people who have more. And you could compare yourself to people who have less say, Well, actually, I have it pretty well in life. I'm not homeless. I have written a book I've gotten made a lot of money, so maybe compare myself to other people. What is that building you? It builds gratitude. Gratitude for for what? You have just emotion. You're not really in getting much in life. Most people nowadays are so kind of resentful about everything else. They don't have mostly social. They're getting all their inputs from Yeah, yeah, the envy of that they have in their social feeds or whatever. Yeah, I want you to build this emotion of gratitude for the fact that you're alive, that you're healthy, that you have a career that you have a mind that you can do all of these powerful things, you're not paying attention. The other thing about envy is there's something called Schadenfreude, which means you take joy and other people's pain, which is a natural human reaction. If our friend says that they got fired, we pretend, Oh, I'm so sorry to hear that. But deep inside was a little bit of joy that they're not doing so well. You know, very human. I want you to practice the opposite of that what Nietzsche calls mid Freud. And instead of when somebody tells you some good news about their life, I want you to feel their joy as part of your joy. You're happy for the happiness of other people. Instead of feeling resentful, you can build these kinds of emotions into you instead of comparing yourself to people who are powerful and getting angry and bitter. Why not use that emotion to try and emulate them? To try and figure out why they're successful and maybe incorporate some of their habits and compete with them and try and become a better person? You can flip envy in tow all of these powerful, positive emotions. I have a chapter on grandiosity and the dangers of what success will do to you, how it will lift you off out of reality to this little bubble world where you think you're a god. Well, grandiosity is actually a good thing for you once you learn of its negative possibilities. Feeling ambitious, like you want to create something really important and great is a very powerful emotion that you need to access. Need to stop feeling guilty for your ambitious, grandiose tendencies. But instead of turning it into illusions where you imagine your God for channel that energy into actually making something great toe actually making a great work of art or a great film, every one of these negative emotions can turn into a joy. An incredible positive thing. You know, the dark side could turn into your creative energy, you know, on and on and on. I take The last chapter is about death confronting mortality. Death is the absolute worst possible reality for us humans that were aware of it. And I try and show in this book that being aware of death and confronting your mortality is actually could be the source of incredible calmness. An incredible piece, an incredible ability to connect to other humans. You have the power to turn even that thought into something joyful in what I call sublime. It's a powerful chapter. A friend of mine, Michael Head, was also been on the show recently wrote a book called Death Over Dinner confronts that exact thing, using the table as an opportunity to not just to approach this topic unannounced, but just make a plan to have a conversation about it. As as I was reading that chapter, it's It's a beautiful It's a beautiful book, gives you bunch of just examples on how toe address that conversation. And as I was reading that in the laws of human nature, I was reminded of it Be great, great reference decks for you. How have you taken your own advice? You've done so much research. You've just written a beautiful book. A treatise like you said of assembling all these different thinkers into something distilled into what we can take daily action on. How have you? Well, you've been taking your own medicine for a while. What have you noticed? Well, yes, I have, but, um, about five months ago, I suffered a stroke nearly killed me. I was driving. And if my wife hadn't, I noticed something odd going on. I would have gotten a terrible accident or would have taken a long time for me to get to the hospital. I would have permanent brain damage. I was in a coma, so I had a near death experience, and here it was. Ironic is two months earlier, I had written a chapter about death and I wrote about making you aware of it, and it was kind of an intellectual exercise in here. It came right home to me. So I had to learn a valuable lesson. I had to learn that what I wrote was actually quite true. That being this near death experience made me extremely appreciative of just the fact that I am alive. But I also have to deal with tremendous amounts of impatience. I still can't do basic daily things. I can't tie my shoes. For instance, I'm skits so frustrated that I want to take my walking cane and beat people up, you know, knock something out, get so angry I have to calm myself down. I have to constantly aware, make myself aware than in a year I will be swimming again. I will be running again. I will be able to travel. So I have to get that emotional intelligence than me. Arrogant Rider was proposing for you, man who came gob smacked into my face. I have to learn how to control my impatience. My frustration, etcetera. I'm also my narcissism was you know, I don't like the fact that I have to go out in public and look like I'm this person that can't walk that can't straighten his back. It just gives me an ugly feeling. That's the narcissist in me. Why should I care what other people are, how they view me. So all the things I wrote about ironically enough, Maybe the gods had planned it that way. I have to confront in my daily life because of this stroke that happened, and I have to learn to see it. It's occurring for a reason. You know that it's going to strengthen me. It's gonna make me confront my own shadow, my own weaknesses. So that's part of been the main thing of why I've had to take my own medicine, you know, and do you feel better off having written the book. And could you imagine a world where you didn't have you hadn't done the research and hadn't realized all this stuff about yourself? Would you be in a worse off position? Yeah. I mean, on a Baena level, The 5.5 years, three stress I worked every single day with on my birthday on Christmas. Um, probably led to my stroke. You know, some people ask me, Robert, would you have if you had it all over again? Would you have not written the book and then not had the stroke? Would you be better off then? And they go? No, because I wrote the book and it's a tremendous feeling of satisfaction from myself. And I try and tell people, um, Abraham Maslow, the great psychologist, calls it peak experiences. Getting into that flow and writing a book and achieving something is a greater pleasure than I can ever get from my swimming or my hiking or all the other things that I had in life. So, you know, I can't remember. What? Your question. No, no, you're getting it. It's like if you hadn't had that experience, if you hadn't written the book, would you be worse off. What we I would be worse up because I've always wanted to write this book for six years. I'm sorry. For 20 years I've been studying people. I've been consulting. I've amassed all this knowledge and this is a book I had to write. I had to express. I had to get out of me. You have something inside of yourself. You have people out there. It's it's something that you want to express. Every human has that, um, and if you don't ever express it, you're going to die some day with the feeling of regret. It's gonna live inside of Unit never got out, and it's causing you some unhappiness and depression. So getting out your own thoughts, your own feelings, and putting them in a book or in some work of heart or in some business is actually very healthy phenomenon. So I was able to get all this information and knowledge that I wanted to share with the world. I got it out, and I think I'm very happy that I did. I don't regret it at all what you talked about self awareness at length, and you talked about, um, using the powers that you have to observe yourself and to make changes. There's also in the beginning of the book. You you I don't know what you called the, but the intra makes basically five promises. Like in this book, you're going to 1st 2nd 3rd 4th 5th One of them was you're going to be able to use what you learn in this book to impact or influence your world. And it was those were my words, not yours. You from much more elegant basically was like T influence is Yeah, and I think it was third number, third or fourth number three or four. But what I love about the way you write and the promise that you made in the book is that it's not seen as a negative. I think when we think about influencing our environment, it's a natural, potentially cynical part of some of us that would say, Oh gosh, bullet. If you're trying to influence the world, you're trying to change the normal course of history and therefore that's your ego. That's you know that's the the, um, arrogance part of your part of your personality. But that's not the case in the book. You talk about it as a positive thing to build influential world. Can you talk to us about that promise and what you had in mind? Yeah. I mean, I find that people are really hypocritical. It's a lot of bullshit to feel guilty about that. Because by our nature is a social animal. Every single fucking pardon my language, but something that you do, you are influencing people. Yeah, if you're trying not to influence them, you are influence in them to not be. Have influence. Yeah, You're acting like the saint. Oh, I'm not gonna be involved in your live. I'm just gonna listen to you, man. You know, all that other crap That's a form of influence, right? You can't get out of the game. You can't suddenly withdraw from the social gain you're influencing people with your conscious or not. And the feeling that you have no ability to influence people is actually the most miserable sensation that a human being can have. Your son or daughter, they're acting out. You have no power to change their behavior. There's nothing you can do, how helpless you feel. They're gonna grow up and be a monster. and you can't do anything about that Boss was driving you crazy. That psychotic pause whose toxic and narcissist and you can't get them to stop harassing and abusing you. Man, you're gonna bring that home with you every single day. It's gonna make you miserable. And second, the fact that you have some great idea for a film And you can't interest anybody in your idea because you're so self absorbed that you're not able to make the effort to find out what they want and what with the financier. But their self interest is you're gonna be unfairly unhappy and resentful. He may pretend to yourself that you're some kind of saint, that you don't have these desires, but unconsciously, you feel deep wells of resentment and bitterness that you can't influence the people around you. So number one, stop the denial and admit that you want the ability to have some kind of power over people. If your spouse has some really obnoxious form of behaviour, you want them to stop it. But if you sit there and you say, Honey, stop doing this, they're going to get defensive and angry and they're gonna end up probably just doing mawr of what irritates you. So you have to learn the language of influence. How can you begin to influence people once you're honest with yourself that you want to? And so I maintained the people around you are naturally defensive and resistant. We all know that way. We have our own lives to take care of. We don't want have all these other people bothering us with their own problems. Right? So the person you're trying to stop their irritating behavior or interest in your film idea is resistant and defensive from the very beginning. But you don't see it that way. You think they should just love your idea and give you $10 million to finance it Because you're so brilliant. Stop that and realize that it's the opposite. They have no reason in the world to be interested in you at all toe. Alter their behavior. You have to enter their world, their psychology, their way of seeing things. And I show you in this in Chapter seven, about confirming people self opinion that people have an idea about themselves. It's extremely important. We're talking about that inner voice, that idea that people have about themselves. I'm not being cynical because it's it's me. Included is that I'm basically a good moral person. Nobody, even the most wicked person, likes to think that their evil right. We all think that we're good. We all like to think that we're autonomous, that we act on our own willpower that were not manipulated, right, And we want to believe that we're rational, that our decisions come from thinking and intelligence. If you go into a situation where you make people feel the slightest bit defensive about their own opinion about themselves, a door will close, it will never open again, and all your attempts to influence will be will be for nothing. So you have to understand that you have tow, calm people down and make them feel comfortable with who they are. You have to validate their sense of their self opinion who they are. It's not bullshit. It's not deception. Validating people for their own qualities is an extremely important thing, because think of how little you get in life. Think of how rare it is that somebody comes up to you and says, You know, chase, you really a really decent, nice person you're very empathetic. I really appreciate it. How often do you get that? I have to weigh? Want that? And it's not bullshit, because everybody does have something that that's worth validating. So when you do that, when you enter their world and you realize what they're insecure about and what they need validation for, they're going to be more on your side, and then you have power to influence them. When you have that rebellious teenage son who's doing the opposite of everything, you tell them if you go into there, you fall for the trap of telling them again to stop rebelling. That's going to make them rebel even more. You enter their world and you make it so you give them reverse psychology, you say, Oh, it's fine. Whatever your son's name to go, do what you're doing. It's fine. I approve of your rebellious attitude. Suddenly, rebelling doesn't seem cool anymore because you've given it license and now they're going. Maybe gonna try and do something different, understand the psychology of influence. It's an extremely valuable tool, and there's nothing evil at all about it. Get rid of your hypocritical guilt is the main message of that chapter that's read herbal piece of wisdom, right? That, um, I find that that is a very popular point of view among creators that there's a desire to put something out in the world. But who am I? I haven't lived a tumultuous life. I wasn't and I didn't have all these extenuating circumstances. And therefore I have nothing to say. And there's a on inward guilt that I sense in hearing people talk about that a repressed, um, not not necessarily ability but repressed. Um, they believe that they don't have the ability or that that it is a dirty word to try and imprint their beliefs on the world. And to me, it's just it's just radical shame, because it's a It's a lack of a gift that the world's no longer going to receive if you're not putting your stamp on the world, right? And what about what would you say to the concept of? We're not all special snowflakes? I'm trying to come from a different perspective. I want to hear Robert Robert Green's approach to Are you a special snowflake? Because you have made some arguments in the book that air? Hey, we're all basically animals, and we can look at our history and do the math. But then we're also talking about, yeah, seize your opportunity, take advantage of the skills that you have. And if you don't have them developed, Um, well, it's a bit of a paradox, and you put your finger on it, so I need to answer that. So on the one hand, we have common qualities that come from our human nature. We're all cut from the same cloth, our D. N a and R and our brains are wired a very particular way as human beings. It's not the same way that birds or dogs or word we're human. On the other hand, the paradox is that each individual is an individual, has a unique quality, so your brain may be wired. Similarly, other people, But it's wired ever so differently enough, right? No. Two brains are exactly the same. Your DNA is never been. They'll never be the same DNA of Chase Jarvis ever in the past or in the future. It's impossible. It's unique to you, right? Your parents and your experiences is your 345 or six are completely unique. Unless there's some alternate universe out there. There's nobody alive has ever had exactly your experiences with your parents, your family. Therefore, even though you're wired and you have common qualities, there is some unique sparked you something unique about you, right? And that uniqueness is the source of your power. If you just simply let yourself become who other people are if you just simply become like other people and the group, you have no power. Everybody you know, everybody else could do the same thing that you could do. So why you your unique this? What makes you were what makes you different? What makes you peculiar is your source of power And think of anybody in the world who has ever had tremendous success or impact in the arts of the sciences. Now, Albert Einstein, Steve Jobs, a Pablo Picasso. There's nobody else out there like them. They're weird. They managed to stay true to their uniqueness and minded for something special. You have that power is well, but you're not mining it. Mastery is the entire chapter on that. And in this book I have an entire chapter about your purpose in life. We're not born with a sense of our purpose is something that we need to develop and going through life without any sense of purpose. Aim Wandering aimlessly through careers, etcetera is going to be a source of depression and misery. Having a sense of purpose and direction gives energy to every single thing that you do. And I want you to go back and realize who you are that makes you unique. Not what? Not all the emotions that make you want to fit into the group and conform and be accepted. But what makes you weird and different? The taste that you have that are not like your friends, the desires that you have that your friends don't seem to share Don't be afraid. Don't be ashamed of them. They are the source of your power and you need to connect to them. So I want you to go back and try and know yourself, which is the source in ancient Greek of all wisdom. Know thy self. Who are you? What we like is a child. What were the things that the things you were attracted to that you since lost contact with were you attracted toe words to physical motion to mathematics to music to something very peculiar. When Steve Jobs was six years old, he was walking with his father in Sunnyvale, California, and they Paston Elektronik shop and his eyes just lit up by the beautiful design of these weird electron ICS gadgets. And his path was set for the rest of his life. Of course, was set that he would be interested not in technology, not in design, but in the confluence of design and technology because he liked the visuals of those those products. Things like that happen to you when you were five or six years old, but you've forgotten about that. So you are a U snowflake. You're just either denying it or running away from it or not physically trying to, you know, mine what that is. And, you know, I want you to be aware of what you don't like in life because that's another sign of your uniqueness. I learned early on in my life that I love words and language did to be a writer, and I also learned that I hate large corporations working in an office. Ah, hate office politics. I hate all the bullshit I learned when I was 23 or 24. I cannot work with other people. I have to be on my own. Well, that's another sign of what makes you unique. Maybe you're the opposite. Maybe you need you like being around working with other people. The other thing is, once you discover what makes you unique, I call a kind of a frame of reference. You love mathematical patterns. You love working with other people, social situations. You love words or whatever or images. Okay, Now you're 21. Go out and explore and have some fun. And be adventurous. Don't immediately go into law school. Don't immediately get a job. A well paid job. You're young. You don't need a lot of money. Young people can live, you know, sleeping on the floor with friends. It's the only time in your life it's ever gonna be like that. Within that framework of what interests, you go out and explore and develop skills in different areas and try your hand at this and that and that in the 21st century, that is incredible power that we have with all the information and knowledge our disposal go out and you know, it's like a smorgasbord out there don't get carried away with trying things that are irrelevant. Everything I tried was a job that ended up enriching. My experience is a writer. I worked journalism. I worked in Hollywood. I also had jobs working in a detective agency, which taught me incredible amount about people in psychology. So my motto in life was, Everything is material. Everything I experienced was material from my writing. Whatever your field is, go out and have a gamut of experiences. If you love music, try your hand at writing music at performing at producing whatever it is. Different forms of music, different instruments. Then, by the time you 28 or 30 years old, an opportunity will come. A life will go on in your head. When you go, you know I can take those different experiences and turn them into a business or a band or whatever. It's not like anything out there because it's known fact. When you're 20 ages, between 28 35 are your prime creative period of life. The younger you are, the more creative you are, the more your mind is freer and looser. You're now at a point where you can take all those experiences and create something really powerful and unique. But if you've wasted your time, you just wandered around aimlessly. It won't matter. No matter what opportunities come your way, you won't be prepared to seize them. So that's sort of my way of answering the paradox that you presented me. That is a lesson. That is a That's a That is a book. That's your next book. Well, that was mastery. Really. Discover your lives Task. Yeah, well, thank you for addressing it in this in this book is we're Teoh. Congratulations on the book. Thank you so much. Phenomenal. Phenomenal piece of art. Thank you. Uh, and having read 300 books, you said to prepare for it over three. Over 300. Thank you for reading 300 books on our behalf. I feel like I got it all downloaded into my brain. The book is laws of human nature. Thank you, Robert Green, for being on the show for being a member of this community. And it's an honor to read the work that you're putting out there in the world and to be a friend. Well, thank you, Chase for giving me the opportunity to share. I appreciate it. Appreciate you. Okay. Next time. Yeah, definitely. Thank you. Think and have a good one. You all Thanksgiving for paying attention. Hope to see you again. Hopefully tomorrow.
Ratings and Reviews
By far the best classes on Creative Live!! Thanks Chase Jarvis for bringing so much greatness to the table for discussion! Just LOVE it!
@ChaseJarvis - love chat with Gabby about hope and the "relentless optimism" you share at the end of Creative Calling. Many thanks. -- René Vidal McKendree Tennis
Excellent interview with thoughtful questions. Thanks!!
Student Work