How To Heal From Your Past with Dr. Nicole LePera
Chase Jarvis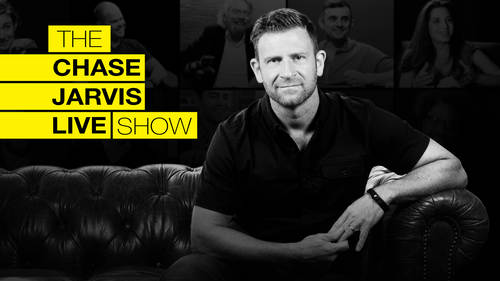 How To Heal From Your Past with Dr. Nicole LePera
Chase Jarvis
Lesson Info
51. How To Heal From Your Past with Dr. Nicole LePera
Lesson Info
How To Heal From Your Past with Dr. Nicole LePera
Mhm. Yeah. Oh we love you. Hello Internet. It's your dear friend. Chase Jarvis here. Welcome to another episode of the Chase Jarvis live show on Creative Live. If you're new here, this is the shore. I sit down with the world's top creators, entrepreneurs and thought leaders and I do everything I can unpack their brain with the goal of helping you live your dreams and career hobby and in life. Before we get to my very special guest today, I want to welcome you were streaming to all sorts of different platforms to facebook live Youtube live uh instagram live and I see your comments. So if you want to bubble something up something, you're thinking a question that you'd like me to ask the guests, please just type it into wherever you are watching and consuming. I will say that the place that I see the comments first is over at creativelive dot com slash T. V. So if you want to head over there, please feel free if your questions are urgent that's where I see them first. But I know you're he...
re for the guests so I'm going to get out of the way and welcome dr Nicola Pere who is a holistic psychologist. She received traditional training in clinical psychology from Cornell at the new School of Social Research. I first came in contact with her work through her instagram channel which if you are not tuned in it's the dot holistic dot psychology and it is transformational and I've watched it grow from basically zero followers to millions. Over the course of the last I would say maybe a couple of years, year and a half. Um she's done so much and she's got a new book which just went straight to numero uno. Not two or three or five or 10 to number one in new york times list. Please tap your desk, raised the roof. Um Give a shout out on the internet to to dr Nicole. Le Pere dr Nicole. Welcome to the show. Thank you so so much for having me chase. How many of these like these fantabulous introductions have you had gotten to listen to over the course of the past three weeks as your book has basically charted completely new territory and all the way to the top of the charts. Has it been a fun? Right. It's been quite a few. It's been a wild ride. It's so interesting listening to interest because there are some days where I'm like who are you talking about? There is still that part of me that has a hard time wrapping my head around all of this. Well, uh I have been a fan of your work for a long time and have been very very excited to when we line this up shortly before your book launch. Um and I have some ground that I want to cover. So I'd like to dive in. Um and as you know, this is your show as much as it is mine. So if you, if you want to take us in a direction pill free the people at home that are watching and listening, I'm seeing people tune in from literally all over the globe right there. Uh, Mexico Ireland. We've got UK new Jersey California, uh, Idaho. Uh, so to say, we've got a global audience would be an understatement. Uh, but what one of the ways that I like to start the show is to go back at the beginning, I've seen you say, I had no idea in just a couple years ago that I would write a book or that these, but clearly you were motivated to find some truth for yourself and to pursue something that let you up. Most people at home are watching, listening don't actually have that thing and they're seeking that. And so as someone who is clearly tapped into this special part of a new chapter for you, how did you find that? How did you get your start? Was it really obvious? And did you know when you were nine that you were going to be a holistic psychologist or help help orient watchers and listeners around you in your story? Yeah. So there there's a big part of me, even like I was saying the fact that I'm sitting here speaking to you um on a show creative Live. I never imagined myself never resonated with the concept or the title of being a creator. Um so very intuitively, for as long as I can remember, I had a fascination with people um what made people similar to myself, what made people dissimilar to myself. So before long I was marching the pathway to become a clinical psychologist. Um So one might say it came from a deeper space, but I wouldn't have described it. Chases lighting me up or is my passion or is my purpose? I actually have a very um distinct memory. Uh reading a book from Dr Wayne Dyer, one of his first books, and I was reading it several years ago before I began my own healing journey and he himself was talking about being a clinical psychologist like myself. So I resonated with that part though. He went on to share having an awareness of a deeper passion or purpose. Um and then obviously shared his journey living into embodying that passion and that purpose. And when I was reading that book, I could not resonate at all with that second concept, this idea of passion and lighting me up, it just didn't feel like I had that chip. Um so it's not something that was intuitive to me and I now understand why I think so many of us are prevented or stuck um not accessing our creative ability that I like, you believe every human has from birth, because many of us are living and conditioned habits and patterns um most often embodied or formed in our childhood, um keeping us stuck from accessing that that state of consciousness. Really, so I like to share my journey because I'm not someone who intuitively was like this is my passion, my purpose, I'm going to go ahead and do this. I was walking a journey and I felt really empty though, I checked a lot of boxes, there was something missing, and it wasn't until, like I said, I really began to peel back my own onion and I discovered all of the layering of conditioning that was keeping me from accessing that consciousness, that state of consciousness that allows us to be creative really Well, I'm gonna pull a layer back or pull the covers back 1 1 notch here and say you talked about conditioning. What were some of the conditioning, What was some of the conditioning you experienced around what you should be because that's part of what the people who are listening and watching right now. Step one I like to say is find the thing you're supposed to be doing and step to do that thing. And then, so in step one part of what I find challenging my personal journey and to be fair, I was a white male born in America, like I basically have every privilege and discovering that and tuning out the noise of everyone else's conditioning being applied to me in my life and people who care deeply right parents, career counselors, your partner's friends, spouses. I found that to be so hard to tune out. I'm wondering what were some of the messages you received about what you ought to do with this one precious life and how did you then, was it just that one moment listening to wayne dyer or whether is was there a series of basically unlearning or deep programming, this conditioning to be and become, You know, something off the list of these 10 items for you to be able to pursue the thing that is clearly now been transformative for you and the people, the millions of people who pay attention to your work. As I began to peel back my own onion. Um, what I began to see is a lot of that should messaging. Um though for me it wasn't even direct. Um So from childhood um when talking about what we're going to be when we get older, watching my parents, my dad and his career, Um there was a somewhat of a message around, you know, having the stable career, having the 9-5 that comes along with the paycheck. And it wasn't really a strong message though, I was very much allowed to explore. When I started talking about wanting to be a psychologist, my family was very, very supportive for me. I think what was keeping me more stuck was the indirect patterns, the indirect modes of being, ways of being, that I began to embody growing up in a home where the stress was high, particularly around health issues. Um and having very limited support, emotional support. I began to associate with in my book, I talk about archetypes um and the number one archetype that I resonate with is being the overachiever. So I kind of channeled into achievement into academic achievement, into into sporting achievement. Um and that obviously led to my continuation of schooling and ultimately what I was doing when I got older, though it wasn't messaging for me, like I said, it was the, when I began to peel back my onion, I began to bear witness um to all of the filters that I was running, all of my decisions through, and my number one filter was how will this make others in my world feel? How will I affect them if I honor my want, my need, my desire, my passion, and what I came to find is I was so disconnected from that intuitive space that houses our passions because I was so disconnected because I was filtering myself through others for so long. So I talk about that because I know so many of us can and have had those messages spoken to us what we should or shouldn't do in terms of life that take us away from our passions and others are like myself, it's not as direct. Um again, it becomes are coping our way of being. That helped me at one time manage a very overwhelming environment that then led me further and further away from that internal knowing. Uh okay, this internal knowing. Let's anchor on that. Because you've talked, you know, you talked about it at length in your book specifically, and I do want to in your intro, I talked briefly about it, but I have to pause for a second and say you have to get the book how to do the work went straight to number one, the subtitle, recognizing your patterns, healing from your past and create your best self on create yourself. Sorry, before we go any further now is when you should go click on the amazon page and uh and pick it up if you can do it with the local bookstore even better. Um but just I needed to get that out there because I'm going to start referencing that a lot here as we as we get in. Um Mhm. You talked about inner child archetypes, you've talked about um conditioning mentioned in the book a lot trauma, but let's go back to uh this idea of self healing because my understanding of your work is that is sort of the macro anchor of your work and if I'm misspeaking here or I've got it wrong, please correct me. But the idea of healing ah I know that at various times in my life, I didn't believe that I needed to heal that I had everything going for me, the windows at my back, but it was over time when you start to look closely at your conditioning and something happens in your life and you realize that you're not happier, ultimately, I've come to believe that there's we all have a huge opportunity to do real work that can transform our lives. Why did you choose to couch it in sort of self healing as the cornerstone for your practice, your book and you know, the social followings, where you've got millions of people hooked, why that and explain a little bit how you got there. I appreciate you sharing your story with me and that awareness and for me, this idea of self healing really came from I believe in need um that so many of us have to peel back those layers and to go back to the wisdom that we all have. I see a kind of global outsourcing of ourselves to other people, to outside, external means to feel differently. Um, so what self healing means to me is it puts the self, um, as the person who knows as the person who can pick the tools that work and or the tools that that don't resonate. Um, so self healing is, like I said, really going back because I'm not like, you didn't feel like I had to heal. Um, I actually had the experience of feeling like I couldn't, he'll um that my genetics and my temperament and all of the things that I saw very similarly in my family of origin. I believe that I was destined in so many words to repeat those patterns because I was gifted with the genetics that would result in those symptoms. And or it's just how we were as a family or as a unit. Um, so for me, I I had a really internalized belief that I was limited in so many ways, and it took me peeling back the layers me, really, being able to understand um why I and many other people are stuck stock is not our natural state of being. The symptoms that so many of us are living in cycles of is not our natural state of being. I believe our whole self is whole. Um, and as we begin to identify more with that deeper space, we begin to create choice um choices where those older patterns don't have to dictate the life that I'm leaving leading forward into. So self healing really is about empowerment, empowering me, um and my inner being as the holder of the knowledge um from anything from what works for my body, my emotional system, to the conversation that we're having, what is my purpose in life? Where am I going into the future? one more thread on that point of purpose and tapping into that, trusting that intuition. And again, just to recognize some of the folks who've got Bc Canada spirito, California, the big island K and is out there in hawaii, harden Montana California, north Carolina michigan. Finally got the us folks tuned in here. Uh it's most of the questions that I'm seeing are around this point of intuition and I'll just use eric's question as an example, if everyone has this creative spirit inside of them, is it necessary for people to find it? Like, is there something to find? That's a great question. I I would describe it more as an uncovering many of the patterns that we're living in. The stuffiness that we're repeating is actually separate from that space. We might be disconnected or dissociated. Like I have been, again, we might be operating playing roles in relationships and not really honoring our full self. So, it's an uncovering more so a conscious awareness of what it is and then over time and actualizing on that are beginning to action based from that deeper place, as opposed to what many of us do. Instead, we action in a very repetitive way. We tend to think the same thoughts feel the same way and do the same thing upon those feelings without the conscious awareness without choice. Really. So, I would say to that question, it's more of an uncovering, um and allowing us so when we choose to to speak to live to embody that deeper knowing as opposed to the patterns that many of us are living instead, that are very reactive, I should add, Okay, let's let's I'm going to label that and I'm a you correct my label if I miss it. But just for now, what can we call it conditioning? Yes, That's a great label. Okay. Label I use often. Yeah. And I'm trying to reflect some of your work back to you, but these are my takeaways and I also live with a woman. My wife Kate is a meditation and mindfulness teacher who comes largely from the buddhist tradition at this, and she has a phrase that she shares to me a lot, which is how you do anything, it's how you do everything and that's that is this piece of conditioning. And what role Do things like trauma things like epigenetic six and conscious awareness or lack there of play in our conditioning. We're not attentive when we're not conscious and I think now, depending on whom you read upwards of 80, of our day, we're not operating from our conscious mind. It's actually a different part of our mind. It's located in the prefrontal cortex where many most of us are operating from is our, as I call it, our subconscious mind and was housed in the subconscious mind are again, all of the habits and patterns that were often created very early in life and what is what is contained in there are often the imbalances, um the dis regulated nervous system responses or reactions and all of that. Again, the coping tools that we formed at a time when we were much more limited. So as we're going about our day and I would see this um in my old practice when I was working very traditionally in talk therapy week after week, with ever increasing insight, I would have sessions, beautiful sessions where we'd be able to troubleshoot right the next time this thing happens, I'm going to make a new choice yet. Week after week. What I would get reported to me from my clients is that actually didn't happen. Um so with increasing disempowerment frustration, um these humans were still repeating these patterns no matter what the insight that they had was. And like I said, these patterns are very reactive, there's very big emotions attached to them and often very immature for lack of a better word coping tools. The things that worked when we were much younger in much more often compromised environments, that might not be fully serving us now. So in there again, for many of us are our traumas are all of the ways our best attempts at regulating our dis regulated nervous system. That if we're not conscious in our day to day life, that becomes our point of reactivity. So no amount of insight. And this is why I talk about in the field. CBT being the gold standard. I have a whole chapter in my book called The Power of Belief, Really stressing how important thoughts are however, and the reason why I work holistically now, we have to include the body. The fact that so many of us have dis regulations imbalances. Our nervous systems are stuck in a state of fight flight or flee um that are again stored in that subconscious and become our point of reactivity no matter much, no matter how much conscious conscious intention we set to do differently. That was one of the things that really hooked me into your work. Is this the concept of self healing? The concept of providing a set of tools and an awareness that transcends the typical uh, I would say um talk therapy and the the clinical uh evaluation of these are let's treat the symptoms versus your work seeming to be much deeper. And before we shift into, you know, okay, acknowledging that we all have these problems and every what everyone's just, I'm seeing the comments like, great, what do we do about it? Tell us the answer. Which is the reason you wrote the book. So we're not going to reveal everything here. But mm you juxtaposed briefly in that last moment that you share with us the traditional practice, you say the word talk therapy versus how you look at solving problems today. Do you consider that you left traditional practice? Did you go to something? Did you merge a handful of things and if so clearly this idea just in how you said it, that this was incomplete the clinical approach. So help because there's folks who are watching here who are you know who are in touch and believe in in you know higher power and a you know a holistic and there are science buffs who are just like yet. What are my neurons firing And how do I program them? So try and wrap your arms around everyone who's listening and watching right now and help us understand what you believe. We ought to. All the tools that are at our disposal and why you left classically psychology as some people think about it. I was that I expanded um uh expanded honoring that the mind. Um you know psychologist being a doctor of the mind, the mind is part thoughts are powerful, our neurons are firing and wiring and our brains are nora plastic and they can change throughout life. However expansion, the expanded model is holistic. It does also honor the body and the different physiology and energies and nervous system state that also impact how are mental wellness is or lack there of I also believe that there's an essence in us nous whether or not we want to throw the more spiritual based concept of soul or spirit on top of that though, I think a lot of us are tuning into there is a uniqueness that makes me me that makes you you we can call it our passion, our creative purpose and I believe that that's part of our story too. So what I'm hoping that the field does is it expands and it embraces for the body more body based tools, more awareness of the importance of say things like nutrition and nervous system regulation and sleep um, in ways that our body metabolizes or doesn't around stress. Um, I see a future where in psychology that's necessary because for so many of us, it's the dis regulations in our body that are keeping us stuck from creating change. So I'm advocating for a more comprehensive approach again, where we can honor the whole experience of being human, understanding that we are an interactive being that contains a body of mind and a spirit or a soul. Where did this come from? Like, you don't just stumble into this overnight, right? You don't just your in your clinical practice and you say, you know what? We got to expand this. So, you know, where did it come from? And why do you believe the things that you believe now is a personal experiences that research, Is it? Um, was it talking to patients and realizing that the definitions that we were previously living under were insufficient? It was a lot of all of those things in school. While I was in school, I was learning outside of my clinical program. I enrolled in a psychoanalytic school and I was learning all different tools. I worked heavily in the substance use field for a very long time. So I was always studying research, looking um for to be the most comprehensive clinician that I could be. So, I informed a lot of my early work with with the research that I was presented at that time. And again, it was several years into my practice where very gradually again, it wasn't a cataclysmic moment where the world was crashing down around me. For me, it was a very gradual descent into what I now know retrospectively or described as my dark night of the soul. Again, the results for me of the accumulated results physical, mental, emotional spiritual, of living in that state of disconnect for as long as I was, I felt very unfulfilled, very flat, despite checking all of the boxes, doing all of the things that I thought were going to, you know, arrived me in life, I still felt empty, I felt disconnected. Um and my body was not sleeping well, was inflamed. I was having all sorts of cognitive symptoms at this point. Um and so from, if I'm honest, a place of fear because if you remember, like I described earlier at a lot of health related anxiety, my family. So here I was entering 30 thinking up, here's my health issue now that I get to deal with gratefully. When I went online at that point, my world was blown open. I discovered the science of epi genetics that, as I was once taught the genes that I was born with, that I very much saw reflected in my family's experiences. No longer had to be my destiny. So I began to then dive into literature on the body, learn about nutrition and particularly the role of our gut, um the role of our nervous system and how that creates again our mental world are emotional experiences. Um and I began to very slowly create change in my life. Um and as for the first time in decades, I finally was getting a grasp of my anxiety. I have had anxiety for as long as I can remember, Panic attacks must have painted across my 20s. So being that out of control, I finally began to feel more grounded in my body, more in control of my emotions. And really began to affirm, in my, in my opinion, the need again to begin to work this way with my clients. Um, and then again, of course, working this way with clients translating this online, seeing the universal resonance when I created the holistic psychologist instagram account. Really, we're just nods from the universe for me, kind of, showing me that this was the direction connecting with other clinicians, other practitioners who had come to these similar awareness is on their own. And we're beginning to evolve their practices and made the decision at that point to, you know, kind of take that hard pivot, Shut down my old way of working my old practice and began to advocate for this holistic model for those who may be new to the term. Uh, could you explain epigenetic? Because there are some folks right now who I think believe and this is natural, just based on exposure to new thought, provoking ideas, which is what part of the show tries to do here, That they are destined. That they have the same path that their parents and their parents parents because they were, you know, they descended from these people who have X, Y and Z challenges. But so for those folks who might be new, can you talk to us about ePI genetics for a moment and to those people, I want to acknowledge how understandable that is because likely you're seeing the same habits, patterns, symptoms, maybe personality characteristics in those family members, just like I was because our genes are impacted by our daily decisions, by our daily lifestyle choices. That's what EPI genetics is. Pretty much a testing that, yes, we have genes as, as the cliche goes right, genetics loads the gun. Um, and then the things that we're doing each and every day are what is going to be whether or not the determinant will be the determinant in whether or not the gene is expressed. I begin to get those symptoms or repressed. Now this is the chicken or the egg thing scenario in some ways because we do then as the base as a result of our environment, our decisions, our experiences, our cells change. We do change at a cellular level. So I'll make an argument that we become, we begin getting impacted by the generations that came before us as early as in utero. So a lot of structural changes can start to be made. So just to use myself as an example. Born into a stressful household, my mom probably had elevated cortisol at the time she was carrying me. Her nervous system was probably locked in the sympathetic or flight or flight state. Now, meanwhile, I'm an infant developing an embryo in her, in her belly. So chances are the impact was beginning so early that it is confusing. It does begin to feel like we're stuck because we've had no other experiences for me, anxiety went back as long as I can remember being a little girl scared of bumps in the night. So a lot of our experiences do map on to that belief of, well, this is because this is genetically what my, you know what I was gifted or so in life. So again, changes happen as a result of our decisions in adulthood. Now we have choice. Now we can begin to create a new environment, begin to meet. Perhaps our bodies needs begin to regulate our nervous system in a new way and actually begin now to change the way our genetics are expressing. So when I talk about being generation, breaking generational habits and patterns and you know what this work is. When we do the work to heal, we really are impacting even our future generations down to the cellular level. Absolutely fascinating. Now again I'm seeing this in the comments and I know everybody wants to shift gears to okay if I'm broken doctor dr kula fix me, help me and I like to think you you provide tools through both the instagram account that you just spoke about and obviously in in your book um start to breadcrumbs some of the tools for us and I know a lot of this is anchored in the body which is you've already made that distinction but also the words, you know the most important words in the world are the ones that we say to ourselves, so start to breadcrumbs a couple of tools that you feel like have been the most transformational in your personal journey and that you find are the most successful with your patients. The number one foundational tool that I go on and on endlessly about is creating for many of us are cultivating a new habit of living daily from that prefrontal cortex, from a conscious place again, this isn't the fun work that we all want to do, we all want to dive in and you know, go to the deepest wound that we might have, that we have to create the basis of the foundational basis of consciousness. We have to learn how to be fully present to what is happening um and shift again from that subconscious autopilot as we so lovingly know it as into choice because that's what consciousness allows. It allows us to see the habits and patterns again that aren't serving us and over time allows us to expand into that space to begin to make new choices again, that's a limitation that I would come up against time and time again. We have to consistently embody new choices to create change. Thinking about things in a new way. It can be a helpful first step though. At some point, we have to take that next step to embody that choice to make it essentially, and to then gift maybe our bodies with a new experience or our way of being show up differently in the world. And so many of us struggle to build that bridge. We might know better to an extreme and not be able to do better. And again, the reason why we can't is because by the time that event occurs where I might have my new game plan, I'm already so downshifted into my subconscious mind that all of the emotions are going to come blazing to the surface and I'm going to react from that place. So cultivating consciousness, learning how it feels to be present in your physical body in the present moment. For some of us, that means using the hook of our breath, turning our attention from wherever else it is in the world, right? Lost in thought about yesterday, wearing about tomorrow. If you're like me, you don't know where the hell you're at, you're just somewhere else. I call it my spaceship. I'm really disconnected. Associate it and teaching myself how to be present in my body again. Hooking my attention on my breath or maybe using the sensory experience available to me you can't see. But I have a very nice smelling candle right here. So focusing on the sense of smell, right? Touch the desk I have is a little bit textured when I'm hooking my attention on my senses. Now again, I'm activating my conscious mind. I'm embodied the more I practice that and we do want to practice, we want to fire up those neurons. We want to teach for some of us how ourselves even how to fire up our brain from that prefrontal cortex. So that when that next moment comes where I really do want to actualize a new choice, I can make that choice to do so because I can be conscious to the pull of those old habits and patterns and all of the feelings that will be there and begin to actually see a new choice instead of just slipping back into that reactivity, Is it truly as simple as well? Again, awareness, small word, heavy lift, lots of work to do around being aware of like, oh, I'm doing what my mom does all the time and that's no longer a part of me. If it doesn't serve me, how is it really as simple as breath and candles and uh you know, I I guess I'm kind of speaking tongue in cheek here because it's certainly more complicated than that but go one level deeper for those of us. Like, okay great. I'm showing up here, I'm contributing my time. I've already, I just bought your book, it's going to be here tomorrow, prime me for what I have, what tools I have around me, breath was a very, very clear example. For example, the word awareness is a great but how to breathe and how to think about, you know, what's the sensations that are in your body? Where is it, where in your body is it locating? Give us a couple of very direct and strategic ways that we can become more aware such that we might be able to make a different choice when we're in a stressful moment. So the thing I want to say about awareness first um and becoming conscious is that as as we do so as we begin to do new things such as be conscious, think new thoughts make new choices. What is inevitable is resistance because we don't actually, as humans like to change. Um very from a very evolutionary place. Our subconscious operates based on what I call the familiarity principle. If I've been down that road before, according to my subconscious, it's a safer road than the unknown trail to my left. And now here's where people might be thinking, well that makes no sense. The road I keep going down results in all of these negative consequences in life. However, according to our subconscious that is what is familiar. So it's preferable because it's imagined to be safer than the unknown. Um So I say this because as so many of us begin to create change, we do get resistance. We get a million thoughts of why this won't work or why I shouldn't be doing this or why this is a waste of time. Some of us that might land in our bodies where we just feel agitated in a new way. Maybe we're aware of deeper emotions now because we're more conscious to them. Maybe we just don't feel like ourselves, right? All great reasons to before we know it return right back to those familiar ruts and those familiar ways of being. So I like to highlight the inevitable presence of those resistance is whatever it will be for you. Um and I like to suggest that when we see those and when we experience those that we label it for what it is, we understand that that's part of change. Because what I've done myself, and what I've seen, a lot of others do is we take that as now, further evidence for why I can't continue on that path for why that futures, you know, not right for me again, for why I'm genetically, you know, stuck in this other way. Instead of understanding that we're not actually wanting to change. Change is difficult. And again, as we become more conscious, what some of us are met with our the deeper stuff are the deeper narratives about ourself. Again, that many of us created based on our very real lived experience is oftentimes experiences that we're decades away from. Yet, we're still repeating them to ourself. Some of us might find deeper feelings that for many of us, we've denied or suppressed, the more conscious we become, the more uncomfortable it can be. Um so as we begin to build our foundation of consciousness to create that space, to begin to make new choices, as we begin to make new choices, anticipate that there will be resistance, it won't be comfortable. Um I've been watching the parts of the book that are coming up in people's stories that they're resonating with and there's a very paragraph I wrote essentially around that that with change comes discomfort. Um and that seems to be a really popular one coming up. So I just wanted to speak that here because I think that's an important thing to note. Change brings up discomfort a just simply because we're going down an unfamiliar path that our subconscious would prefer. We avoid and be because often what many of us are becoming conscious too. It is painful. Is something that we've been avoiding for a very long time in biology. He's got a serious role there, right. Its job is to not get you to be uncomfortable. It's happiness is not the objective of our biology. Last time, last time I checked it was more about survival and so let's go to trauma because whether we want to admit it or not, so many of these, so many of our the things that disconnect us from who we want to be or become have roots in trauma and you know, I'm imagining right now there are a range of people who are watching listening, some are saying like man I got a lot of trauma from my childhood and there are others who saying, man, I mean I grew up basically you know had a solid family life, I went to school got good grades, you know, but help us understand and thank you for using us. You used us more than any other professional and that that puts you ground you. Um, and these are, these are, these are problems that we've all got. So hey, thank you for that. But if I, if I just, I'm imagining I'm putting myself in so many different peoples places right now where maybe I don't feel like I had trauma, but clearly everyone does. And so whether you're in one extreme camp, you live through horrible things as a child or two. You don't, you're not really aware of your trauma. But I'm guessing that you would say we all have it because you're speaking to such a wide range of people, how do you, how do you couch trauma? And what is it? And, and then how ought we proceed to look at it? So historically, um, the label of trauma has always been applied, especially in the field to an event, an event that reaches a certain threshold we label, especially in the field, is trauma. Um, instances of this trauma that I'm speaking of or abuse neglect, physical, sexual, etcetera, I believe and have seen. And so this was really confusing to me because I too didn't have when I look back in my childhood, I didn't, I didn't see those big, glaring moments. It was big before and afters where something I knew shifted and changed in my life. I didn't have those, um, yet working with people who had innumerable, big t traumas who had innumerable negative consequences attached to it. I saw a lot of the similar patterning, um similar habits and coping similar habits and habitual ways of being. So for me again, it was a point first of confusion why why am I struggling so much when quote unquote nothing happened to me. So what I began to understand is that as it's been applied in the field, like I said, the trauma label applied to the event, um, I actually believe it needs to be removed from the event itself and apply to the experience of the event because we are all different in our abilities to cope with life in general with the environment around us, the relationships around us and when we don't feel like we have the support when we're overwhelmed either again in one big moment or for most for more so of us, consistent moments over time that overwhelm still in print in the body. And what becomes then more problematic layers the onion even more around is the adaptations that then kind of form around those early events. Because what we do very sad in a very savvy way is just like I was talking about, we avoid, we go down the familiar because it's safe. We do attempt to keep ourselves safe from that deep hurt that we once experience and chances are what we're doing and all of these modifications, all of these coping things that we try to adapt to keep moving forward. We're removing ourselves further and further from ourself in a lot of ways. So I talk about an expanded definition of trauma. I introduced the concept of spiritual trauma, the deep human need or so I feel it to be to be self expressed, to be seen, heard to have the space to just be who I am. And I've seen innumerable humans that again, because of a lack of safety at an early time or in our earliest relationships we don't self express. We modify, we suppress parts of ourself that continue to form our onion, that can result in the same habits and patterns of those who have that big cataclysmic moment. So identifying it doesn't need to as well be about diving into the herd or even knowing what it is. It's showing up now in conscious mind and conscious self and observing the habits and patterns and don't serve us into adulthood again, creating that same space that we've been talking about to begin to actualize new choices. If you are just now joining us and you're scrolling and you stopped. I'm Chase service, and I'm here with dr Nicole Le Pere and we're talking about a lot of things in particular, her number one new york Times, Bestselling book, How to do the work, recognize your patterns healed from your past and create yourself. Um I, my entire community. I have anchored on this idea of creating. I've got a book about creativity and creativity, not with a small C in art design, things that people traditionally think of, but create in the capital C. And speaking of patterns and habits, this idea that in cooking a meal or using some new ingredients or going outside of your comfort zone in creating with the small see on a regular basis, those are the muscles that we then used to create with a capital C, all of the things that we want to be and become in this world, including ourself. Can you talk to me about why you chose to include create in your subtitle? Because that resonated so deeply with me. I was aware of your work before the book and when I saw that in the subtitle, I was like, yes, we see the world the same way, but I want to hear it from you and for people out there who are maybe the people who feel stuck, who feel like they're a cork in the tide versus you know, have some autonomy. Why did you choose to include the word, create? And what role do you feel like it plays when we become empowered through the practice of consciousness? When we gift ourselves with consistent choice of how I'm showing up in each and every day and each and every moment, I believe we shift into being powerful creators, not only of our world, but of ourself of how I want to show up of the new ways of being that I want to embody consistently again. So, when I was describing it earlier, creativity is a state of consciousness. And the reason that I was unable to access that for so very long is because of the dis regulation I was living in my body, because of the dissociation that I was living in around my mind. I wasn't connected to that consciousness. And when we go into alignment in that way, when we're in our conscious mind, we are attuned, were attuned to our physical body and its needs, giving us the opportunity, gifting us even the ability to meet our needs. Should we choose it? Same thing with our emotional self, same thing with our spiritual self. And when we're in that consciousness state, we are in alignment and we have access, in my opinion, to our flow and to our power to become a creator. And I very intentionally said, not just to create your world to create yourself. Because now, in that expansive moment of consciousness of choice, I actually get to choose how I respond what I say, what I don't say, right, and the new ways that I am embodying in the world. So for me and like I said, just bringing this beautifully full circle, I didn't I wasn't born with a creative chip. Um I didn't identify with being a creator. I had no idea. I would have walked this journey in life speaking to you um about accessing my own creativity and it didn't come until I peeled back the layers and I began to be reconnect with all of that. My interconnect itself, my physical spiritual, emotional, that then I had access to the state of consciousness that I then do believe allows us to be creators. Because creation starts with choice and power. Choice that strikes me is just so key, right? The empowerment part like so much of the previous universe of of psychology or talk therapy or genetics rather than epigenetic. Was this like, okay, now I know, but there's nothing I can do about it versus this empowering the idea that you are actually charting a course and you can turn things on and off and um that's just so inspirational to me. I mean it reeks of just like hardcore emotion for me because it's, we have one precious, one precious life. Now I want to tie that just empowering feeling that you just articulated very clearly for us with the fact that we are arguably at a super hard core moment in our cultures or in our lives in the arc of, of modern humanity. We are in the a late stage of a pandemic where the mental health crises are off the charts, people, I would throw myself in this bucket who have seen themselves largely as stable and competent and this is my life's work, is to direct my creativity towards all the things I want to be and become in the world, and yet this as an extrovert. This has been extremely hard for me and whether you're, you know, I'm sharing my personal story, but where you're coming from a history of mental illness, this idea of empowerment is so juxtaposed against arguably one of the toughest times in human history, recent human history to be doing this work. What do you see the role of your work relative to what's going on? Not just in a day to day world, where it's tough enough to be and become the things we want to do with all this programming, but now we've got this peanut butter spread over everything that is the pandemic. Help us understand this juxtaposition right now, and I'll say that this is why I think your work is well timed, but just draw a picture for us. So the pandemic at it at its minimum at the surface level of it, I mean it is the universal pattern interrupt. As I say, lives aren't going on the scene, We're not going to work in the same with the same route, going to the same job in the same way any time where we're not doing the same thing were shifted out of autopilot abruptly. Um This is why transitions generally or hard. For most of us humans going from a student life to a career life feels a little jolting for most of us are single to married. Um and again, a big reason is because we're going outside of our familiar and when that's not self induced when I didn't make the choice, when the pandemic just came crashing down around us, a lot of us are jolted into that unfamiliar space that remember our subconscious doesn't like now, of course, even more complicated still, um pandemic isn't just a pattern interrupt, it's challenging a lot of us at our chorus senses of safety and security, those of us that are suffering losses, income, human etcetera, right? Might be honor, think some of this deeper wounding furthermore, depending on whom were home with what relationships were now may be spending more time in or around again more complicated still, because a lot of us and all of these patterns we've been talking about are at play in our core relationships, which are the ones that many of us are now spending inevitable, too much, way too much time in. Uh I couldn't figure out what we're I wanted to put there, but a lot of time around our loved ones and that can be challenging. So there's a multitude of things um I think that are coming up in addition to of course for some of the more time, more time to, you know, look at ourselves, feel our feelings and all of the above, so many different reasons were pretty globally. I think struggling in different ways becoming destabilized and for many of us feeling very disempowered, very out of control, which speaks even more the importance of regaining stabilization, regaining security. It might not be right external, It might be internal finding the moment of peace, learning how to be conscious to ourselves, perhaps learning how to harness the intentional power of our breath to help regulate our body, especially when I'm stuck and maybe in a home with something that's emotionally activating. We can always find a way to empower ourselves to find a safe space within. Um, I think that is the invitation here now um, is to begin to cultivate those places. One of the biggest reasons why I first went on instagram aside from wanting to begin to speak this new truth, um, which for me was an exercise in my own healing journey. My second intention was to find other humans find people that were living a similar journey that we're resonating with how my new way of being, that I was practicing embodying find my people. Um, so now more than ever, I believe that humans relationships for some of us that they exist virtually and maybe not in our immediate communities and that's why I created the self healers hashtag um, that's why I offer the cellular circle healing membership because community is important. Um, and some of us might not have access to that in our immediate communities where we're now stuck living. Um, so even now, more than ever, as much as we want to villainize um, the internet and a lot of ways for some of us can become a gift, a pool of people Where we can begin to cultivate new safe relationships. Um, so 2020, all that it is and all that it continues to be. Um, like I said, it so many different challenges for each of us. I think the goal for each of us is to empower ourselves to create safety in one small way, whether that's with a safe human and again, or whether that's with within ourselves, learning how to cultivate safety in our own bodies. Oh, there is a cacophony on the internet right now. Nadia Srinivas, rihanna, Reba johnny eric, sarah, priscilla Helen nico are they want you to know that they're with you, They're grateful for the work that you do. Um and it's just your work is so well timed. Um, so a thank you and I want to thank you personally having paid attention to work for a long time. Um, it feels so, it's just like it's here at the right moment. Um, so thank you. Uh, I also want to take a moment and anchor specifically around uh one of the tools you just mentioned in your, in that last um moment there, which was breathing. And I want to bring two pieces of evidence to the table and then set all this in front of you and let you respond specifically around breath. So evidence one is something that you said, which is, you'll know you're in your trauma body when your thoughts are cyclical or obsessive and your heart is racing or you feel so numb. It's like you aren't actually alive dove tailing off of the pandemic and what so many people are going through now, I think that that resonates and then I'm going to share something personally, which is, I hadn't been to the doctor and literally like five years healthy person knock on what I've had good fortune. And yet I'm like, I probably should like go see a doctor just, I haven't had a checkup in forever. So over the course of the last couple of weeks saw my natural path and um a western doc and my natural path. It's a busy time for work. We're an online learning. It's very busy. When I saw my natural path, my BP was 125 over 95, which is terrifying for me because that's off the charts, blood pressure relative to my normal state. And then the next day I went to next day, maybe even the next day I went to my the western uh doc and I was aware that my heart was going back to this phrase. My heart was racing. I felt numb. My thoughts were cyclical. And I gave myself 30 seconds in the car before I walked into the doctor appointment and my blood pressure in that appointment was 1 10/1 20 or 75 or something. And not that those are great, but huge change relative to the same moment in the day just a day before. So I would like you to in this idea of physical body sensations that are sometimes not helpful or racing or were disconnected, spending too much time at home or work as hard or we've lost our job. And this idea that my personal experience was just in breathing for 30 seconds. I transformed my physiology. Thanks So yeah. Thanks. So, thank you for giving me the tools but that this is so available, just the breath. And yet it seems hard. It's like something that needs to be mastered. Could you lay out in your framework and the way you think about the breath as a tool for healing grounding um and and managing so much of what we're going through right now. Is it is it is it real? Because it seems like it's so simple, it's right there for us and yet we forget about it. The reason why we're talking about breath and also heart rate. Like you mentioned, Chase is because those are markers of our nervous system and whether or not it's in a state of activation anytime anyone is nervous, those of us who have panic attacks, we can identify with right, my heart starts to increase. Um and I am in that panic state, some of us might not be aware of what's also happening with our breath when we are activated when our nervous system is activated. Typically what happens is we develop it very shallow way of breathing or we go a step further. Like I sometimes notice myself doing, we begin to hold our breath, so tuning into our body and its breath and the rhythm that it's breathing from is so incredibly important because most of us, by the time we reach adulthood are breathing solely from our, from our chest space, we've kind of developed into a habit of being a chest based breather. So two things are really important going back to that practice of consciousness until we know how to become conscious in our bodies. It's very hard to do this when we do. We want to notice, drop into our body throughout the day and notice what our breath rhythm is. What I'll notice myself is as stress escalates. I do do both of those things I described. Either I'm just breathing very shallowly or I'm holding my breath and what's happening when we're doing that is we're sending now from our body up messages that I'm still in my stress state. If my breath isn't coming from a full, full calm, deep place, slow rhythmic breath. My mind thinks my body is stressed and begins to scan. That's why for a lot of us racing thoughts come right along with body activation. My mind is now looking for what is wrong and We're pretty savvy at finding what's wrong, even if it's something that happened 25 years ago. right, we can call it to mind. And now I have a reason for why I'm stressed out because I'm thinking of this thing. So throughout our day, um and that is that is the caveat here. Um and I think why a lot of us do feel it too simplistic or don't find it being effective breathwork that is. Um and it's because we're not doing it consistently enough, we're not dropped in consciously to our body to to tune into, into witness what is our body's natural flow in general. Um and if you do in general notice that you have developed a habit of breathing solely from your chest, a really great practice as I began myself, I had to do so laying down at first because with my posture with my whole body actually started to to kind of come forward, making it very difficult for me to access my belly, whether you call it belly breath or diaphragmatic, diaphragmatic breathing, breathing from that deeper space and elongating your out breath can shift us into that calming nervous system, can help us go from fight or flight or sympathetic response that has right that heart rate elevation for a lot of us, the racing thoughts downshift us. However, one time practicing a deep belly breath isn't going to be enough. We want to consistently be in our body consistently teach ourselves how to actually calm our nervous system down from that state of activation in real time. So that over time we actually do inhabit a body that's much more peaceful. That can go from stressed back down to not stressed. Um as opposed to being stuck as many of us are in either in either direction, some of us are stuck in that sympathetic response, always on edge, always waiting for that next shoe to drop. Others are like you described having an absence of energy. I have nothing. I almost feel dead and numb for a lot of us that's indicative of being stuck in the parasympathetic state of having no activation of my sympathetic. So depending on what spectrum you're on. Breath work can be incredibly important because we can also activate by doing the more Win Half type method of breathing that stimulates our sympathetic. So knowing what your body's typical breath pattern is can give us the clues to whether or not you're someone who's living in that nervous system dis regulation. If you are, it would be incredibly helpful to help your body out to help it return back to that baseline. Because that baseline, that peaceful state is what translates to that receptivity that flow, that access to the consciousness and ultimately the creative essence that you and I have been talking about. I want to ask if let's just say that there's just two moments. One is like you need to calm your nervous system down. It's over activated, heightened for so many of the reasons we've talked about and I imagine, well, that's one thing and the other one would be the opposite if you're sort of, um, you're not activated, you're sleepy, feeling numb just for the sake of, of application here. Let's just, let's go for the first one. Could you give us 92nd? Because I'm imagine right now people are listening this and they're stuck in traffic on their commute there. You know, they're sitting on a park bench right now in the middle of a walk, thinking about all the things that they have to do and there, we've got their attention right this moment. Can you give us just take 90 seconds and give us an exercise that we can do to get in touch with that, that belly breath or that the kind of breath that is meant to calm us down. The one that's always available for us, of course, we need to train it, but would you just give us a sample of that? Absolutely. So, if you can, whether you're sitting, you can lay down, become comfortable. If if you're not driving, of course you can maybe place a hand on your belly area and then we're going to just take a nice big deep breath in and intentionally making sure that we're flowing the breath down to the belly so that we actually feel our hand expand, feel our belly expands, so breathing down deep and like I said, some of us out there, if we can, might want to lay down um it can give us a bit more access and then once our belly is filled up like a balloon, nice, slow, controlled out breath to begin, doesn't matter for going in or out of the mouth or vice versa, whatever is most comfortable really, We really just want to teach our body this new, this new deeper breath. So don't worry if you're out there doing this attempting this and it feels difficult. Like I said, those of us who carry a lot of stress might even be reflecting it in our posture. Like I know I am and the reason why I keep piloting the posture is right, the more forward and compact it, we are, the more difficult it is to breathe from that belly area. So practice is going to be incredibly important and what I would do outside of laying to practice, I would walk around or when I was sitting in session when I used to see clients every now and again, I would just have my hand near my belly to just kind of test and to just remind myself to breathe down deep into that space. And once we get proficient at that, get efficient at that to make it a point to build in those conscious check ins maybe to use your phone and set an alarm for a couple of times during the day and when that alarm goes off to do that breath based check in how's my breath right now and if in the instances it is very deep and shallow, we can pop the hand on the belly, take maybe 35 just deep belly breaths again, inflating like a belly and like a balloon and then nice and slow out and then notice no, just any shifts or changes like you did in your energy before that doctor's appointment. Don't imagine that is going to happen overnight. I don't imagine you're going to go from a 10 of stress to a zero with 40 belly breath. Probably not, but just notice. And the more you consistently use these tools tune into your breath and then harness the power of that calming belly breath, the more you're going to balance your nervous system, incredible in service of this, this really tangible advice. I wanted to take a couple of questions from the community who are again, there's so many comments, I'm struggling to keep up with them, but there's two in particular that I've flagged. Here. They come. I think they're one is more extreme, but the one I'm going to start with is from deep diver here on Youtube and it's can you heal yourself from auto immune diseases without harsh Western medicine techniques? I have switched deep diver says I have switched from Western exercises to chittagong now after feeling numbness in my left leg, what advice would you give you? are a doctor. But what advice would you give? This idea between Western and Eastern and I mentioned earlier, seeing my natural path in the Western. If someone's like deep diver is suffering from autoimmune diseases and consider some of the techniques that they're learning from Western medicine to be harsh. How can you articulate a viewpoint here for us and again, acknowledging everyone's individual preference for what path they go down or what tools they take from what Western or eastern modality. I mean, again, this is what I'm offering in terms of self healing, finding the tools that work and resonate for each of you. I think that's definitely an important statement that I want to make. Um auto immune diseases are often a function of again, stress our body stress reaction um and the effect that it then has on our immune system. So something I will share for those of you who will pick up my book, her perhaps have heard me share about this particular self healer. Um She's very near and dear to my heart, her name is Ali um and Allie met my work about a year and a half ago again online and began um at a time actually when she was suffering really debilitated symptoms of multiple sclerosis. Um She was couch bound her, her and her family were getting ready to look at possible facilities to move her in. Um and she began her healing journey with one glass of water beginning to create change in her life. Of course, it wasn't one glass of water that create a change in terms of all over symptomology though, building in new lifestyle habits, changing and refocusing on her nutrition, refocusing on how stress affects her body and how she could better manage it. Um Ali is now in remission of those symptoms. So again, I share her story, it is her journey. She speaks of it often on instagram, um again, auto immunity, our body a lot of times the symptoms that were struggling are a reaction to stress and our body's inability um to deal with it and to tolerate it. So whatever path you're going down, if you are someone who is diagnosed with an autoimmune disorder, this is again, don't take my suggestion, don't walk alleys journey because it worked for her. Um, again, the goal here is to empower yourself to find the tools and to find the journey that that works for each of you. Thank you. And the other question that came in from Madonna uh is a little bit more on the extreme side, which is, I grew up surrounded by trauma and I always made the choice slash decision that I would never ever allow myself to make quote bad decisions and I'm proud of being strong and changing my family history, but now realizing that this has affected me in other ways, I look forward to doing the healing and the work. How what advice would you give to someone who is now realizing that this stuffing it down has was probably effective for some period of time and again for those who have had trauma in their childhood that you did what you needed to do to get through. But now starting to starting to realize that that does not come Without consequence. Where would you start someone in addition to obviously getting the book, which a lot of people here saying they're picking up the book, but for someone who was surrounded by trauma, what's step one step one and this is this is a process step as most are is my suggestion being of course to cultivate compassion for yourself because you are you're right Chase very, very much so. Um the habits and patterns that might not be serving this, this person who asked this question were an adaptation were the best attempt. Um, and coping with that very early traumatic environment. And the reason why I say compassion here is twofold. Um, in addition to me hearing, you know, the judgment, the bad decisions, right? I think this kind of emblematic of a lot of us, we all sit in judgment of ourselves first and foremost. Um so compassion can be such an integral practice in healing because as we become like we've been talking about as we become more conscious as we truly see our way of being and all of, you know, the results and the effects that has on the world around us. Um A lot of feelings can come to the surface and typically what most of us do is we sit in judgment of those feelings. We sit in judgment of how we attempted to cope for so long and again the world that it's created around us. So in that space this is a practice watches why I said it's a process. Um I don't just offer to be compassionate and you hear this and now you're compassionate. You have to practice being compassionate with the self. So as you're beginning, um your healing journey, the person who asked that question and as you begin to become more conscious, my suggestion is to continue to cultivate compassion around what you see, understanding that it was your survival, it was your best attempt. And now commending yourself, even for gifting yourself the opportunity to begin to create new choices and again, a new future that looks different from that past. So much wisdom is at the hashtag self healer, which is part of your platform. Um I want to thank you so much, jennifer maloney, just thanking you so much for this beautiful content for sharing. Again, I want to remind folks that you've got a new book that's out. It is absolutely incredible. It's called how to do the work, recognize your patterns heal from your past and create yourself. Congratulations. It's absolutely extraordinary. Uh and before we uh sign off, I've got a last question and it's very much I've heard you say this before, I want to read something that you said um and get you to comment on it because I think it's a nice bow for us to put on our conversation today. And you said this is a very important time of waking up to the reality that we need a collective healing. It's not something we can outsource to anyone else though, of course professionals can beat help on our journey. We need to be active participants in our own healing or these numbers will just continue to rise, wondering if you can comment on that and send us off onto into an incredible weekend of reflection and contemplation and hopefully action towards taking care of ourselves. Well, I love this Bow Chase. It sounds very similar to this idea of collective healing to the final chapter in my book, which is called Interdependence, the process of self healing, peeling back all of these layers to become consciously aware of who we are and to begin to embody. Um that person in the world is how I believe collective healing happens is how we become more connected to those around us and the world really itself. Um so collective healing is necessary and I do believe it comes when we as individuals change when we begin to show up differently because that change ripples outward. It changes the way we experience in the way relationships around us are experienced, it changes the way we are experienced in our communities and even further out. So I very intentionally, like I said, ended the book um with that journey back into community um into community in a full authentic, whole self way, one in which we can connect um to our creativity, to our self expression, and that is how I believe that the collective changes and like I said, I see us all waking up to this, I think that's a big reason why the instagram account became so universally resonant so quickly because we're already. um, and like I said, my belief is that global change happens when a lot of humans, like all of you out there listening begin to show up differently in the world. We actually change the world. Okay, so true. I'm seeing a lot of comments just bought the book, bought it versus has bought it with some hard. Thank you so much for showing up for our community today, for helping us create the living lives uh, and journeys that we want for ourselves. Your work. Again, I just for those folks who aren't subscribed to your insta handle, it's the dot holistic psychologist. Last count 3.5 million people seemingly overnight that you have tapped into an important body of work. You've created a body of work and tapped into this moment in time is not a surprise to me. Your work is incredible. Thank you so much for for giving us the gift of your work. Where would you send people aside from getting the book? Anything else you'd like to share with the community? Anyplace you'd like to direct our attention, we're really good at helping authors get their word out there. But just if you can enlist us, if we're here to impart serve you and your work, where would you steer us? What can we do to help? Yeah, I I appreciate that. I just want to thank everyone out there for for listening for opening your mind again to some of this. For many of us is new, challenging um ideas outside of the book, which I do suggest hearing how international, I know my community is quite international to um everyone out there who is in a different country, who might have a different native language, definitely give a google. Um there's a lot of international rights that were sold out there so you might even be able to pick up this book in your native tongue, which thrills me to no end. So definitely check that out. Um, other ways the self healer circle that I mentioned can find out information on my website, the holistic psychologist dot com, have a Youtube channel myself. For those of you are interested in Youtube. I'm launching a new podcast, itself healer soundboard. So lots to keep connected. I'm always shouting out the self healer community like I said, we heal in community and there are such amazing humans that are doing such amazing work in their world. So my parting wish for each of you is to do the work of healing and to begin to create change in your own communities. If one person goes out there and embodies a new way of being, that is that is what this is about for me. So my suggestion is to do the work and then to go create to go create whatever it is that your heart is telling you is your journey here on this earth, That's what self healing is all about, in my opinion. Well whether it's until next time or whether you're just going to go right into the next podcast or video, I want to thank everyone in the world for tuning in uh dr Nicole Le Pere, thank you so much for being a part of this community, for being a leader for us to follow and uh uh for everyone out there I bid you did you mm. Yeah. Mhm. Yeah. Mhm. Yeah.
Ratings and Reviews
By far the best classes on Creative Live!! Thanks Chase Jarvis for bringing so much greatness to the table for discussion! Just LOVE it!
@ChaseJarvis - love chat with Gabby about hope and the "relentless optimism" you share at the end of Creative Calling. Many thanks. -- René Vidal McKendree Tennis
Excellent interview with thoughtful questions. Thanks!!
Student Work