Make Fear Your Friend
Chase Jarvis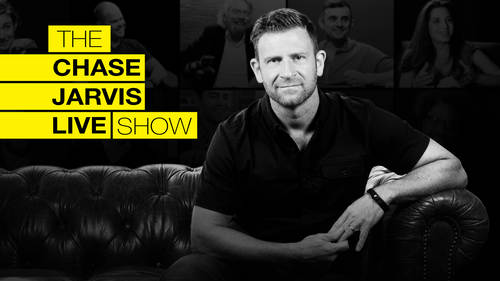 Make Fear Your Friend
Chase Jarvis
Lesson Info
152. Make Fear Your Friend
Lesson Info
Make Fear Your Friend
(synth music) Talk to me about how you view fear because there's so much fear in the photo industry. People are afraid to make mistakes. They're afraid to get called out. They're afraid to do shitty work. They're afraid to be called out on something, and a lot of that keeps creative people in a little shell. So. Fear is a real driver, and it has been for me as well in the past, whether it was athletics, or writing, or academia, or whatever it might have been. And I realized that it's a driver based on risk, and that's when people define risk, or should define risk, as the possibility of an irreversible negative outcome. And what I mean by that is, just like most people fail to achieve their goals because they're poorly defined, most people are prevented from doing things based on fear because it's poorly defined. There's a couple things we all probably fear. Being judged unfairly. Not being able to provide for our loved ones and our family. Death and losing people that we love. I...
think those are a lot of things, but the fear ourselves are often about the fear of being able to be acknowledged, and/or the fear of failing, and people looking at you as a failure. And so our brain wants a story, and our brain likes a story that pitches bad guys, good guys, safe and dangerous. And so the stories we make up normally are our worst fears, and turn the people that are in our stories into enemies. It's the same as somebody else saying, "I'm not good enough." It's the same as somebody else saying, "no one's gonna like what I have to do." It's just a bullshit nonsense lie you tell yourself that's not healthy for you or the work. Right? You have no idea what's gonna happen tomorrow. No idea. You have no idea that this thing you're writing, or doing or that you think is the best thing ever, you have no idea if anyone else is gonna like it. You operate, I'd like to say uncertainty is a very confident place to be. Really, the more you can sort of let go. Though you have no idea about what's gonna happen in the future, you have no idea about what other people are gonna connect with it or not, and just do it, and try to make it your best. Put all your heart and love and care into it, and then be unattached. You wanna be accepted, and you have to always second guess yourself. I second guess myself everyday, right? And it's the fear of saying, there's no point in my life that I didn't have fear, and I call it a healthy paranoia in business. Fool was doing well. Okay well, a hot clothing line last five years, Daymond, did you get bit by the apple? Did you bite the apple once or get hit by lightning? No, I gotta share this idea of who I am with the world. I wanna empower other entrepreneurs, but I'm dyslexic. I'm gonna write a book? Are you kidding me? People are gonna laugh at me, right? Fear of am I leaving my daughters inheritancy or a legacy? How will they perceive me? Fear of making my daughters public people, where now they have pressure on them, and I wanna hide them from everybody, or fear of anything else, you know? The President of the United States, President Obama, made me a Presidential Ambassador for global entrepreneurship. I can never let him down. It's always gonna be some level of fear, and that fear is good if it's healthy. I've just never done anything that's turned out to be valuable that wasn't just scared shitless to do it. Everything I've ever done that's ever really made a contribution, I have felt alone in doing it, and afraid, but alive. After the first time that you opt to brave the wilderness, you pull away from what a group of people thinks, maybe it's your creative community, it's your critics, but the first time you pull away, and find power in standing on your own, I think your heart is marked by the wild. I think you belong in and to the wilderness in a different way because every time after that, when you choose fitting in over belonging to yourself, it's painful, and so to me, the whole idea is not just navigating the wilderness, which I think every poet, and theologian, and writer over time has used the wilderness as kind of this lone journey thing. It's not just about navigating the wilderness, it's about becoming the wilderness. It's about becoming, I am going to be on my own a lot, and it's going to be okay because there is beauty and strength in that, and it's not that I won't ever find great joy in being a part of something, but I will always belong to and believe in myself first. There are so many things that you do in business and in life that are really driven by deep insecurity and the need to fill ego, verses the things that actually matter to you. I also think you're one decision away from a totally different life because when you're the kind of person that's sleeping in everyday and waking up and feeling like a loser, and you make one decision that all you're gonna do is actually just get up, no matter how painful it is, what happens is that one decision make you see yourself differently because of the action you're taking. So what I tend to do, if I find myself paralyzed or indecisive, is I'll write down all the worst-case scenarios. Really get hi-def in the absolute specific worst case scenarios, then the second column is what I could do to prevent, anything I could do to prevent those specific items, and then if they happen, what I could do to reverse those or minimize the damage from each of those outcomes. And you find once you do that, that the worst case scenarios are very seldom as bad as you'd envisioned. It's just the nebulous, dark-- When you haven't defined anything. Fantasm of a bad outcome that prevents you from taking action. What you actually realize, oh, worst case scenario: I go back to my last job. Worst case scenario: I take a part time job doing this. Worst case scenario: I have to suck it up for a month or two. Do twice as much work with that one client I don't like, and then this. Then it really doesn't seem as scary, and you can actually move ahead with things. The moment you catch yourself hesitating, or doubting, or starting to worry, or about to chicken out, or shrink, or shut-up, or whatever it is that you're about to do, that is shrinking your power, you just go, five, four, three, two, one. You count backwards, five, four, three, two, one. By counting backwards, the cheat code that you're doing in your mind is you are interrupting what are called habit loops that get encoded in the central part of your brain, and you are starting up the prefrontal cortex. It's a little trick that causes focus. I'd like to say that uncertainty is a very confident place to be. Really the more you can let go of, though you have no idea about what's gonna happen in the future. You have no idea about whether people are gonna connect with it or not, and just do it, and try to make it your best, and put all your heart, and love, and care into it. And then be unattached. Stop walking through the world looking for confirmation that you don't belong 'cause you will always find it. Stop walking through the world looking for evidence that you're not enough because you will always find it. Your self worth and your belonging is not something that we negotiate externally. It's something we carry in our wild hearts, and if we spend our lives looking everywhere we go for evidence that I don't really belong in this meeting, I'm not really an artist, I just do this on the side, and this is my side hustle, but it's not really my job. Or we keep comparing ourselves, you will find exactly what you're looking for. My inspiration is like, embrace your fears, accept them, and do it anyway. (pensive music)
Ratings and Reviews
By far the best classes on Creative Live!! Thanks Chase Jarvis for bringing so much greatness to the table for discussion! Just LOVE it!
@ChaseJarvis - love chat with Gabby about hope and the "relentless optimism" you share at the end of Creative Calling. Many thanks. -- René Vidal McKendree Tennis
Excellent interview with thoughtful questions. Thanks!!
Student Work