The Art of Reinvention with Sophia Amoruso
Chase Jarvis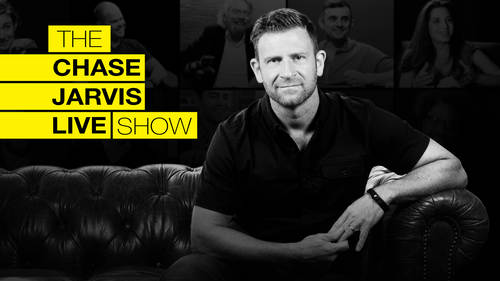 The Art of Reinvention with Sophia Amoruso
Chase Jarvis
Lesson Info
84. The Art of Reinvention with Sophia Amoruso
Lesson Info
The Art of Reinvention with Sophia Amoruso
no. Hey, everybody, What's up? It's Chase. Welcome to another episode of the Chase Travis Live show here on Creativelive. You know that shows where I sit down with amazing humans and I do everything I can to unpack their brains with the goal of helping you live your dreams in career in hobby and in life. My guest today before I get there I know is someone you're excited to hear from and we're going to do that. But before we do just a reminder that we are live on lots of different platforms right now, Um, whether it's Facebook instagram Twitter, uh, it's probably like 10 others. Um, I do get to see your comments, but I see them first. If you watch at creativelive dot com slash tv Um, I'm excited to first hear from everyone where they're coming from around the planet. I'm already seeing South Africa is always like one of the first. There it is, South Africa. We've got Australia. I don't even know what time it is in those time zones. But it's great to see that there are a global audience ...
tuned in for our guest before I welcome her. It's a short bio. Sophia Amoroso, who you're here to hear from today, is a serial entrepreneur. And, of course, in your times best selling author. She's been featured on the cover of Forbes and in the Fortune 40 under 40 the Forbes 30 under 38 30 under 30. If there was a 20 under 20 to 10 under 10 I'm sure she would be there as well. Fast Cos most creative people in Business and named one of Forbes richest, self made women who are 2014 New York Times bestseller Go Boss chronicled her early life as the experience and founder of Nasty Gal was also adapted into a TV series that premiered on Netflix and produced by Charlize Theron. Sophia made her mark when she found that nasty gal An amazing company and bootstrapped it to 30 million in profitability, raising 60 million adventure. Um, I have had the good fortune of knowing Sofia for a number of years, seen all the success that she's created for herself herself, and she's also going to share something special and new with you today, which I'm very excited for to talk about. I did get a sneak peek a little bit earlier. Um, but please, wherever you are, tapping your desk raised the roof, tap on some keys and give a warm welcome. Uh, to Sophia Amoruso is in the house. Sophia, thank you for joining. Hi. Thanks for having me. Nice to hear your voice. I just here two of them right now, So I don't know what's going on with the echo, but I trust it's the internet and it will work itself out. I am super happy to welcome you and I. You want to say congratulations on your new online course, which you just self published today called Business Class. Congratulations. Thank you so much. I'm so excited. It's crazy. It's beautiful. Also, I confess everybody out there in the Internet. I got a sneak peek and it is incredible. Andi, we'll get to that. But first we're in the world. Are you? Right now you're in your your home in L. A. Where I'm in Sunny Los Angeles. It's not not Smokey. It's funny now, but yeah, I'm at home. I don't leave it. I've got this background here. We were just talking about before we got on live. Kind of looks like Sally like San Francisco or L. A. Like last week. That may be a poor choice on my part, but it's a painting I got from a friend of mine named Mac, Um, that I was excited to share making my background. Um wow. Eso If I was to start somewhere in this conversation, I would want to start back at the beginning of you're what I would call it Entrepreneurial journey. And as you know, the people who pay attention to me and creative live their creators and entrepreneurs. They identify as that or creative people, they want to live their life on their terms. And I think that often starts at a really young age. And I'm curious to hear from you where you got your start. What was some of the earliest entrepreneurial mindsets that you remember or experiences that you had? And, you know, was it just being an independent person or what paved the way for you to get where you are right now? Yeah. I mean, I'm pretty much unemployable, and I think that's where it began and I didn't intend to start. My first business is like a thing that would become a thing that would get really big. I had no idea I was doing. I was years old, you know, I was using these tools that we all have our just at our disposal. At the time, it was eBay, PayPal in my space. And now there's, you know, Venmo, Shopify, squarespace, etc. Facebook instagram. Very different time. I'm not like that old. I was like, 22. It was just like it was 15 years ago. But, you know, bootstrapped Nazi cow, which was a vintage clothing store on eBay Thio $30 million in revenue profitably from, you know, the back of my 87 Volvo, just flipping clothes and thin. Raised about $60 million in venture capital and built it over $100 million in revenue. Whatever. I guess that's not the beginning. But it was like I just put 1 ft in front of the other. I just I did things that e did things that worked again, and I didn't do things that didn't work. So it seemed very logical to me like don't spend more money than you have sell things for more than you buy them for, I guess. Don't sit on inventory too long. And then what doesn't work? Just stop doing it quickly and iterate quickly. And I didn't consider this like, I didn't consider an M V, P or iteration or pivoting or any of these terms. And I did eventually kind of pivot the business and started selling, you know, other people's brands and curating other people's brands. And then eventually we had our own in house line. But just a lot of common sense, you know? And, you know, Googling YouTube being so much of what you wanna learn is on the Internet. You know, the sources can be, uh, you know, debated Lee Valid Onda, who you're learning from, And that's kind of why I think it's important to listen to people like you build businesses. And you know why I just started what we're going to talk about. But I did learn a lot just from from Google and from putting 1 ft in front of the other. And, um, it's fun like, and I'm doing it now like I'm built, you know, bootstrapping this business, and there's nothing like uploading an image to your website or like optimizing something or, you know, writing copy and being really proud of it, or it's just it's so great to be, like, on the ground with my business again. And I kind of don't want that to change with this one. Like, I don't want investors. Um, yeah. So going back to the beginning. No, we're in the beginning. It was just you and your Would you say 87 Volvo? Yeah. And what was sweet about that? That you feel like you've returned to Because so many people, just to qualify my question here, so many people, their vision of their businesses to try and make it as big as possible and get 150 or 250 or 1000 employees and have hundreds of millions in revenue. And, you know, to be fair, these your journeys that both of us have taken. And yet here you are, uh, back not quite out of your 87 Volvo, but, you know, trying to replicate a thing that you had, and I want to know why. What was so good about that that made you want to come back. And what are you? Are you running to something or from something or both? I'm not running. I'm just here. You know, I've been running two things or just being kind of pushed along by my business and its growth. Honestly, In my first business, it wasn't controllable. In my second business, I was, you know, I had a chip on my shoulder. So I started girl boss after the book in the Netflix series. It was a company for three years that I sold at the end of last year. Onda, that was it wasn't really about proving Thio anybody else that I could get up in whatever. Be resilient. You have a mortgage. So yeah, I, like, made myself employed with my own business again. It's not. It's a magical thing that I'm resilient. I just have a, you know, have three poodles that require haircut. Um, that are barking right now. But with this, you know, with with girl. Boss, I really wanted to like it was an exercise, you know, both in building an incredible community and a great business. But also in proving to myself that I could get culture right that I could you know, that there was so much, you know, leadership and management. A lot of it was about culture and leadership management. You know, it's like I'm sure I made mistakes, but for the most part, I built, like a built like a really pretty happy place to work. Um, and that's not something I did in my first company. And no, I've never worked in an office before. I had no idea what culture even meant. And with this with business class, which will get into, um, I don't I just want to share, you know, 15 years of hard won knowledge and, uh, you know, learnings that have cost ah, lot of money for me to learn. And hopefully, you know, we'll save a lot of other people time and money by sharing them. So really, it's like, I mean, this isn't like an altruistic endeavor like this is a business, but it's also, you know, I'm really just harvesting everything that I've learned in all of my experiences, to give other people the kind of periphery that's taking me a really, really long time to get. Well. I think it's fair to say that the folks were turned tuned in from Colombia, Portugal, London, New York, L. A. South Africa, Malaysia Ah, are curious to know the why behind your new thing. Clearly you've had all kinds of adventures in business. You've got the venture out. You talked about bootstrapping and what you've dropped today, a Z I mentioned earlier is a an online class. It's your first one that you have self produced and put out there in the world. And it's called business class. And I'm guessing that those people from all those companies countries that I listen to around the world, um, I want to know a little bit more specifically. Why, like, Why are you Why are you doing this instead of any of the other things that you could be doing with your time? Totally. Um, it's awesome. You have such an international audience because something like half of my Audiences International. I don't know if it's because the book wasn't a bunch of different countries of the Netflix series, and it's just it's awesome to make an impact on such a big scale like what you're doing. Um, and the course is, it's Anybody can register for it anywhere in the world. Uh, the why, you know, I think I actually did this exercise, but, uh, You know, entrepreneurs don't really have access to the kind of knowledge that, uh, people who actually built these businesses in, like modern times or people whose stories are relatable, who have bootstrapped and who have built really large businesses and learned the hard way what works and what doesn't. That doesn't really exist. There are business courses that are kind of lightweight, that air like Okay, like let's give you It's like it's like a glorified YouTube video where someone's being interviewed off camera and, you know, they're talking about whatever their prompted to talk about. But like, this is not just about listening. This is about doing so. I have a tattoo on my arm that says words tend to be inadequate. It's pretty regrettable. I missed a flight, Um, in Miami. I got off of, uh, what's that thing called Summit at E. Got off of it before I left port. I was like, I don't like this. I was supposed to speak and I'm not like a diva, but I was just like, this is I'm so trapped. This is how so. I ended up spending a week in Miami, got stupid tattoo, but it's true right words are important. I use a lot of words. I write books. There's 200 pages of worksheets in this course that I've written that air, you know, you fill them out. You, um you're really working on your own business, but it's an action plan, right? So this isn't just like sit and learn. It's not academic. I'm not an academic. I didn't go to college. I'm technically not qualified. I mean, I don't know the what an expert is and what qualifications are, I think has really changed with technology and really been democratized in a way that creatives like you have started businesses and really done well. I am an accidental entrepreneur, were unlikely entrepreneurs. And that's the majority of entrepreneurs today. These aren't people who, you know, worked at the right company or necessarily went to the right school. We hear those stories of the Stanford Dropout, but they're few and far between, and they're building these unicorn businesses. And, uh, that's not like that's That's not what it's about. You know, I was just I was just talking to Arlen Hamilton. Oh, yeah, she's great. Good friend. Yeah, and, uh, and she used the term the zebra movement. So there's the unicorns who build the billion dollar businesses, and there's the zebra movement that I didn't get into it. But I think it's about like the non like, unicorn billion dollar business kind of founder. And after having been again, I wasn't a I was in a unicorn, but I built a business that was worth, you know, valued at $350 million known 80% of it and had hundreds of employees. It's like on the other side of it, it's just like none of that matters. The lists don't matter. You know. I want to share with people what really matters and save them the time of, like shooting for the glory that, like is in my bio that is validating incredibility. And it's great, great story, but like none of that stuff matters and honestly, building a massive business and raising venture capital. Yeah, I've done it. It's not. You're not in control of your life anymore. You're beholden to your business. You're beholding thio stakeholders in employees in investors and customers, and you have so many people to please. And um, it's just not fun, it seems very glamorous right on the outside because, you know, here I am on the cover of a book being like, Yeah, but it was a shit show. I never want that again. Um, so I think just it's, you know, what I'm trying to do is kind of reframe in some ways, like what success means as an entrepreneur or founder. And it doesn't have to be entrepreneur with an E or founder with, you know, with with a Capital E or founder with a capital F, It's like you could be a small business owner and a founder. You don't just sit on panels, you know, it's like the millennial dream to sit on panels. And again, that's not what it's about. So this is for the person that, like I relate thio for someone who probably has more of an education that because I'm a community college dropout. But for someone who is probably an accidental entrepreneur and isn't going to go online and take like a weird ass stale MBA program or go to business school and spend hundreds of thousands of dollars, thio learn theories. This is for someone that I want to go like I want them to go put their M V P into the world right now. I want them to go test and iterate. I want them to do that cheaply on do. You don't even need to be part of like y Combinator to do that. You don't need whatever it is 150 grand or how much? I don't know. Um, so this is just this is like, you know, in terms of why it's just like it's here, it's not. This is an opportunistic This is like, Oh, I could make money. This is like, I want to have the lifestyle that I want. I want a digital business. I don't want a big team. I wanna work from home. I'm gonna launch this. It's gonna run for eight weeks. People will have life, you know, lifetime access to this arsenal of knowledge. And then, like, I could go, like, not feed this monster for a few months, and I'll go launch it again. But this is also the kind of thing that fits into the like the introverted like stay at home kind of person that I am. So there's a lot of different reasons. Um, but um, I'm doing it with, like, probably more conviction than anything I've ever done, and that feels really good. I think that the why is so important, and often I don't know about your particular journey. I just know enough to be dangerous and have this conversation with you about your previous businesses. But there's this. There's often a disconnect that I find when I'm talking to my friends that have done similar things that you've done, Um, I've done on others that we share in common of doing like getting sucked into a vortex, that you don't really know where you're going or why you're doing it. But it's sort of just like its inertia. Or that's what's happening right now or it Z um, what's trendy or and I don't I don't necessarily fault those entrepreneurs myself, But I'm curious to know the stuff that made your previous to business is hard for you. What are those things and what have you done to specifically to eliminate them? Because I know you've made some choices, like when you, uh, created girl bosses, you said out of the Netflix series in the book, and then, gosh, it was probably like 18 months in. You sold that. Like, what are some things that you've done to sort of once you've got into these positions where you found yourself less happy or this is not what you signed up for. Because you just either, you know, went along with, As you said, you mentioned one comments. Just kind of like your businesses drove you rather than you drive your businesses. Um, what? You know, what's what's different this time around? Specifically in your in your brain? Yeah, I've had explosive growth, you know, with a nasty element from, you know, K to 1.1 to 6.5 to $28 million in a few years profitably right before investors came in. And, um and and that's that's a great story. But when you start something without intention, like I said, I'm an accidental entrepreneur. Very cool. Great story. Um, things that don't have intention don't scale. Well, um, and that's something I talk a lot about in the course, whether it be a brand book or guidelines for, like, how we work together, how we treat each other, what behaviors or tolerated and arts, aren't it? Seems very, um, unnecessary when you have, like one employee or it's just you and you're having a contractor or a part time person Thio document this kind of stuff. But objective guidelines for people toe have that. You can point them thio and say, This is what we're doing rather than I think we should do this allows you thio take anything personal out of those conversations as a leader, Um, if it's about something like culture, it's like, No, this is what we all signed up for. And if you're not living up to it, this is very, matter of fact Onda that allows you to hold people accountable to those thio what those ideals are as you scale your business. And then you can scale beautifully because you had intention ast faras like a brand book, for example. You know, I've always had really strong brands. Nasty gal was great. Brand it just kinda just do this. It's not as simple for everybody to just get on board and write copy the way I write, copy or take pictures or cast models or style or curate the way I do right? Um and it became an asked Eagle. Eventually, without again a brand book or like guidelines for what the brand is and how to bring that to life. It became like a caddy culture of like haves and have nots of, like cool culture, like cool kids and again, without those objective guidelines. If you're a leader and people aren't governed by those, they're going to say in a room when you're not there. Oh, Sophia wouldn't like that. Sophia wouldn't do it like that. And it's just not about that. They'll weaponize. This is like, This is a lot, um, people. This is what we're here for. Yeah, people weaponize your brand against other people in the company. There's like, you know, the people who, like, came out of the magazine world. I mean, there's a fashion company, So of course, there's people who are like, Oh, I inherently No, it's cool. And then in a room, they'll just tell someone who has an idea. But maybe he didn't, you know, work at the coolest, you know, Independent fashion magazine ever. You know, they look at this person to be like That's not on brand, and then the whole that's not on brand thing becomes this thing that people throw around that makes other people feel really bad if they, you know, if they're told that they don't get it. So I guess there's that. I mean, that's a big part of it. And with girl boss, I tried to reinvent I tried to invent a business model, so it was an experiential business. We had podcast with a newsletter. It was a media business. But it wasn't a scaled media business, so we couldn't, like, run huge banner ads or, um, do you know, media plans and work with, you know, media buyers. We were doing kind of integrated brand marketing with people and working with their, you know, PR teams or brand marketers or experiential people and those they're just much smaller budgets than if you're like, Hey, we were Refinery 29 we can blast this ad about your lipstick to a Brazilian people. Eso with robots, I think. And we also built a social network. I tried to invent a model, and it was fine, right? Like we did find that zit everybody wants in terms of the business itself, like it was a great brand. We did a lot of really, really special things. So as the business goes, you know, we never quite nailed the thing that would completely scale. And you know how I'm applying. That's what I'm doing today is there are, of course, creators. There's course software. There are best practices for how you build your email list, how you market to people, how you re target them, like how you sell this shit, and you don't have to build technology to do it right. You just have to create really great content. And I'm not a purist about building my own things because every button is a reflection of like who I am. And you know, every single thing is customizable like it's a what it's about matters more than like every single pixel. Even though most of you know 95% of the pixels on, you know, my site and the site you log into to take the course are, you know, pixels I'm happy with. It's just not worth it. It's not worth trying to do something that's already been done really well before. It's like, don't make it so hard on yourself like you can totally re you can invent something, maybe you will be a unicorn, But it's really hard. It's really, really hard. And it sounds like that's not actually what you're after. I'm gonna put some words in your mouth and you tell me if I'm, like, on or off. But it sounds like you're striving for Is is freedom is that you know, I'm I'm trying to lock on toe. If you had some core values that you have learned through your experiences building businesses that you are partners with another with other people relative to what you're doing now, is there a different set of values? And if so, what are those values? I put the word freedom out there because I'm just trying to synthesize you know, all of the different aspects. Like I don't want it to be like this. I don't want to be like that. But what? What? What do you want? Is it freedom? Is it independence? Freedom, Flexibility, Autonomy? Yeah, Independence. I say that a lifestyle, You know, I didn't know what ah, lifestyle was in my twenties. I was like drinking every night out, eating oysters and, you know, on business trips and going thio you know, speaking of Cannes lions and just always on the go my house was a crash pad. It's a pretty great house. And now I'm at a point in my life were like I want it. Well, one, it's co vid, but like I was eating dinner at home before co vid like I was going home after work before co vid. But I still had the startup. I had investors and there were weeks where I was flying up. Teoh, you know this South Bay or San Francisco and pitching people like every, you know, twice a week or whatever, and that's just exhausting, like I don't I don't wanna have to rely. I don't wanna have to network to get done what I want to get done. All I care about is connecting with a community of people who care about what I dio. I don't care about press. I don't care about accolades. I don't care about, you know, publishing revenue. I don't even I don't care about being a fastest growing company. I just want a lifestyle that I can control. So I think that is freedom. But I also want to do something that is, really you know, I have boundaries. Now where, um, if if what I sign up for requires a shitload of travel, not gonna do it, you know, say I do. It's a TV show, not in the plans, but I thought about it. And there are non scripted TV shows where I could go to different people's businesses and fly all over the country to, like, diagnosis them, fix them or whatever. Let's just say that's not what I'm gonna do, but or I could have a studio or have a but, like dr to a studio in Los Angeles record something in sprints and then, like, drive home every day, you know? And so even if I'm thinking about things that are even outside of my comfort zone, like the way I do them, I wanna be aligned with the kind of like where all play to my strengths. And I'm an introvert right on the cover books and like whatever. But I'm like I'm way better behind a computer like I spent years behind a computer and nasty out before I employed anybody a year and a half and like that's where I That's where I'm comfortable I'm comfortable behind a computer total troglodyte. Well, if what you just said and you're listening out there and any of those, like, 20 countries that I just shared, if any of those things the ability to work from home independence, authenticity, freedom. If any of those things sound exciting to you like to do, I'm getting a lot of questions right now. I'm asking, going to ask a few of those in a second. Um, I I again have a sneak, but got a sneak peek of, uh, Sofia's new class called Business Class. And it is exceptional. It's beautiful. And as someone who has done many of the things that Sophia has, not all of them, I don't have a Netflix show. But, you know, having raised venture capital built a business had aboard all these other things like that, it's not all it's cracked up to be. And the things that, um, Sofia shares in business class are exactly the things that you cannot get just from an MBA or you're not gonna find in the boardrooms. And you're not going to hear from the venture capitalists. Um, because they don't necessarily want you to build the kind of business that you want to build. They want you to build a kind of business that they want to build and that's there's a There's a function for venture capital. But I think what Sophia's sharing here is to me, this is the hardest stuff to come by. And very few entrepreneurs have put the raw sort of truth out there in one particular course. So I gotta I gotta go to a couple of I guess the phones, the metaphorical phones. Um, so this is a question from Instagram this serious project Is there anything you regret about your past businesses? And if you could reclaim them, would you? Um, I mean, the first thing that comes to mind. I don't think about this. A lot is certainly not giving people employees the kind of feedback they need to develop them. Instead, just like throwing in the towel. Being like this person is not right, they don't get it, and that's just like it's way. It's way more efficient to grow people than it is to replace them. Onda. People need that kind of guidance. I didn't know in my career that I needed thio give people direction because I just don't require direction. It's just weird. I'm a freak, I guess, and just to, uh, angsty thio to take anybody's advice. But people really need that to be successful. And I wish I had understood what you know, how toe, like kindly hold people accountable, like how to do that? I hired executives who had careers for longer than I've been alive, right. I was in my twenties and I was like, You've been working in the corporate world for 25 years. Be Can you come in and diagnosis my business and hold yourself accountable? You're grown up, and that's just not how it works like everybody, right? We know with quantum physics that, like something that is observed behaves differently than some things like That's not observed or it snaps into place when it's observed, or I don't know what I forget. It's like, uh, entanglement. I don't even know it's not Schrodinger's cat. I don't know, um, so it applies everywhere and people need it, and it's it's actually a generous thing to give them to me. It felt like, Oh God, that is so insulting that I would have to tell them what to do. But it's what people crave, and they need to be successful. So, yeah, I would absolutely, if I had worked in an office, had a manager outside of like, a shoe store before I started my first business. Like I might have had an example of what that looks like. But I didn't and I you know, there's something like, very sexy, not sexy, but like, wow, like, 22. Uh, it's like, if I could have if I could go back, I would have worked in an office environment and had, you know, experienced management, even if it wasn't great just to know what that even looked like. I just the only office I've ever worked in. My name was on the lease of And just, you know, if you could take some of those businesses back now, would you? That was the second part of the two questions. Still project. If you could revive them, would you or is your new universe the one that you just talked about? Freedom, Authenticity, connection. Um, Independence. Would you not go back because your previous businesses wouldn't Wouldn't have all of that. Yeah, This is not like, unaltered native. I mean, this is you can't change history. Um, you know, I didn't anticipate not, you know, leaving girl boss, You know, a few months after I sold it, six months after I sold it. But Cove, it happened. Onda company. Really? You know, we did a lot of events, and that all kind of went to zero. Um, but as I think about you know, this next stage in my life, it's the first time that I haven't really been behold into, um, to this beast that I, you know, started. And honestly, if this becomes $ million company, I don't I'm not gonna let that happen because I don't want what comes along with it. I just don't. I'm not too many kitchen counter. $100 million businesses are there. You I mean, what do you even do with that? You know, I'm like, I want solar panels. I just want solar panels. You know, like, I don't I don't mean shit. Like my clothes. Whatever. Um, no. So, no, I wouldn't. As much as I loved my time at nasty gal on a girl, boss. And you worked with such amazing people and It's super fun stuff. I'm having fun and this is just This is part of my evolution. Even when things don't go right, there's always an opportunity for you to get up and be, you know, to reinvent And like, I just kind of love that I love it. Awesome was another question coming from YouTube live that I think is really interesting and I'm gonna It's a little bit longer and I'm gonna paraphrase It's basically Do you believe it's from Moyes Levy? Do you believe that your business can be copied? Or is it unique because it's based on your personality? You know, I thought Nasty Gal was unique based on my personality. And then all these people came around and sold cheaper dresses and hired the same cast the same models and sold similar clothes. And, like I do think that that eroded our business because at the end of the day, someone would rather pay $40 for a dress than $70 for a dress. There's this a customer eso, I thought nasty gal would like, you know, compete on the brand that people knew the difference and, you know, they show up in pay more because nasty gal was a feeling like it was a brand that meant a lot to people. You know, these other websites were like a commodity and just like selling stuff like nobody was emotional about, um, those brands or or purchasing from them S O. I think I was like, a little overconfident with nasty gal because those, like, cheapo retailers that showed up in the copycats like I know they you know, I can't quantify it, but I know they affected our business with this one. I mean, it's like I would I think it's just a little naive to say that anything can happen. Um, I imagine. And this is like, I don't really make claims like this similar to girl boss, the book. There were no millennial women writing business books, and now there's an entire category of it. Girl Boss has been in every one of their proposals to every publisher saying like, this is the comp, and this is like what we want to cheat, achieve, right, and then I end up blurting their books. I think this is gonna be that, and I think there's gonna be like a bunch of other like I That's great. Based on other people's experiences. Eso the category will get more crowded because people do wanna learn, you know, independently. Now education is changed, can go to college. Um, but I don't think they're very nobody has my story, right? Nobody is fucked up, but the scale I fucked up and nobody you know and playing people have, like, succeeded whatever done things way better than me. Um, but my my stories and unique when my experience is unique one and what I share other people like, wouldn't share. I just kind of like I told my therapist like, there's nothing I would talk about with you in here, But I wouldn't just, like, tell people like it's like, Oh, like if it runs through my head and run through other people's had for sure. So what? And if you want, it's just kind of like it's way stickier to share what you actually feel that toe like, make a bunch of shit up. Whatever. You know, I'm gonna throw this in, but and this is one thing that is unique about what you get with business class and, you know, whatever comes out of my mouth is that? You know, what I've noticed over the years is that when I talk at a conference, people are just so tickled that I'm genuine. And I am just like, What are you Are you walking around just like reading a script like, What are you doing? What did you make up like? What are you hiding? How is this novel that makes me really sad and I don't wanna be celebrated for that. But, hey, if it helps people and it helps them tell their stories and normalizes whatever kind of weird shit that runs through my head and, you know, perverted, kind of like business mistakes and not perverted, but just like whatever. Just like whatever is how I'm gonna articulate myself now on this in this interview, that's your defining. Just like, whatever. That's the answer to your question. Well, brilliant. No, it's I think it's there's something very serious embedded in their this idea that, you know, go back to the question is like, Is your idea unique? And most ideas are not unique, but the personality behind them, the what you put into it your that is whether it's art or entrepreneurship. I think What What I'm hearing from You know, what I've personally experienced is this right? What? What? When I think of you and your brand, whatever it is that you make, that's the reason that I'm interested in it because you personally have a set of experiences that very few people, if any, have. And I think that's what makes the thing interesting and valuable. And the goal isn't to try. And, you know, for those people who are going to take the business class, the goal isn't to be the next Sofia. I'm guessing the goal and what I know from your course and from the welcome and idea audit, especially a front in the course, is that you're trying to help people be the best versions of themselves and bring the unique set of skills that they have. And that's one of the, you know, as someone who's through creative life is built, you know, 2000 classes, and when I'm looking at business class, you know your your recent launch Today, in fact, for anyone who's just joining us late is like that, The thing that is that our your weirdest, quirkiest, most unique experiences, that's the thing. Whether you're a creator entrepreneur, that you need to put the most of into your business. And when I see your work out there and when I see what you produced to me, those are the defining characteristics. Unmistakably Sophia. Um, so yeah, and to that end, um, got a couple of other questions, one in particular. That is, um, getting at me here, which is why now I got you know, we got Grady. We've got Dillon as morale the Bruce. Caleb, Marcello, I'm like, I think this is like a vacation like I'm having. Did I interrupt? You know? No. But there's a lot of people. And the common thread is why now? Like, why are you putting against others? Is it specifically timed or you just sitting in your home at home twiddling your thumbs? What can I do? This is something I could do for my home. Afford to twiddle my thumbs? I haven't fucked. I have a mortgage like I'm subscribed to a life that, like, if I don't earn a living like I don't want to burn through cash like I'm not like, you know, destitute. But I'm also not someone who just wants to, like blow money. I don't understand. Like, I mean, maybe someday I'll take a sabbatical or whatever people dio e don't know. I'm wondering about that at some point. I don't know how people afford that. I don't relate to it. And I'm just having a blast like this is like getting a massage every time I see a piece of, like, creative that is part of this brand. And every time, you know, I finish a worksheet and look at, like, all the interesting ways that I never even realized that I reverse engineered things that I take people through, um, that they're able to do like, I'm really inspired. And I'm I'm just It's like I think people think you're supposed to, like, take breaks and, like, Go away especially is like a public figure like Oh my God, you're like Beetlejuice. This is like the third businesses. Like, Do I have to say it three times? Beetlejuice, Beetlejuice, Beetlejuice like, are you going to go away? And I'm just like, if you're 20 and you don't know what she means? Look it up. Um Okay. So why now that the answer then is because this is the time of life that you're in. You feel like you've got another idea that you want to put out there in the world. So is that fair to say or am I just like like, this is channeled like This is just it's just there. So it's like, Why would I sit on it? Someone who's been along for a, uh in in your friend circle for a couple of these businesses, This to me seems crazy, focused and crazy aligned with who I understand you to be. And again, for those just joining us, we got a couple of folks Gotham City just tuned in. We've got another Argentina. If you're just joining. I'm sitting with Sophia Amoroso and she today today, like I don't know seven hours ago launched a new online course called Business Class. Um, can you walk us through just a few specifics, like for the folks right now who are like typing it into their Brahms? Or what is it You get? What you know what's the I'm sure you've gotto that is so beautiful, by the way, it's amazing. Things gets shipped to your house, no matter where in the world you are. This is blue skies ahead, and this is what you put your hundreds of worksheets in as you go through the course over eight weeks that I lead you through and do weekly zoom calls. But you also get lifetime access. Thio, ah, war, jest of shit that I know or have experienced or watched other people do or not do, uh, along with best practices, whatever. It's all on the landing page. Take business class dot com, but, um, you you get everything. There's a bunch of bonuses to so there's, like, eight league like, you know? Okay, so there's eight flights those air modules modules called flights. Within the modules. There are lessons, multiple lessons. So if it's the, you know, finance and legal, it's like intellectual property. LLCs corporations finances. So that's like the kind of like kind of, you know, the less fun, visual one. But those reach called legs. So there's flights and there's legs and I take you through everything from just like naming your strength and discovering what your strengths are at the top of the course, um, to doing a competitive analysis and just kind of figuring out a lot of reverse engineering. So just, you know, like, literally, literally when I I don't wanna talk about it. I can give it all away. But, um, you know, scoping out your competition, plotting out where you sit on that map. Um, doing a SWAT analysis, though it So there are some kind of, um, MBA business school kind of exercises in there because I have done them and I think they're good. And I was resistant at first to be like, What is this weird graph? Or, you know, and like some of the stuff is important problem solution. Figuring out what problem you're solving for how to solve it, how to talk to your customer to make sure that like you're actually solving a problem and, you know, relieving friction that they have in the world. Um, putting together your M v p your minimum viable product and throwing that into the world, putting up the ugliest, most basic thing you can as quickly as possible, getting feedback as quickly as possible all the way. Thio Naming your business like such a fun exercise in naming Andi. Even if you have a business name, it's like you're going to name another product. You're gonna name more things, and I'm good at names. And I love it. Um, Thio logos, brand identity colors, Complimentary fox building a website, uh, like, you know, paid marketing earned owned. Uh, you know, running a Facebook ad, Teoh. You know what compliance means with employees? How to recruit, how to negotiate. There's a whole module negotiation. So negotiating it's a bonus amenity, bonus amenity. Um, negotiating on with vendors with clients. So graining vendors down, Um, getting, you know, clients to pay more and paying people fairly, but not over paying them. And whether or not you should put out the number first or second, there's also another bonus module on There's one. I'm getting press and pitching yourself to be on podcasts and things like this because not everyone can afford a publicist. There's also a module on hiring for diversity and Inclusion, which is taught by a woman named Victoria, Tori Bell, who founded the Black Women, a Facebook group, and eight essential legal documents that are worth like three grand that including E think it's 10. I don't I don't know how. It's like I haven't gotten the bill yet. Eso I don't wanna like overvalue, You know, I know that, but you just listed is that's an insane and insane amount of information and value. And I'm just gonna go not an app alone spoke when I'm gonna go right at it. The my favorite thing about this is that it's not when I read business books and I've read, you know, if it's been on the best seller list, I would say I read it over the past, like, five years. And what is not true about this course is that most of those books that are full of shit are if you have a perfect life in a perfect idea and you take these perfect steps and you're gonna have this great little you know thing and I just don't know anyone's life anyone's entrepreneur experiencing looks or smells anything like that. And yours comes from tangible your share when what you did has worked and what you did has not worked. And the fact that, you know, to me, that is my favorite thing about it. It's like Ben Horowitz's book The hard thing about hard things when you have chapters that air titled How to Fire your friend and how to tell your employees that you don't have any money. And you know those air, the rial things that entrepreneurs solve. And that's my favorite thing about what you've done with business class is it's so practical from someone who's actually lived it. So thank you. And I'm getting a lot of thank you's from around the world, if that's true. And there's a two questions that we have to get in. Um, one is from Kyra James from Instagram Live, and they're asking Who is the ideal customer for this course who should buy this course. So we call the ideal customer the perfect passenger on business class. And my perfect passenger, um, is someone who either has an existing business and, you know, may have be a creative or someone who didn't necessarily go to business school or did, but is actually trying Thio implement what it is that they learned and maybe doesn't have exposure to someone who's done it. So someone with with a business who wants to professionalize and get it right in the beginning and make sure that you build something that will scale beautifully rather than, you know, kind of cheapened out trying to thinking that it takes too much time to do these things because it's gonna it'll really bite you by your by you in the long run. Really, like catch up to you if you don't know or do these things, as well as someone who has a solid idea. And it's serious about building your business and validating their idea, not necessarily dumping a ton of money into it. But someone who is not like noodling on like maybe I don't know, because this is dense. It's like it's serious. It's not fluffy. It's like, hopefully, it's inspirational by the, you know, run off that comes with creating your own like amazing brand in business. But it's not. It's not like fluffy or formulaic, and it's not, you know, something that, uh, it's it's something for someone who's who's serious and but also loves puns and beauty. Uh, speaking of beauty, um, Jason Naylor on Facebook says, Wow, Wow, the design, packaging and your course is incredible. Dylan asked if this works for creative like artists because he wants to pitch this to his wife. I think I can answer that and saying, Heck, yeah, that is seems to me who is targeted for, um and then e think there's another, um, coral er to the like. Who's your ideal passenger in your world? Um, this question comes from D. Casey Photo. I'm asking your opinion on success for people in other parts of the world. Is this just a dream that's possible in America, or can I learn something for my home? Yeah, the only things that don't apply internationally. I mean, we're talking about leadership. We're talking about finance. There are a few things like LLCs and corporations employment law, Um, and like intellectual property trademarks, protecting like the name of your business, those things were different in the US. Um, this is this is for every country. So we ship this beautiful notebook to every single country in the world. Um, and and you know, it's like your your audiences is international mine isas Well, and, um, I think it's hard. Thio, let me say it's yeah, the whole kind of trope that online courses kind of cell that, like anybody can do anything just like me, I think is really, really a disservice. Two people say more about that, so everybody has a different experience and it's starting from a different place in the whole, Like, you know, if you put your mind so you can do it I mean, I believe that absolutely right. I believe that we can manifest things through, like hard work and good intentions and, you know, educating ourselves. And hopefully this is part of that. But when I you know, not everybody is starting from the place that I started, right? Like I wasn't destitute. I had a crappy old Volvo. But, you know, I grew up solidly middle class. I'm white. The first step I sold online was stolen, and I got away with that. And that's a funny part of my book. But like I got away with that because I'm a white girl, you know? And there's a lot of you know, there's rooms that I've walked into that I'm more accepted in or invited to those tables because I fit in better than someone who is marginalized. Right? Um soas faras other countries go right. I don't know specifically where you are, what your set of circumstances is. The advice in business class is, you know, pretty universal advice. Outside of like a few things that have to do with, like, legal. Um, it's leadership. It's marketing. I mean, it z everything that you know works. And we're all building businesses on such a global level that unless you have, unless there's some kind of new retail format in the country that's physical or, you know, it's like I it's so yes, I think it applies. It would apply to you Awesome. Ron, also from Facebook, asks. Um, I didn't know that owning a business would end up being a psychological exercise in managing my personal personal issues so I can operate successfully. Have you found that being a business owner requires the same of you to get through personal stuff? Obstacles, overcoming fear, etcetera? Yeah, I think that's a pretty heartfelt and honest question like that. Yeah. Doing anything is hard. Everything is hard, whether it's personal or professional, and I feel even though I've been, I've been dragged through the mud, I've had really bad publicity, you know, I, you know, built a crappy culture and nasty. I just didn't know what I was doing. Like all of those things, I've taken toe heart and actually considered if they're true. So every hardship I've experienced or everything that's been said about me, that is, you know by someone who doesn't actually know what happened or doesn't know who I am or just writing a sensational headline. I consider it all, and I've had an opportunity, You know, whether it's employee feedback, right? I consider all kind of like e don't take it all for, you know, at face value. But there's an opportunity to learn from everything that happens in your business, good and bad. And actually, success just makes you lazy, right? Like when you're when you're on top of the world, you don't see what's like below the tide. It's like a bunch of weird crabs and like dead crabs and funky mud and trash. Sometimes, you know, cans, you know, can beer d cans. But so, um, and I personally think that business is just a kind of vehicle for you, Thio, if you you know, if you listen, be a better person. Um, so I'm an only child and greasy. I'm an only child who didn't really learn to share who didn't. I didn't finish college. Finishing things was like I was never was without discipline and through business, I've kind of rounded out. I think a lot of the things I would have probably gotten growing up had I had siblings or happy parents. Or, you know, I've learned a lot about communication and boundaries and things that do apply to my personal life that I feel so lucky have, you know, and to have been able Thio learn with something that is also inspiring to me and, you know, has for the most part, made money. Um, so I think, you know, businesses can be like a very kind of spiritual journey. If you listen, if you're listening for the lessons, Yeah, I think there's a bit of that in the section and the course around management and leadership. Those were those were very different things. And, of course, you go deep on the culture part, which is where you are. Um, you've shared before. That's like a new leaf for you. What is it that you want to build and how can you be intentional about it? Um, what's hard right now? This is a new adventure for you. And I think people you've done a good job of sharing past challenges and overcoming, whether it's venture capital or lower price competitors or whatever. But what's hard now? I mean, I think it's taking care of myself. I think I'm supposed to say I mean, this whole lifestyle thing, like it comes after launching a business, you know, I can talk all about wellness. And, you know, the last few weeks have been, you know, 16 18 our days. Like I went to bed it like 3:30 a.m. Last night, and fast company broke it. 4 a.m. And you know, I was up for a team group call and looking at sales coming through very early in the morning. So, honestly, I think it's like eating like not ordering delivery, actually cooking at your own house. I just miss cooking. Yeah, I'm kind of like burnout on, like pokey delivery and Sweetgreen. Um, what else is hard? E mean? It's hard and really romantic, but if you go on the website, it take business class dot com. There's like a beautiful video. So all of the all of the course, um, lessons and then the video you see on the homepage were shot directed, um, like, miked up, edited including graphics and sound by my boyfriend, Galen, who have been with for 4.5 years. And it's beautiful, but like we're in our house, like working together. It's been really, really fun, But it's also like we haven't stopped to just be together, uh, in a little while, so I think that's challenging. I think it's, you know, it can take a toll on your relations were fine, but I just kind of like Miss not doing anything with him, You know, thanks for sharing that part of it. And also folks around the world like, uh, Ron and Sergi and Kelly and Thomas are thankful to get led into, like, get led into your inner circle here. So speaking of that, where what's next? Like if I know that there may be you could re share with us, There's a limited opening for your course. It opens today, and you have to get in by a certain time and so explain a little bit about how it works. So if anyone who's listening does want to check it out and again, I just I need to go on record as someone who's seen it and made Ah, lot of this stuff myself for 10 years, and I basically I feel like I've seen everything under the sun. This is super well done, and it's very, very valuable information that you can really only learn from someone who has had the type of experience that he has had. So my personal endorsement right there but walk people through what the what their experience would be and how long they've got. Because it's, you know, you mentioned before we got live. There is a you know, this is it's not for everyone and, you know, and it's limited in space and time. So, um, give people the instructions. Yeah, so because business class is a course for entrepreneurs who with which I like, I do weekly group calls and I answer everybody's questions both about the course content on dime in, we have a like a private online community. It's an app for IOS and I just like I can't believe how much we pulled off in three months. But it's ah, IOS and and android app called the Lounge. So I'm in there as well, and because of that, it has to be over a finite period where I'm taking kind of like a, you know, a class of students through business class. And it's just not like, here's a thing, you know. So we have to close the doors, um, and take off, um, by it by a certain date. Um, and so doors closed October 9th. So you cannot purchase business class for an indefinite period, because hopefully, I can sleep for several months after this. Um, this is the only time you can really buy it until I just feel like doing it again. Like there's no 2020 plan. I'll write a book or something to a podcast, but, um, so it's open for the next three weeks. Um, it's 1999 U. S. Dollars, and we have a payment plan for US customers. That's $99 a month, which is pretty awesome. Um, what else? Yeah. So because I'm in there every week with you, I can't do that every all year round. Um, so I wanted to make something that was, like, super surgical where I could, you know, I could really contribute. Give people my time. Awesome. Awesome. Now, a couple of a little speed round here because we're up against time and, uh, and no sense as much day you've got sales numbers Look at and I've got some other press that you're doing. So first of all, want to say thanks for, um from the creative live community worldwide. And there's a lot of gratitude in the comments, Um, but speed round. So if this is your next endeavor, will you be doing anything else? Or is this your full time focus? I mean, I can kind of do whatever I want when you have investors and try to do something else. They're like, What are you doing? You should be focused on making me more money, But I don't have investors, so I can kind of do whatever I want. And I want to do whatever I'm inspired by. It has to make some money. But if you know if five people take this and related, But you know, in their lives have changed too much happier than 2000 people taking it like feeling, kind of, you know, a blase about it because I can, like, go to a podcast. I can and I don't say podcast like it would just be a podcast, but like, there's plenty more for me to do. And I'll probably do it on top of this because I like to pile things on myself. But I'm gonna phase them out much better than I have in the past. Eso there will be about another book. There will be another podcast beyond that, I don't know. Maybe I'll make some more cool merch or something. But there's no this is like I'm just like I'm doing this right now and then beyond that. Like I get to be creative. It seems like it seems like you wanna have. There's a little bit mawr, levity and a little bit more playfulness in what I'm seeing and hearing from you than some of your other adventures. Is that what why, MM, bootstrapping. Just fun. You know, it's like I've invested my own money in this, you know? So I'm not starting from nothing but a lot on the line. And, you know, every time I write a piece, I wrote all the copy for that. Like really, really long landing page. You know, like there's no phoning it in here. And when someone loves it like I for the most part and, like, you know, outside of, you know, the video or, um, some of the designs like, Oh, wow. Like the content I created, I feel connected, Thio what it is that I'm doing in ways that are harder to when you have teams executing on your behalf. And I'm just like, I like being in the weeds and, you know, like tweaking and just like a tweaker. And when I tweet something and it makes something better and someone responds to it in their life is better or they purchase it or convert or whatever respond to it or inspired by it, like That's just so gratifying. So I like being on the ground. I like being in the weeds, and I can only do that because I don't have a big team. You're kind of a dummy if you're in the weeds and you have a team, can't do that. But for me, general management, I'm not good at it, so I'm I'm doing what I'm good at. I love it well. It's insanely inspiring, and I think this concept of individuality, freedom, doing what you're good at being passionate, staying close to the product If any of these things sound like something that you're passionate about, I personally recommend check out his new course that take business class dot com, um, and just want to say, Thanks for putting you into your work. It's fun to see and, um, for sharing the story of what can happen when you do get all those things. And and as someone who has investors like that, it's just a different business model, and I respect and appreciate that. But for so many people out there, that's just that's like a more of, ah, one size fits all of one size fits most and what I've seen from you and what I know this audience cares about is is all of this the individuality, the opportunity to build and connect something that connect with something that they care about. So long winded. Thank you. Huge. Congratulations for launching it. Um I wish you all the success that you deserve, and I can't wait to hear about all the nitty gritty. Thank you. I'm gonna bug you. Mhm.
Ratings and Reviews
By far the best classes on Creative Live!! Thanks Chase Jarvis for bringing so much greatness to the table for discussion! Just LOVE it!
@ChaseJarvis - love chat with Gabby about hope and the "relentless optimism" you share at the end of Creative Calling. Many thanks. -- René Vidal McKendree Tennis
Excellent interview with thoughtful questions. Thanks!!
Student Work