Importance of The Slideshow
Davina and Daniel Kudish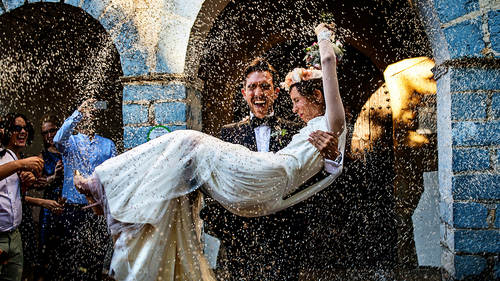 Importance of The Slideshow
Davina and Daniel Kudish
Lesson Info
45. Importance of The Slideshow
Lesson Info
Importance of The Slideshow
All right, so we're gonna get into the slideshow. I feel like this has been a long time coming now. We've talked about how we shoot for the slideshow, how this is what we're really working towards all day long, and now we're actually going to get into it. Yep. The slideshow is really the assignment that we give ourselves as we're photographing. We know that we need those 100 or so storytelling photos with creativity, with variety, with all the things we've been talking about. We really need those images to piece this story together. And having this final assignment in our head really helps us focus on what we're doing on the wedding day. So as we discussed in workflow and post-production, we wait six to eight weeks before showing our clients their images. And the very first thing they're going to see is the slideshow. So that further emphasizes why we need to be spending that extra time making those images perfect and being really mindful of how we're piecing the story together. ...
Before we send it to them, we make sure that they are together, so that they are not having separate travel plans or that they're at their job. We don't want to send it on like a Wednesday morning because we know that they're just gonna be at work, and they're not gonna be able to wait until evening. So we usually send it on like Friday night or Saturday night to make sure that they're together. We'll send them a text or an email. "Guys, let us know when you're together, so we can send you your slideshow." When we send it we make sure that we encourage them to open a bottle of wine, grab a drink, make sure they turn up their speakers, really try to get them in the mindset of watching the slideshow. It almost becomes like a date that they set for themselves. Sometimes we even start talking about it a week or two ahead of time. "It's almost ready. Can we set a date for that?" and it's not because we're involved in terms of us sitting there and watching them while they watch it. It's really for them to get that good experience. And again, we're spending all this time piecing it all together, so the first time they're gonna see it is gonna be really special. And then we send the slideshow, it's the slideshow alone. We withhold the full gallery even though it's ready. We'll usually say a little white lie in the form of, "We're uploading all of your other images to your online gallery, or we're putting the final touches on the online gallery." In reality it's already backed up and already on there, but we really want them to look at the slideshow as often as possible, and really create this attachment to the best photos possible. So I mentioned a few times we used to have an associate studio which we sold last year. They were doing slideshows for a while, but because of the workflow of it, it just wasn't very practical anymore. They were doing like 100 weddings a year. So it's one of the things we cut out at some point, and the emotional reaction that our photographers would receive from their clients was pretty much nothing. "Oh, thanks a lot. We'll look through these photos" It was just in a gallery. There was not emotional attachment because they were getting just, almost like proofs. You know, a whole bunch of photos that are edited in sequences. There's no telling them, "These are your best photos. Here's music. It's an emotional situation." There was none of that. So they would get no reaction, and we felt really bad for them because as photographers they were working hard to deliver these images, and then getting no emotional reaction back from the clients. So when we brought back slideshows for that business it was basically as a reward for our photographers. "Here, you guys, deliver the photos. We'll deliver the photos in a slideshow, and then you can get that." So as a photographer it feels really good too. It's a little self-indulgent, but we're gonna share some of our feedback that we get. The idea is for you guys to see how high that emotional reaction is. So I'll read these. "All we can say is Wow! Thank you so much for this beautiful slideshow. We have watched it 10 times at least. Guys, every single shot is beautiful. Thank you so very much for all these wonderful moments you captured so beautifully for us. We were reliving the whole day and our hearts are beaming from these wonderful memories. Love the song choice as well. Can't wait to see all the rest." "Guys, we are utterly speechless. This is crazy, crazy, crazy, crazy good. We've had this slideshow on repeat for the last 30 minutes, and we can't take the smile off our faces. I mean every single shot in the slideshow is so good." Thank God, right, because we work so hard for that. "You guys, we have no words. Honestly, Chris and I were holding hands the whole time and gasping at every shot. And then we watched it again and paused constantly just to take in every moment. Thank you so much for reminding us of all the happiness and joy surrounding us at our wedding. You two were such a gift for us." So you guys probably heard the same words being repeated from one email to the other, and it's no coincidence because of the thought process that we've put into delivering these slideshows. We do want them to watch it over and over and repeat and repeat and repeat. If we send the full gallery at the same time, they'll watch this once and move on to the full gallery. Human nature, right? You wanna see everything at the same time. More, more, more. More, more, more. The other thing that's really important that they do value these individual photos that we've also spent a lot of time capturing on the wedding day and also working them in the post-production, and making sure that it was the best image possible. Yeah, we get that every single shot, and the idea like sometimes they say, "We paused on every single image." They start to value the individuality of every photo versus a full gallery like I mentioned. That would be just a whole bunch of photos to get through. So to piece our actual slideshows we use SmartSlides. It's a really, really great platform for uploading your slideshows. It's super easy to use. You literally just drag and drop your files, choose a song from their collection, or upload your own licensed music, and it literally takes under 20 minutes to build a slideshow together. Super easy, that's probably the main and only reason why we love it. It's just the simplicity of it, and considering we deliver slideshows for all of our weddings, it's really important for us to have a tool that works super well. For music we'll either use the built-in collection in SmartSlides, and when we feel like we're not finding the right fit we'll go ahead and look on SongFreedom, which has a very, very big collection of music, including a lot of popular songs, which is not very common in our industry. So it's important to have licensed music. You don't want to be breaking any laws. So we definitely wanna make sure that we're using licensed muisc, and SongFreedom has a great collection for that. Choosing music for a slideshow is probably the most time-consuming part of the slideshow process. We get so ... and I will always veto. Daniel's like, "Okay, I did it. Here it is." And I'll be like, "I don't like the song." (laughing) But you know we do wanna perfect that. We want it to fit the mood of the wedding. I don't want them to be distracted by the song. The song and the lyrics should support the images and not distract from them. So we do spend a lot of time and having good resources is really helpful. So, just the same as we follow our formula for capturing the photos on the wedding day, we try to respect the same formula in the images that we choose for the slideshow, and then how we piece them together in the final product as well. So at this point all of these elements of the formula which we've talked about again and again. They are really the elements that are going to make up the slideshow. And again with mood in there, with emotion, connection, and with variety. So this is when it really all comes together. So for the images that we're gonna edit for the slideshow, we'll generally overselect. Like today, we're gonna look at 163 photos, but we're gonna try to narrow that down to about 100 images. We find that to be sort of the sweet spot. We don't want there to be too much repetition, and sometimes before we edit the actual images, we don't know which one is gonna come out best. So we'll overselect and we say, "You know, let's edit it. Let's see how it comes together." and then we'll narrow down further when we put the slideshow together. So that means just to throw back to our workflow, Daniel will end up editing the favorites, the faves, the ones that we name fave. He might have like a 100 and something in there, but then in our actual slideshow there will be a selection of those photos. So it doesn't mean that all of the faves are gonna end up as slideshow images.
Class Materials
Wedding Photography Contract
Ratings and Reviews
Holy Moly! I have been very familiar with Davina & Daniel for several years and I also work closely with Image Salon for the past 3 years. I loved their relatability, raw honesty, human connection, and their teaching method. It was also super helpful to see the GoPro footage on a real wedding day and walk through their thought process with them. A refreshing wind of inspiration has now flooded my mind and attitude. I am excited to begin my 8th year of weddings with a clear mind and full heart. These two are the REAL deal and I am so happy I made this investment. Thanks, CL for always bringing the BEST of the BEST.
I've been following Davina and Daniel's work for years and suffice it to say, they are in my top 6 all time favorites. I was so excited to watch this creative live and it didn't disappoint. From their approach to shooting through the moments, to their stunning locales and minimalist gear, there is something for everyone in this class. Both Daniel and Davina have a tremendous knowledge of photography and their willingness to share and educate is second to none. Oh, and just so you know, they are also the nicest people on the planet. Super sweet, amazingly talented. Thanks for having them on.
Davina and Daniel are fantastic presenters as well as an exceptional photo team (plus they are super nice people, too!). I love their approach and methods and felt like there is so much value in this course. Even though I've been photographing for a long time, I took away a lot of great value gems from their course and look forward to applying several to my own business!
Student Work