Maximizing Color Control with 'Blend If' in Photoshop
Lindsay Adler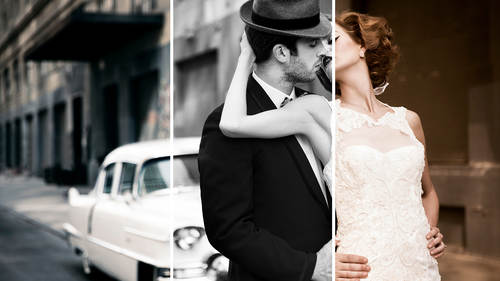 Maximizing Color Control with 'Blend If' in Photoshop
Lindsay Adler
Lesson Info
9. Maximizing Color Control with 'Blend If' in Photoshop
Lesson Info
Maximizing Color Control with 'Blend If' in Photoshop
the next one that I want to dio is solid colors with blend If which I hate, how that sounds could I find it's super overwhelming? I don't know, Like it just sounds formulaic crazy, So I'm going to try to explain it nice and simply. And so what we're going to dio is we're going to color tone by creating individual layers of color, and then we're gonna blend it into our photo. So this is what's closest to split, toning and light room, but a lot more control because I can affect where it's hitting on the face, whereas in light room, it just it just does it. So I'm gonna create a blank layer. It's an empty layer. It's the little icon to the left of the trash can. And what I'm going to do is I'm gonna start by creating a color that I want in the shadows. What you want in the shadows totally depends on your purpose. Ah, this for the Matrix, right? This is where you pick a green. Ah, lot of times for like if you look at Annie Liebowitz photos, it's got, like, kind of greenish yellow that like...
that you see that toning a lot in her portrait work. Um, I'm going to select almost like something in the teal range. Okay, well, I know I like that. Teal orange. Let's let's see how it looks. Um, I'm gonna grab it to orange, and I'm just gonna paint it. So I've got a solid layer. So far, so good, but weird looking, and we'll fix it. Um, next thing I'm going to dio is I'm going to change the blend mode of this layer, and I will talk about blend modes later. But basically, what it does is it changes how layer interacts with the layers below it. So right now it's solid. I want to start seeing this color like interacting with the highlights and shadows of the photo I want. I want it to actually tone it. So the blend mode that I'm going to go to right now is soft light. So what it does is you can see with soft like it applies this color across the entire image. But I don't want it to do that. I wanted just to apply to the shadows, so I need to control how it just applies to the shadows. So I'm going to right click on this layer in select blending options. I'm going to choose how it blends with this photo clicking on blending options. Okay, I see if I can move this aside. Uh, yeah. All right. Somewhere right here like this is the awkward making it all fit. Um, all right, So what we're gonna dio is I brought up blending options and it says already the blend mode is soft, like that's that's what we changed it to. So it picks up the colors of the highlights and shadows, but then down here at the bottom, we're going to play around with blend If and what that means is basically saying, How do you want me to blend this color? Blend it If it looks like this like, that's why it's called blend. If so, what I want is I want to see it in the shadows. But I don't really want to see in the highlights. So what I can do is I can drag this right hand, little icon. I can drag it in and everything to the right of it. It won't blend with it. Basically says anything to the right don't apply this. So, for example, I can pull this in and eventually see see on her face, slowly blending it off of the face, slowly blending it off the face. And so, basically, anything to the right of that's not applying to now. The problem is, it's super not blended like blend. If and this is not blended, this is yes or no. So we need to do is right now, it's saying, any tone that way don't apply any time this way, Dio. But there's there's no ingredient. There's no there's no blending, which is the point of this. So if you hold the altar option key and click on this little slider, what it does is it separates it. It divides it into, and when you give it an area, it will blend between that area. So between those tones, so watch this ready all adoption key and click on it splits it into. And this is what I'm deciding. How big that Grady Innis. If it's really small, it'll fade from a full effect to no effect very quickly, and if it's really big, it'll fade from no effect to full effect, really gradually. So I'm gonna mess with it just a little bit. Let's split this off. Plans off. So if you look at it, I gave it a pretty wide effect. But now it's not touching the highlights, but it is toning all the shadows. Well hit. Okay. And I can always back off my capacity. So look, her skin tones in the highlights stay the same. But it just tones the shadows. And I could do the exact same thing. Two tone, my highlights. So I'm gonna do it again, create a new layer, and we're gonna go with the Hollywood style. So I want orange. We're gonna go in the opposite end of that spectrum. Maybe somewhere over here we're door teal and orange. So all in, all I was clicking on was in my color palettes watching the bottom left hand corner. So I just click on that and then I could congrats the color. So I'm going to grab my paint bucket and just still that new layer. So it's a solid orange, and I'm gonna change my blend mode again because otherwise it's just gonna be a color. Hes on top. I want I want to see this color So we're gonna change the blend mode again. Too soft, light. But again, it's applying to everything I just wanted to the highlights. So when we right click, it gives me blending options. You wanna click, right? Click, get my blending options back up there and then we're gonna do the same thing. But opposite because I'm going to say I don't want you to apply anywhere to the shadows. So I'm gonna drag that into the left. So let's see what point. So look, it's pulling it off the shadows, pulling it off the shadows, pulling it off the shadows. But then we've got that hideous line. I need it to blend more subtly. So I hold the altar option key and then I decide how gradually it's going to fade in and out so I can spread this out a little bit. And I mean, I kind of just drag it around and I go the and obviously, obviously, it's way too strong. So it's I hit OK, and I'm gonna back off the capacity. No, maybe somewhere to there. So here. So it's like 23%. So here's a before and after in the context of it just being a still frame. Probably this strong of toning might not make sense, but a lot of times and dramatic environments, it works great. So blank layer new layer. You fill it in with a color change the blend mode too soft light. Then you right click on it. You get the blending options, and then you drag those sliders to say what it should be applied to and not be applied. Teoh and Ault option to split it so you can decide how much it fades in and out of that effect instead of being an abrupt line. And so that particular one is called, Um, it's solid color and blend. If yeah, one quick, one quick question. Can you still manage Teoh Barley mask to to refine, for example, the hair. Can you like a player mass on top of that in kind off? Yeah, Okay, for example, would be very easy if I click on the blue because of blues affecting the hair. Let's say I don't want it to, and I'm going to add a layer mask. Solar mask is that little rectangle the circle on it. And so what did allow me to dio as anywhere I paint black on that mask, like blacking out hiding that affect hiding that Thiel. It's a racing it, but not really, because I can always go back and change it. So I'm gonna grab my black brush. And when I zoom in, let's say I think it's too much on the hair. It's gonna back off my flow a little bit. Flow versa. Pass. It doesn't matter in this case, and then I can just painted off the hair selectively. So now is it Back out and it's not on the hair. Or I could do the same thing with the yellow off of the eyes. If the eyes got a little yellow and I thought that was weird, I can come back in. And although I don't think your eyes really groups, I think your eyes really got to yellow. But you could come in and get rid of it selectively off of one partner. Maybe she had eye color on, and it was shifting the eye color. So I just got rid of off the I. Yes, so it gives you a lot of control, and then you can go into other advanced masking options and start, you know, using a luminosity mass and things like that to be a little bit more selective if your fancy
Ratings and Reviews
Fantastic course. Lindsay Adler is a such a photography Rock Star. She can do it all, shooting in and out of study, lighting, posing, teaching and very amazing, Photoshop guru. Thanks for getting Lindsay, in the beginning I never knew that she was so skilled in all these aspects. As you progress in your photography, you learn lighting, skin tones and white balance, then skin retouching, then you learn color grading and analogous colors, complimentary colors, color triads, etc. Color Grading is so key to that final polished and "expensive" look. Lindsay did a terrific job teaching this course. I watched it 3 to 4 times to really pick up how to use these tools. Lindsay is a phenomenal teacher and photographer. Thanks for getting her Creativelive.
This is a great class to learn many options for color grading images. Lindsay gives comprehensive options for use in both LIghtroom and Photoshop. She has a style of teaching that is easy to follow and does an excellent job of summarizing each technique after introducing it to help the process sink in fully before she moves on. I love how she goes over everything she does thoroughly in a way that clearly explains each step without assuming everyone knows what she is doing. There is never a time when I thought "wait, what did she just do there?!:". Just really great information that is well taught.
Awesome class - Lindsay is a wonderful teacher. It might be nice to have a list of the equipment used, I had to go back a couple of times to find all of what Lindsay was using. Excellent and well done!!
Student Work