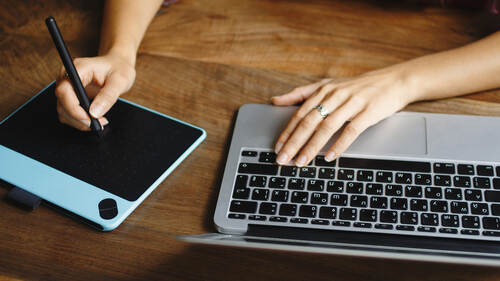 Lesson Info
7. Summary
See how multiple layers and many special Photoshop features were incorporated to produce a professional looking logo that appears to jump off the page.
Lesson Info
Summary
Let's look at our layers panel, and let's simplify it a bit. Let's close up this group. And let's take a look at our layers. I'll turn off all the layers except for the background. And here we have Digital Mastery logo. If I turn that on, this is the shape that we created in the previous lesson. And the only thing that has been added is an inner shadow. If I turn that effect off and back on again, you can see that's adding the tiniest hint of dimension. Then we duplicated that layer, we moved it down into the right multiple times. And we filled it with a darker color. And that's what the layer below is. That layer has a drop shadow attached to it. If I turn the drop shadow off and on, it's rather subtle. And we could fine tune the settings for it now if we wanted to. Then, in order to get it to look like the letters are kinda weaving above and below other parts of the letter form, we ended up duplicating this layer that contained the logo with the highlight. Since that was defined by a...
vector, meaning a path, we can't have two of those on a single layer. So we ended up putting the duplicate into a group. Group looks like a folder. And that group we put a vector mask on, to control where we would hide that layer. And wherever we were to hide that layer, we could make it so it changed where the layer style appeared. But in order to get it to do so, we needed to move that layer style, so instead of being attached to the layer that's inside, it's attached to the group itself. So the shape of the group itself as a whole defines where that shows up. So we're getting pretty fancy there. If I turn this back on, you'll see those highlights then. But there were some areas where we had artifacts showing up that we needed to further hide. So therefore, we added a layer mask. And a layer mask, though, usually works just like that vector mask. And it would've changed where that inner shadow was showing up. And it wouldn't just hide it. We wanted it to just hide it. So we went down here to the Letters FX, turned on a special option under Blending Options, and it was called Layer Mask Hides Effects. And therefore that layer mask, all it did was cause any place where that glow was showing up to disappear wherever we painted with black, so we could clean things up then. So we're getting double special there. Then we needed the thickness to be showing up in some areas. So we went down to that layer that contains the thickness, this layer here, we duplicated it and put it all the way on top. Since it is defined with a vector mask, and we wanted to use another one to control where it shows up, we needed to put it into a group. Therefore, we could add the vector mask to the group itself. And that controlled where that dark area appeared. And we just decided where should it appear, and we made the proper paths. So when we put it all together, we're getting pretty sophisticated here. And that is the actual logo that you will find if you visit digitalmastery.com. It's been up there for, I'm guessing, five years or so. And now you have an idea of how crazy I get when creating something as simple and small as the logo on my website. But I hope the main thing is, if you do any design related work, and you ever work with vector masks, now you know how to take 'em to another level. And you know how if there's any issues you ever have with layer styles, there was a special feature that allowed a layer mask to control where those effects appeared, and we used all that together.
Ratings and Reviews
Student Work