Working with Shapes
Ben Willmore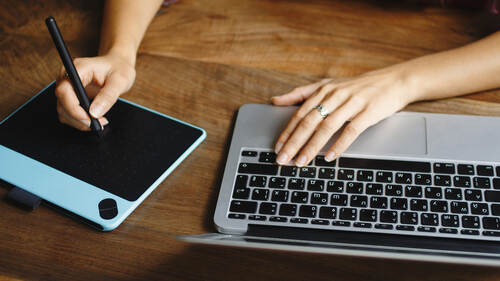 Working with Shapes
Ben Willmore
Lesson Info
2. Working with Shapes
Convert text into a shape and then customize the shape of each individual letter to transform text into a logo.
Lesson Info
Working with Shapes
Now the next thing that I would end up doing if I want to turn this into a logo is to turn this into a shape where after doing so, I can manually pull on the various shapes of the letters to modify them. And before I do that, I'm usually gonna duplicate a layer. I'm gonna type command + J in this case. Control + J in Windows. Or you could just drag the layer down to the new layer icon. There's all sorts of ways of duplicating, but I'm gonna do that and then hide the original just so if I find there's a typo later on or something else, I don't have to start over. I'll still have the version that is actually still text. Then with this duplicate highlighted, I'm gonna go up here to the type menu, and there's a choice in here called convert to shape. When I choose convert to shape, watch what happens in my layers panel. Notice the letter T that's on this layer, you're gonna find it change, and now it is a shape layer. It is as if I use these tools right here to create that, and now I can m...
odify it using the pen tool, and using these two arrow tools. And so if I'm in the black arrow tool, then I can click on individual letters in the whole of that letter will become selected, and I could move it around the screen. Or if I wanted that letter to be larger, I could type Command + T. Control + T in Windows, and I could transform just that letter. And oftentimes for logos, the first letter that's capital is sometimes made larger. I'm gonna press or enter 'cuz I didn't need to transform that. What I want to do though is I want to come in not to this black arrow which selects the entirety of the letter, but to the white one. The white one, if you come in here, and you click on the outline for a letter, you're gonna find the individual points that make it up. And what I'd like to do in this case is, I would like this horizontal bar to extend beyond the period at the top of this letter. I in possibly further towards the left as well to fill more of this white space. So I'm gonna grab these little things at the end. I'll click on one, it get highlighted in blue. I'll hold shift. Click on another and another. Then I'll let go of shift, and I'm just gonna use my arrow keys so I don't accidentally move it up or down, and I'm just arrowing to the left to get it to fill that space. Then I wanna do the same thing on the right edge over here. You can click and drag like this, and all the points found within that box should become highlighted in blue. And so I'm gonna try to move that to the right, but when I do notice that the thickness of the vertical that's there just got thicker and that's because these two points right here define that kind of corner that's there, and I don't want them selected. So I'll hold down the shift key, and I'm gonna click on this dot, which I don't want selected. If when I first click, I find that it does not become hollow like these others, then I just hold shift, and I click once again because when I first clicked on it, you'll see these little handles came out. It thought I wanted to edit that in a different way. But if I shift click again, it should end up not being selected anymore. Then I can use my arrow keys, and arrow this out and bring it however far I'd like to get it to fill that space. Let's say I'd like it that far. Next, I'm gonna come down here to the letter G, and I like its little tail coming over here, but I think I'd like the end of that tail to kind of end right in this little V-shaped area. So I'm gonna start by clicking in the empty area out here and I'm gonna draw a box trying to make it so it doesn't touch the the letter above. And I'm just gonna drag to about there, and let go, and I'm gonna take all those points that are there and move them towards the right. So I'm just gonna use my right arrow key, and if I hold shift it moves it 10 times as far each time you move it. And so I'm gonna get it maybe right over in there, and I might even arrow it up to kind of nudge it in that little area to make it just feel a little more custom. To see the end result, I'll click down here and now that kind of feels all integrated where everything's going. I think I might just want this to be the littlest bit longer, so I'll go like that and right-arrow key until it looks just right. That's feeling more like a logo where every letter feels like it really belongs together. Next, let's go over here to the word mastery and let's customize it. I would like the little swoop on the M to be more shaped like the edge of the letter A. So it feels like they belong together a little bit more. Whoever designed the letter M didn't know what letter was gonna be next, so they couldn't make it precisely match. So I'm gonna try to drag a couple of those, and see what happens if I just pull this over, and maybe up a little bit. And then I can take Command + H to hide the edges and if I type Command + H a second time, it'll come right back. So I could do that to see. I think that's looking pretty good. I might bring it up a little bit. I can't move it while it's hidden so I have to type Command + H. Move this up and type Command + H again. And so that's looking pretty good. I probably want this part just to get the littlest bit closer. So I'm gonna click here on first typing command + H to make things visible, and then maybe grabbing this point, and moving it out just a little, and H and this point. And sometimes you have to mess with the actual handles that come out of them to control the curvature. Next, over here what I'd like to do is customize this arm that's coming through the letter T. I'd like this portion here to extend further towards the right. So I'm gonna drag like this. I'm not sure where the handles are, but I'm assuming if I go to about there, I should be able to get most of the handles. if I don't see anything, type Command + H 'cuz you have the points hidden, and you only can really work with them when they're visible. But I might bring it out that direction. Maybe a little bit down so it's feeling like it belongs. Then I can change the curvature that's in here. Do you see these little handles that are here? The curve goes in that direction, and if you click on a handle like this one, you can grab that and drag it. So I can make this curve a little bit more. Grab this one. Change the angle of its handle as well. You can also click on the line itself, and that can help to allow you to fine tune the shape. I'll type Command + H. That's looking a little more custom. I could extend this out just the littlest bit to make it fill the space. I'll type Command + H. I see two points here. I'll click on one, hold shift and get the other, and then down to the left down, and down to the left down, and to the left with my arrow key, and see what that looks like. Command + H. Maybe just a little bit further. That's looking pretty good, like that's just the right amount of space, and that's looking good as well. So I got pretty much what I need there. Now, I'd like to replace the letter Y that's on the end. Well if I come over here, and choose my black arrow tool, and by the way, I think, if I hold on the command key and click. When you're working, let me type command H to see things. But command click switches between using the white arrow tool, which is the one that allows you to work on individual dots. And if I command click again, now I'm with the solid one that lets me work on entire letters. Well down here, this is still text because I didn't convert it to a shape. So I'm gonna go to that particular layer and I don't think I'm gonna need to work on this as text in the future. So I'm not gonna make a duplicate like I did with the other one. And I'm just gonna go to the type menu, and I'm gonna once again choose convert to shape. Then I wanna be using the white arrow tool because I wanna delete a lot of these points. All the points that make up the letter B. So I'll hold on the command key and click, that gets me to the white arrow tool. I'll then start out here, and I'm just gonna go over all the parts that make up the letter B and then let go. So I get all of them. Then I'm gonna hit the delete key, and when I do, it deletes all those parts, and now I have just what I want. Now, I'd like to work with all those points. So again, I'm gonna hold down the command key and click. Remember that changes you to the solid arrow and the solid arrow grabs the entirety of a shape, and it doesn't let you work on the individual points that make it up. Then I'm going to copy this. Just Command + C or I could come up here to the edit menu, and choose copy. Then I'd like it to become a part of the layer that contains the other text. So I'm going to go in my layers panel, and click on that other layer. I'll then go to the edit menu and choose paste, and it should put it onto that layer, but it'll be in the same position that it was in a moment ago. Finally, I'm gonna just gonna take this, and drag it up into position. I'll line it up with the letter Y that's already there. So I know approximately what the spacing should be, and then I wanna delete the letter Y that was already there, and I can see it hanging out this way, and hanging downward. So if I click on either one of those areas, I should get the entirety of the letter highlighted, and I can hit the delete key. One of the other advantages of converting to a shape even if you don't need to modify the shape of the letters is, once you have, then if you were to share this end result with somebody else, and they open it up in Photoshop, they don't need the typeface anymore, and it won't tell them that you don't have the typeface because this is now made out of shapes instead of made out of text. And so oftentimes when I'm done with a logo even if it's just straight text on a normal typeface, I almost always convert to shapes so that now it's not dependent on a particular font 'cuz who knows what it's gonna be used for in the future, and if that would mess you up if you got to a machine that didn't have that typeface installed. All right. Now let's do a little bit more customization to make this look a little more like a logo. I'm gonna grab this curve on the letter Y and extend a little further over, kinda like this G extends way over. Why not get this to extend over as well? I'll also hide the layer that's above just 'cuz we don't need to see that letter Y anymore. So right now I'm in the black arrow tool, I wanna work with the white one. So I hold on the command key and I click, and I happen to click within this letter letter so that it selected those, and I can see where the points are, and I'm thinking if I grab all the points from this one to the left, I should be able to pull it the way I want. So I'm gonna circle around about like that, and see if I got all of those. I don't want to get these two in 'cuz those find the corner that's here, and if I move those, then the edge of the letter Y that's going vertical would start getting thicker. So I'm gonna grab that, I'll use my left arrow key and I'll hold shift. Shift means move it a large amount, and I'm gonna move that way over to maybe there, and maybe a littlest bit down. Now I'm not liking the overall shape. The curvature of that, so I might need to modify it. I think I'm gonna move these two points up a little bit. So I'll click in the empty area right here. I'll drag to make a rectangle that would get them, and then I can use my up arrow key to get that to look more appropriate. I might try adjusting the bottom ones too. So I'll grab these and I'll bring those up just a little bit to kind of customize that shape. I could also come into all these points, and just manually drag these little handles. The handles will only show up. When you have a point selected, it shows the handles coming out of that particular point and that controls the curvature that you get between that point and the others. So you could come in here, and fine tune it a little bit if you'd like. So I'm thinking that's looking okay. I might be able to smooth that a little bit, but for now I think for our demonstration purposes, it is just fine. Now, if I was about to give this to somebody else, then I think I'm completely done with it. There is one final thing that I would do, and that is I would get the black arrow tool. Right now I'm in the white one, so I'll command + click. And then I'm gonna drag a rectangle around all of my letters. Now when you look at this, you'll notice that the individual letters are all separate. For instance, the cross and the letter T. If I just click on it separately here, it is separate from these circles. I can see horizontal lines going through the circles. And when you look at this letter, I can see it overlapping the other letter, and this one extending into there. Well, you can simplify this further so that if you were to deliver this as a logo to a client. If I got a logo and it looked like this one I would say, "Hey, somebody used a typeface and type this in." But if I couldn't see that those letters overlapped each other, then I might think you drew it from scratch. So I'm gonna select all of these pieces, and I'm gonna come up here to my options bar. There are these two little rectangles, I'm gonna click on them and right here it says merge shape components. And that's gonna cause all of this to act as if it's a single shape. So that now if I look at those areas where before I could click on an individual letter, I can't anymore. It thinks of it all as a single shape. And now if I'm going to be using this logo in Photoshop in the future, I might as well literally define it as a custom shape. If I come up to the edit menu, you're gonna find a choice called Define Custom Shape. It's only gonna be available if you have what's known as a vector active, and that means something made with the pen tool or its equivalent, and this shape is one of those things. I have it all selected, and if I choose to find custom shape, now I'm gonna call this Digital Mastery logo. In the future, I don't need to find this document anymore. If I ever want to use this, all I need to do is choose the color I would like my logo to be by changing my foreground color. Then I come up here to this tool just below that arrow tool. That's the shape tool. There's more than one tool hidden in that spot. I need the bottom most one known as the custom shape tool. And then in the options bar, right up here where it says Shape is where you choose what shape you're gonna use. And the bottom most one should be the one you defined. So now I can click on it, and anytime I want that I can just click and drag like this. You gotta be careful. If it looks like you can squish it, hold shift when you're dragging, then it's gonna maintain its original proportions. And now anytime I want I can create that logo, and I never need to find this file again. All I need to do is grab my custom shape tool. Come up here and click on it to make it the active shape. So hopefully that gave you a sense for how to get a little more customization when it comes to your typography. Just know that not all typefaces will have the features that I showed here. These are for open type typefaces. Remember in the font menu you see the letter O or you see the Creative Cloud logo for those. And even if you have the letter O, some typefaces will have very limited support for these features, and others will have extensive support. And therefore you might want to download the particular typeface I used here, which is Metro Script, just so you have one that you know has these features built in. But once you've gone in there, and you've tweaked your text, if you want to take it another level above that, then consider converting to a shape, and then using the arrow tools to move things around to fine tune the various shapes, and to potentially copy and paste between layers f it doesn't offer you exactly what you want, but maybe you find what you want in a different typeface or in a different set of letters that if you were to modify their shape will work out for you.
Ratings and Reviews
Student Work