Creatively Correct Exposure
Mark Wallace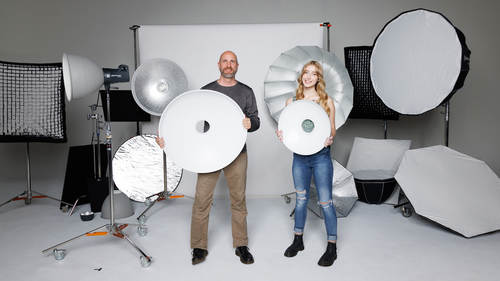 Creatively Correct Exposure
Mark Wallace
Lesson Info
13. Creatively Correct Exposure
Sometimes a correct exposure isn't the best creative choice for your image. Instead, Mark explains what a "creatively correct" exposure is and then creates two portraits that are technically incorrect but creatively correct.
Lesson Info
Creatively Correct Exposure
Well we can talk about light and like modifiers without talking about exposure and metering. And so I want to first talk about exposure and then we'll talk about how we get there in the next session. And so um the correct exposure. Well that's up to you. And so to steal a phrase from my friend brian Peterson, uh creatively correct exposure is always the best exposure. So how do you know if something is exposed correctly? Well, it's your choice. So what we're going to do is I want to give you a demo and sort of my philosophy for metering. Of course I like to use a light meter and follow what it says to get a correct exposure, but the creatively correct exposure might be something totally different. So Quinn is gonna come out and we're going to walk through the correct exposure and then migrate into some creatively correct exposures which are going to be technically wrong. So what we have here, let me borrow this from you, Quinn. We have this uh color checker chart right here and it has ...
black, gray and white on it. And so ideally if we had a correct exposure. These blacks would be absolutely the black. The gray would be spot on the white would be absolutely white. But watch what happens, I'm gonna give this to you and then I'm gonna go over here grab my light meter and we're going to meet her this light. So I've got this parabolic reflector. It's a white interior. That's what we're using and I will meet her this and m right at F 10. F 10 is the correct exposure according to my light meter. So I'm gonna set my camera to that value. So I'm set at F 10 and 1/60 of a second and I. S a 100 so hold that up sort of close to your face. Yeah, so flat like this to your face, just like that, right on your nose. Perfect. And so let's just take a shot click. Ok? You can hold that down if we come over here to the laptop and take a look at this, you can see, well blacks are black, the middle gray is middle gray, the white is white. We have a correct exposure. Now this camera, I'm using a Canon R five is really, really good. And so it has a dynamic range that can show all of those things, but we could go into the develop module and notice here on my hissed a gram. The blacks aren't actually 100% black, so I would have to come in here and pull those down so they're absolutely black. And look at that. The whites aren't absolutely white. So I have to come in here and pull those up so they are absolutely white. So even though I had a technically correct exposure, it wasn't correct. You might need it to do some things to modify that to get it just right. And that's sort of the flavor of all the photography. Um think of the photo, the digital raw image that you have as the ingredients that you can cook any way you want and so you can slide the exposure up or down, change color temperature to just do whatever you want to meet your artistic vision. And that is creatively correct exposure. So what we're gonna do, I'm gonna grab this from you Is we have rehearsed and created some some fun scenes. So we're gonna try to do these for you. So, um the the correct exposure for this is F- 10. Alright, we're just gonna talk about apertures right now, so we're just gonna do a normal shot. So look right at me, Quinn, This is just a normal shot of Quinn. Okay, and this is going to come up here on my computer, sort of boring, I'll turn off this little tethering thing and we'll try to spice it up with some some fun gesture. So let me give you sort of like a smiley face or like, oh yeah, okay, so we'll just do that and when we look at our correct exposure, ah it's boring, this is boring. So what we're going to do instead is I'm going to uh do a creatively correct exposure. I'm taking my camera and I'm going from F 10 to F 5.6, that's almost two stops. So I'm going to overexpose Quinn on purpose and the other thing I'm going to do is on my computer, You can see here's my settings 5, 6, there's a an import preset. I'm going to use Quinn overexposed. I created this beforehand. And so that's going to change the color temperature in the contrast. And some things, if you don't know what I'm doing as far as the lightroom stuff, check out my lightroom class right here on Creative Live. It goes into all of that stuff in great detail. So that's why we're not covering it here because I already have a class on that. So I'm using an import preset called Quinn overexposed with my tethering. So now let me refresh your memory. This light technically should be F 10. That's what the exposure shows. I have changed my camera to F 5.6 which will overexpose Quinn, it's gonna blow out her face and then it's going into my tethered capture where we're applying a preset that's going to change the colors just a little bit and the contrast. So are you ready? Alright, so give me some of that. Yeah, there we go bam. So now watch what happens, This is going to come in. It's totally overexposed and it's got this sort of cool contrast set to it. I think this looks so much fun. It is so cool. This might be just a little bit overexposed. That's okay, I can go in here and take that down to maybe 6. 3. Let's do another. Yeah, perfect tone. And now let's take a peek at this. This is going to come in and ah yeah, there you go. There's a whole saturday night live look that we would love from maybe the eighties, mid nineties, it looks great. So technically speaking, this is absolutely wrong. Artistically speaking. I think this is better. So if we go to the computer again, will compare the technically correct versus the technically incorrect shot. I think you'll agree that the creatively correct exposure is much better. It's just more fun. It is not correct at all, but it's a more fun photo. So what we're gonna do now is we're gonna take it even to the next level. So Quinn come on over. We're going to do something sort of crazy. I'm going to turn off this light. This guy is going to be turned off. We're not using this at all anymore. I'm gonna come over here and I'm going to turn on this light now. This light has this large silver beauty dish, I guess you would call it. It's really big and my Ellen crumb is set to full power max power. I'm gonna be shooting right here. I'm gonna be shooting into this uh this dish which means all this light is going to be blasting into the camera now because so Quinn take a step to the left, just a second notice we have this in the middle of this uh this light. So all this is, this is where the light is coming from and it's going to be caught by this. And so what happens is the majority of the light, so I'm gonna put you back in position is going to hit bam it's gonna hit Quinn on the back of the head, it's gonna block it from hitting the camera. So really what we're getting is we're getting light surrounding Quinn, so that will illuminate around her and we have a white floor here, we've got a white wall, so maybe some light will bounce in. But technically this is all wrong, this is all wrong. So let me center you again, take just like a tiny smidge this way. Just tiny tiny tiny, very perfect coming back this way. Yeah. Good. Okay, I'm gonna meet her this from the back of Quinn's head to the light just to see exactly how bright this is. Control F 81. So much light. I don't have a camera that goes anywhere near F 81 But 81 is what that says is flying onto the back of the head. Uh if I meet her toward the camera, F 6.3 is what her face should be. We're not going to do either one of those. So what I'm gonna do here is I'm going to go back to my computer, I'm going to go to my import settings here. I'm gonna change this to a preset called Quinn goddess because she will look like a goddess when we shoot these photos. So now what I'm going to do, it's going to come over here. I'm gonna set my camera to F 11. I'm just gonna guess. Somewhere in the middle and F11. Just a tiny squid that way. There we go, chinese squids. They're perfect. Stop, stop. There you go. So what I'm gonna do actually go this way, just a tiny tiny. Here. There you go. Excellent. So I need to make sure coin is blocking that light And now I'm going to take a photo. F appear. Oh, this is so much fun. And so look what we got, What the heck is this? So what's happening is this light is flying around Quinn and because it's going into the lens it's bouncing all over inside the lens. We're seeing the light inside the lens creating it's almost a boca look, it's actually lens flare. She looks like a goddess. And I've applied some slight adjustments in lightroom for that preset and now we have a creatively correct exposure and we can play. So what I'm gonna do is I'm just gonna shoot this at different aperture values at different angles and let's see how we can create some cool stuff using incorrect settings. So I'm gonna get in close F 11. I'm gonna get really wide F 11. I'm gonna get to an angle where it's coming straight into the lens, that's probably not going to work. Take a step this way. There you go, yep, just like that, try this. So we're just playing with these shots and you can see we're getting crazy stuff using settings that are technically absolutely wrong. I love this. So I'm going to go back in here. Let's just compare these side by side. Look at these images were getting, wow. And because they're raw files, we can do some more color correction, we can make them blue or red or green, we could do some compositing, we could do pretty much anything we want with them. Um it doesn't matter. We're using an incorrect exposure for a creatively correct result and let me do some different um, aperture value. So we're 11. I'm gonna go to F4. This should be absolutely horrible and then I'm gonna go up to 22, who knows what that's going to be. Let's take a look at those two. So wow, look at that looks like a star field, that's F And that is four. So I don't like it four at all. She looks like she's coming back from flatliners but it's sort of cool. It is sort of cool that we could probably do something with that. That could be sort of a crazy thing. I don't know, it's pretty cool. Um the point is don't get bound to your meter and only do what it says all of the time, take some chances. Try to do some things that are technically incorrect but creatively correct. Okay, speaking of technically correct, we need to talk about metering and how that works and uh, T. T. L. Metering and incident metering and reflected metering. And well, what is all of that stuff? So we're gonna do sort of a crash course in basic metering. Um, so let's do that next.
Class Materials
Frio Grasp Mini Discount.pdf
Sample Photos for Pop Quiz.zip
Tether Tools Pro Kit Discount.pdf
Tether Tools Starter Kit Discount.pdf
Understanding Light and Modifiers-presentation.pdf
Ratings and Reviews
Wow, Impressive with lots of information on light modifiers. Lots of variations of use and the bonus material. Mark is very good as a teacher. Glad I purchased the subscription plan so I can see the other Mark Wallace classes. Now to go to work and use the information.
I've heard much of this before, but this class really does a good job explaining and demonstrating the principles and techniques it covers. Mark is certainly quite knowledgeable, and he makes the material accessible and easy to grasp. It does cover quite a lot of ground, and while others may go into more detail, I think this class is great for building a good foundation.
Mark and his crew did an excellent job in this class. Now I am eager to see Go-To Lighting Setups and Studio Lighting Essentials. Congratulations.
Student Work