Using Photoshop Channels
How to Create Hard & Soft Selections With Channels
Jason Hoppe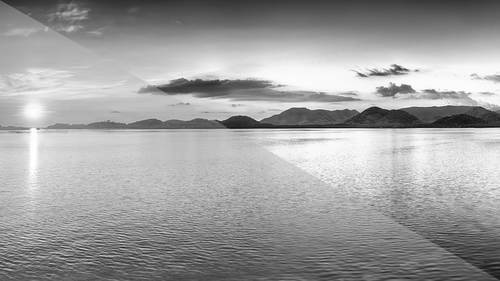 Using Photoshop Channels
Jason Hoppe
Get access to this class +2000 more taught by the world's top experts
24/7 access via desktop, mobile, or TV

New classes added every month

Download lessons for offline viewing

Exclusive content for subscribers
Lesson Info
5. How to Create Hard & Soft Selections With Channels
Lesson Info
How to Create Hard & Soft Selections With Channels
Now what I'd like to dio is I would like to get the rest of my image selected here, but before I do that, this is fine. To have a nice hard edge between my sky and my water because there's a very clear delineation line. But with the sand here, I'd like to adjust the warmth of the sand, but the sand goes out into the ocean and there's no clear delineation. Well, I just went into the hard edge selection, so that would be really awful to go in and do any type of adjustment with that hard edge selection, I want to load that selection back in here because they may want to tweak that selection two different ways. We can load selection the long way, select and then go under load selection. Choose from my list that I have, and then click OK, that's one way The other way is go to your channels panel, hold down your commands key. You're gonna get used to holding down the command key and clicking command. Click on that channel loads it right in. So here's where we can go in and we can edit a sele...
ction so that We have a hard edge on a soft edge selection right now. You can see from my channels here If I just simply click on those channels. I have a hard edge between my water and my sky. I also have a hard edge between my sand and by water. I don't want a hard edge here. I want this to be a hard edge. Okay, so now that we've specifically clicked on the channels, think of these as nothing but black and white images. Whatever you can do to a black and white image you can do to a channel. I want this to remain a hard edge. But what I want is I want this right here to be a soft edge. So I'm gonna put a selection around this area. Can't just think in basic terms of black and white image. I select that area. When you go under my filter, I'm gonna choose Ghazi and Blur. And I'm going to blur that area so that when I create a selection, it will be a soft edge selection there. Now, be careful that you don't blur too far because you'll see it's going to start running into the selection here, but I want to blur that enough that I'm going to have a totally soft edge. This is one way that we can create a selection than create a hard edge and a soft edge for areas where we need to have precision and areas that we need to have a fade in between what it is that we're doing. So if I click back on my RGB image there, my selection doesn't look any different because we can't tell with the marching ants, whether it's a hard edge or soft edge. But when I go to my channel, I can clearly tell that I have a clear delineation between my water and sky and a soft edge transition between here. So how do why, then get my selection? I have my selection for my sky. I have my selection for the water. How do I get this election down here? Well, if you view selections and you know how to draw selection, hold your shift key down. You can add to a selection. Hold your option key down. You can take away from a selection. That's the exact same thing we can do with channels. If we do this, I can command click on this channel If I'd like to add them together, I hold down my command key, but I also hold down my shift key and you'll see you'll get a plus in there. Which means Command is going to select. Plus is gonna add to it. No way. Now, if I use like, the inverse there's my selection done, I'm not going to go in and draw separate selections because they're never going to line up ever. So now that I have my third selection, I could save it because I could always go back and get it. I'm gonna save it anyway. So this is gonna be my sand. No, that's gonna be my sand. No, really, it's gonna be my sand. OK, there we go. So now what I've done is I've isolated these areas via my selections, So now they're there with my channels. Here's the interesting thing about saving selections. If I were to go in and save this as a Photoshopped file, any saves elections that you have our channels and they always come up is called be called Alfa channels. So if you have any save selection in there. That's what they're saved as. And Photoshopped files. If you have layered PSD file, this is how you can save your Alfa channels. They don't get saved in many other formats. Anything else knocks those Alfa channels out. So as long as you have a layered Photoshopped file, you will have those selections there for future use. So that's really useful tohave. So now if I want to go in and do any type of color adjustment, I could command Click and I could load that channel, jump over to my layers, create a new layer adjustment, go in and work with all of my targeting my channels here, being able to do the per channel, contrast and dial that in so that I could just all that overall and really make that look awesome. Go ahead, take the read out, grab my little finger scrubby right there and adjust it. And now we've been able to go in an isolate just the sky by itself. Go back into my channels. Here I can command click on the water. I can load the water. Now it's isolated again. Do a layer adjustment as well to be able to target that water, maybe take some of the red out of it there, so it becomes much more blue. I could go ahead and jack up the blue a little bit. Mawr, There we go. And you see, there's no defined edge between that at all. If you really want to see if I use my back slash my back slash is going to turn on and turn off either my channel or in this case, it's mine. Ask, because I've used that selection to do that, and I can clearly see where I've got my transition line. And if I turn on and turn off that color adjustment, I can't see any delineation line in there. If I go back in and I command, click on my channel to get my sand and do 1/3 adjustment layer, I can then take that sand. And if you want more yellow, you're going to go ahead and you're going to ramp up the yellow here by going to your blue Channel, and this is gonna ramp up blue. This is going to give you yellow. I know it's weird, but that's how it is. Yep, take out a little bit of green right there. That's a hint to red crab. Little shake weight in there. There we go. OK, so there it is. Now what I've done is I have isolated these areas so that I now could go in and Aiken dio all the channels separately in that particular area. So I've got a lot more adjustment capabilities. There is my sky, there is my water and there's my sand. And now I've targeted those areas. So I'm not trying to adjust the overall image. I can target those specific areas right there. Now, you'll notice whenever I have any of my adjustment layer selected and I go to my channels here, get throws in this extra little bit right here. Well, here's the interesting thing. Whenever you have a mask on something and you go into your channels, this will be your mask right here. If I never saved my adjustments or my selections here in the channels panel, here's a trick. If you went in and you created a selection around something and then like this, if I had just gone in and done a selection and then created a layer adjustment right there, my mask usually has started off as a selection. If I ever want that selection back, I can either go in and command click directly on the mask because that's how I got this election in the first place. Or that's how I got the mask, that by doing a selection or I could go to my channels. And this is exactly what it looks like when I do a layer mask, whether or not I've saved a channel so I could go in and I could take this right here. And I could save this as a channel if I didn't save it to begin with in the first place. So when these come up here, it's because you specifically have something that has a mask on it. So does show up in your channels as well, just in case you've seen those before. Yep, that's what you have. So that's yet another way. But we can treat channels just like black and white images, and so if we'd like to go in great to go ahead and select something and then take something that's in focus and out of focus, you've got a short depth of field. You put a selection around it. You can then go in and you can turn on your channel while you have your composite to then go in and work on if you want to soften or blend or put a great Asian between there so you can truly see where your selection starts and stops. In this case, I've done this once or twice, so I knew exactly how much to feather it in order to get that blend in there. What interesting thing to when you go in and use channels? You'll notice when you click on the channels, it will immediately switch over to the channel right there. If you then go back and click on your eyeball for your composite. It will turn that on and turn that off, leaving your channel in there as well. Make sure you click off, but again, when you exit here, make sure you click back on your composite because even though you've gone in and you've turned this off, that doesn't mean that you're not still on that channel. You have to click on your composite you have. Do you have to? You have to. You'll run into so many issues because it's like Why can't I do anything? It's because you've turned it on. But you haven't selected it to be there. So that's a very important thing. Learn the shortcut, folks. This is gonna be really helpful. Just go back to command, too. Command too, is gonna bring you right to it. And if you're in the middle of adjusting something, Option two is going to bring you right back to your composite. So you see Option brings you to the channel while you're in the layer. Adjustment Command, 2345 We're going to bring you to your channels when you're in your channels panel.
Class Description
Channels are a hidden yet incredible way to make extremely accurate selections for color correction as well as a way of isolating images for background removal. Jason Hoppe will walk through how to make the most of them in a variety of scenarios, including how they can be used in creating high-contrast B&W images quickly and easily. He'll show how for hard to select areas such as hair, channels make it much easier to isolate and remove subjects from a background without using the traditional selection tools. He'll also show how to get a more effective color correction and adjustment workflow by isolating your color channels.
Software Used: Adobe Photoshop CC 2017