Extend Water Image With Photoshop
Simon Peter Raible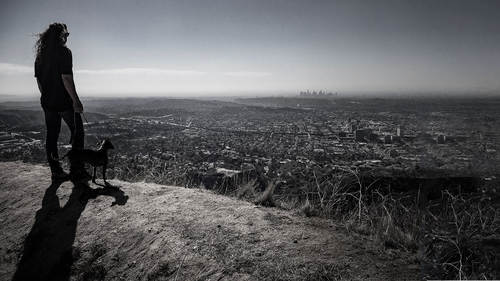 Extend Water Image With Photoshop
Simon Peter Raible
Lesson Info
3. Extend Water Image With Photoshop
Lesson Info
Extend Water Image With Photoshop
So water we do this. Here's one I'm going to start. This is up here actually, this is Whidbey Island. So, we were up here and took pictures of this. And, again this is get rid of the big chunks first. So, just get em' outta your nightmares man. Just whatever you fill that big hole with just get it done fast. Lotta stretching, a lotta free transforming just paint just start anywhere but make that big scary bit go away as fast as possible. So this is the one we are going to do. And then this one's a little different so where I just free transformed it and made everything bigger of the original and just started scooching and moving and pinching. This one I'm just going to grab left side, ride side, top and bottom and I can actually just stretch it. So you just start off with stretching it. Then you go back and you find all your bits that ain't playing well with the others and then you start wacking those guys into line. So, there's our finished piece. That's what we're going to start and ...
end with. Again, hit the big spots find out what's not looking cool and just address those. So, now once you get that big stuff out and done quick a lot of these-- now you're not looking at 100% of the job. You're looking at 85% of the job's done alright. Alright, so don't sweat that part. Just look at those little things that are jumping out at you. Address those. Go out to a ball game. Boop! Hide that, into Photoshop, here we go. Open. So, here is my Adobe Stock. Hold down control, hit the top bar. Bring it down to canvas side. Make this one pixels 5250 by 3000. The reason I picked this aspect ratio is because of Creative Live asked me to do this. It works best on their screen. So, the client always decides what size they want. So, I'm like, oh, let's play with the client. They're my client, so they get to pick how big the thing is. (audience laughs) That's how much we're going to do. We're going to start here. M for Marquee. If I'm on L, you watch this jump up here to this one for marquee by just hitting the letter M pah! And, I'm going to grab part of this-- now again, I want to leave most of it alone. There's a little bit of wiggle room there. But, I want to keep the integrity of the shot and just keep adding on to it. So, whenever you're looking at a person you can't just start stretching your niece or nephew or nothing. You gotta leave them alright and then start stretching barns and whatever else is in the back, but. So, we're here and I'm going to choose this little bit. And, I'm going to do hit command J and launch that into its own. So that's going to be our extension right there. So, together I'm going to hit command T for free transform. And, I want to take it almost up to definitely and just past and hit okay. There's our left side. L-E-F-T for left, hit M for marquee. I'm going to grab part of this. Maybe that. Command J, lift that up here that will be our right side. Command T, pull that all the way over there past the crop. Ooh yeah. All this together, command option shift E is going to merge everything together and I'm going to grab the sky right there Command J that, float that up and all together just stretch that. So all that scary stuff just goes away man. And, then you can just concentrate on artistic funsie stuff. And then down here there's this command J, stretch it to the bottom and when I do bottoms you can kinda do a little perspective move because as things get closer to you they kinda get bigger so on this free transform instead of just stretching it all the way down and past your canvas and I hit command option shift and grab these corners and it's allow me to do a perspective move and I'll just drag it out. So, all this stuff will kinda get bigger as it comes out there, yeah? Hit okay. So this is our bottom. B-O-T-T-O-M, so top. So these are all our extensions. I'm going to put this in a tiny little folder called extensions. I heard that word before that's the name of the class, extensions. Alright so, and then there's this one little thing that we made up. We don't need that anymore because now the original's going to be there. Original. So this was just kind of our work-horse. Get rid of that, don't need you anymore. Thank you very much, appreciate you showing up. Now, we got that. I'm going to command shift merge all that together and I'm going to start working on this. Let's get a notes folder here and start looking at what we don't like. Anyone see some stretch marks right there? There cotton-picking everywhere aren't they? Mmkay so, let's mark this up B This definitely looks stretched over here. And you got some stretchies happening there, all this. This kinda looks all kinda dead up here so we'll have to do something to bring that around. And then this looks kinda straight line there. And if these two connected right there that'd be awesome too. So, let's do that. All these really stretchy parts right here I'm going to go into the smudge tool and just grab a smudge brush and you can just kinda move and shape stuff around. So, all of a sudden it just doesn't look like a bunch of straight lines, huh? Yeah, that's the way we do it. Alright and then this big straight line down here I'm going to grab a great big one and just kinda scooch it out, scooch it out kiddo. Not bad, not bad. So, let's do another one of those moves where we just grab this, float it. Bring it over here and we'll mask this in real quick, B I oughta hold down-- to bring up your brushes pallet just hold down control and it'll jump up, give you all your brushes right there and then we'll click on that, that's the one I want. Hold and control option, drag out to the right, makes it nice and big. Just brush in a little of that right there. Break up that monotony. Probably wouldn't hurt over there either huh? Mask it out, B Mask it in. Alright, that's enough of that. Uh, let's start playing around with lightening. I'm going to start hitting some lights around there. This gray right here is looking a little dingy. So, I'm going to lighten all this and just put a nice face of a wave on it. So it just looks like a crest right there. So that it hits a highlight we'll just curve that right over. Ummm, some of this is looking a little faded in here. Maybe we'll want to darken down some of this. The whole sky if we just went through and just did some lightening, that'll probably help. And, then we'll just do some lightening then darken it up in there to break all that up, yeah? Now, normally I'd be sitting here making adjustment layers, lightening and darkening, but since we did actions for it. There's a darkening and there's a lightening. We can get right to it. So, I'm going to grab a brush, hit control where I got my brushes. Grab my hairbrush, my little stipple guy. Holding down control and option drag it out to here drop it down to 20% and 20% and just start dancing in some lightening first, I think. Just make happy little waves. There's that, mmkay. So wherever it's starting to look monotonous like this is all the same gray I'll just lighten over here, darken over here and then it looks like it ain't stretched anymore cause you just, you're just kinda breaking stuff up if it just looks like too much of the same thing. Just make one lighter and the other darker and leave the middle part alone. That pretty much gets you where you need to go. Here goes some lightening here. Then the other thing is with this is you can always vignette it. So, if you darken down the outside that gives you another element of making it seem like a big one whole cohesive piece. So, if everything's the same value you can darken down the vignette or lighten down the vignette on the edges and then center your eye right in here so, while I'm doing this, I'm thinking make the center of it a little lighter and the outside's going to be darker. And, then over here where everything's all-- I'm going to throw in a little ocean spray. And, then also we can do some of this up in the sky as well. Woop. Now if this is starting to get a little stippley up here. I got a smooth little thing for it. Check this out. I'll hit this. That'll be a nice big cloud up there. Okay, so in my mask right now you can see where all my airbrushes have been and here's our sky stuff. And, it kinda looks like it's kinda chunky and stippley so I'm going to just grab a L for lasso and make a selection right along here and I'm going to feather it real quick. Feather can be found in selection, modify feather but I got a quick key. That's another thing, actions and quick keys man. So, command option F brings up my feather. For this size maybe like 14 inch feather and then I can hit a blur but I can hit a blur on a motion blur so instead of just making everything fuzzy I can just motion blur like right along the edge so, or a horizontal thing so filter, blur, motion blur and then it's going to be the straight line. Here, we'll turn it off and on So, where it's all pedaly, and then you hit the blur on so it still has some moving but it smooths out the edges. Just gets the movement to happen there. And, then you can really crack this and just go bonkers if you want. So, the before and afterwards. Looks a little more realistic yeah? And, then let's do some darkening B. Darkening down here. Boop boop boop and that in there. We're going to go ahead and connect this wave crest right there. And, if it gets a little too goofy there we're going to use that motion blur thing again too. So L, lasso this bit and then feather it, 14, filter, blur, motion blur. Just let that go right there. Then you can go back and do some more. Just give a little highlights. And, some more fuzzies over here. And then on our darkening. What can we do? We can put in a vignette. Let's do that, so darkening curves there. And, a big fuzzy brush. Holding down control, hit the art, brings up that. That's the one we like. B three, three, so just do, hand do a vignette. Right on. Let me show you another little cool trick man. This is my new favorite. It's hue saturation, adjustment layer but you put on the blending mode of hard light. So, what happens there is you get a hard light adjustment layer if you do nothing it's going to increase the contrast and it's going to increase the saturation. While you're in the hue saturation move you can still adjust the lightening and darkening of it. You can adjust the color hue overall. You can go to each and every color if all of a sudden the red just starts singing to you loud you can grab your reds, pull them back. You can make them a little more yellow. It's cool, check this out. So, holding down option, go into my adjustment layers. Pull this down to hue saturation. Name this the hard light hue saturation. Put this on a hard light mode. So, right away without touching nothing dude that's it, it's just like a free-be, I'm telling you. So, if it were on normal, it wouldn't do nothing, they would wait for you to do something with it. So, it would say alright you want more saturation? Oh yeah, you want lighter? Okay, but if you do nothing but hit this little blendy thing right here soft light goes to some hard light goes a lot more. Then you can go in and you can say oh yellow, you want em' to go more green. You can go in and grab your blues of the sky you can make em' redder or more cyan if you want. That's kinda cool. I do like that one. Then, this can scruby down or leave it all the way up there and you can inverse your piece there and just brush it in where you want. So, what we were saying about the vignette is you want to like frame it and then make that something different but you want to put your eye in the center. So, let's brush in this hard light in the center. And so, all -- So, we're looking at that cliff and this center bit we can just bring in some more color right here and some contrast actually. So there's that and then our darkening can be here. Bup, bup, bup. There's our beginning and there's our end. And it's still. See, here's the thing dude is we're not just kinda, we're not taking the easy way out. We're doing the hard work. So we're saying here's what we can get away with but here's the way it oughta be done. We're gonna do it the way it oughta be done. So, the actual shot, here's your original. So, all that pretty much stays right there and we're just adding on to it. Now there's some little squiggy man. Nothing's perfect. So, you gotta lil' give a little, take a little, push a little, pull but not too far off. Simon, we got a question from the internet. I got an answer man. (laughs) How would you do it, if you wanted to make both sides of the sky the same color. Cause' you have the different tone over there, I'll do. it's like a little bit more purple. Um, okay, so. If I were to, if I want to make it this color? Yeah. I'm going to go into make a hue saturation. So, I'm going to select this corner of the sky. Kay. I'm going to hold down option, bring up a hue saturation and then match color. Match color. And then I'm going to go ahead and hit colorize and I'm gonna aim for the blue that's already there. So, hitting colorize, it's way too not blue and yellows, bring it over to blue. And once I hit the blue that I want, then I know the whole thing can go that blue by just washing it in. So I've matched the corner that I do want by looking at it, yeah? And then I'll take this command A, fill it full of black and then just brush it in where I do want it. So if we want the sky over here to be the same color, we just brush that in. If we want some of the green water to be blue we can pick up some of that. Cause' the whole things going to go blue right there. You just bring it in where you want it. So, this works real good for skin man. When you have any kind of skin in discrepancies, if you have white eyes, sun burnt forehead and just goofiness happening. It happens on hands like when folks are grabbing stuff like you'll have these really red hands and then where their skin's stretched out or they're gripping it gets real yellow. So, the easiest way to do it is run a selection over the top of it. Hue saturation colorize the whole thing a color that you think you want, and you can always go back and adjust it and such but find a neutral color that you like. Make the whole hand that color and then you just go in and start washing that over the too yellows and wash it over the too reds and everybody kinda happily meets in the middle. It's a good move for skins. Mmhmm.
Class Materials
Beaudry Rock Layered PSD File
Extension Example Step-by-Step Handout
Ratings and Reviews
I LOVE this class! Let me preface this by saying that it's not for beginners. IMO you should be at least intermediate-advanced to keep up with the fact that the instructor assumes you understand how layers, channels and shortcuts work. Having said that, he's a fantastic educator. As someone else mentioned, it's refreshing to see someone who is teaching exactly what the course name promises, he doesn't hold back and he doesn't try to sell 3rd party products. It was interesting to learn how he goes about his edits considering there's 1000 ways to do one thing in Photoshop. I would love for Creative Live to give Simon a full course on advanced Photoshop techniques since he's funny and clearly knows his craft. For the price of this course, I highly recommend it!
Dude, I really like this instructor's style! He is funny, he explains what he does, doesn't spends time selling his own business, like many instructors do here on Creative Live. The class itself is right on point, explaining how to use the various tools to create way bigger scenes from scenes you already got, but maybe they are not big enough to fulfill your needs. The use I saw in this class is, for example, when you do a big panorama, and somehow part of it is missing, then you can complete it with examples presented here. Also, recommended for making posters, or big wallpapers. If I understood correctly, the attached files contains step by step instructions how to achieve exactly what he does, which are handy for practicing. He is definitely one of my favorite instructors from Photoshop 2018.
After the incredible value of his Business of Professional Photo Retouching class, I was itching to gain some hands-on Photoshop instruction from Simon Peter Raible in this class. I honestly don't think I've ever had more "wow!" moments or learned more immediately useful techniques in my many years of watching CreativeLive courses than in this class. I've immediately been able to do things I'd never known in 15 years of using Photoshop. Simon is also such a laid-back, relaxed instructor it's a pleasure to learn from him. An absolutely must-watch course.
Student Work