Using Pinterest to Grow Your Business
Alexandra Evjen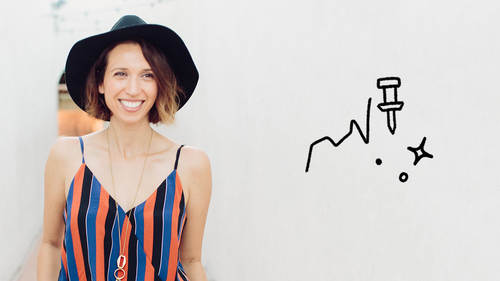 Using Pinterest to Grow Your Business
Alexandra Evjen
Class Description
Pinterest might not be the biggest social platform out there, but some argue it's the best for translating your marketing efforts into actual sales. Research shows that 87 percent of Pinners said they've bought a product because of the site, and 93 percent said they've used it to plan a future purchase.
But don't even think about hopping on Pinterest with the exact same content that you're using on other social sites. Pinners are famous for being passionate about their pinning, and they've got some pretty clear expectations about the types of things they expect to see on their boards.
Alexandra Evjen, known as the "Pinterest queen," has helped countless brands such as Target, Home Depot and Anthropologie create digital content that keeps consumers wanting more and makes products fly off the shelves. With her creative eye and strategic mind, she'll help you find success on Pinterest, too.
In this class, you'll learn how to:
Establish your brand on Pinterest.
Foster growth and community.
Create a powerful, rich and shoppable pin.
Develop a content strategy for sharing on Pinterest.
Prep for conversions.
Understand Pinterest Analytics.
Adjust your game plan based on the data.
Ratings and Reviews
Amazing! I had never thought of Pinterest as a meaningful ad platform, but I was super wrong! If one has a physical product or market in the lifestyle or fashion sectors they need to seriously consider this platform. Alexandra is easy to understand and presents her information in an engaging and thorough style. She truly is a Pinterest master!
This class was awesome! I have never really thought about how to use Pinterst to help build my brand. The only thing I wish she would touch on is how to collaborate and communicate to reach other Pinterest influencers.
Student Work