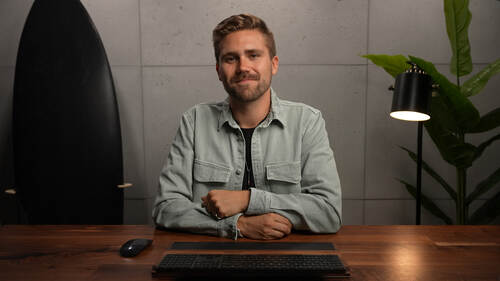 Lesson Info
32. Basic Lighting
Lesson Info
Basic Lighting
We covered the types of lights that we use in the last chapter. But now let's talk about how to use those lights to enhance the story that you're trying to tell. The standard lighting setup consists of between three to four different lighting sources. Your main light is referred to as your key light. This is the light that provides the majority of the light for your subject and scene. Your key light is often placed above your subject and pointed down at them at a 45 degree angle from your subject. This position will create what is called Rembrandt lighting. This is an example of Rembrandt lighting. This light is placed right here, 45 degrees down. Next is your fill light. It fills the shadows that were created on your subject from the key light. This light will typically be less powerful and bright than your key and it should be placed on the opposite side of your key light. Now alternatively, if you don't have an additional light to fill those shadows, you can use a reflector or a whi...
teboard to reflect the light from the key back onto the subject. Next is your hair light. You'll want to place your hair light on the same side of your subject as your key, but it will be placed behind them down on a 45 degree angle. This creates a highlight along the shoulder and hair of the subject, further separating them from the background. An additional and optional lighting source that you can add to your scene is a practical light. This is a light source that can be seen on camera. Example of this lamp in the background right now. Practical lights add interest to your shot and sometimes we use RGB lights to set the tone and mood for our shots. Now, let me show you how those all come together in this shot right here. I'm only using three of them; a key, this practical light, and kind of like a hair light that's also working as a bit of a background light here. So let me show you turning them all on and off. Okay, so let's turn the key light on. Okay, there we go. Now we have a bit of our hair light and background light. And now I'm gonna turn on our practical light here. Boom. Now, if we wanted to we could kinda fill some extra light here but I like the dramatic look on my face. Again, decide what you like for your shot.
Class Materials
Video Questionnaire/ Video Brief.pdf
Ratings and Reviews
Ok, I really enjoyed this course but you should know it is a decent overview of what to do and in what order to do them. This is not going to show you HOW to do anything but it will show you WHAT you need to think about and how to approach a production in a professional manner. Chris knows his stuff really well and everything is covered but it is just an overview. Well worth your time, especially if you are new to video but just do not think that he is going to show you how to do everything.
Student Work