Choosing the Best Platform For Your Vision
Chris Hau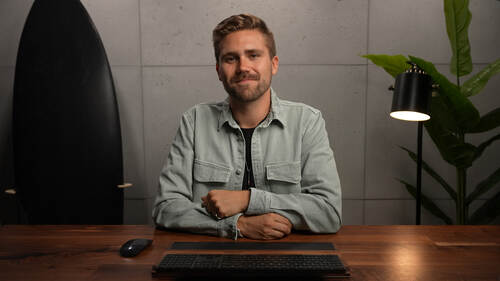 Choosing the Best Platform For Your Vision
Chris Hau
Lesson Info
3. Choosing the Best Platform For Your Vision
Lesson Info
Choosing the Best Platform For Your Vision
Now, if you want to grow a loyal following on a platform that can be monetized, YouTube is a great place to invest your time. As the second most popular search engine in the world, YouTube has 2 billion users. So it's almost guaranteed that no matter who your audience is they're bound to be on the platform. As opposed to other social platforms like TikTok and Instagram YouTube has always been geared towards longer form content, with an average video being almost 12 minutes. This means that you can have time to connect with your audience and make a lasting impact. Now recently however, with the introduction of YouTube Shorts to the mix, you can now repurpose your longer form YouTube videos for the short form video feature, which is geared towards mobile generated Short videos. Now, Instagram videos are a popular way to convert more clients with video content on Instagram's explore page showing up four times larger than photos that are featured. That means that you're more likely to be s...
een on Instagram with a video than a photo. The latest news is that the automatic caption feature will be rolling out soon so you'll be able to add captions in 16 different languages with the tap of a button once the feature hits your country. Now, while you can only post up to one minute of video on your Instagram feed, IGTV allows you to post up to 15 minutes of video when you upload it from a mobile device or 60 minutes of video when uploading from a PC. Now, TikTok is one of the fastest-growing social media platforms in the world, and the good news is that it's purely optimized for video content. TikTok is the place to be if you're looking to create regular short form video content that has the potential to grow your following quickly. Now starting with 15 second max post length, users are now able to post up to 60 seconds of video content with the most recent development being a three minute maximum length feature that is still being tested by select users. Now, TikTok also introduced video ads in so there's a huge potential if you're looking to target 13 to 40 year old audiences. Now, your client might already be sold on YouTube or Instagram or TikTok as their platform of choice, or they might already have established a channel or platform, but when you start to create their video content, it's essential that you have a solid plan of action to work with. Now, collecting ideas and refining your overall concept for your channel or feed is just as important as having a clear vision for each piece of content that you create. Now, before you start to compile a brief for your client's video content, ask them to jot down ideas for how they envision their channel to work. Now who is their main audience? What is the message that they want to communicate? It's important to define what kind of value your content would be providing for its audience, whether it's entertainment, knowledge or look into your own personal world. This is an essential exercise to do even if you already have an established channel because you'll create your content with your audience and purpose in mind.
Class Materials
Video Questionnaire/ Video Brief.pdf
Ratings and Reviews
Ok, I really enjoyed this course but you should know it is a decent overview of what to do and in what order to do them. This is not going to show you HOW to do anything but it will show you WHAT you need to think about and how to approach a production in a professional manner. Chris knows his stuff really well and everything is covered but it is just an overview. Well worth your time, especially if you are new to video but just do not think that he is going to show you how to do everything.
Student Work