Choosing Your Camera
Chris Hau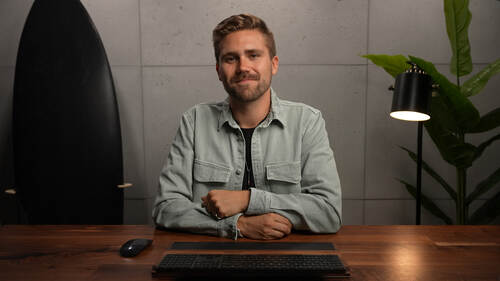 Choosing Your Camera
Chris Hau
Lesson Info
21. Choosing Your Camera
Lesson Info
Choosing Your Camera
Now, we touched on cameras briefly at the beginning of this chapter and the importance of understanding what you need and what you don't need. Now let's dive into some of the different options you'll come across when looking for a camera. Interchangeable lens cameras versus fixed lens cameras. Now, some cameras have fixed lenses while others allow for interchangeable lenses to be swapped out. Fixed lens cameras are also typically referred to as point-and-shoot cameras. When we look at lenses, you might notice the term MM thrown around, this stands for millimeter. Lenses often range from eight-millimeter all the way up to 1200-millimeter. The lower the millimeter, the wider the shot, and the more of the environment that is captured in a single frame. As we move up the millimeter, we are slowly zooming into different parts of the environment through the lens of the camera. Now, let's say we're looking up at a mountain. With a 24-millimeter lens, we get the ground, river and trees below t...
he mountain, the mountain, and the sky. Now, let's say we switch to an 85-millimeter lens. Now, we might just get the mountain and a bit of the sky in the frame while standing from the exact same spot. But if we switch to a 400-millimeter lens, we may just be framing the peak of the mountain. Then if we switch to a 1200-millimeter lens, you might be able to zoom in on the mountain goat standing near the peak of the mountain. There are prime lenses known as fixed lenses. These lenses do not have the ability to zoom but the trade-off is that they often have lower f-stops, also known as faster lenses, which is great for achieving a nice looking depth of field or shooting in lower light environments. The most common prime lenses are 35-millimeter, 50-millimeter, and 85-millimeter. Then there are zoom lenses. These look like 24 to 70-millimeter, which means they cover a range of millimeters. These lenses are highly used and sought after because of their versatility, but the trade-off is that they are often slower f-stops and potentially not as sharp as a prime lens. But with the advances in optic technology, that is becoming less and less of an issue these days. For example, the Sony G Master Lenses are very sharp on their zoom lineup. Now, the best and most common zoom lenses are the 16 to 35-millimeter, 24 to 70-millimeter, and the 70 to 200-millimeter, also known as the Holy Trinity of lenses. Now, we have DSLR versus mirrorless. Now DSLR stands for digital single-lens reflex, and is probably what you're most familiar with. The functionality of a DSLR and mirrorless camera are basically the same, light travels through the lens and hits the camera sensor, ultimately capturing your video. The only real difference between the two comes through the fact that DSLR cameras have a mirror that reflects the image scene through the lens to the viewfinder while mirrorless cameras utilize an electronic viewfinder. As a result, mirrorless cameras are often smaller and lighter, which as someone who produces a lot of travel content is very beneficial to myself as I try to keep my kit as light as possible. Now let's talk about sensor sizes. There are many different sensor formats, such as full frame, APS-C, medium format, and Micro Four Thirds. For the purposes of this course, we'll only concern ourselves with full frame and APSC. These names all refer to the physical size of the sensor. You might be asking yourself, does size really matter? Well, the bigger the sensor, the more information that is being gathered by the camera. This means more dynamic range, improved low light performance, and all around more information to work with in post production. Now APSC sensors are smaller than full frame and commonly seen in cameras directed at entry level consumers. The sensor size keeps the cost of the camera lower, meaning there is less of a barrier to entry. However, with smaller sensors comes a few compromises, the main one being crop factor. What this means is that if you want to shoot the exact same focal length on an APSC camera and a full frame camera, you would have to multiply the focal length of the APSC by 1.5 or 1.6 on a Canon camera. For example, if we're shooting at 50 millimeters on a full frame camera, if we wanted to match the focal length when shooting on an APSC camera, we would have to multiply 50 millimeters by 1.5, which would give us the focal length of 75 millimeters. That means 75 millimeters on an APSC camera is equivalent to 50 millimeters on a full frame camera. Now, another camera to consider is the smartphone camera. This is an option that most people have on their person at all times. Now, smartphone cameras are getting better and better with each new phone release and are very straightforward to use. You also have features like time lapse and slow motion built in, which can add an extra element of interest to your video. While you cannot swap out lenses on a smartphone camera, you can buy lens attachments to change your focal length. One downside though of smartphone cameras, is that they typically won't allow you to change the settings like your DSLR or mirrorless camera will. There are apps though that can work around this if you really wanna shoot manual.
Class Materials
Video Questionnaire/ Video Brief.pdf
Ratings and Reviews
Ok, I really enjoyed this course but you should know it is a decent overview of what to do and in what order to do them. This is not going to show you HOW to do anything but it will show you WHAT you need to think about and how to approach a production in a professional manner. Chris knows his stuff really well and everything is covered but it is just an overview. Well worth your time, especially if you are new to video but just do not think that he is going to show you how to do everything.
Student Work