Class Introduction
Chris Hau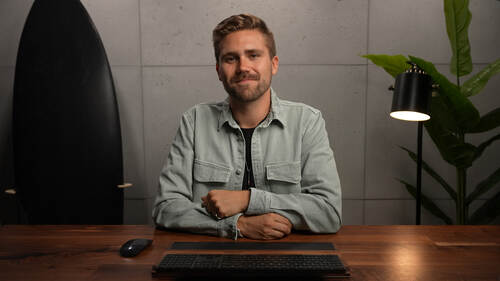 Class Introduction
Chris Hau
Lesson Info
1. Class Introduction
Learn about Chris and what to expect from his course.
Lesson Info
Class Introduction
(upbeat music) Hi, I'm Chris How and welcome to my very first course, brought to you by Fiverr Learn. Now I've been a video content creator for over 10 years. And for the past four years, I've been posting videos on YouTube sharing filmmaking tips, tricks, and best practices to help other creators bring their ideas to life. In addition to that, I've shot and edited commercials for Corona beer, Mercedes-Benz, and Adobe. Now as an online content creator, I do value the work that Fiverr does in providing opportunities for online freelancers and business owners to maximize their potential and grow their brands globally. Now that's why I've chosen to partner with Fiverr Learn for this social media video course to help freelancers, brands, and business owners just like you to get millions of views and grow your following. Now who is this course for? This course is open to anyone wanting to learn what it takes to build your social media platforms with high quality video content. Whether you...
're looking to start a brand new YouTube channel or you're interested in taking your existing social platforms to the next level, the content in this course does not require any prior technical knowledge, whether you've never picked up a camera before or want to start creating videos for your business or brand, then this is the course for you. Now, here are the course highlights. What does this course cover? Here in my Learn course, I'm gonna share with you the fundamentals of making a video from concept two creation. This includes pre-planning, the tools you need to create video, onset tips and tricks, post-production, and a bonus chapter on marketing and distribution. Now before we begin, I want to share with you an important principle that has always guided me. Creativity is a muscle. You have to work on it. And the more that you work on it, the better you will become on tapping into that creativity. So while in this course, I will be providing you with the tools and foundational skills for creating valuable content, it's also important to practice these lessons and get those reps in. Now I've divided this course into seven chapters and each chapter builds on the previous one. So make sure you watch everything in order. PS by the way, there's a bonus chapter on how to market your final video so it actually gets seen. Now, if there's an area that you don't feel confident with right off the bat, do not worry because along the way I'll be taking you through how we actually set up this shot you're looking at right now. So don't waste another second feeling stuck on how to make killer video content to grow your online following. Join me in this course now and let's start creating.
Class Materials
Video Questionnaire/ Video Brief.pdf
Ratings and Reviews
Ok, I really enjoyed this course but you should know it is a decent overview of what to do and in what order to do them. This is not going to show you HOW to do anything but it will show you WHAT you need to think about and how to approach a production in a professional manner. Chris knows his stuff really well and everything is covered but it is just an overview. Well worth your time, especially if you are new to video but just do not think that he is going to show you how to do everything.
Student Work