Element One: Content (Visuals & Interviews)
Chris Hau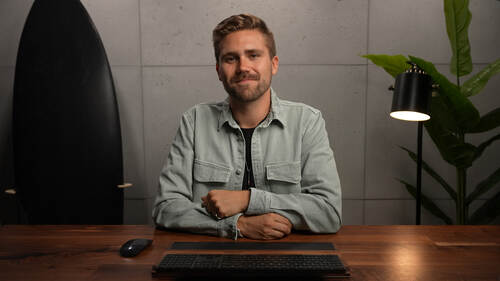 Element One: Content (Visuals & Interviews)
Chris Hau
Lesson Info
10. Element One: Content (Visuals & Interviews)
Lesson Info
Element One: Content (Visuals & Interviews)
Welcome to "Element One: Content," which includes visuals and interviews. Now the first element, live action, is really the foundation for bringing most stories to life. Whether you're recording in a controlled studio environment like this one here, inside a business, or out in the real world, more running gun style, live action on camera is a powerful and relatable way to bring any story to life. Now, we observe live action every day on TV shows and movies, but we also see live action on popular platforms like: YouTube, Instagram and TikTok. Now essentially anything that happens in front of a camera is considered live action. This right now is live action. But what isn't live action, are things like 3D animations, CGI, text overlays, or anything else that wasn't actually captured live, in front of the lens. Three of the most common forms of live action shots are: interview style, talking head, and a scripted scene. Now interview and talking head style shots are similar to each other, ...
but they are not identical. The main difference being that an interview is more of a conversation between the subject and somebody either on or off-camera, and the audience is witnessing this conversation but isn't necessarily a part of it. On the other hand, with a talking head shot, the audience is a part of the conversation because the person on camera or the talent, is looking into the camera talking directly to the audience. This right here, me talking to you, is a talking head shot, not an interview. Here is an example of an interview. I started smoking because I wanted to be an adult. That was all small stuff compared to what it's like not to breathe. I didn't think getting sick would ever happen to me. When I got COPD, I was tap dancing one week, and then five days later I could not get around the coffee table at home. The third most commonly used form of live action is a scripted scene. A scripted scene is when actors or actresses present scripted dialogue on camera, often without addressing the audience. The audience is experiencing the scene play out through the lens of the camera. It's good to understand the subtle differences here, because what type of live action shot you choose is crucial to how your message is received by the viewer. So let's say you're making a promotional video for a business. Ask yourself which type of live action shot should you use to achieve the goal of the project? Is the talent addressing the audience? Is it more effective to have a real interview? Or is it best to script the content, use actors, and showcase a scene? Well, there's one key factor that you'll wanna pay attention to when you're preparing the creative script or overview. And that is to figure out who is speaking. While there are no strict rules here, just remember that most people don't have experience being on camera. So if you're not hiring an actor, an interview style is best. The talent can speak more candidly in a relaxed setting. This will ultimately resonate more with your audience. If your talent has experience, they might be better suited for a talking head style video, where they're speaking directly to the camera and audience. And lastly, you could hire actors to play out a scripted scene. Let me show you a few examples of a talking head. Does anyone else get the feeling that Instagram is dying? I can't be the only one. Comment if you are with me right now. Part of the reason I feel like we're feeling this way, is because TikTok is doing something super, super sneaky right now. And here is an example of an interview. So I decided to apply for the AAA program when I was working as a COPE Analyst for the Regional Municipality Work. I had recently completed my master's degree in Public Policy at the University of Toronto, and so I really wanted to gain further experience, and particularly more hands-on experience, within public sector finance. And here is an example of a scripted scene. All right, thank you everyone for joining this meeting today. As you guys know, it's been a few weeks since we released a camera. So engineering team, what do we have? Hi, sir. Our team's been working very hard, and we're proud to announce (exhales) our masterpiece: the Sony A1. We just went through three examples of something referred to as A-Roll. A great way to think of A-Roll, is media that tells the story. Such as an interview or a news segment. It's the primary audio and video that often consists of one or more people discussing a topic, or relating a narrative. The problem is that A-Roll by itself, tends to become extremely boring, making it harder for the audience to remain engaged. This is where B-Roll comes in. Now another form of live action is B-Roll. B-Roll is supplemental or alternative footage that supports the narrative of A-Roll footage. For example, let's say you're shooting a commercial for a local hair salon. You'll first want to capture your A-Roll. You decide to shoot an interview with the owner of the salon and they tell you about their business. While they mention different parts of their business, we see footage to support what they are talking about. It could be footage of the store, people getting a haircut, and different items that they sell. This is footage that will be layered and intercut with the A-Roll footage. Now later on in this course, we will learn how to film an interview and how to capture B-Roll. But for now, let's continue going through the rest of our storytelling techniques.
Class Materials
Video Questionnaire/ Video Brief.pdf
Ratings and Reviews
Ok, I really enjoyed this course but you should know it is a decent overview of what to do and in what order to do them. This is not going to show you HOW to do anything but it will show you WHAT you need to think about and how to approach a production in a professional manner. Chris knows his stuff really well and everything is covered but it is just an overview. Well worth your time, especially if you are new to video but just do not think that he is going to show you how to do everything.
Student Work