Element Three: Call to Action
Chris Hau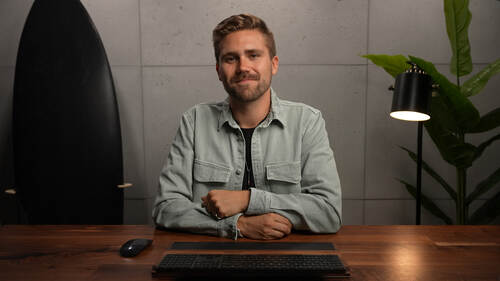 Element Three: Call to Action
Chris Hau
Lesson Info
12. Element Three: Call to Action
Lesson Info
Element Three: Call to Action
Now when someone watches your video, what do you want them to do at the end? What action do you want them to take? This is called a call to action or a CTA in advertising lingo. A call to action is a statement, tagline, or visual at the end of your video which motivates the viewer, reader, or listener to perform a specific act typically taking the form of an instruction or directive. Example being buy now, click here, learn more. You've you've heard all of these before. The most common call to action you've probably experienced is at the end of most YouTube videos when you hear like, subscribe, and hit the bell to be notified, that is a call to action that helps a YouTuber get a subscriber and increases the chances of their video being promoted by the YouTube algorithm. Now, this is why a project brief is so important because this helps us to define the video's purpose and call to action. If you know what your purpose or main goal is for the channel or feed, or for each piece of conten...
t that you put out, coming up with a call to action will be much simpler and you'll inevitably get more people to do what you want. Now, for example, if you're looking for more subscribers, a call to action might be hit the subscribe button below if you want more awesome content like this (bell dinging) or something along those lines. And if you're looking for your audience to go to a specific link to download your new course, your call to action would be more along the lines of click the link below to learn all about my brand new course. Your video is your opportunity to address your audience directly and ask them to take a clear decisive action. Don't miss out on the chance to ask for exactly what you want.
Class Materials
Video Questionnaire/ Video Brief.pdf
Ratings and Reviews
Ok, I really enjoyed this course but you should know it is a decent overview of what to do and in what order to do them. This is not going to show you HOW to do anything but it will show you WHAT you need to think about and how to approach a production in a professional manner. Chris knows his stuff really well and everything is covered but it is just an overview. Well worth your time, especially if you are new to video but just do not think that he is going to show you how to do everything.
Student Work