Element Two: Graphics/VFX
Chris Hau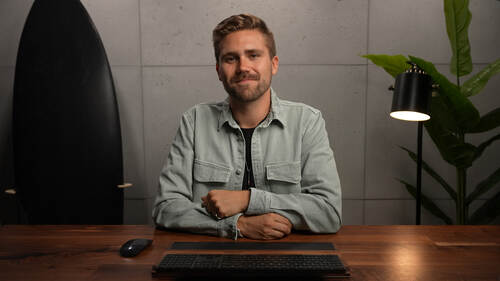 Element Two: Graphics/VFX
Chris Hau
Lesson Info
11. Element Two: Graphics/VFX
Lesson Info
Element Two: Graphics/VFX
Now when watching a video you may have noticed text on screen, little icons, animated maps, or digital characters. These are graphics in visual effects. Visual effects, sometimes abbreviated VFX, is the process by which imagery is created outside the context of a live action shot in filmmaking and video production. Now visual effects help to stimulate the imagined events in a story or virtual world. For example, let's say you're making a film about twisters. It would be unsafe to put your actors in front of a real twister. So you would work with a special effects artist to create a fake twister for your scene. These elements help keep the audience engaged while also helping to further develop a point or storyline to the video that you are creating. Now let's use another example, but for text now. We often see text used in commercials to list the features of the product or the service being offered. Adding text to your video adds more information to the video that you want your audience...
to know that may or may not need to be said. Now, often animated text is used to reveal the title for the video that you're creating. You often see it at the end of a feature film when the credit sequence starts too. Another common use of text is for subtitles and foreign films. Now, there are many tools available today that make it easy for you to animate text, but what's more important is how you incorporate text. Choosing when, where, and how it's used is the hardest part. And most editing softwares allow the ability to animate text onto your videos without the need for additional software. Adding systems like iMovie, Premiere Pro, After effects, Final Cut or In Video, all offer built in text and graphics editors. Now, one of the best places to use graphics is for your thumbnail. You can use an array of tools to design your cover art so that your audience can navigate your playlist or feed easily. Your thumbnail is one of the first impressions that the user will have of your video. So using dynamic graphics to create art that will stop the audience from scrolling past is an essential part of setting up your video content for success. Platforms like canva.com make it super easy to create everything from YouTube channel art and display ads to icons, thumbnails, video ads, TikTok, end frames, and even has a wide selection of video templates that you can use to enhance your content.
Class Materials
Video Questionnaire/ Video Brief.pdf
Ratings and Reviews
Ok, I really enjoyed this course but you should know it is a decent overview of what to do and in what order to do them. This is not going to show you HOW to do anything but it will show you WHAT you need to think about and how to approach a production in a professional manner. Chris knows his stuff really well and everything is covered but it is just an overview. Well worth your time, especially if you are new to video but just do not think that he is going to show you how to do everything.
Student Work