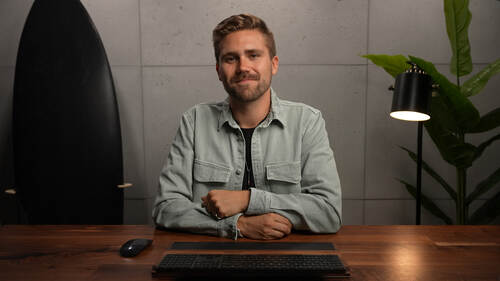 Lesson Info
Framing
Now let's talk about how to frame something that's in the camera. There's actually a trick that's used to help guide you how to properly frame something, and that's called the rule of thirds. Now the basic principle behind the rule of thirds is to imagine breaking an image down into thirds, both horizontally and vertically so that you have nine parts. Here is an example of what the rule of thirds looks like. This is usually a grid that you can actually bring up in your camera. The rule of thirds reveals four important parts of the image, which is where you should consider placing something of interest as you frame your image. The theory is that if you place points of interest in the intersections or along the lines, that your image becomes more balanced and will enable a viewer of the image to interact with it more naturally. Studies have shown that when viewing images that people's eyes usually go to one of the intersection points most naturally, rather than to the center of the shot.
So using the rule of thirds works with this natural way of viewing an image rather than working against it. Now see this image on screen. Watch what happens when I reframe it using the rule of thirds. See, that looks way better. Remember when we chatted about lenses in chapter four, this is where we'll talk about the use of lenses and the types of shots that they can create. Now, I'm going to refer to all of these shots when shooting an actor in a single environment, let's start with a wide shot. This seems fairly simple. A wide shot is a wide angle shot, usually with a 14 to 24 millimeter lens that is used to establish the scene, and/or showcase the character in that environment. You can see the location and the character or an actor from head to toe in the frame. Now an extreme wide shot. An extreme wide shot still uses a wide angle lens like a 14 millimeter or 24, but moves extremely far away from our subject to get a super wide of our location. If there's an actor, they may be really small in the frame. This is usually to showcase the vastness of an environment. Next is a closeup. A closeup is often used in film to showcase the character's reactions. If we're using a human when framing the frame would include the top of their head down to the middle of their neck. An extreme closeup is usually used on an actor's specific body part, for example, an extreme closeup on the eyes or hands. This allows the audience to see the subtle reactions of the actor. Now a medium wide, a medium wide shot is usually a shot with a 35 millimeter to 50-millimeter lens. The actor will be in frame from roughly the belly button to the top of their head. A two-shot, a two-shot is often used to showcase two actors in a scene, usually similar to a medium shot but contains two people. Over the shoulder. An over-the-shoulder shot is often used as a cutaway during dialogue between two actors. You would look over the shoulder of one actor to see the other actor. A low-angle shot. A low-angle shot is when the camera is placed closer to the ground and is pointed upwards. This is significant because it usually positions the actor as being powerful or bigger than they actually are. Dutch angle. A Dutch-angle shot is when the camera is generally in a 45-degree rotation. It is usually used to establish something being uncomfortable and/or is a stylistic choice. It is common to see this type of shot in club videos. Ariel, an ariel shot is often captured with a drone or helicopter. An ariel is often used to establish the location or environment that the actor is in. It is shot from a bird's eye perspective. Let's cover more movement in videography. Zoom, this is when you use a lens to move from either a wide angle millimeter like 24 to or vice versa. This is used to bring attention to a specific subject or reveal a specific subject. Panning, in videography or cinematography, a pan shot is a horizontal camera movement where the camera pivots left or right while its base remains in a fixed location. Tilting, tilting is when you move the camera vertically, up to down or down to up, while its base is fixated to a certain point. Dolly, a dolly is when you move the entire camera forwards and backwards, typically on some sort of track or motorized vehicle. This type of movement can create beautiful flowing effects when done correctly. If you want an attempt at dolly, make sure your track is stable and will allow for fluid movement. Tracking, tracking is similar to dollying, only that you are moving the camera from left to right, instead of in and out. Pedestal, a pedestal is when you move the camera vertically up or down while it's fixated on one location, and then there's rack focus. Okay, so I'm gonna call it out. Rack focus is not much of a camera movement as it is more of a technique, but many beginners overlook this essential skill. You have to adjust the lens to start on a blurry image and then shift the focus to make it crispper or vice versa. That's a rack focus.
Class Materials
Video Questionnaire/ Video Brief.pdf
Ratings and Reviews
Ok, I really enjoyed this course but you should know it is a decent overview of what to do and in what order to do them. This is not going to show you HOW to do anything but it will show you WHAT you need to think about and how to approach a production in a professional manner. Chris knows his stuff really well and everything is covered but it is just an overview. Well worth your time, especially if you are new to video but just do not think that he is going to show you how to do everything.
Student Work