How to Get Eyes on Your Videos
Chris Hau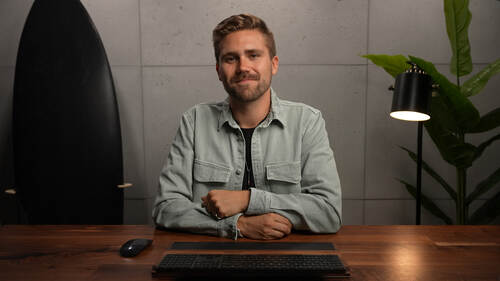 How to Get Eyes on Your Videos
Chris Hau
Lesson Info
50. How to Get Eyes on Your Videos
Lesson Info
How to Get Eyes on Your Videos
So, how do I get people to see my video? Now I'll never forget a quote that one of my professors told me on the first day of university. "Quality always rises to the top." And nothing can be more universal when it comes to creating something, especially in video. First and foremost, if you want people to watch your video, it has to be quality content. It doesn't matter if it's a YouTube video, a commercial, a documentary, or a short film, let's say it again. "Quality rises to the top." If something is great, people will share it. Talk about it with friends and family. The YouTube, Instagram and TikTok algorithm will reward you by pushing your video out to more people. The best form of marketing is having a good product because the product markets itself. Now that we've gotten a high-level out of the way, let's go back to the project brief. In the brief, we asked the question, "On what platform do you want your videos to appear?" Example given, YouTube, Instagram, TikTok, Facebook, a te...
levision advertisement. Picking your distribution ahead of time is extremely important because different creative works better on each platform. For example, YouTube wants their users to stay on their platform for as long as possible so they can sell more ads. They reward creators by pushing out videos if their watch time is between five to 10 minutes. So logger form content generally performs better on YouTube. There's also a difference on how the audience is prime. When someone goes to YouTube, they're expecting to watch longer form videos. This is different than let's say Facebook. Facebook watch videos are interjected between the news and your friend's status. So people are less likely to watch longer form content because they're just stumbling upon it. So 30 seconds to three minute videos work best on Facebook. So make sure you have the right distribution in mind when you're creating your video, it will dictate your length, formats, creative, and call to action. Now, let me run through the most popular distribution outlets, and give you my suggestions for length. On YouTube, I would recommend anywhere between five to 10 minutes. On Facebook, watch 30 seconds to three minutes. On TikTok, 15 seconds to 60 seconds. Instagram Reels, roughly around less than 30 seconds. Vimeo, anything as long as it's super high-quality. Another important part to getting your video seen is SEO. Now SEO stands for Search Engine Optimization. Essentially you're titling, and adding descriptions to your videos so search engines like Google will suggest the videos to people looking for a certain niche or topic. We'll go into more detail about that shortly. Title and thumbnails may be one of the most challenging parts of video marketing. I always relate it back to a book title and cover. Let's say you're at the bookstore browsing for a new book, ask yourself what books you pick up? Was it because of the title or the cover? Before anyone reads a book, they have to be intrigued to pick up the book and open it. So books need a good cover, and title or no one will even read it. It's the exact same principle for videos especially on YouTube. You have to have a title and thumbnail that makes people want to click on your video. Sometimes we spent just as long editing a thumbnail, and title as we did actually making the final YouTube video. No joke. It happens on the regular. If you constantly want to get views, it's important to put out regular content. If someone finds your video and enjoys it, they will follow you along for future content on the promise it will be just as good as the video they just watch. This is a good way to get views on regular basis by building a tribe, and audience that is interested in the content that you produce, also known as subscribers or followers or you know, whatever else they might call in the future. And lastly, is email list. It isn't easy to build an email list, but it's one of the most effective ways to reach someone. Instagram, YouTube and TikTok could die tomorrow, but we will always have email. So if you can find a way to capture emails, then you can send your videos out to your audience every time you complete one. I highly encourage you to try to build an email list. I'll add an extra sidebar here. There are now services where people can opt-in their telephone number, and you can build a cell phone list, which means that you can mass text your audience when you have a new video coming out. This has a huge conversion rate by the way. It's almost like an 80% open rate if you send texts. So let's deep dive into how you title videos.
Class Materials
Video Questionnaire/ Video Brief.pdf
Ratings and Reviews
Ok, I really enjoyed this course but you should know it is a decent overview of what to do and in what order to do them. This is not going to show you HOW to do anything but it will show you WHAT you need to think about and how to approach a production in a professional manner. Chris knows his stuff really well and everything is covered but it is just an overview. Well worth your time, especially if you are new to video but just do not think that he is going to show you how to do everything.
Student Work