How to Name Your Video for Conversion
Chris Hau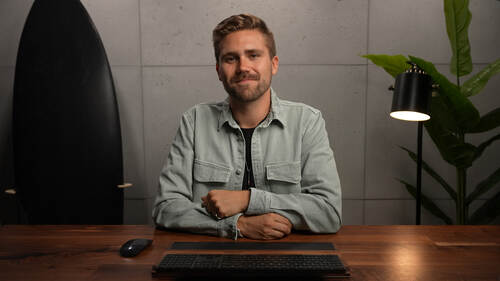 How to Name Your Video for Conversion
Chris Hau
Lesson Info
51. How to Name Your Video for Conversion
Lesson Info
How to Name Your Video for Conversion
In this section, we're going to be talking about titles and thumbnails. Now, here are some super high level tips on how to name your video. Let's use YouTube as an example, as it's one of the most common forms of distributing content. If you want people to watch your video on YouTube, you need a compelling video title. Make sure the title reflects exactly what is in the video that the audience is about to watch. YouTube's algorithm is super intelligent. It analyzes everything in your title and thumbnail so it can find an audience that's interested in what you created. Do not try and trick your audience with a super clicky title, but the video doesn't speak to that title at all. That's the worst thing that you can do to build trust with an audience. Also, YouTube's algorithm will not promote your video organically. Here's what I've learned about good YouTube titles. First, YouTube allows you to have a hundred characters in the title. From my experience, I always aim for 60 characters or...
less. If you're between 60 and 70, you're in a good spot. If it applies, I try to include a question in the title. On a subconscious level, the person viewing your title would like that question answered, and your video will answer that question. On top of that, if you can address your audience in the title by using words like "you" and capitalize them if you want. It makes it more personal, and it also makes it about them. And everyone's like a little bit selfish, by the way, so if you can make it about the person that's watching the video, you'll have a higher chance of success. For example, a high performing title for me was "12 versus 102 megapixels. Can you spot the difference?" This title was extremely effective because the video was exactly about 12 versus 102 mega pixels. Two, the "You" was capitalized and directed right at the audience. It encouraged them to participate in the video. And three, it included a question that needed to be answered by watching the video. This is what made this title very successful. Now let's cover some high level tips for thumbnails that have worked for me. When you can try and include a face. People are drawn to faces in thumbnails. High contrast photos generally perform better. The YouTube algorithm is extremely intelligent and will analyze everything in your thumbnail. I literally mean everything in your thumbnail. Then it will cross check it against your video to make sure that your thumbnail is not misleading and it matches what the video is about. For YouTube, it's all about keeping people on the YouTube platform. So they're trying to make sure that there's nothing that would cause a person to be like, "Hmm, I wanna go away" Or like "There's too much spam on this website "so I'm not gonna watch it anymore." They wanna sell ads. So remember you have to work in terms of YouTube's goals. If I can, I usually try to grab a screen grab from my video which is a still frame photo from the video and then incorporate that into my thumbnail. Now, going back to the example of "12 versus 102 megapixels, can you spot the difference?" The thumbnail included two celebrity guests that were in the video plus examples of the photo. The video thumbnail promised on what was in the video and the YouTube algorithm rewarded us with over 200,000 views on that video. I actually think it's closer to 300,000 views now. So a good title and thumbnail can work wonders.
Class Materials
Video Questionnaire/ Video Brief.pdf
Ratings and Reviews
Ok, I really enjoyed this course but you should know it is a decent overview of what to do and in what order to do them. This is not going to show you HOW to do anything but it will show you WHAT you need to think about and how to approach a production in a professional manner. Chris knows his stuff really well and everything is covered but it is just an overview. Well worth your time, especially if you are new to video but just do not think that he is going to show you how to do everything.
Student Work