Lighting Equipment Basics
Chris Hau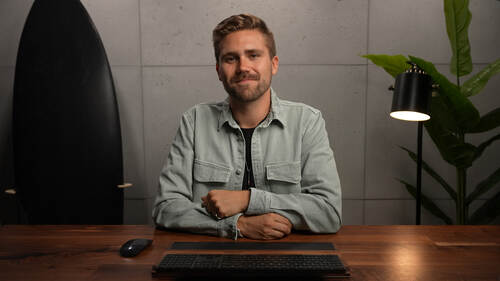 Lighting Equipment Basics
Chris Hau
Lesson Info
23. Lighting Equipment Basics
Lesson Info
Lighting Equipment Basics
The lighting in a scene can dramatically impact the way that your viewer reacts to your video. We will go into more detail on how to use your lighting equipment in your video in future chapters, but for now, let's familiarize ourselves with the tools first. For this, I will walk you through the tools that we use on a day-to-day basis. For our main light, also known as our key light, we use the aperture 120D II. This light is pointed at our subject. Because this light is so powerful, we need to be able to diffuse it. Our 120D II is equipped with a soft box, which diffuses the light so it isn't as harsh on your subject. Diffusing a light source simply means making it softer. Example. Think of the sun as your light source. On a day with no clouds in the sky, your shadow will have very harsh lines. Here's an example. This is like using a light without any diffusion. It's going to be very harsh-looking. Now on a cloudy day, the sun has to pass through all the clouds, resulting in softer lin...
es. In this situation, the clouds are your diffusion. Soft lighting is generally more appealing to the audience. And that's why we like to use it. In addition to the 120D, we use Nanlite Tubes when we are on the go since they are more portable. On top of that, we're able to control the brightness and color. Now, unlike the 120D, the Nanlites are RGB lights which means that we can change more than just the color temperature. We can change the color of the light itself. We can make it blue, red, orange, literally, whatever color we want. Now, whenever we want to add some extra interest to our shots, we'll use these little aperture light blocks. Similar to the Nanlites, they are RGB lights that allow us to change the brightness and color while being small enough to hide in the shot. We tend to use these to add a splash of color to the background of a scene or as a hair light to create some more separation between the subject and the background. That's why it's placed right there. They're small and magnetic which means it's useful to have in your kit if you ever need a light when you're on the go. If you have no lighting equipment at all, that is okay too. You can still light your video using the sun. Now like I mentioned in my earlier example, when using the sun as your light source, you'll need to add some diffusion between your subject and the sun so when the light passes through it, it will appear softer. You can buy fold out reflectors for a reasonably affordable cost that have built-in diffusion fabric which is great for softening the light on your subject. Now like I just mentioned, having a reflector in your kit is also very beneficial as it allows you to bounce light onto your subject.
Class Materials
Video Questionnaire/ Video Brief.pdf
Ratings and Reviews
Ok, I really enjoyed this course but you should know it is a decent overview of what to do and in what order to do them. This is not going to show you HOW to do anything but it will show you WHAT you need to think about and how to approach a production in a professional manner. Chris knows his stuff really well and everything is covered but it is just an overview. Well worth your time, especially if you are new to video but just do not think that he is going to show you how to do everything.
Student Work