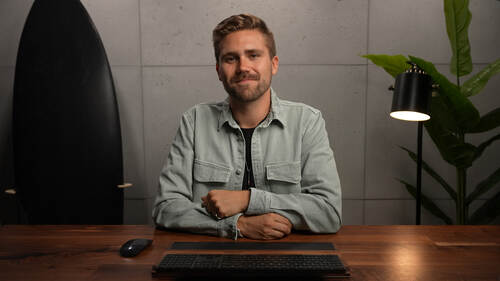 Lesson Info
41. Pro Video Tips
Lesson Info
Pro Video Tips
Now there's only two things I'd like to do to make sure that we're actually complete to start shooting this course right now. So what we're gonna do is we're gonna dress up the background a bit with some props and then we're gonna add sound blankets around me to really isolate the sound and dampen it so that you get high quality audio, good looking background. So right over here we have a practical light. When I say practical, this is like an actual light that will end up in our final shot. So if you're ever watching a movie and you see a lamp in the shot and that's helping to glow or add light to some sort of actor's face, that is a practical light. A light that is in the final shot. So let's add this practical light over here. We're just gonna screw that into our light source here. We're gonna turn that on. Boom, we got ourselves a little tungsten light, a little warmer light that we're gonna add into the background of our shot here. Cool, so we just added a practical light in our sh...
ot. Anytime that you add a practical light you wanna make sure that it's not casting any weird color. So because this light is pointing down, it shouldn't have any weird yellow cast on my face. If you're worried about anything like that, just dim the light down and, or just position it in a spot where it looks good for the subject. And our last thing is I have some plants here and a black surfboard that I'm gonna add into our shot and maybe we'll add one more fancy production light just to dress up the background. And then we'll add those sound blankets. So this is more or less what the final dressing will look like on our set. I think this looks really good. When you start to imagine what this room looked like before only like an hour ago before setup, you think, "Oh, whoa, how would we be able to get a shot like that?" This is what we can turn it into. This is how we can position the right microphones, position the right lights, add some practical lights into it, add some set dressing, add these other lights here, and the final stage is make sure the audio sounds the best it can be because people listen with their eyes. Now I know that sounds kind of strange, but when you're watching a movie and the audio quality is bad, you think, this is a bad movie because it makes you think the image looks worse. So you always wanna make sure you have the best quality audio. And the more controlled audio, more controlled lighting situations, the better your video. And this is our final shot. So hopefully you enjoyed a little shadow, a little fall along, a little BTS of how we actually set up for any one of our YouTube videos or in this case, how we set up for this course.
Class Materials
Video Questionnaire/ Video Brief.pdf
Ratings and Reviews
Ok, I really enjoyed this course but you should know it is a decent overview of what to do and in what order to do them. This is not going to show you HOW to do anything but it will show you WHAT you need to think about and how to approach a production in a professional manner. Chris knows his stuff really well and everything is covered but it is just an overview. Well worth your time, especially if you are new to video but just do not think that he is going to show you how to do everything.
Student Work