Recording Sounds
Chris Hau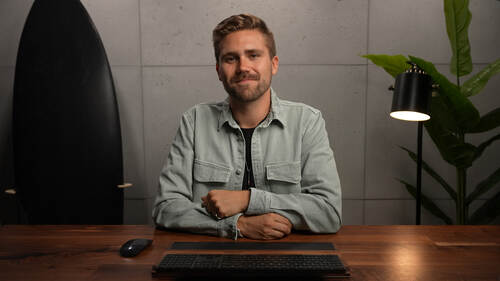 Recording Sounds
Chris Hau
Lesson Info
33. Recording Sounds
Lesson Info
Recording Sounds
Now, we covered the different types of microphones in the previous chapter, but let's cover when and why you'll want to use them. The method that you choose to record your sound will depend heavily on the circumstances. Always monitor your audio on set. You never know when something could go wrong, and bad audio will ruin a shoot. The last thing that you want after a long day on set is to come home to find out that all your audio is too loud or too quiet. A good rule of thumb when monitoring audio is to always aim for your input or gain level to be between negative six and negative 12 DB mark. This way you can ensure that your audio doesn't peak or sound distorted. Now peeking simply means that your audio levels went too high and didn't compensate for that while you were recording. This will result in your audio being distorted. Now once your audio is distorted, it's much harder to recover and work with. Plus it just sounds like garbage. So if your audio is captured too quietly, when y...
ou try to boost the volume in post-production you'll add a lot of noise or static sound. (static sounds) This is extremely hard to remove in post-production without expensive audio post-production tools. So do your best to capture it between negative 12 and negative 60 beep. This is the sweet spot. It is also usually indicated by green on your sound recording device. Now it's important to understand what a sampling rate or a sampling frequency is when it comes to recording audio. Just like when we record videos in frames per second, we record audio in samples per second. The standard sampling rate is 44.1 kilohertz. You typically won't want to record outside of this range unless otherwise specified for the project. Potential uses for a sample rate above 44.1 kilohertz would be maybe when you're shooting like a Hollywood film, where you need to gather as much audio information as possible. Again, 44.1, totally cool. Now, depending on the circumstances of your shoot, it's generally a good idea to record more than one source of audio. In some cases you'll need to sync your audio in post production. So having at least two sources allows for easier syncing and matching later on. It also acts as a fail safe in case one of your audio recordings go away. Now, depending on the environment that you're shooting in, you may also want to consider sound treatment. If you're shooting in an empty room, you'll probably notice a lot of echo or reverb. This room that we're in right now has a lot of echo or reverb so that's why we have a lot of sound blankets placed around us to minimize all that sound of the room. Now to help with this, you'll want to use something like the sound blankets that I just mentioned or sound panels or even a carpet to help absorb the sound or cut out any echo or reverb. Now, reverb is a term used to describe how much of the room it's introduced into your audio clip when captured. In a perfect world, you want to add as little reverb as possible. You can always add fake reverb in post-production, but it's very difficult to take away reverb. Now, as we covered in the last chapter, there are plenty of different types of mics that you can use to serve for the purpose of your film. Now, when recording with actors, boom and lav mics are the most common. Let's start with the boom or shotgun. Now when shooting YouTube videos, nine outta 10 times we'll be using a shotgun mic on a boom pole. A boom pole is essentially a long stick that allows a mic to be placed on the end of it and then you can place that mic as close to the actor as possible while still remaining behind the camera. Now, a shotgun mic is a directional mic we covered in the last chapter. The main thing that you'll need to keep in mind when using a shotgun mic is the closer that you can get to your subject, the better. You'll want to have the mic positioned directly at your talent's mouth and ever so slightly at their chest. When it comes to positioning the mic, do this once you've set up your camera and you're happy with their framing. This way you can set up the mic so it is just out of frame. Like ever ever so slightly outta frame, but remains as close to your talent's mouth as possible. Shotgun mics are great for picking up the full spectrum of your talent's voice. Lav. Now there's certainly a time and place for a lav, otherwise known as lapel or lavalier microphone. A lav will really come in handy when your subject has to be far away from your camera. Think of a house tour with a real estate agent. Now, of course you can use a boom or shotgun mic in this situation, but that will certainly be the more complicated audio solution. Now, one of the perks that comes with using a lav is the fact that it can be easily hidden. When placing a lav on your subject however, there are a few things to keep in mind. If you wanna hide your lav, the best place for it is right on your subject's chest on the breast plate, like right there. In this case, you'll need to get some medical tape or audio tape in order to keep the lav in place. This is what's done in Hollywood to hide the microphone. If your subject is moving, you'll want to make sure their clothing is not rubbing against the microphone or that they're not wearing any jewelry or necklaces that will make any sounds during the recording process. So have a little gap when it's placed right here so that your clothing does not rub against the mic cause that's a very hard sound to get rid of, almost impossible in post-production. Alternatively, you can use a lapel to clip the microphone on a t-shirt or blazer. You'll always want to make sure that you monitor audio in recording. There's a high probability that due to the fact that your lav is taped to your subject under their clothing, there'll be interference from the clothing rubbing up against the mic. Additionally, most lavs use a wireless system and these systems in high traffic areas can actually pick up other signals, such as cop radios or radio stations. The last thing that you want is a local radio station being picked up on your audio track.
Class Materials
Video Questionnaire/ Video Brief.pdf
Ratings and Reviews
Ok, I really enjoyed this course but you should know it is a decent overview of what to do and in what order to do them. This is not going to show you HOW to do anything but it will show you WHAT you need to think about and how to approach a production in a professional manner. Chris knows his stuff really well and everything is covered but it is just an overview. Well worth your time, especially if you are new to video but just do not think that he is going to show you how to do everything.
Student Work