Setting Up to Shoot Your Video Shoot
Chris Hau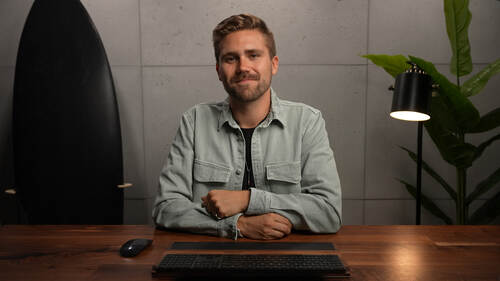 Setting Up to Shoot Your Video Shoot
Chris Hau
Lesson Info
37. Setting Up to Shoot Your Video Shoot
Lesson Info
Setting Up to Shoot Your Video Shoot
Hi everybody. And welcome to chapter six. This is essentially a job shadow. You're gonna be following along as I set up for the main shot that you've seen in this course so far. I do wanna preface this is not scripted. I'm gonna be saying everything on the fly and I'm going to be telling you everything out loud what I'm noticing and what I pay attention to when I'm setting up for a shot. So just bear with me, if I fumble a little bit here and there and let's get started. So welcome to this room. This is my office. This is where I shoot. And if you first came into a space like this you want to pay attention to a few things. The first thing that I notice when I'm in here right now is listen to how echoy it is. (clapping) When I talk, you can really hear a lot of reverb. You can really hear a lot of the room in this room. So what we want to do to make sure that our audio quality sounds good cos you have to remember, when you have good quality audio, people think the visuals are better. So...
always address the room, get the best quality audio that you possibly can. And one of the easiest ways to do that is with sound blankets, and/or, moving blankets. These are like $20 on Amazon. I highly recommend that you get a few so I'm gonna go grab some from the other room so that we can start laying them down and setting up to get better quality audio. So we got our moving blanket here and, or our sound blanket. And to clarify the reasons why you're hearing so much reverb right now is because we have a lot of surfaces here that reflect sound. We have hardwood floors here on the ground that reflect a lot of sound. That's why you're getting that echo. We have a concrete wall. And, typically when a room has a lot of corners in it in terms of like it's rectangular or square you're gonna notice it being very reverby. If you're in a circular room, there's a lot less area for it to bounce off of. So what we're gonna do is we're going to add these sound blankets to dampen the sound and dampen that reverb so that the audio quality sounds better. So let's go and find some of those surfaces that looks like they're gonna have a lot of reverb. So we'll just move the chair here and let's put this sound blanket on the ground. Always make sure that when you're putting your sound blankets down, that you're doing your best to make sure that they don't end up in your final shot. In this case, I have a vision that we're gonna be shooting against this wall. So when we're shooting a little bit higher up, on a tighter lens, this will not end up in that final frame. So let's bring the chair back. (chair rattling) (chair rattling) (chair rattling) And that's great. Now for the purposes of this video I'm not gonna set up the other two sound blankets which I normally would put on a C stand. You'll see that at the end of this segment, that's mainly cos I want you to see everything else that we're setting up so that Sean doesn't have to go and constantly keep going behind sound blankets that are on the side here. So already, (clapping) way better. I don't know if you can hear the difference but I hear it right away. (clapping) A single sound blanket has already made a huge difference in terms of dampening.
Class Materials
Video Questionnaire/ Video Brief.pdf
Ratings and Reviews
Ok, I really enjoyed this course but you should know it is a decent overview of what to do and in what order to do them. This is not going to show you HOW to do anything but it will show you WHAT you need to think about and how to approach a production in a professional manner. Chris knows his stuff really well and everything is covered but it is just an overview. Well worth your time, especially if you are new to video but just do not think that he is going to show you how to do everything.
Student Work