Shooting for Edit and Exporting Tips
Chris Hau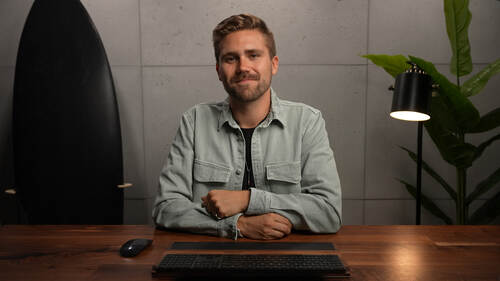 Shooting for Edit and Exporting Tips
Chris Hau
Lesson Info
46. Shooting for Edit and Exporting Tips
Lesson Info
Shooting for Edit and Exporting Tips
It's also important to remember that before we started shooting or editing our content, we decided which platforms we would be creating videos for. This is because each platform has different content requirements in terms of file size and aspect ratio. Now you can absolutely resize your content so that you can use it for different purposes across multiple platforms, but its really important to understand the limits that are involved with editing. For example, if you shoot a portrait video on your mobile phone, the chances of creating a high quality 16X9 video for YouTube out of the same content are zero to none. If you want to re-size your TikTok video for Instagram however, that is completely doable and can even be done in app for maximum efficiency. Now if you're shooting video footage specifically for Instagram, you'll want to shoot in 30 frames per second and stick to either square video, which is 600 by 600 pixels, or a 1 by 1 aspect ratio, horizontal video, which is 600 by 315 pi...
xels or a 1.9 to 1 aspect ratio, vertical video, which is 600 by 750 pixels or a 4 by 5 aspect ratio, and Instagram Stories, which are usually 1080 by 1920 pixels and 16 by 9 aspect ratio. You'll also want to export your Instagram videos in .MP4 or .MOV format, making sure that it does not exceed four gigabytes if you want to be posting on your feed. YouTube supports a wide range of sizes, but the one that I would recommend is 1920 by 1080 pixels. A trained camera person would know this as 1080p. Now, 16 by 9 would also be the ideal aspect ratio, although YouTube does support 4 by 3 videos. You can also upload in .MOV, .MPEG-4, .MP4, .AVI, .WMV, .MPEG-PS, .FLV, .3GPP, or WebM file formats with a max file size of 120 gigabytes and 12 hours in length. Alright. So let's talk about TikTok. Now, TikTok accepts .MP4, .MOV, .AVI and GIF file formats, although the most common would be .MP as most TikTok videos are shot on a mobile phone. Now, if you're shooting and editing a TikTok video, using your mobile phone is going to give you the exact proportions that you're looking for. Nine by sixteen aspect ratio works best on TikTok, as it will show a full screen on a mobile device. And the maximum file size you need to stick to is 287.6 megabytes or 500 megabytes for video ads. Now, I give my personal recommendations for the ideal length of each video later on in the course. But for now, it's good to know what your options are. Now, of course TikTok and Instagram both come with their own filters and effects, which you can choose to use if you feel it's necessary. Try to stay up to date with what top users in your niche are posting, so that you can know all about the latest editing styles and mimic these in your editing to stay on trend and relevant to your audience. Each platform will have a different overall editing style. For example, YouTube videos are more traditionally edited, whereas TikTok videos are edited in-app or on supporting apps like Adobe Rush, CapCut, Filmora, Canva, or even iMovie. There are tons of new apps invented each day, so it's really about keeping your ear to the ground and remaining knowledgeable about the latest innovations. For YouTube videos, you might be more likely inclined to hire a freelancer to edit your video, which we'll discuss in the next lesson.
Class Materials
Video Questionnaire/ Video Brief.pdf
Ratings and Reviews
Ok, I really enjoyed this course but you should know it is a decent overview of what to do and in what order to do them. This is not going to show you HOW to do anything but it will show you WHAT you need to think about and how to approach a production in a professional manner. Chris knows his stuff really well and everything is covered but it is just an overview. Well worth your time, especially if you are new to video but just do not think that he is going to show you how to do everything.
Student Work