Sound & Microphone Basics
Chris Hau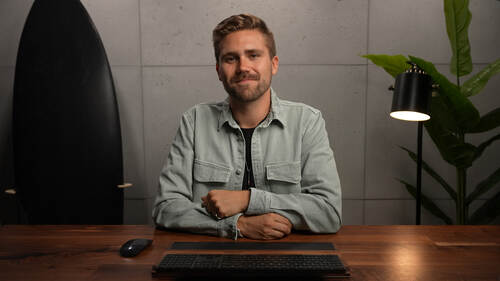 Sound & Microphone Basics
Chris Hau
Lesson Info
24. Sound & Microphone Basics
Lesson Info
Sound & Microphone Basics
Clean and clear audio is key in creating an engaging story. While you may have created a beautiful, visually appealing video, if the sound accompanying it is an inaudible mess, it'll be difficult to keep your audience engaged. There are a few ways to maximize the potential of your audio using a number of tools. Now let's start with the built in microphone on your camera. If your camera records video, chances are it actually has a built in microphone. Internal microphones typically sound distant as they're picking up all the audio that surrounds them. So let's look at three types of external microphones that will do a better job than your internal mic and when you should use them. Starting off with the shotgun mic. Now, shotgun mics come in a variety of shapes, sizes, and prices. One of the most common shotgun mics that you'll see, especially in the YouTube world, is the Rode VideoMic Pro. That's the mic that we use for vlogging, but we use a different mic for our talking head shots. Th...
is right here is the Sennheiser MKH 50, and this mic stays mounted to a boom arm in our studio, whereas the Rode is strictly used for on the go. Now shotgun mics have a Super Cardiod pickup pattern, meaning it's designed to pick up audio that's directly in front of it, kinda like this little area right here. It's perfect for vloggers as you can turn the camera towards your face and then it will record your voice. So shotgun microphone, literally like a little stick most of the time, point that in the direction that you want to record and it will capture that audio. Now, moving on to Phantom Power, condenser versus dynamic microphones. Now we can't talk about shotgun mics without covering condenser mics and dynamic mics as well as Phantom Power. This is very important by the way. A condenser mic is made to pick up the softer, more delicate sounds. Example giving like softer vocals like Billie Eilish, whereas a dynamic mic is made to capture louder, stronger sounds. These are the mics that are often used at very loud rock concerts. Now Phantom Power refers to sending power to a microphone via XLR in order to boost its signal. If your mic seems too quiet or is not working, it's possible that you're using a mic that requires Phantom Power. More often than not, it is the condenser microphones that require Phantom Power as they're built to capture quieter sounds with a lower noise floor. This means that they require additional power to capture those softer sounds. That number usually looks like plus 48 V, also known as plus 48 volts. Next, we're gonna be talking about the Lavalier and Lapel microphone. A Lav mic is a tiny microphone that is sometimes either wired or connects to a receiver and transmitter that can be placed directly on your subject. It has an omnidirectional pickup pattern meaning it captures audio all around the microphone. That being said, the closer you are to the mic, the clearer the audio will be. Sometimes you'll see people place a Lav mic somewhere right around here on clothing, or, if they're wearing a t-shirt, they'll place it right here. But if you place it too far down, you'll capture too much of the room. So place it somewhere like right there is my recommendation. Now using a Lav mic comes with pros and cons. It's great if your subject has to be far away from the camera. This way, your subject can move around freely without the need for like a boom operator to try to follow them around. However, if your subject is moving around a lot, this again introduce a lot of interference from clothing rubbing on the mic. From my experience, usually it's from jewelry. So the jewelry will like hit the mic and you get this like ding, ding, ding sound in your audio. So always make sure that you remove jewelry or that there's no loud clothing that they have on. For that reason alone, I'm very selective of when I use a Lav mic. When I do use one, I use the Rode smartLav+. Another tool that we use is the Sony K3M XLR adapter. This allows us to use XLR audio equipment on cameras like the Sony 87s3. Along with XLR inputs, it allows us to control the audio levels via the control panel which helps us to eliminate any peaks in the audio. 44.1 Hertz is the standard recording for most audio, and most recording devices will achieve this. All you have to do is just go into your menu, go into the audio settings, and sometimes you can select between 44.1 Hertz or 48 Hertz or 96 Hertz. The higher the Hertz, usually the higher the quality, but usually what I've heard and what I've understand from reading articles, is no one can really hear the difference between 44.1 Hertz and 96 Hertz. So that's why I recommend just going with 44.1 Hertz. It's good for data and it's good for the audio experience.
Class Materials
Video Questionnaire/ Video Brief.pdf
Ratings and Reviews
Ok, I really enjoyed this course but you should know it is a decent overview of what to do and in what order to do them. This is not going to show you HOW to do anything but it will show you WHAT you need to think about and how to approach a production in a professional manner. Chris knows his stuff really well and everything is covered but it is just an overview. Well worth your time, especially if you are new to video but just do not think that he is going to show you how to do everything.
Student Work