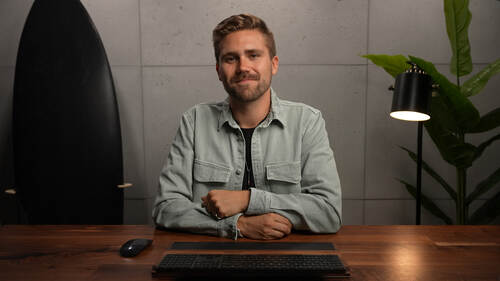 Lesson Info
29. White Balance
Lesson Info
White Balance
Have you ever wondered why your subjects turn out yellow when you photograph them indoors? Or why before the sun goes down the sunlight has this orange tint? Or after the sun is set the environment has this blue purple tint? And that's because not all light is created equal. I'm not talking about the quality of light, but rather the color of light. Now different forms of light have different temperatures or colors. Correcting this light to appear white is called white balance. Think of it as if you're balancing or compensating the temperature inside your camera to make the whites in your scene appear white and not yellow or blue. Color temperature is measured in Kelvin, also seen as K, ranging from 1,000 to 10,000. The warmer temperatures sit around the 2,000 to 3,000 K range whereas the cooler tones sit around the 5,000 to 6,000 Kelvin range. Now here's an example of the color temperature spectrum. Now that you understand the temperature of the lights around you, how can you compensat...
e for those colored temperatures in your camera? Regardless of your camera, you'll have the option to manipulate the white balance in a number of ways and it's up to you to use your discretion on what white balance makes the most sense for your scene. For example, when we're shooting in the studio we use studio lights that we know are color balance to 5600 Kelvin. So then we can actually go into our camera settings and manually choose to set our camera's white balance to 5600 Kelvin. This way we know that it matches the light that we're using perfectly. Now, most cameras come with white balance presets, such as sunny, cloudy, incandescent, you've seen them. When we're shooting outdoors in overcast conditions, we'll set our cameras white balance to the camera preset cloudy as we can't be exactly sure of what the color temperature of the sky is that day. So if you're not too sure what white balance to use, match the preset setting to whatever matches your environment best. Getting it close is always better than using the wrong white balance or using auto. When you're using auto white balance, sometimes you'll see the color temperature change while shooting and that's because the camera is adjusting the white balance on the fly. It usually doesn't look that good so it's better to lock in a white balance that you're happy with. Just don't forget to change your white balance every time you change scenes. The most common mistake is keeping an indoor white balance and forgetting to change it when you move outside.
Class Materials
Video Questionnaire/ Video Brief.pdf
Ratings and Reviews
Ok, I really enjoyed this course but you should know it is a decent overview of what to do and in what order to do them. This is not going to show you HOW to do anything but it will show you WHAT you need to think about and how to approach a production in a professional manner. Chris knows his stuff really well and everything is covered but it is just an overview. Well worth your time, especially if you are new to video but just do not think that he is going to show you how to do everything.
Student Work