Creative Color Correction
Jesús Ramirez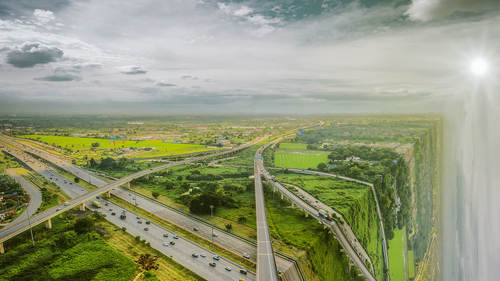 Creative Color Correction
Jesús Ramirez
Lesson Info
5. Creative Color Correction
Lesson Info
Creative Color Correction
we talked about using the curves adjustment layer to remove color, caste and color correcting images, adjusting tone. But you can also use that same power to get creative and apply color to images to tell a story. So that's what we're gonna talk about in this section. Creative color correction Are color grading or color toning? There's so many words for it. I like the word color. Great, uh, color grading because before I got into photo shop, I was doing video, and that's the term they use in videos. That's the term that I use. And now it's used interchangeably. Um, but before we actually get into color, correct being and color toning and we know that fun stuff, I want to show you a quick trick that I like what the curves adjustment layer for compositing. So you guys saw the compositing work that I've done, and that's something that I do quite often to make images match. So that jet right there was shot at my rival high school, right? They have a big, huge jet on in front of the school ...
there, the jets. So I took a picture of it and I composited onto this background and, um obviously is not very realistic. The background is really warm in the foreground school, and we want to make it so that it seems really want to make it so that the jet feels like it's in that back in that background. So we would, of course, need to color correct the image and a lot of people they might do things like, you know, human saturation, maybe colorize and clip it to the layer below it so that the adjustment layer only affects that layer. And you could play around with all these different things to try to make it work. But one thing that I recommend doing for something like this, it's actually using the curves adjustment layer and that same algorithm that we talked about earlier to make a color match. And I'll explain how that works. I'm gonna create a curves adjustment layer. I'm gonna clip it to the layer below it, and I'm gonna I'm gonna do a mistake on purpose. I'm gonna hold option and I'm gonna click on auto and I can select the colors of the background to match the colors in the foreground. And I can do so by selecting the darkest colors in the brightest colors. But right now, if I do that, it's not gonna work us. If I click on the image, it turns white and you're like, Why is it turning white? If it's orange and yellow and all these different colors, and it's not working when something is not working in photo shop is usually used her mistake. So what you have to think about is what you're actually selecting right now. I created the curves adjustment layer, and by default it selected the mask. Notice that the focus is right on the mass. That little white outline doesn't want what we want to just We actually want to adjust the adjustment layer, so we need to click on that, and that right there could be very confusing. So I always like to make that mistake pointed out. In that way, it's hopefully in your head whenever you're using this technique at home. So now that I have that thumbnail select that I can hold option, it's like an auto and oops didn't click an option. Let me try that again. Actually, I'll do something different. I'll, uh, the other way of getting into this auto options is by clicking on the fly out menu and selecting auto options so it's hidden there as well. So we have the final dark, fine, dark and light colors and notice that dark and light colors is really like What is a dark color, you know, like there start red blue like, what is the dark color? Well, photo shopped is saying dark color is black. Highlights are white. That's what a dark and light color is. But you can tell photo shop. You know what? I don't want black to be my dark color. And I don't want white to be my highlight color. Instead, I can click on shadows and just select any color that I want. In this case, I'm going to select one of these darker, um, orange red colors in the sky press. Okay, Highlights. I don't want it to be white. Maybe I'll do a yellow type of color apps. What? That I click on your You make sure I got the right thing here. Something like that. And I can keep adjust thing. So I have this selected there. That's why I wasn't working. I have ah one thing you have to do is uncheck snap neutral midterm because it's trying to make everything neutral. We're not We're no longer trying to color Correct the image rectory, trying to add color to it. So make sure that you ah, snap, uh, uncheck snap neutral. Mid tones go back into highlights, and now you can select whatever color that you like. So I can select one of these yellows and notice now how the plane looks more like it belongs in that image because we change what the dark and, um, bright colors are. Shadows or highlights is Photoshopped calls them, and we don't have to stick with the colors that we selected. You can always come back and make adjustments. So to my I think it needs to be just a little bit darker. Um, when you're compositing, something have to think about its atmospheric perspective. Things that are closer to you have more contrast. Things that are further away have less contrast. So, um, we selected ah, dark color in the background. That same color in the foreground would probably be a little bit darker in the real world, which is why I'm making it slightly darker. Empress. Okay? And you can adjust the highlight any which way you want. Um, And when you're done, you're gonna press okay? And Photoshopped is gonna ask you. Oh, cool. Do you want these to be your new default colors? And usually that's you don't want to do that. Usually your default color should be black and white, so you can just say no. And now we have this composite. I know this is not a compositing class, but just for fun. Let's add one more element to this picture. If you wanted to make this more realistic, we probably won't need a stronger highlight on the plane. One way of doing that is painting on a new blank layer. I'm gonna hold option, click on the yellow there and just paint like that. Then we can use a blending mode to change how that layer blends with the layer below it. One of the blending modes that are like using for highlights, speculum highlights things like that is colored dodge. And there it is. I only wanted to affect the plane, so I'm gonna do the, um, clipping mask. But this layer doesn't have that option here. You know, that little square with them pointing arrow. So you might want Remember, the keyboard shortcut is command option G. That's controlled G and the Mac and notice how now this layer is Onley affecting the plane. Another way of doing that actually is by holding just the option. Keep hovering in between two layers and then click. So you have those two options. So now you can click on the move tool and adjust how the highlights gonna how the highly it's gonna work. And if you want to get even more fancy, you can double click on the layer to bring up the layer style window in the layer style window has is really cool thing called the blend of sliders. So you're telling Photoshopped, show the pixels if they're this dark or if the layer below it has a certain value. What I mean by that is I can tell photo shop only show the highlight in the bright pixels because I don't want the highlight in the shadows. So which layer am I gonna effect? I'm gonna affect the underlying layer. So if I conclude so, I can click in the dark points in the underlying layer and drag that to the right. That is telling Photoshopped hide that highlight on the shadows, but notice that there's a very, very hard transition that doesn't look very good. Luckily for us, with photo shop e have options. And if you use the option key on the keyboard and click, it splits that point in half, and we can just create a gradual transition between, um, what's being revealed in was being hidden. So now it's a more realistic highlight. Also, um, just again, once again, everything goes back to our TV. Everything goes back to the values of zero in 2 55 you can see this right here. 0 to 55 0 is black to 55 is white. What we're doing here is saying anything that is black up to this value here of 90 is gonna be hidden anything that it's 90 to 1 53 and you can see that visually right below that radiant right below that's where those values are. So anything that is between these shades is gonna be a gradual transition two visible to 100% opacity. And when you're done, you can just press OK and there it is now, if you want to get even fancier, the there are 27 blending modes in photo shop. Actually, there's more, because the layers the brushes have to extras and groups as an extra one. But strictly talking about, um, layers. We have 27 blending modes out of those blending modes. Eight. Behave differently when you adjust capacity compared to fill. Color dodges one of those blending modes. So if we bring down the opacity, it looks different than if we bring down the fill. In this case. I like how the Phil, um, works better. So there's my highlight. You see that before and after and, um but yes, so that's that's something that, not really it's occurred that I thought you guys might find use one. The recent I showed it to you because you saw again the relationship of the values with the images that you work in a photo shop. So yeah, so that's how you can use the curves adjustment layer to color matching photo shopping, your compositing
Class Materials
Jesus Ramirez - PSD Working Files
Ratings and Reviews
This is a terrific course. I am an intermediate Photoshop user. I really learned a lot about understanding the use of curves for different situations but Jesus provided an excellent base of knowledge about color modes, color interactions, histograms, and blend modes. I have heard all of these topics discussed before but now i feel like i actually understand the technical aspects so that i can make decisions, not just memorize formulas. Superb. Thank you.
This class is fantastic. Teacher has a great depth of knowledge and explains very clearly with great examples. Well paced, well organized and very clear. I had no idea how much power "curves" have, and now I know. Very highly recommended.
Good course from an engaging teacher abou the curveseffect. Showing lots of examples what you can do with effect. A nice course about a specific subject! If you need a more general course and have limit amount of resources this one might not for your. If you would like a course that goes into detail this one is a nice to have. Projectfiles are included.
Student Work