Flash Exposure Compensation
Mark Wallace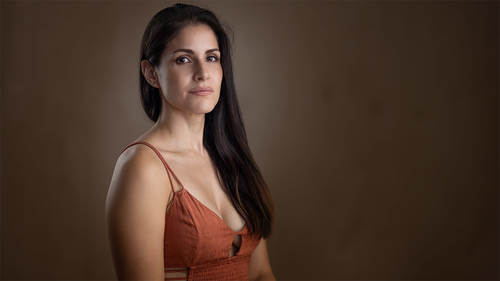 Flash Exposure Compensation
Mark Wallace
Lesson Info
6. Flash Exposure Compensation
When using TTL metering, it is not uncommon for the flash exposure to be over or under-exposed. It is simple to correct the automatic metering and get a proper exposure by adjusting the flash exposure compensation.
Lesson Info
Flash Exposure Compensation
Okay, now that we have our flash off our camera just to review I. S. A 100 shutter speed of 200 then I have my transmitter telling my flash my receiver to be in T. T. L. Mode. So it's still the flashes in auto mode, meaning that if we want to change the exposure of this flash, we have to use flash exposure compensation to sell a flash, you're too bright, you're not bright enough etcetera. And so what we're going to do here is I have Teresa against a black wall and I'm gonna put this flash pretty darn close and to the side, so it's sort of contrast. E and I'm just gonna take a photo and see what happens. None of this is scripted. So we're going to find out what happens here to see if we can get away with some interesting shots. And if we can't we'll see what we need to do as far as the flash exposure compensation goes. In fact, Teresa, I want to have you to look this way, just a little bit. There you go. Yeah this is going to blind you, I'm sorry, but that's the way it is, I'm gonna do ...
one more here. Okay? So we took two photos and let me show you the second photo here in lightroom. So when we look at this photo here in lightroom you can see that the background is completely black. But also notice that Teresa's face is a little less over exposed, a little bit. Um So we just illuminated her face just too much, I'd like it to be a little bit more subtle than that. So maybe what I would do is go over here, I'll take this flash, I'm gonna bring it back just a little bit, so it's not just quite so close and then I'll show you how I'm adjusting this flash exposure compensation. So I'm gonna go over here to the close up zone so I can show you what I'm doing over here and so on the top of the camera, I'll zoom this down up, looks like I have to move this up a little bit so you can see it, so do that and that and a little bit more up and okay, how is this? But okay, there we go. It takes me a little while to figure out what's going on here. All right, so I'll focus this up just a little bit. There we go. So what's happening here? If I want to change the exposure compensation with my remote flash, I can go in here. This little plus and minus here, that looks like it used to on the back of the camera and then I can go up or down. So I'm gonna go down, I'm gonna go down by maybe three quarters of a stop, so .7 Maybe I could go down 2.3, I can play with that, I can go up or down now. This one is saying all so if I had four or five uh flashes or two flashes, it would take all of the flash is up or down later, I'll show you how you can control those flashes independently. But right now we're gonna take this down by about .7 we might take that up or down a little bit on this black background. Let's see how it goes. So I'm gonna go back over here, I love being in my 50's because I can't see anything anymore. Um so we have put this down, the flash exposure compensation to negative .07 and I've moved that flash just a little bit. Let's have you look to the side a little bit more like we had. There you go, beautiful, I'm gonna take that photo and now we can compare these shots. So I'm gonna put these side by side. So that's the first one. That's the second one. Notice this first one. Teresa's face is much brighter than the second one. It's just a little bit more subtle. Obviously for this shot right here, we need more flashes, we need something that separates her hair, we need something that maybe highlights her cheeks. We would take this and make it a little bit softer light. But what we're doing right now remember is just playing with the flash exposure compensation. So now let's try something else, Teresa, let's have you come over here to this gray background. Remember our camera was looking for middle gray, So let's see what happens if we shoot on this, I'm gonna move this over sort of like what we had it before. I'll have you come out about a step or two, a little bit more than that. Okay, gorgeous. Almost this up a little bit. I'm gonna put my flash exposure compensation back where it was when I started which is zero. So I'll go in here, I will say zero. Okay, so now the flash is behaving in a way that it thinks it's gonna say I'm gonna give it my best shot and we're not using any compensation at all. And let's have you turn your shoulders a little bit towards that. There you go. Beautiful. That is what I want right there. Excellent. And now we've got a really cool thing going on. We look in this photo in lightroom and you can see a couple of things, we're gonna get into this in a little bit but notice we have this this shadow to the left side of Teresa that's not so flattering. And also noticed that we have a lot of lights sort of around her face but it sort of fades out. In fact I'm going to zoom out just a little bit so we get most of Theresa's body here. I'll take a shot and now what we can see in this full length shot is the flash is only illuminating her face. We have to be able to fix that. We are going to learn how to fix that using different flash orientations and modifiers. But for this I think the camera did a pretty good job. So flash exposure compensation can be used when our camera isn't smart enough to figure out what exactly we're trying to do. Usually that happens when we're getting in really close and really specific with our lighting. Generally when we have broader, wider angle shots, the camera can figure out what's happening but it's there for you. You can change and adjust and do different things using flash exposure compensation. Well, what we really want to do is we want to get to that point where we can do more advanced light shaping and controlling our exposures and all kinds of things and to do that. We really have to understand sync speed and what that means. What is rear curtain sync? What is high speed sync and what is normal sink? That's what we're gonna do next.
Class Materials
Tether Tools Pro Kit Discount
Tether Tools Starter Kit Discount
Ratings and Reviews
Student Work