Busy Is A Decision
Debbie Millman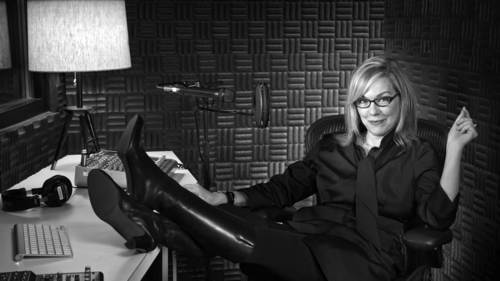 Busy Is A Decision
Debbie Millman
Lesson Info
5. Busy Is A Decision
Lesson Info
Busy Is A Decision
That busy is a decision. Someday I'm gonna get brave enough to tattoo this on my body so that whenever one of my students say I'm sorry to do that, I didn't get a chance, I was too busy, I can just pull up my sleeve and say, read this. Busy is a decision. And this is something you really need to think about. I don't know if anybody's ever seen the movie Revolutionary Road or read the book Revolutionary Road, and it's really at its heart, it's a story about a couple that keep telling themselves that if they could they would do this other thing, and then they never do. And even when at the end of the movie, one of the protagonists is left with the possibility of being able to do the very thing that he's been saying his whole life that he wanted to do, he still doesn't do it. We do the things that we want to do. We buy the things that we wanna buy, we create the things that we wanna make, we don't, not because we're too busy, ever, it's because it's not enough of a priority. And this was ...
the sort of tough talk I said that I was gonna share with you. If you're not making the work that you wanna make, it's because you don't wanna make it, and you have to be honest with yourself. If you say I don't know where I can find the time, maybe stop watching Game of Thrones, or maybe do the work while you're watching Game of Thrones and with background noise. I do a lot of my work with Law and Order SVU reruns on, a lot, it's me and Mariska, we got it goin' on. (audience laughs) So think about what you want to do. You cannot, as Maria Popova from Brain Pickings has said, you don't find time, you make time. So if you want to do something, come clean with yourself. Ask yourself, why am I not doing it? Am I too afraid? Then think about the reptilian brain, you're never gonna be in a place where you're like, woohoo, let's do that experimental work I've been dying to do my whole life. (audience laughs) It's gonna be amazing! You have to decide that you want to do it, even with all of that fear there, and if you use busy as an excuse, what's gonna happen? Not now, when? If not now, when? When do you do it? 'Cause after Game of Thrones, then Homeland is gonna start. (audience laughs) So busy is a decision.
Ratings and Reviews
B R I LLIANNNNNNT !!!! I love the such solid human being that she is and her grandiosity of holding our shoulder and say : go head! Dare to be your best self, own it. Here are some tips .... !!!! Uhuuuuuuuuu!! So inspiring! Thank you so much, Debbie. For couple of days you were my very BEST FRIEND :) Thanks Creative Live!! This is NOT a live "manual" on technical skills. If that is what you are looking for go some steps down and there are plenty of people teaching that, like traditional schools do. You will only learn what is "there" for you to learn if you are open TO HEAR with sincerity. Debbie tells several things that works and that doesn't in professional field besides showing what successful business look for in the people, or partners. Out standing!! I would love to watch another class with her.
I loved this course. Five Stars. I was initially drawn to this course because of the title. I had read Tom Peter's article (with the same name) in Fast Company magazine many years ago, and found it really inspiring. This was before 'brand' was a household word. Anyway, the course is geared more towards designers looking for their dream job than a typical branding course, but as it happens, I am a designer, so it was quite informative. I can also use much of the advice and lessons and apply them to my own business. From contacting potential employers or clients to creative self promotion, there's valuable lesson to be had. I watched and listened to this course in one day, almost straight through. I highly recommend it. Great insight, great advice - whether you're a design student or not. If you're the creative type, I think you'll find this both enlightening and very enjoyable.
Student Work