Adobe After Effects Fundamentals
Philip Ebiner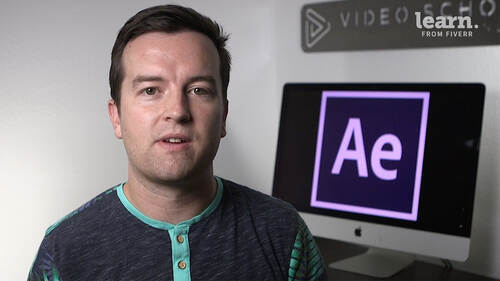 Adobe After Effects Fundamentals
Philip Ebiner
Class Description
AFTER THIS CLASS YOU'LL BE ABLE TO:
Understand the After Effects workspace and how to start a new composition.
Add media to your project and work with the Timeline.
Master the basic After Effects tools and create perfect circles and alignments and shape colors.
Navigate and utilize the shape properties like a pro.
Animate your project with keyframes and know the basics of motion tracking.
Work with solid layers, shape layers, strokes, paths and use the Key Burns effect.
Utilize essential After Effects skills such as tracking matte animations, playing with time, using blend modes and stabilizing shaky footage.
Take on motion graphics projects with ease, apply text animations and work with character animations.
Work with green screen footage and master chromakeying.
Work with 3D animations, use the camera tool and excel at rotoscoping.
Export your work in the correct format and resolution.
ABOUT PHIL'S CLASS:
While it's easy to imagine impressing your audience with awe-inspiring videos, it's not as simple to achieve. Adobe After Effects offers powerful capabilities to create jaw-dropping effects but you'll need basic and advanced skills to be able to translate your dreams into reality.
This class covers all major features and elements of After Effects such as motion graphic, visual effects, green screen and rotoscoping, character animations and connecting typography. The project-based class is full of practical exercises in each section with all of the downloadable resources that you need to put your new-found skills into practice.
Go from complete beginner to advanced After Effects user with professional guidance from world-renowned expert, Phil Ebiner!
WHAT YOU WILL LEARN:
How to position, scale and rotate animations and make animations look more natural
How to use the graph editor and add layer styles like drop shadow, bevel and gradients
How to work with shape effects such as trim path animations, wiggle and zig zag
How to preview and favorite fonts, use content aware fill, create motion graphic templates and reverse complicated animations
How to master colorful transitions, text bubble animations and logo reveals
How to remove greenscreen backgrounds and add motion to a still image
How to use the rotoscope tool, clean up edges for 3D animations and professional screen replacements
Expert workflow tips, how to work with Adobe Premiere Pro and the basics of expressions
WHO THIS CLASS IS FOR:
People who have no to little experience with Adobe After Effects CC
Influencers and brands who use video and want to elevate their content
Videographers, cinematographers and editors who want to learn how to add motion graphics and effects to videos
Creative Professional who want to diversify their skillset
People who need a refresher class on Adobe After Effects features
Animators and Graphics specialists who want to fortify their existing skill set
Designers who want to add Adobe After Effects to their offering
Anyone wanting to learn how to use Adobe After Effects CC
Beginner to Intermediate
SOFTWARE USED:
Adobe After Effects CC
ABOUT YOUR INSTRUCTOR:
Professional video and class creator, photographer and teacher to 1mil+ students. Phil has 10+ years of professional experience in the world of video & photography. He has created 1000+ videos and award-winning documentaries and works from his home studio near LA.
Ratings and Reviews
Student Work