Gradients
Daniel Walter Scott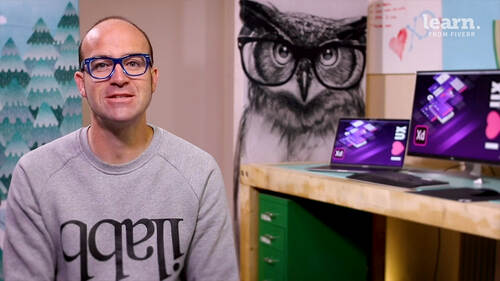 Gradients
Daniel Walter Scott
Lesson Info
37. Gradients
Lesson Info
Gradients
Alright, this video is all about gradients. We're going to add this linear gradient here. I'm going to show you a couple of little places where to get good gradient ideas. Okay, cool ones you can borrow using your own designs. We love gradients. Alright, gradient time. So we're going to do it to this top box here with it selected, I click on fill and they hide it and here it says solid color. You can we'll start with linear gradient. I'll show you radio gradients. Not a I'm not a big secret. Okay, but we're going to use linear gradient in this case and you can do a couple of things. You can adjust both the color and the angle here by just dragging it. Can you see I can drag the end, I can drag this in so you can decide where it's gonna go. You might go this way I'm going to go straight up and down so I'm gonna undo, put it back to where it was, you can change the colors by double clicking them. Actually don't need to double click them. Just click on them once to identify which color yo...
u're dealing with and then you can drag it around here, you might use your switch is gonna click this one. This one start with the gradients. You can also click them up here as well and pick them so up to you. I want to have what do I want on the blue at the top and the green at the bottom and what I might do is actually just drag this one a little bit back past. You can see even though it can't be seen that blue. I just wanna maybe a bit strong the way I had it. Yeah, that's what I'm looking for. My Yeah. And one thing I will show you if you are going to use a a radial gradient so I'm gonna like radial gradients are fine. James. Didn't him? You're like, when am I ever going to use that? What you can do with this one is I quite like them. There's two things you can do, you've got that which is the edge and you can do the angle, that's the center point. So so I put the center point there, make it quite wide. This one here will design the shape. So you can do stuff like this. I like often kind of big lofty gradients like that. So it's less of a radio. Let's have a linear one. And you can do things like this. Actually I want to switch those two rounds. Want that to be the green lighter one. That to be the dark one. I don't know you're with me. Can you feel me what I'm doing there is this kind of like subtle gradient. Like I like it when it's a radio one as well because it's just kind of hard to know where it is. It's just kind of doing its thing. I'm gonna undo it because I want the real big, obvious linear gradient undo undo undo Here we are now getting ideas for gradients because gradients are in at the moment. They might not be when you're watching this video, you might hate gradients. I'll show you a couple of places. All right, this is a pretty cool site for getting ideas for gradients. So you might go in and say I really like this one, They've got a few pages of it. It's grab Beant. Okay. And you might decide these colors if you click on it and here's your hicks medicinal number, pace it in here. Boom on this one. This one quick return and you can just copy these two in come on. So grab it is a nice place. And the other thing you might do is just like, we looked at our kind of places for inspiration for mood boards, you'll find really cool ideas with gradients in here as well. Okay, so either dribble nice or what else they have hunts, you'll see just like really nice gradients in there. But we used the, in the previous videos, we looked at grabbing the eyedropper tool to steal colors so take a screenshot and just steal the colors directly from it. Um I just want to show you lower castes. It's a tutorial website, showing you how to use PHP framework called Lara Cast. That's not reason I'm showing you, I just I really like the gradients, I had a look at this the other day. I was like, oh add favorites and um yeah, just a really nice kind of use of maybe not as like, yeah, I know they're very similar colors, so a nice kind of transition. I love the design of this one. All right, that's it. For gradients, let's get into the next video.
Ratings and Reviews
Thank you, Dan Scott, for providing such a beautiful Adobe XD course. I completed the course today and noticed a couple of things that are missing. I want to share them here so that you can upgrade the course, which would be helpful for us. Hover state and toggle state. Dragging pages from 1-2 to 2-3 and then back from 3-2 to 2-1 with dragging is not working. Another thing is that we learned scrolling the website from top to bottom, but scrolling or pushing things from right to left has been completely omitted. These are the things I have noticed, and I would like you to upgrade them so that we can improve our Adobe XD skills.
Student Work