Class Project 06 - Colors
Daniel Walter Scott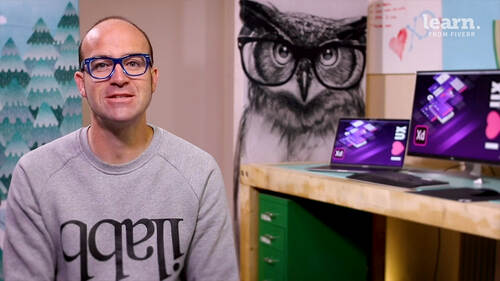 Class Project 06 - Colors
Daniel Walter Scott
Lesson Info
38. Class Project 06 - Colors
Lesson Info
Class Project 06 - Colors
Alright it is class homework time. So you're working on your project again and I want you to build out the colors for it. So you can do one of two options, you can do option one. Use the colors that have given you in the logo or you can create your own. So either way the, the easiest way to grab the colors or at least change the colors is to open up your document, let's pretend this is it. Okay, go to file, let's import the SVG which I've given you. It is in your exercise files, class project one logos and I'm gonna bring in option one and if you plan to use these colors here that I've given you, you can just select this whole thing and in your assets panel you can hit this little plus you see it, yanks all the colors out of that. I'm gonna undo it. Let's say though, you're like dan hate the colors or at least you're like, I want it to be different, I want to do my own colors. So go find your own colors, maybe color dot adobe dot com or just pick your own ones. Get inspiration from you...
r mood board. What you have to do is you have to kind of adjust this logo to match it. Otherwise it's going to look a little weird so you can um group, it's probably the easiest way, click on these guys and just use your new colors that you've mixed up once you've mixed up all the colors, I want you to do the same thing as we did before. I'm gonna delete that, I want you to build something like this at the top. Just get in the habit of things like that to build that up. You might have a couple of darker shades because you just run into places in the U. I. We can't just use one of the, you know, those two colors. You might have to have a few other options, add them all to your assets panel and also add them all to this little swatch pre made swatches down the bottom here, reorder them so they're in some sort of consistent order and I want you to give a gradient to go as well. You don't have to use it if you're like man gradients are so last century down, I'm like, okay, you don't have to do it. I just want you to practice make a swatch version. Even if you don't use it in your design, you're going to just make a version in here. There is a linear gradient and pick your colors, you might have a couple. Okay? And just add them to your little swatch library here. Once you've got it, make sure there are added to the assets panel and then we'll get on to the next video but you can't until you've done it open and get that project going and once you've got your colors and your ingredients, they're all in your assets panel, then you can join me in the next video. See you in a bit.
Ratings and Reviews
Thank you, Dan Scott, for providing such a beautiful Adobe XD course. I completed the course today and noticed a couple of things that are missing. I want to share them here so that you can upgrade the course, which would be helpful for us. Hover state and toggle state. Dragging pages from 1-2 to 2-3 and then back from 3-2 to 2-1 with dragging is not working. Another thing is that we learned scrolling the website from top to bottom, but scrolling or pushing things from right to left has been completely omitted. These are the things I have noticed, and I would like you to upgrade them so that we can improve our Adobe XD skills.
Student Work